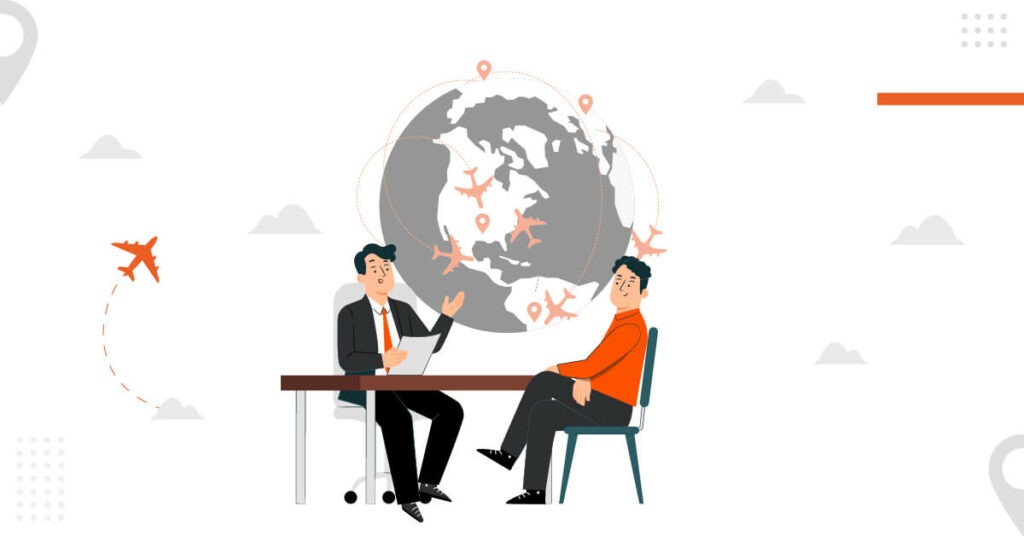 Corporate travel has always been considered an essential part of the business. However, it can be very challenging to manage. With employees traveling continuously across the globe, your employees and travel managers must book their flights and accommodation, plan business travel itinerary, ensure policy compliance, and have an endless list of other miscellaneous tasks they need to take care of. A travel management consultant acts as a trusted advisor, working closely with businesses to optimize their travel programs, enhance traveler satisfaction, and achieve cost efficiencies. Travel management consultants offer a range of services like vendor management, travel policy development, expense and compliance management etc.
Managing all these tasks in-house becomes very cumbersome. Hence, most companies these days are opting for corporate travel management consulting to plan their business travel. Corporate travel consulting is a service provided by a travel management company that assists companies in planning and managing their corporate travel as per their travel policies.
As a business owner, if you want to opt for corporate travel management consultant, you must know what to seek while looking for it. Mentioned below are some of the aspects you should consider:
1. Personalized Travel Support
Although business travel seems very exciting, it is unpredictable. Your employees may encounter some emergency situations while on a business trip. For instance, if they are on an international business trip, they might get stuck somewhere due to bad weather conditions.
It is crucial that while looking for corporate travel management consulting, the TMC provides 24/7/365 business travel support. This is very important, especially when employees travel overseas. Ensure that the support team from the TMC provides travel assistance through various channels such as chats, emails, and phone calls.
Another thing you must look out for is a personal corporate travel consultant. A corporate travel consultant understands business travelers' specific needs and provides them with immediate or alternative solutions. He/she should also address travelers' specific needs, such as canceling flights, re-booking, modifying travel itineraries, etc.
2. State-of-the-Art Technology for Travelers and Admins
If you have been outsourcing a travel agent for business travel planning, chances are that policy compliance and travelers' safety may be compromised. As a business owner, it is vital that you get complete data visibility into the company's travel spending, which may not be possible with a travel agent. When there is no data visibility, you will not know how much money is being spent where and for what purpose.
Hence, you must ensure that corporate travel management consulting offers advanced technology, such as integrated travel and expense management software. A T&E software helps you with policy compliance, provides end-to-end data visibility, identifies any travel expense frauds, and many more.
Additionally, you must also find out if corporate travel management consulting provides a mobile application with an interactive UI/UX that can send regular live updates and notifications to travelers and admins.
You must also look for additional features such as a virtual travel consultant such as ITILITE Mastermind in the T&E software. A virtual travel consultant allows admins to identify potential cost-saving opportunities and suggests actionable ways to improve your cost management process.

3. Substantial Flight and Hotel Inventory
Before employees go on a business trip, employees and travel managers have to choose from various flight and hotel options. They must browse through various third-party websites before they finalize the option, which is according to travelers' preference and also policy compliant. Moreover, they also get very limited travel options.
Corporate travel management consultant provides you with a huge flight and hotel inventory. New-age TMCs source their travel inventory from Global Distribution System (GDS). The GDS collects, combines, and analyzes data from different travel vendors and provides you with an extensive flight and hotel inventory. This way, your employees and travel managers can save a lot of time instead of browsing through various websites.
Does your organization's present T&E system offer you negotiated rates for flights or hotels? You can check out the overall health of your current T&E system using our calculator below.
4. Data Protection
Business travel involves storing sensitive information of both employees and the company. Therefore, data security is an important factor that must not be overlooked, as it can be prone to many security breaches. Moreover, your travel managers especially need to handle the data of multiple employees on a daily basis. If data gets compromised, it can greatly threaten employees' and company security.
Therefore, you should look for corporate travel management consulting that can keep your employees' data safe. It is important to find out how the TMC keeps all the data secure and the measures they employ to ensure that data is not compromised. For example, you can check if the TMCs comply with global security standards for data security.
Modern TMCs use cloud-based travel management software that offers advanced data protection. It helps you protect your employees and the company's crucial data. The information here is encrypted so that no one can access it without permission.
5. Travel Data Reporting and Analytics
Getting comprehensive travel data insights is crucial to make good business decisions. Without the data, it becomes challenging for travel managers to make smart decisions, enhance the travel management process, and save costs. You should also track important travel KPIs like employee and department-wise spending, budget savings, out-of-policy bookings, etc.
Modern TMCs provide you with advanced travel data analytics. Some advanced TMCs use T&E software which combines all the travel data on a single dashboard. This allows you to view, analyze and manage your expenditures. 
You also get to see the top spenders, percentage of last-minute bookings, frequently traveled destinations, out-of-policy bookings, and more. These reports provide you with insights that can help you save money. 
6. Travel Risk Management
Business travel involves multiple risks for employees. The threats can range from a simple misrouting to getting stuck in a global health emergency like Covid-19. In either case, you have a legal duty of care toward employees to ensure they come out of the situation unharmed.
Corporate travel management consulting can help you manage these risks better by helping you create and execute a seamless duty of care plan. In planning, you get expert advice on what topics you must incorporate in your risk assessment. And with respect to executing, you will be suggested on how to utilize technology to mitigate risks. 
For instance, the TMC that provides corporate travel management consulting may recommend travel management software with live traveler tracking, which will help you know your travelers' whereabouts. Therefore, you can embed better care in business travel.
7. Acquiring and Updating Travel Documents
Important travel documents such as visas, travel insurance, and national ID cards are crucial for business travel, especially when employees have to travel internationally. And post Covid-19 pandemic, many countries have changed their rules with regard to international travel.
Hence, it is important for employees and travel managers to be up to date with the latest travel guidelines and documents regularly. However, due to their hectic schedules, it is likely that they may forget to do so.
A corporate travel consultant procures and updates travel documents according to the latest travel rules and regulations. This helps save employees and travel managers a lot of time and further enhances your business travel management process.
8. Arranging Business Travel Insurance
Your road warrior employees who often travel for work are prone to various risks, some of which may be life-altering. For instance, they may encounter a road accident while going to the business venue, or the destination employees visit may encounter political unrest. Hence, as a business owner, you must take utmost care of your employees and ensure they are safe during their business trips.
Hence, you should look for corporate travel consulting, which provides business travel insurance for any untoward incidents employees may face. Categories such as accidental medical expenses, illness and accidents, theft and loss of baggage, emergency evacuation cost, etc., will all be covered under the insurance. With this, you protect your employees and their belongings and save your business from any financial loss.
9. Corporate Travel Recommendations
When it comes to booking business travel, employees and travel managers may have to get in touch with an external travel agent. However, these travel agents may not have inside knowledge of most aspects of business travel or recommend good accommodations or modes of transportation.
Corporate travel consultants can help you get good deals by negotiating with hotels and flights. They also recommend where you can cut down costs in your business travel. They are highly skilled with many years of experience and hence may even have access to information that the general public isn't aware of, such as industry rates, flight price changes, etc.
It's Time to Switch to Corporate Travel Management Consulting
Corporate travel management consultant helps companies make business travel arrangements seamless and assists them in important decisions. It helps them ensure employee safety, plan travel itineraries, secure data, and more. Therefore, you must invest in a TMC that provides services such as ITILITE. 
ITILITE is a SaaS-based travel management company that provides corporate travel management consulting services. We offer you the best deals on flights and hotels, a virtual travel consultant, granular travel policy configurations, round-the-clock support for your business travelers, extensive flight and hotel inventory, and many more.
Get a free demo of ITILITE to know more about our advanced features and services.