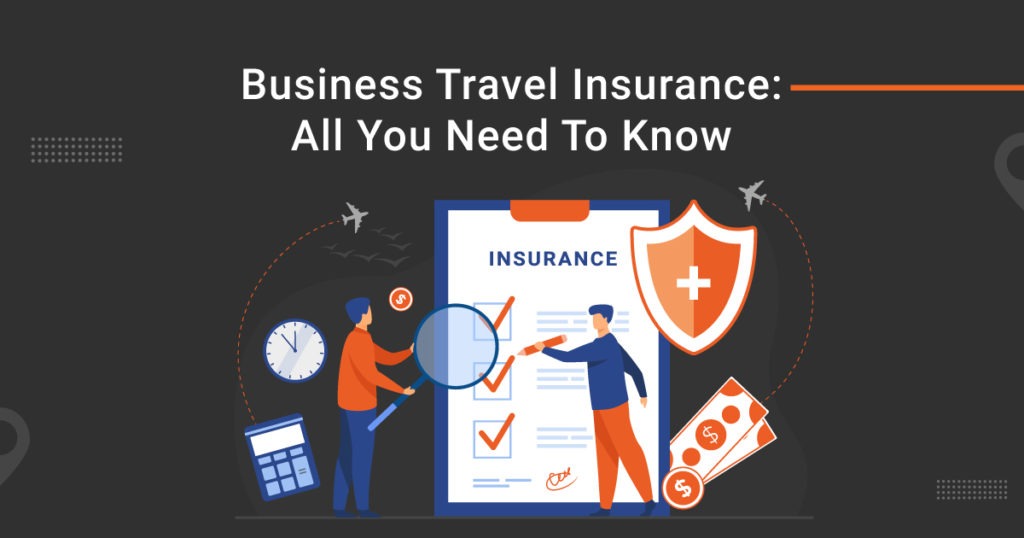 As travel opens up across the world, employees too are all geared up for business travel. It makes sense to have business travel insurance in place to protect employees against the costly situations that are out of their control. Medical bills, lost luggage, delayed and canceled transport, all add to extra expenses. However, you can cover yourself and your employees on their business trips with a travel insurance policy.
If you are looking to get business travel insurance for your employees, then this blog is just for you! We will explain everything you need to know about travel insurance – its types, what it covers, how to find one, and the factors to consider while buying it. Read on!
What is Business Travel Insurance?
Business travel insurance is basically a policy that covers the expenses of unexpected incidents and accidents such as the cost of delays and cancellation of transport, medical expenses, lost luggage, and expensive items, and others while your employees are on a business trip.
Types of Business Travel Insurance
There are mainly two categories of travel insurance under which all the policies are made: domestic and international. These two types can further be categorized into single-trip insurance and multi-trip insurance for businesses.
Single-Trip Insurance: This insurance only covers a journey from the start date to the end date of a single trip.
Multi-Trip Insurance: It covers all trips made within a fixed time frame like six months, one year, etc.

What Does Business Travel Insurance Cover?
The extent of protection you get from a business travel insurance depends from provider to provider. A business travel insurance provider may make customized policies as per your requirement. However, there are a few typical features that appear as a part of almost every travel insurance policy:
1. Medical Costs
Business travel insurance covers everything related to medical requirements such as treatment if you fall ill or injure yourself, medical evacuation, and body repatriation. The travelers have to provide their medical reports and necessary documents to claim the cover.
Also, if you cancel the business trip at the last moment due to an illness, most travel insurance providers help you recover the cost of the trip.
2. Interruptions, Delays, and Cancellation
Transport delays or flight cancellations are pretty normal and can throw the entire business trip off schedule for your employees. They might need to arrange alternative travel if they need to be somewhere on time. A comprehensive travel insurance policy provides cover for natural interruptions like weather or administrative delays and cancellations. It compensates for your employee's replacement journey and accommodation if things go wrong.
3. Luggage Including Work Gadgets
This is one of the key things to look out for while you are choosing business travel insurance for your employees. While most of the travel insurance policies would cover costs for lost luggage or travel documents, you will have to ensure that it includes a standard cover for work gadgets. The insurance providers must compensate your employees with the cost of missing goods or the subsequent replacement of essential business equipment such as laptops.
4. Life Insurance
Business travel insurance providers usually cover accidental death or air flight accidental death while an employee is on a business trip. However, you should always double-check with the travel insurance provider if they provide life insurance cover for employees.
What Does Business Travel Insurance Exclude?
As with most types of insurance, your employees might not be able to claim the travel insurance cover in certain situations. Here are some general features/situations that travel insurance does not cover:
1. Pre-existing Medical Conditions
If an employee has been suffering from a disease or has a pre-existing medical condition and it flares up during the business trip, the travel insurance provider may refuse to pay for it. Also, the travel insurance provider might not compensate for medical treatments that are not included in the policy or non-essential medical treatments like plastic surgery.
However, there are some travel insurance policies that cover pre-existing conditions and disabilities if you have declared the same earlier.
2. Claims Resulting from Risky Activities or Intoxication
The travel insurance provider will most probably reject any claim resulting from the carelessness of the traveler.
For instance, you would not be able to claim cover for lost luggage if you were under the influence of drugs or alcohol. Also, your claims might get rejected if they are a result of risky activities such as adventure sports.
3. Personal Gadgets
While a business travel insurance would cover work gadgets such as laptops, it may not provide cover for your personal valuable items such as jewelry or a mobile phone.
4. Conflict and Natural Disasters
Business travel insurance providers do not compensate or cover claims resulting from natural calamities such as floods and earthquakes. Also, It also does not cover the places that have high risks of calamity or are a war zone.
How to Find Business Travel Insurance Provider
Here are some ways/platforms through which you can find travel insurance providers:
1. Insurance Agencies
Many insurance companies provide travel insurance. You can directly connect with them over their website, phone, or walk into their office. Typically, they would ask about the age, medical conditions, and overall trip cost and then provide you with the most relevant policies to choose the best.
2. Credit Card Companies
Many credit card companies offer travel insurance if you have booked the trip using their credit card. It is good to take this type of travel insurance for a single short trip as it reduces the time and effort for searching insurance providers and then looking for a personal policy. But they provide one policy to all and do not make any customizations. It might work for a single trip but not for multi-trip traveling.
3. Airlines
Many airlines provide travel insurance directly at the time of booking as an optional add-on. They provide the travel "protection" during your travel, but they are more expensive than the insurance companies and also do not have an in-depth policy as per requirement.
Before you opt for such travel insurance, check the policy thoroughly and sign up only if suitable for you.
4. Comparison Sites
Business travel insurance comparison sites are helpful for people who are not aware of which type of travel insurance policies to opt for. You can start your insurance search from a comparison website and check the price, policies, reviews, and other benefits. Once you find a suitable option, then you can apply for insurance directly.
5. Travel Agent
There are travel agents who sell business travel insurance too. They can also help you apply and claim the insurance. But there is a chance that the travel agent shows only the options that they have tie-ups with, and you might get a better and pocket-friendly option if you research yourself.
Factors to Keep in Mind while Selecting a Business Travel Insurance Policy 
While selecting travel insurance, you must keep the following factors in mind:
1. Frequency of Trips
There are different plans available for different requirements. If your employees travel frequently, you'll need a multi-trip policy. However, if your employees travel infrequently, then you might benefit from a single-trip policy.
2. Cover Size
It is essential to fix the medical insurance amount as per the medical service cost of the country or city your employee is traveling to. For instance, your employee would need a high expense cover for traveling to the US, and a low cover if traveling to Sri Lanka. The higher the medical service cost, the costlier the policy.
3. Add-on Features
The add-on features depend on the travel insurance policy you are taking and the insurance provider. Select a business travel insurance provider that lets you add cover for damages to personal items such as phones etc.
4. Service and Claims History
Choose a policy or insurer who pays your claim on time and provides aid when you and your employees need it. Before buying a business travel insurance plan, ensure that the insurance company has online emergency assistance services, 24/7 support over toll-free numbers, an easy and smooth claims process, multiple payment options, and a huge worldwide network of hospitals.
5. Destination
The premium of the policy also depends on the location. High medical service cost locations like the US, Canada have high insurance. Also, locations with high risks or a history of natural disasters like Japan have higher insurance rates than other countries.
6. Trip Length
The longer the trips, the longer you would need the cover for, so, the premiums will be higher for bigger trips.
7. Age and Medical Conditions
Age and your health are some of the most common factors for selecting business travel insurance. Some policies cover your existing medical illness or a life-threatening situation whereas not cover the illness caused by alcohol and drugs.
Provide an Extra Layer of Safety with ITILITE
Whether your employees are going for a one-day trip via a car or taking a 10-hour flight around the world, things can go wrong on any trip. Providing travel insurance can be well worth the modest investment to take the stress out of the trip away.
While travel insurance can cover all the expenses for any untoward incident, travel and expense management software such as ITILITE makes sure that your employees are safe and have a great travel experience.
At ITILITE, we support your travel needs as well as help you in minimizing risk for your travelers with cutting-edge digital capabilities and 24/7 customer support.
To know more, book a demo with our product expert today.