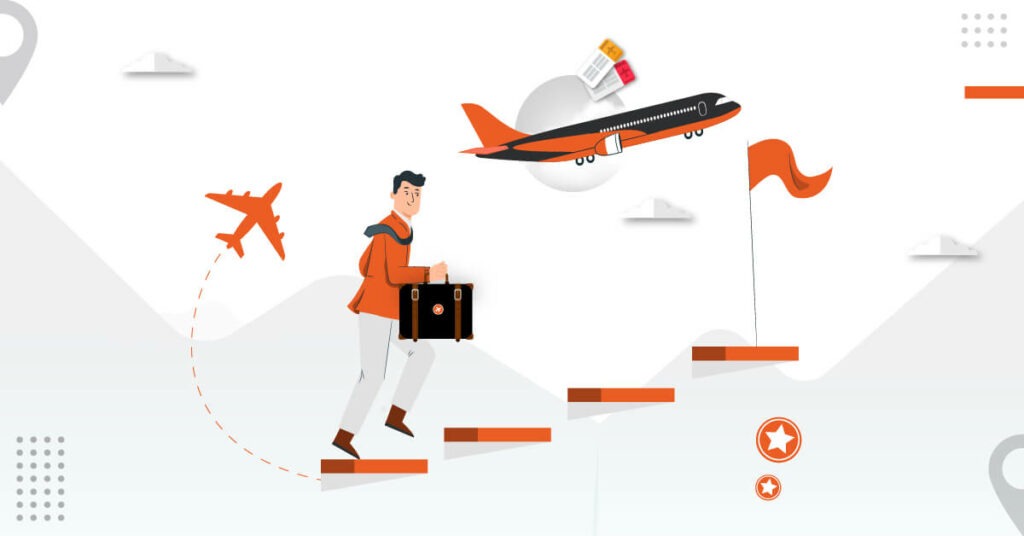 Business travel is an integral part of most companies, be it small businesses or large enterprises. You must continuously cater to business travelers' needs while reducing travel costs. One of the solutions to optimize business travel management is to hire a corporate travel company.
A corporate travel company or a travel management company (TMC) is an organization that is committed to managing your travel management needs. The new-age TMCs are tech-savvy and use travel management software that helps your travel management process by streamlining the booking process, ensuring policy compliance, and offering cost-efficient options.
Let us take a look at how a corporate travel company helps travel managers overcome travel management challenges:
1. Gives Access to Extensive Travel Options
When it comes to business travel, most travel managers spend more time than required. This is because they don't have sufficient travel options or partnerships with airlines, hotels, or car rental vendors. Moreover, employees may end up booking flights or hotels on a third-party website if the options provided don't suit their preferences.
You can overcome this problem with the help of a corporate travel company that offers an extensive travel inventory. The company uses a corporate booking tool that provides an extensive travel inventory of flights and hotels sourced directly from the GDS (Global Distribution System).
2. Allows Multi-Software Integration
In a company's travel management process, various departments, such as HR, finance, and travel managers, are involved. Most of them use separate software or applications to manage their process. Hence, retrieving the data from other systems and uploading it into theirs becomes difficult. Additionally, if they need to modify any data, it must be done manually across all platforms, which is a tedious process.
A company that uses a SaaS-based travel management solution can easily help you integrate with various third-party applications and facilitate data synchronization.
For instance, you need not extract any employee information from the HRMS tool. The software automatically updates the data when new information is added to the HRMS. This process is efficient as you don't have to check and update the data manually.
3. Helps You Draft an Effective Travel Policy
Every company has a travel policy that lays the foundation of its travel management process. However, travel managers find it difficult to draft a policy because it needs to be cost-effective and simultaneously address business travelers' needs.
For instance, you can book a low-cost flight that the employees may not like. Contrarily, if you book a flight that is at a higher end, it can cost your company heavily.
The corporate travel company has a team of experts that can build an effective corporate travel policy for you. Before drafting a travel policy, they analyze your company's current travel management process and identify company guidelines, employee booking history, and more. They build a travel policy in such a way that it considers employee safety, preferences, and overall budget. This is done with customized reports on various aspects, such as reports for carbon footprint, employee spending, and reimbursement delays.
4. Improves Policy Compliance
One of the main problems travel managers face is policy compliance. Most employees often violate their company's travel policy. This happens mainly because travel managers cannot communicate the policy clearly, or the guidelines are difficult for employees to understand. Another major reason for policy violations is that the employees cannot view it in real-time while booking or filing expenses.
A travel management company that uses travel management software can minimize policy violations. By using the software, they can configure multi-level granular policies depending on trip destinations, departments, employee levels, airlines, and many more. This reduces any ambiguity in travel bookings.
Moreover, as employees can view the policy in real-time, it avoids any sort of policy violation. Additionally, business travelers and approvers will also be notified if any out-of-policy expenses are made while traveling. Travel managers don't need to keep track of any policy violations.
5. Provides Business Travel Support
Employees face a lot of challenges during domestic and international travel. Moreover, female employees need to be extra careful as they are more prone to safety risks than their male counterparts.
Hence, it is crucial that employees get the required support whenever they need it. However, most travel managers find it difficult to provide support because of differences in time zones.
For instance, let us consider a scenario where an employee's flight is delayed due to bad weather conditions. He/she is stuck in the airport and doesn't know what to do. Employee contacts your support team for help. But it is already late at night, and the support team is unavailable as it is after their office hours. In such scenarios, the employee will find himself stuck in a very difficult situation.
Hence, you must choose a travel management company that provides 24/7/365 business travel support through multiple channels such as calls, emails, and chats in such emergencies.
6. Empowers Employees With a Self-Booking Option
Travel managers constantly get multiple requests from employees while booking business trips. Furthermore, they must consider every employee's preferences, browse through various third-party websites for flights and hotels and navigate through several options before selecting the right one. This method is very hectic and time-consuming.
The best corporate travel companies have a corporate travel booking platform that empowers employees with a self-booking option to book trips according to their preferences. Employees get handpicked personalized choices according to their preferences from a vast variety of flights and hotels, all on a single screen. This means you don't need to book flights or hotels for your employees, thus saving a lot of time and energy.
7. Provides Business Travel Insights
Business travel analytics are very important for travel managers as they must track significant travel KPIs such as employee and department-wise spending, policy violations, employee promoter score, and expense incurred every trip, to find any bottlenecks and draft measures to optimize business travel management.
A travel management company can help you with this by offering advanced business travel analytics. The company uses travel management software that compiles all the travel data on a single dashboard. These customized dashboards let you access real-time data seamlessly.
For example, you can see which airlines employees generally prefer, and based on that; you can get good offers and deals for those flights when employees travel next. It also provides custom reporting for various departments based on their requirements.
8. Helps You Optimize Cost
Managing travel costs is a critical challenge that most travel managers face. This is because sometimes employees make out of policy booking as they don't get access to enough travel options. Moreover, travel managers struggle to get good discounted rates and deals as they must navigate various third-party websites and compare prices. Another reason for cost leakage is the mismanagement of unused tickets because the flight credits are difficult to track at the time of booking.
A corporate travel company can help you reduce business travel costs. It partners with hotels and airlines that provide options at discounted prices. They also have access to Low-Cost Carriers (LCCs) with affordable options.
The best corporate travel companies also invest in travel management software that offers a virtual travel consultant. A virtual travel consultant like ITILITE Mastermind compares your travel and expense data with industry benchmarks and provides insights into where you could have saved more.
You can try Mastermind for free to see the insights it offers.
9. Keeps Employee Data Secure
Another major issue travel managers face is securing employees' data. Daily, travel managers have to handle the information of multiple employees. They have to collect and store Personal Identifiable Information (PII) such as their email address, phone numbers, credit card details, identity card details, and many more. This information is very important and, if leaked, can cost a company a fortune and, at the same time, put employees' information at risk.
This is where a travel management company comes into the picture. The company uses a cloud-based travel management software that offers advanced data security that helps you protect all private information of employees. The information is encrypted in such a way that nobody can access it without permission, and hence, the chances of cyberattacks reduce tremendously.
10. Provides Concierge Services
Concierge services are the additional services provided to employees during their business travel, such as business travel accident insurance, visas, airport lounge facilities, cab services, and many more.
Providing these services is challenging for travel managers. For instance, travel managers may have to partner with hotels for pick-and-drop service, which takes a lot of time and exchange of multiple emails back and forth.
An easier way to provide concierge services to employees is with the help of a corporate travel company. The company usually partners with many hotels and service providers that offer concierge services. Therefore, you can completely eliminate the hassle involved with the traditional email method and manage concierge services seamlessly.
Hire a Corporate Travel Company Now
A new-age corporate travel company that uses specialized travel management software can solve most of your problems regarding the business travel process. It helps you reduce travel costs, provide deep insights, improve policy compliance, and enhance the travel experience with the help of advanced travel technology.
ITILITE is a travel management platform that performs every function of a corporate travel company and more. ITILITE's SaaS-based travel management software empowers employees with a fast self-booking system with personalized options.
We also offer 24/7/365 business travel support to employees via call, chat, and email. Moreover, you can reduce travel costs and improve policy compliance with a granular policy setup, automated approval workflow, and a virtual travel consultant.
To try all the features of ITILITE yourself, take a free demo.