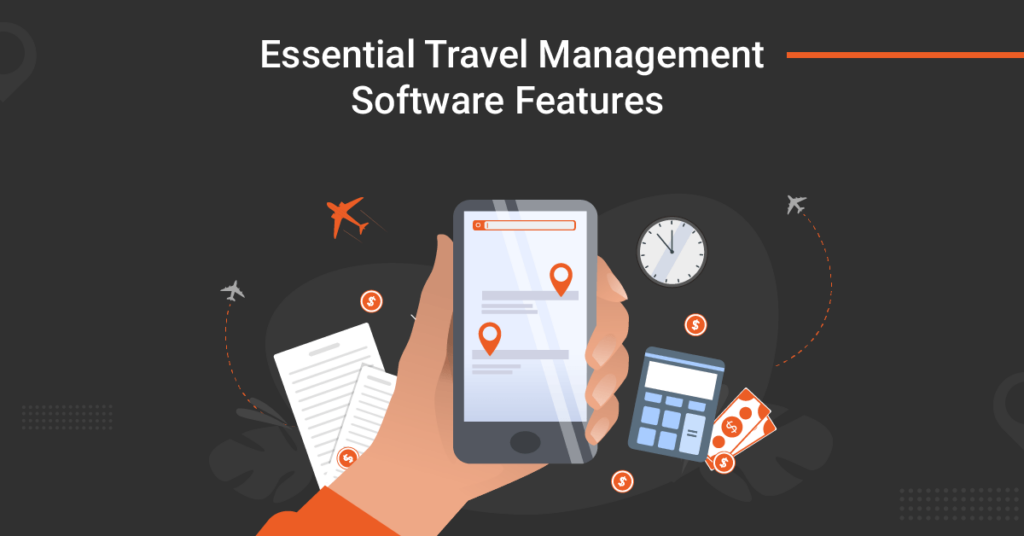 As corporate travel is getting back on its feet after pandemic, more and more companies are adopting business travel management software(TMS) to manage business trips better. As a result, the travel management platform market is expected to grow up to $17.4 billion in 2030.
However, since it's such an essential part of managing overall corporate travel, it should never be an either/or situation when picking up the right travel management platform. There are certain key features you should look for while selecting travel software for your organization.
Here are some other features to look for in the best travel software:
6 Ways to Choose Travel Management Software
1. Determine its Ease of Use
A business travel booking software should be easy to use so that it offers employees a delightful travel booking experience. To ensure ease of use, look for the following features:
Intuitive UI/UX
The business travel booking software should have a user-friendly user interface that eases the booking process. Employees should find it convenient to see all available flights, approval status, and book travel as per the travel policy- all in one window. They should get to what they need quickly, easily, and without any instruction manual.
Multiple Platforms
Apart from a desktop for bookings and expense filing, the business travel manager software should be available on a mobile app to make tracking and managing travel easier.
The mobile app can help your employees to request travel bookings and check the status of their requests on the go. Moreover, they can file travel expenses in real time by clicking and uploading pictures of the receipts instead of preserving physical copies until they return to the office.
2. Ensure it has all the necessary features
When selecting a travel management solution, knowing which features matter to you is necessary. Make a list of such features.
Here are some essential features.
No setup costs and fast setup time
The business travel software you choose should not have any setup costs, and the vendor should be able to set it up within no time. Additionally, the software should not require any over-the-top technological upgradation- It should run smoothly on laptops with basic configuration.
Near-zero downtime
Your business travel software should keep the data accessible to employees and be up and running 24/7/365. Moreover, the best travel software provider should offer prompt technical support in case of any issues with the functioning of the software.
Customizable approval workflows
Unclear travel request approval workflows can cause unnecessary trip delays. Moreover, if the employees don't know who will approve their travel request, they might send it to the wrong authority. This might lead to the request getting stuck in an endless back-and-forth, wasting everyone's time and energy.
Therefore, while choosing a business travel software, ensure it includes customizable complex approval workflows so that the employees know when to take approvals and if there are any exceptions.

Cloud computing
The business travel management solution should be totally or partially cloud-based. With cloud computing service, your employees can access the software anytime, anywhere, with an internet connection.
Additionally, cloud-based software systems are scalable on demand. Therefore, you can add additional employee data and manage extra travel requests without any added costs.
App Integration
Travel data is required across multiple departments for various purposes. For instance, the finance department needs travel data for complete and timely reimbursement.
Therefore, the business travel software should offer custom integrations or API so you can integrate it with other systems, such as ERP, HRMS, accounting solutions, etc. for seamless data sharing.
Ability to configure complex policies
Unclear travel policies can cause hassle in the booking process and also disrupt expense filing. If the policy terms are too generalized, the employees might not understand them properly and end up violating the policy unknowingly.
Therefore, the travel management system should offer the flexibility to configure complex flows for various scenarios so that your employees are aware of the policy limits.
For instance, if an employee is traveling internationally, the software should show expense limits or per diems according to the destination as per your company's travel policy.
Ability to customize travel policies
One of the major reasons behind low travel policy compliance is that employees are not aware of the changes in the policy and cannot view the guidelines in real-time.
Therefore, your business travel management solution should reflect the changes you make to your corporate travel policy in real-time. So, it's visible whenever an employee books a trip.
For instance, you can change the time taken for approval from 24 hours to 48 hours instantly, failing which the request would automatically get canceled.
3. Ensure it has features to provide enhanced safety
The business travel management solution you opt for should help you keep up with your duty of care obligations by implementing employee safety procedures, such as –
Safe hotel tagging
Select a TMS that enables you to tag a hotel safe and compliant according to WHO's global safety standards. Moreover, the business travel booking software should also allow the blacklisting of hotels that provide sub-standard services or are unsafe for travelers. This way, you can ensure your employees are staying in a safe place every time they travel.
Locating travelers live
The corporate travel management solution should have a feature to track where your employee is at any given time – whether on a business trip or commuting to the office. This will help your travel managers to intervene and help your employees in case of any emergencies.
Controlling where it's safe to go
The business travel booking software should enable you to block unsafe cities/accommodations from being searched by employees. For instance, with ITILITE Shield, you can lock a city, hotel, or airline that you deem unsafe for employees.
4. Check if it provides 24/7 multi-level support
Employees might need support at any given point during their journeys. Hence, the business travel management provider you choose should offer support proactively, no matter what time of day it is.
Also, it is equally critical to ensure that they provide support through easily accessible channels such as chats and calls. In emergencies, your employee should be able to reach out to an agent directly instead of through chatbots.
5. Check if it provides advanced reporting & analytics
The business travel management solution you choose should offer advanced reporting on the T&E process. Choose software that helps you with:
Actionable data-driven insights on saving travel costs
Your travel management solution should deliver data-driven insights on the ways you can save travel costs and increase policy compliance. Some business travel management tools come equipped with a virtual travel consultant that can deliver such insights.
A virtual travel consultant like ITILITE Mastermind can collect and analyze your company's past travel data and compare it with the industry's benchmarks to tell you how much you can save. Moreover, it can also give you actionable steps you can take to increase savings.
Real-time visibility of travel reports
You should get real-time updates on what's going on in your T&E process through your business travel software. Also, it should allow you to identify patterns and trends to make smarter decisions.
For instance, you should be able to look at the monthly booking cancellations that might be increasing your travel costs. With the help of this data, you can determine whether there were any unnecessary cancellations.
Moreover, you can make changes to your travel policy to incorporate clear guidelines about valid and invalid reasons for cancellation. This can help your employees avoid any unnecessary penalties.
Detailed reporting via a single dashboard
As a travel manager, you should be able to view all the travel-related information in a consolidated manner. The reporting should be:
By function
By department
By period
Individual employee
Having all this information on a single platform will make it easier to fetch the data you want whenever required. Therefore, you can make insightful decisions and accomplish your travel goals seamlessly.
6. Check if it aids eco-friendly travel
According to a study, business travel is responsible for 2% of global carbon emissions. Hence, it is high time companies take accountability and work toward reducing their environmental impact through sustainable business travel. While opting for travel management software, ensure it aids your sustainability goals. Choose a software solution that provides features like carbon footprint tracking and reporting. With this data, you can analyze your negative environmental impact and take corrective actions by implementing a green travel policy.
Business Travel Management Software Checklist
Download this checklist to compare the essential features of various travel management software. Choose the one that best fits your needs. You can also use it to assess if your current provider has the key attributes.
Time to Onboard Business Travel Management Software
The software you use to book and manage travel can greatly impact your experience as a travel manager. Moreover, every employee traveling for work also needs a solution that is easy to use.
ITILITE is a SaaS-based travel and expense management platform with an easy-to-use interface and a wide range of travel inventory. With ITILITE, you get lightning-fast booking, advanced travel analytics, 24/7 support through calls, chat, and email, and much more.
To get a first-hand experience of ITILITE's advanced features, get a free demo now.