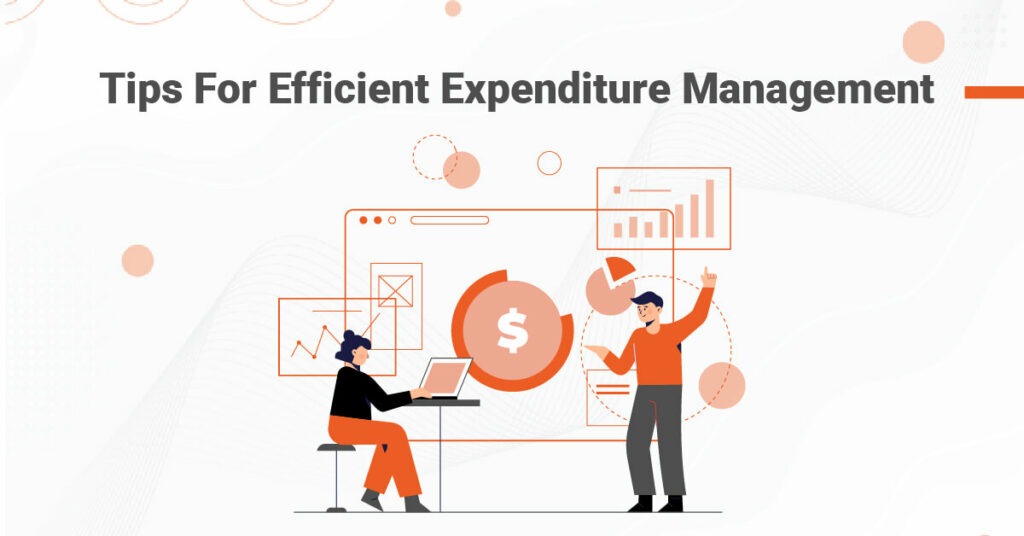 Do you ever feel that your company is incurring more expenses than required, and you are struggling to track these expenditures? If yes, then you are not the only one. Most organizations these days find it challenging to manage their expenditures efficiently. Therefore, they end up overspending on unnecessary things.
Running a business requires daily spending from employee salaries to small expenditures, such as office supplies and stationeries. And keeping an eye on such expenses and avoiding any unnecessary spending is crucial for the success of your business.
Hence, you must know how to manage your expenditure. If your business is looking to optimize your expenditure, stick to budgets and save money, you need to find efficient ways to reduce your expenditures. But how do you do that?
Here are a few tips that can help you with efficient expenditure management:
1. Know where you are Spending 
The first and foremost step to effective expenditure management is knowing where you spend the money. It may seem very trivial, but most company owners are unaware of where their revenue is being spent.
You can manage your expenses by reviewing your transaction history for the past few months or a year. Viewing the transaction history gives you an idea of where the maximum amount of money is spent.
However, while tracking your expenditures, you must document every cost incurred, such as employees' salaries, rent/mortgage payments, incidental expenses, insurance premiums, stationeries, and many more. You must also include variable costs such as catalogs, raw materials, and shipping. This will give you a good starting point to work on.
2. Prepare a Budget and Abide by it
Preparing a budget and sticking to it may seem impractical, but it is not. You can do this with a robust strategy. You can start by determining how much income you need to bring every week or month to cover your expenditures.
Make a list of all necessary expenses that need to be made and a separate list of non-essential expenses. Once you have prepared the lists, see where you can cut down on non-essential spending.
On the other hand, you also need to identify the capital and the operational expenditures. It is also essential also to review your budget very often and adjust as required.
Remember, the main aim here is to spend less and earn more every month to save sufficient money to expand your business.
3. Implement an Expense Management Policy
A significant mistake most companies make is failing to implement or enforce an expense management policy. When a proper expense policy is not implemented, employees can overspend, underspend, or be unaware of how much to spend and where. To avoid this, you must develop and implement a robust expense management policy for everyone to follow.
Include a complete list of expenses the company will pay for and a rundown of expenses the company will not cover. Make sure everyone across your company complies with the expense procedures and proposed recommendations, whether it is for travel expenses or procuring any raw materials.
A comprehensive expense policy helps ensures compliance with spending procedures, minimizing fraud and avoiding unnecessary expenses. Additionally, it also:
Keeps unintentional expenses like duplicate receipts, repetitive claims, etc., under check
Ensures control of general spending
Helps finance team with budget allocation for specific requirements
Assists in maintaining a simple process for expense reimbursement
Ensures companies and employees align with tax and compliance guidelines
4. Prevent fraudulent Expenses
Expense fraud is one of the most common problems faced by companies worldwide. According to the Association of Certified Fraud Examiners (ACFE), organizations are facing a median loss worth $40,000 due to expense fraud.
Suppose your company reimburses expenses such as home office supplies, internet, physical and mental well-being, etc. In that case, there is a high chance that employees can file duplicate or wrong expenses, file the same bill twice, or may be unaware of your expense policy, which can lead to fraudulent expenses.
Hence, updating your expense policy for all expense categories is important. Additionally, you can use an expense management solution with a fraud-detection feature that automatically verifies the expense reports once they are created.
The system flags any out-of-policy expense claims or duplicate/incomplete receipts the employee submits. This prevents employees from filing non-compliant expenses and saves the finance team time.
Try expense management solution too see how it works!

5. Use Expense Management Software to Track Expenses
While some companies have already started digitizing their expense process, some of them are yet to begin their digitization journey. If your company is still using the manual process of managing expenses, then it is high time you switch to expense management software.
Expense management software automates your expense reporting making it easier to track expenses, and manage and reimburse employees' expenses. It helps you optimize your budget and cash flow and comply with tax regulations. Automated expense management software also eliminates human error in your reporting and reimbursement process.
Therefore, you must choose an automated expense management software to help track your daily expenses. The software also provides an intuitive dashboard that gives you an insight into your expense management process, breaking down the various components into easily digestible information.
The consolidated visibility into expense data and intuitive dashboards allow business owners, finance departments, and managers to probe data in various ways, helping them predict expenses and allot future budgets accordingly.
The dashboard shows the status of every expense report, missing or rejected expense report, policy violation, spending limit, and many more. You can also:
Add or edit expenses and identify the spending trends.
Automate your approval process
Capture the receipts digitally
Track mileage
Get real-time reporting and analytics
Here is a checklist to help you choose the best expense management software
Get Expense Management Software Checklist
6. Implement a Pre-Spend Approval System
When you go overboard with your expenses, it can negatively impact your company's financial bottom line. Therefore, you must incorporate a pre-spend approval system. In a pre-spend expense approval system, managers can approve a certain amount even before an employee incurs them. This helps minimize unnecessary expenditures by enhancing policy compliance and reducing any expense fraud. 
Pre-spend approval system offers multiple benefits which will help you manage your expenses efficiently, such as: 
Getting access to the company's funds,
Cutting down on overspending and controlling costs
Speeding up your expense reimbursement process
Ensuring expense policy compliance
Visualizing and monitoring employee expenses
Eliminating expense fraud 
Choosing from approved suppliers and vendors
7. Regularly Review Expenses
Most companies make the mistake of waiting till the year-end to review their yearly expenses. However, to utilize your budgets effectively, you must revise and review them regularly. This is essential, especially when your business is growing and planning to expand in new areas. 
Ensure you review your expenditures bi-weekly or once a month, or more frequently. During the review process, consider whether every expenditure was necessary and allowable if the company is getting the best possible deal and if any expenditure categories have significantly risen since the last review.  This will help you identify any loophole in expenditure management that needs to be addressed. 
8. Educate Employees about the Best Practices
It is not enough when you create a budget and only allow top management to monitor it. When you prepare an expense policy or bring out a new process in your company, share it with all the departments and teams. 
Get all the employees involved by educating them on identifying, establishing, and following the best practices across your organization.
For instance, when implementing an expense policy, let your employees know which expenses are reimbursable and which are not. And every time you review your policy, educate your employees about the same by sending out emails or conducting meetings. 
This will help your employees know about expenditure management, build a cost-conscious culture in your organization and dismiss any incorrect practices. 
9. Negotiate with Vendors
Negotiating with vendors is one of the most vital tips for efficient expenditure management. If your company has been using the same vendor for the last few years and never negotiated till now, then it is high time you do so. Most vendors are ready to negotiate the prices, especially if they like your business and don't want to lose you. 
But, while negotiating, you must be prepared with all the information about what other vendors are charging for similar services. This way, you can tell them why you want the materials/services at a lesser cost. 
You can also offer to pay upfront or increase the number of your orders in return for some discount or offer. When you know and prepare for all these options, you'll be able to get the best deals and offers from the vendors. 
Make Expenditure Management an Efficient Process
Most companies find managing expenditure a challenge. They are unable to track daily expenses, detect expense frauds, or regularly review their expenditures. The tips mentioned above will help you manage your expenditures and create a cost-conscious culture in your organization. 
ITILITE expense management solution helps automate your expense process through digital receipt management, expense tracking, customized dashboards, and expense fraud detection, thus streamlining your expenditure management process and improving your financial stability. 
We offer a free demo of ITILITE with all its features so you can experience the difference yourself.