July 2023
Find your company's dream hotel
Feature:

Hotel search algorithm perfected

Description : Dream scenario: Employees find a hotel that's company preferred, within 5 miles of the primary location, has great reviews and within policy. We're giving you exactly that – you can recommend these "dream scenario" hotels within 6 seconds of an employee searching for them at the top of their search results. We are invested in raising employee satisfaction with corporate travel and cost savings for you.

June 2023
Rent a car from a nearby location
Feature:
Multi-location pickup/drop for car rentals
Description : Rent your cars from near your office or your home by booking your rental cars on ITILITE. It's easy to find multiple locations for pickup or drop in any city in the United States with a simple drop down of all available locations. There are so many different car models available on the platform – sedans, hatchbacks, UVs, mini-trucks – you're going to love how easy it is to book your first ever rental car on ITILITE!

May 2023
Consult, measure, automate, report
Feature:

Automated reporting on your top metrics

Description: Unclear on the metrics you should be reporting to the leaders at your company? We can help you with identifying the metrics that make the most sense for your business, build automated reports around it and send them to your inbox at a frequency you decide. Our dedicated account managers are your full-blown consultative partners too and not just transactional.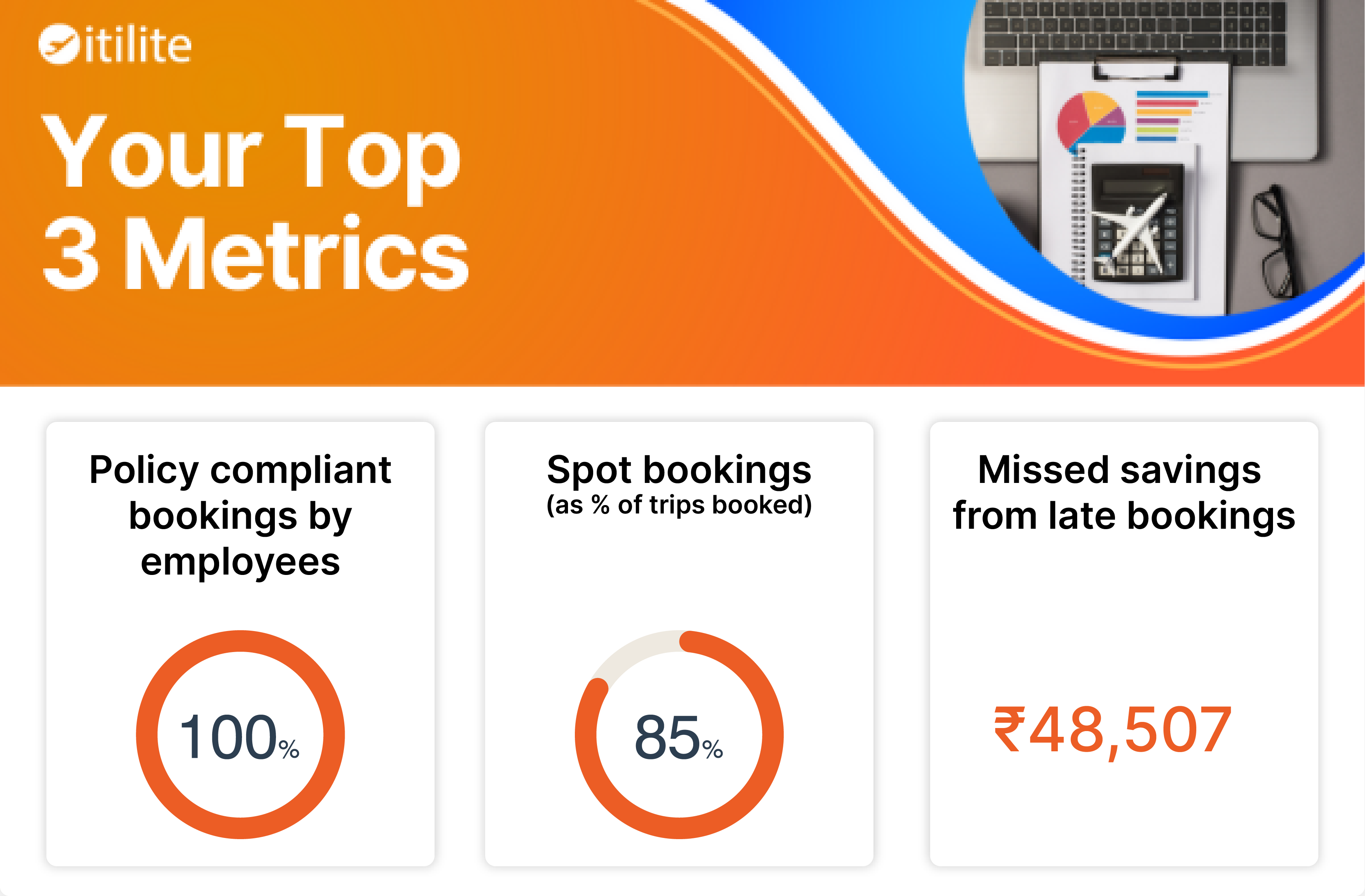 Bottomless expense approvals
Feature:
Custom approval flows for every possible use case
Description: A project brings together employees from different departments or entities and consists of a project manager who generally decides the project's spend limits. So why should an employee's department head be responsible for approving expenses filed by employees during the tenure of the project? On itilite, it's easy to add a different approver for every possible combination of employee, department, entity, spend category, spend limit and project. In fact, every active user on the platform can become an approver. Don't limit yourself, be bottomless!
April 2023
More options for hotel payments
Feature:

Postpaid hotel options

Description: Hotels are generally classified into 2 categories – "Prepaid" – paid by employee or company before check-in and "Postpaid" – paid by employee directly at the hotel during check-out. You can now book hotels from this expanded category of postpaid hotels on itilite. The implications are that your company now has multiple payment options for hotels and higher chances of getting loyalty membership points on hotel bookings. These are visible on every hotel listing as "Pay Now", "Bill to Company" and "Pay at hotel".


Create custom expense payouts files for your ERP / Payroll Software
Feature:
Custom payout templates
Description: We understand that ERP/Payroll systems are set up very differently at every company. That is why ITILITE Expense allows you to build your own file template that can be formatted as per your ERP or Payroll software's specific requirement. You can create multiple file templates for your ERP by choosing from 100+ expense fields on the system. Simply, select the fields you need as columns, preview your tables and start uploading/sending those custom files to your ERP when you want to pay out!
Mar 2023
Travel as a team with real-time updates
Feature:

Team Travel

Description: Does your company love offsites, team events, project meetings etc., at exotic locations? But, is managing those events a logistical nightmare? ITILITE's Team Travel helps you send team invites, review RSVP of all attendees and get access to reports that solve for both pre-event visibility and post event reconciliations. Leave the logistics to us and get real-time updates on events – save yourself some time.

Approve trips by projects, not just departments
Feature:
Project-based approvals
Description: If you're a company that has teams that travel for different projects, where an approval of the project is required for traveling, then this feature is a game-changer for you. While you can set approvals by department already on ITILITE, you can now set approvals by adding project codes. Once added, approvals could then be triggered to specific project managers or even teams working in different departments, entities or even different companies where your project is based.

Feb 2023
Book more company preferred hotels
Feature:

Find, add, display company preferred hotels & remove blacklisted hotels

Description: You have negotiated rates with hotels, ITILITE has negotiated for you or your employees have simply raved about their stay at certain hotels. Simply find them, add them as preferred and display them in the search results of employees. Also, blacklist hotels you don't want employees to book at all. The company controls what hotels get booked when employees travel.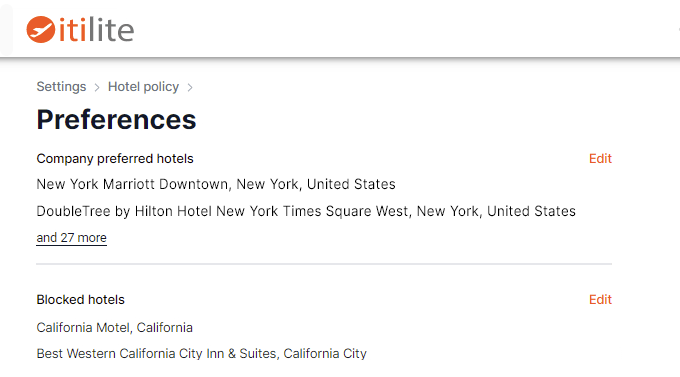 Don't spend any time on expenses that should not be filed
Feature:
Restrict expense creation for certain categories
Description: Employees sometimes think they can file anything and if they're lucky, they'd get reimbursed. Try blocking expense creation for certain categories that are outside policy for reimbursement as per company guidelines. With a few clicks, you can set up blocking of certain categories. The company will permanently be able to remove those expenses from manager and finance workflows, leading to higher productivity overall.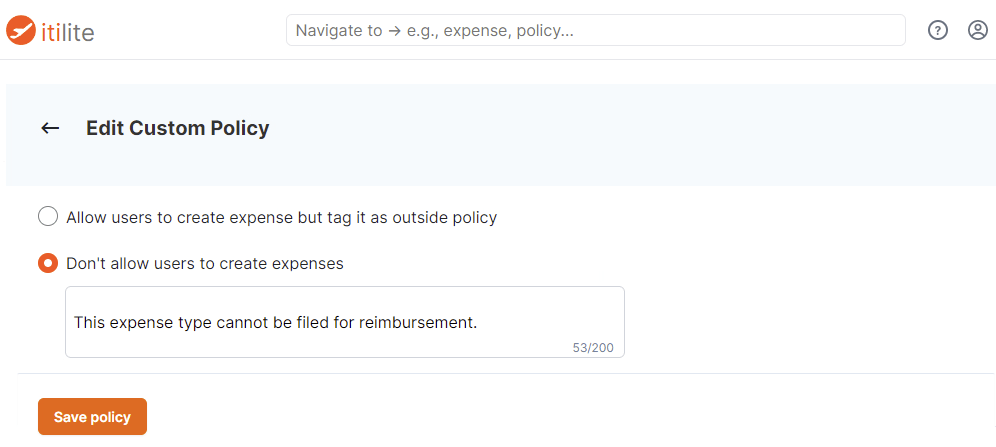 Jan 2023
Automatically re-shop when flight price drops
Feature:

Flight Price Re-Shop


Description: Find opportunities to save more from your trips by enabling Flight Price Re-Shop which automatically searches for a better price for the flight you've booked and "re-shops" at that better price. No minimum bookings required and it can be enabled for companies of all sizes.
Dec 2022
Save on travel by booking flights with previously unused tickets
Feature:

Unused flight credits


Description: Meeting is fixed, flight tickets are booked, but then out of nowhere the client cancels the meeting. Tickets are non-refundable, what do you do? Re-use them on your next flight, of course. If you are unable to avail a flight on a particular trip, the flight credits get stored and can be added while paying for your next flight. Stop losing money on flights, instead re-use it!
Nov 2022
Limit employee spending with custom per diem rates
Feature:

Highly customizable per diem rates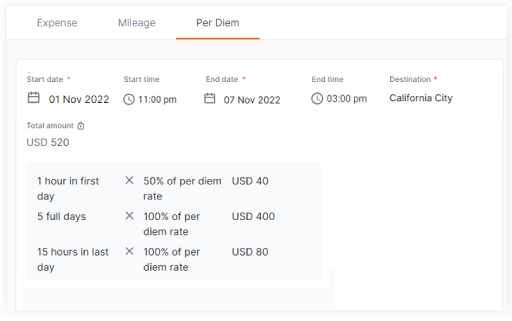 Description: An employee returns from Philly to New York in 6 hours, would you pay the per diems for the entire day? On itilite now you can pay employees per diems by the hour! You can customize per diem rates as per the guidelines set for different locations or for duration of travel. You can set them for specific employees. The per diems rates can also have a validity period for ever-evolving policies. And per diems get added once employees add travel destinations and durations – everything is automated!
Fuel your travel reports by adding custom fields
Feature:
Custom fields to record traveler details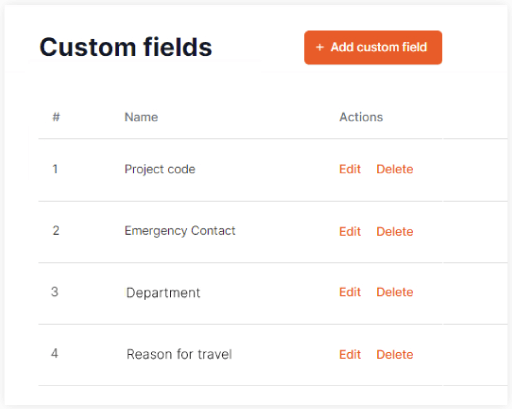 Description: Get more robust reports on your travelers – their cost centers, departments, projects, managers, travel reasons and so much more! All this by simply creating custom fields that you want the traveler to fill out while creating a trip. ITILITE allows adding up to 9 custom fields, which is the best in the industry. So don't limit yourself, go crazy and know your travelers better!
Oct 2022
Contribute to Sustainable Development Goals (SDGs) at your company
Feature:

Impactful Carbon Reporting

Description: We've made updates to our pre-existing carbon footprint report. Get carbon footprint information as per estimated travel distance in accordance with the standards followed by your local/global organization guidelines to create waves within your company. You can even offset your emissions and attain carbon neutrality by taking help from our partner, Gold Standard.
Don't miss out on receipts, take control of reimbursements
Feature:
Option to mandate expense receipts and receipt swipe
Description: Know every detail of all expenses happening in the company by mandating receipts for any category you want. The Federal Government in the US also mandates receipts for every spend above $75 during a business trip. Once received, just sit back and swipe each receipt from the palm of your hand and flag those that are not in line with expenses filed.
Sept 2022
Self-configure out-of-the-box expense integrations
Feature:

Integrate with Sage, Freshbooks and Zohobooks 

Description: Automate expense management end-to-end by integrating with Sage, Freshbooks and Zohobooks. These integrations are available out-of-the-box! This means that once you login into ITILITE Expense, with just a few clicks you can configure the integration yourself and pending payments will flow into Sage systems, Freshbooks and Zohobooks seamlessly
Ensure safe travels for your employees
Feature:

Vendor integration to get more options for duty of care  

Description: Ensure the safety and security of your employees while they are on their business trips. ITILITE can send traveler information including flight info, layover info, departure/arrival times/dates, hotel info, check-in/check-out dates etc., to the SSF Locator. This information helps the SSF team send relevant guidelines/risk factors for the area the user is traveling to and provide support in case of emergency.
Remind managers to approve expenses automatically
Feature:

Automated approval reminders  

Description: Delay in managerial approvals over employee expenses is one of the major reasons for unpredictability when it comes to reimbursing expenses and also closing books on time. Send timely reminders automatically to managers and nudge them to approve expenses and keep all your reimbursements in order.
Aug 2022
Complete control over travel management
Feature:

First of its kind travel control panel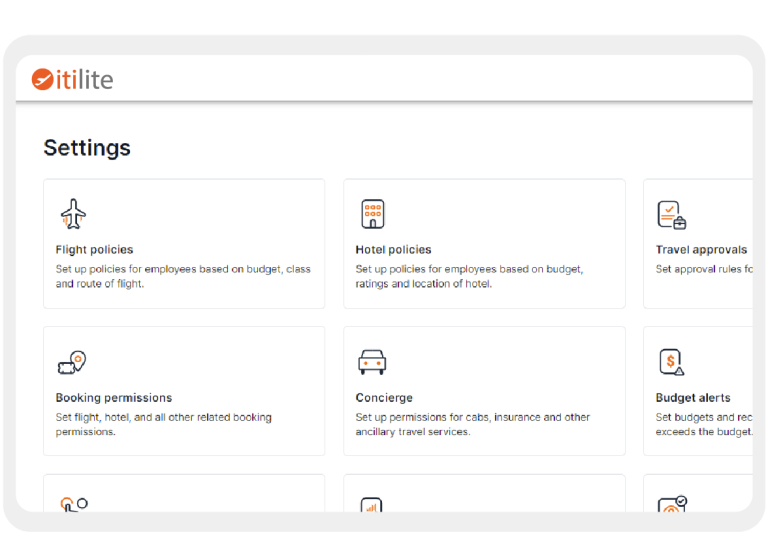 Description: Control company-wide travel from a really cool and first of its kind control panel. Set up flight policies, hotel policies, travel modes, travel budgets, company-wide reporting and so much more! Stop depending on response from your travel partner, rather configure your travel program yourself and just do it right away from a single screen!
Never miss travel membership discounts 
Feature:

Travel loyalty memberships on profile page
Description: "Oh no! I forgot to add my frequent flier membership number while making the booking!" "Why is there no place to add my frequent flier number in this booking?" Your travelers can now avoid such situations forever and contribute to savings for the company. Simply get your travelers to add the airline/hotel/car rental membership numbers on their profile pages or you can add the numbers for them as admins. Every booking done will get the advertised discount points guaranteed! Upto 15 such membership numbers can be added! 
Self-configure out-of-the box expense integrations
Feature:

Integrate with Oracle and Quickbooks Online

Description: Automate expense management end-to-end by integrating with Oracle and Quickbooks Online. These integrations are available out-of-the-box! This means that once you login into ITILITE Expense, with just a few clicks you can configure the integration yourself and all payments done using ACH or pending will flow into Oracle and Quickbooks seamlessly and vice versa! 
July 2022
Change management made extremely easy
Feature:

Unified User Management for Travel and Expense

Description: Change is the only constant at companies. Employees get promoted, they switch departments, business units and even entities. Their roles too change sometimes and maybe there is a new finance admin on the block! It's cumbersome to go for each minor change to your travel/expense provider. It's much easier to just toggle switches from a single screen on ITILITE for both travel and expense together. So do that!
Close books faster and reimburse expenses on time
Feature:

Automated email reminders to expense approvers

Description: Now send automated reminder emails to the approvers who are slow to approve/reject expense reports. This can be setup on a specific date of your choice – ideally when you are closer to the end of the month and cost accounting kicks in. This saves a lot of time reminding such managers repeatedly to approve/reject expense reports and definitely helps ensure that your books are closed and employees reimbursed ON TIME!
June 2022
Manage Travel and Expense users together from 1 screen
Feature:

Unified User Management for Travel and Expense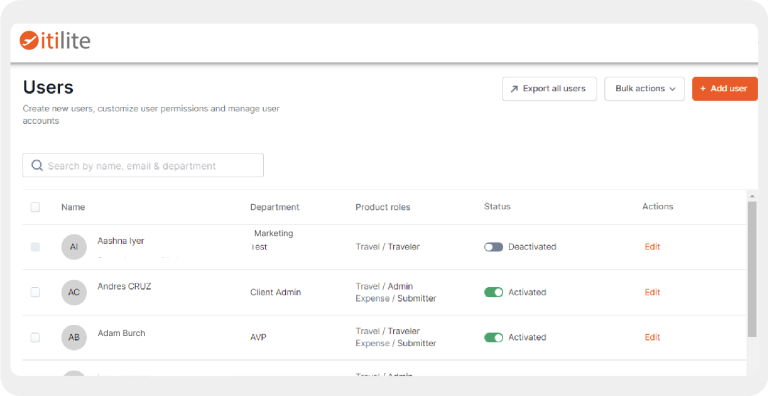 Description: When new employees join the company or old employees depart, managing that change is extremely easy on ITILITE. With user management for both Travel & Expense from a single screen, you can add new users, delete old ones and activate or deactivate them, as requirements come. You can even provide or revoke Travel or Expense access, depending on requirement. Just do it all yourself! It's super easy. 
Reimburse employees with a single click in bulk
Feature:

ACH payments in Expense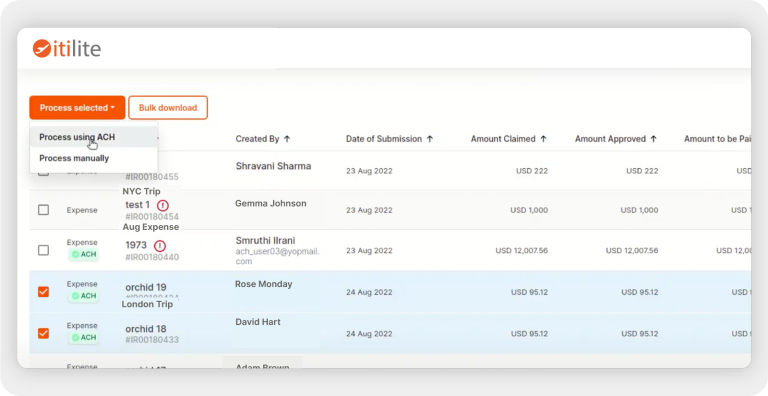 Description: Reimburse employees directly in bulk with a single click using ACH payments in Expense (US only). You will save so much time transferring payments to ERP/Accounting softwares and then making the payments. Yet, everything will be accounted for, as these payments are automatically added to your ERP software through seamless integration with ITILITE. Say goodbye to employee enquiries over reimbursements forever! Learn more.