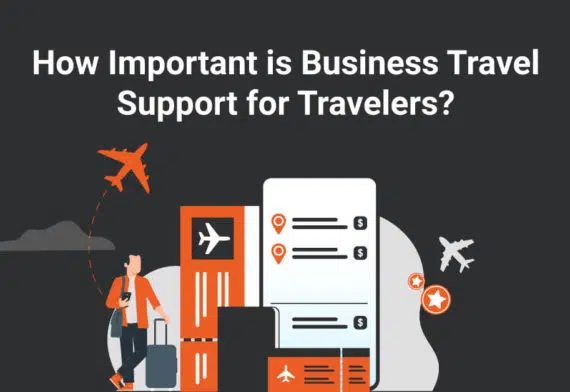 With the comeback of business travel, employees are starting to travel frequently for business purposes. However, with business travel comes several challenges you may face during your journey.
Tackling issues such as delayed and canceled flights, unpredictable weather conditions, loss of baggage, disappointing hotel rooms, etc., can cause travelers panic, stress, and frustration.
Such unforeseen circumstances and hassles require immediate and effective solutions so you can travel easily. Effective business travel support is the solution that helps business travelers do the same.
Here is an summary of all you need to know about how important is travel support for business.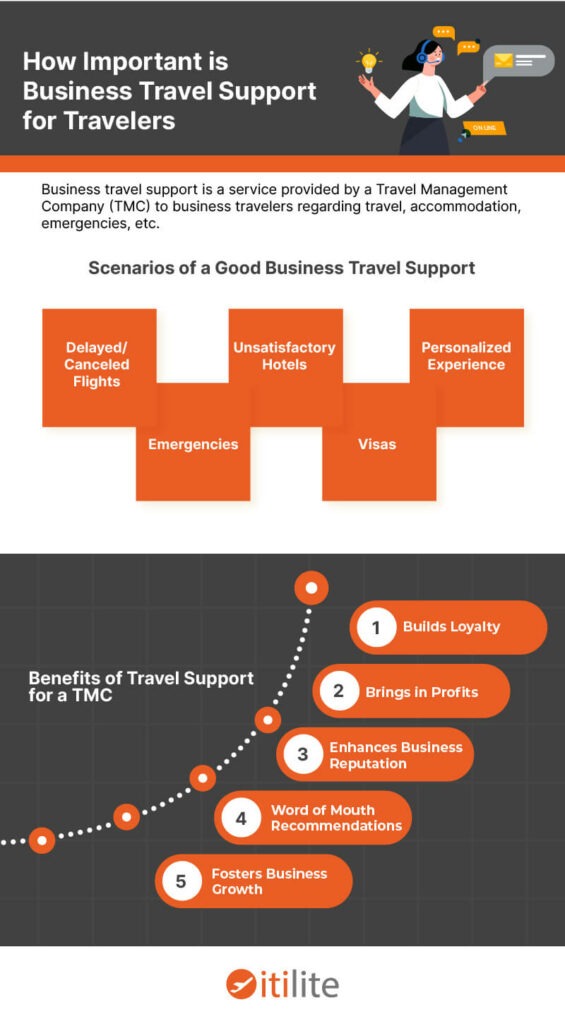 To know more, let's read in detail.
What is Business Travel Support?
Business travel support is a service provided by a Travel Management Company (TMC) to business travelers regarding transportation, accommodation, emergencies, etc. Nowadays, most companies and travelers prefer travel management companies that can provide incredible travel support to their customers.
Whether executing a sophisticated travel program, resolving a tricky itinerary, traveling to another destination or providing emergency travel assistance, the team guides you and assists with everything throughout your journey.
Importance of Business Travel Support for Travelers
Business travel support isn't just about being friendly and courteous to travelers. It is also about the quality of service a TMC provides and how the support team can help you travel safely.
For example, assume that a company's CEO or chairman has to travel for an important meeting. He encounters a situation where he has to board a flight, but his baggage is missing. He calls the business travel assistance team for help. If the travel support is unable to help him out, he will find himself in a difficult situation and may miss his flight.
However, suppose the support team has gone above and beyond to help him get his baggage back and board his flight on time. In that case, he will be able to carry out his travel activities smoothly without any hassle.
Such prompt business travel assistance can prevent the CEO from losing out on an important deal.
Scenarios of a Good Business Travel Support
Business travelers encounter unexpected situations while traveling. During such times, they need real-time assistance so that they can travel easily without any issues.
Here are a few instances where travelers need efficient business travel assistance from the TMC.
1. Delayed/Canceled Flights
When you travel for an important event such as a client meeting, brand promotion, a business conference, etc., the last thing you want to see is the flight being delayed or canceled. Because of this, you can also be stuck at the airport.
A TMC provides you with an alternate flight option during such situations. They have a large inventory of flights that you can choose from to reach the destination on time. Meanwhile, their travel assistant will contact you via call, email, or SMS to resolve the issue.
2. Emergencies
Sometimes, there may arise a situation where you might be unable to travel due to unexpected events such as bad weather, vehicle breakdown, etc.
Under such circumstances, the TMC's support team can offer you accommodation at a nearby hotel or provide you with an alternative mode of transportation, such as trains or buses.
Competent travel management companies also have a 24/7 support service to help travelers in such emergencies and provide immediate assistance.
3. Unsatisfactory Hotels
Most business travelers have to check into a hotel for accommodations while on a business trip. However, sometimes, you are unsatisfied with the hotel's accommodation, hygiene, or service.
During this time, the support assistant calls the hotel's front desk and checks with them about what is wrong and how they can rectify it.
If the support team cannot do anything about it, they provide you with an alternate or hotel accommodation of their choice. They can also book a nearby hotel, so travelers don't spend too much time shifting from one hotel to another.
4. Visas
In the present age of globalization, various countries are encouraging business travelers. But the visa application process differs from one country to another. While few countries have visas on arrival, others expect you to have visas before arrival.
For business travelers, visa processing can be tedious, especially when many details need to be verified and approved.
In such cases, corporate travel assistance from TMCs can help travelers obtain visas and work permits. Travelers also get the services of a dedicated corporate travel consultant who helps them get visas done faster, so they can travel without worrying.
5. Personalized Experience
Business travelers have a busy schedule with many things on their minds. There is a chance that you may forget an upcoming trip until the due date. You may also find it difficult to book flights and accommodations according to their company's travel policies.
TMCs solve this issue by providing them with personalized options. Personalization is the key to an excellent business travel experience. They track the traveler's activity, create traveler profiles, provide regular SMS and email updates, and provide a great after-travel service.
Benefits of Travel Support for a TMC
Some of the benefits business travel support has to offer are:
1. Builds Loyalty
Loyal travelers are a boon to the company. Good corporate travel assistance makes travelers appreciate the efforts of the travel management company and its services. Consequently, it leads to business growth and customer retention.
2. Brings in Profits
By solving all travel-related issues of a company's business travelers, a TMC can reap lucrative benefits in return. This is because a company is more like to have a long-term relationship with the TMC.
3. Enhances Business Reputation
A reputation for outstanding support improves a travel management company's brand reputation. It also helps them stand out in the sea of travel companies that have less favorable support. Moreover, creating positive experiences is vital in gaining travelers' trust and a robust public image.
4. Word of Mouth Recommendations
Business travelers are indeed more likely to discuss a terrible travel experience they've had. However, those who had an incredible travel experience are likely to tell most people. In this digital age, word of mouth still holds good. Almost 92% of people believe in their friends and family over any other kind of advertisement.
5. Fosters Business Growth
One of the major benefits of travel support is the opportunity for a TMC to grow. Through the employee's feedback, the support team can understand what the travelers need and how to deliver it to them. Building a strong connection with customers will also allow them to introduce new services.
Provide your Employees the Best Business Travel Support
The primary goal of business travel support is to enhance satisfaction amongst travelers and provide them with a seamless travel experience. When travelers get excellent service, they feel respected, cherished, and appreciated.
We, at ITILITE, understand the importance of support for business travelers. So, we ensure you get the best possible assistance during business trips. We offer 24/7/365 free assistance to travelers in case of any emergencies. Moreover, employees can reach out to our expert support team via call, live chat, and email.
To talk to our solutions consultant and see ITILITE in action, book a demo now.