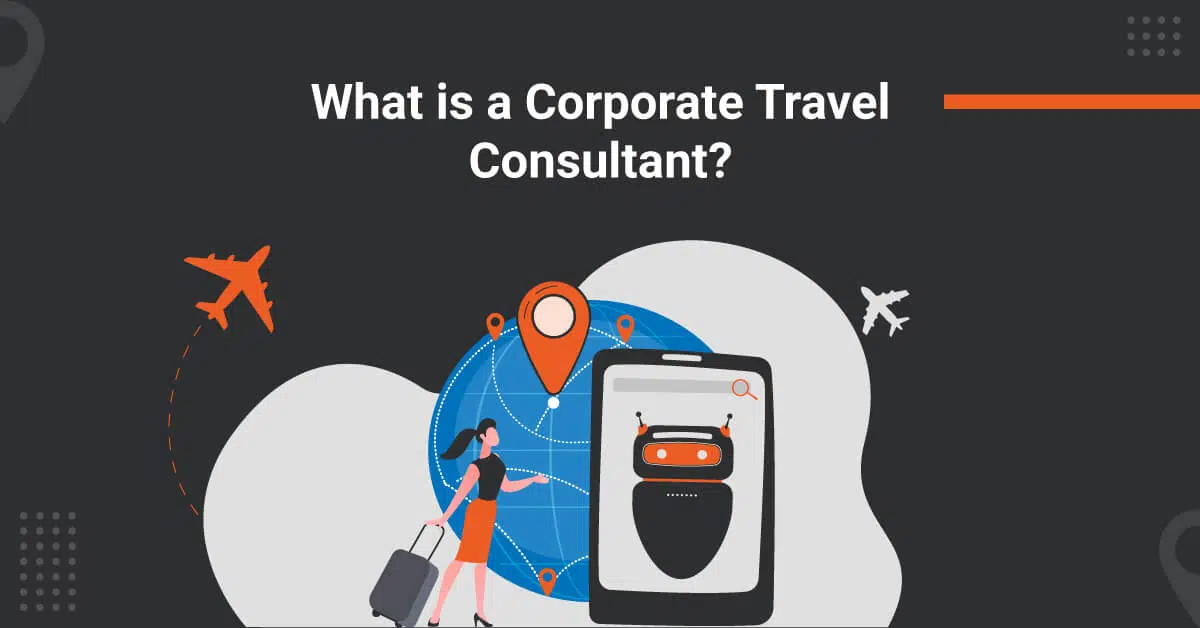 Many professionals these days travel frequently for work purposes. But most business travelers lack the experience and expertise required to make travel plans.
Also, they have to manage common business travel challenges like delayed flights, disappointing hotel rooms, and tracking expense receipts.
Consequently, to make it easier for employees to plan business trips and deal with travel contingencies, many enterprises employ a corporate travel consultant. A business travel consultant or corporate travel consultant, also known as a corporate travel agent, is a professional who helps employees organize business trips and make travel arrangements without putting in extra time and effort.
The corporate travel consultant operates in dynamic and proactive work environments. They drive the organization's travel policy while negotiating with vendors and suppliers for the best deals. The role and responsibilities of a business travel consultant vary across businesses. But we can define a corporate travel consultant based on some important responsibilities.
Responsibilities of a Corporate Travel Consultant
1. Recommending the Best Options
While planning a work trip, employees have the option to choose from many routes, airlines, hotels, and car rentals. However, they have to keep in mind their organization's travel and expense policies while comparing available options.
The corporate travel consultant recommends alternative routes and helps them choose the right flight, accommodation, and cab that accommodates their comfort and the company's policy.
2. Making Travel Arrangements
Along with recommending and comparing alternatives, the corporate travel consultant helps employees book the hotel, flight, and cab. Many consultants these days use a software solution that allows employees to make travel arrangements and business travel booking effortlessly.
Also, they help businesses curtail overall costs by recommending cost-efficient alternatives to employees.
3. Managing Business Travel Challenges
As mentioned earlier, employees need real-time assistance and support to manage a variety of business travel challenges. The business travel consultant keeps employees relaxed and stress-free by managing emerging corporate travel challenges.
For instance, travel consultants frequently manage flight-related issues by upgrading flight class, prioritizing wait-list, and allocating preferred seats.
4. Procuring and Updating Travel Documents
Employees need to carry important travel documents like passports, visas, international driving licenses, and business documentation for international work trips. Often employees forget to keep these business travel documents up-to-date due to their packed work schedules.
The corporate travel consultant helps employees procure and update required business travel documents within a stipulated timeframe.
5. Ensuring Traveler Safety and Comfort
In the post-pandemic world, business travelers need both information and assistance in real-time to stay safe. The corporate travel agent often acts as the first point of contact for employees during both domestic and international work trips. They conduct researches to provide up-to-date information to the employees according to their travel destinations. 
6. Facilitating Employee Relocation
Many employees these days relocate to a new city or country for work purposes. They simplify the relocation process by leveraging corporate travel consultancy. Consultants help employees obtain or update both visa and work permits. Also, they use connections to help employees find safe and comfortable accommodation in the new city.
7. Networking and Negotiations
In addition to making work trips stress-free and hassle-free, corporate travel consultants frequently look for options to curtail ongoing costs. They increase return on costs (ROC) by connecting and networking airlines, hotel chains, and car rentals across geographies. Also, they negotiate with vendors and suppliers to avail of the lowest rates and best deals.
The Emergence of Virtual Travel Consultants
Human travel consultants often work in office environments. Hence, employees can connect and interact with them only during normal business hours. But employees these days need 24/7 assistance and support to manage emerging business travel challenges.
That is why many companies these days prefer a virtual travel consultant over a human corporate travel consultant to leverage a slew of benefits.
Virtual travel consultant is an AI-based feature included in the new-age business travel management solutions. It facilitates all responsibilities of a human corporate travel consultant and offers advanced analytics on top of it.
Here are some Benefits of Hiring a Virtual Travel Consultant
1. No Need to Pay a Hefty Fee
Like human travel consultants, virtual travel consultants reduce policy violations and control business travel expenditure. But virtual solutions, unlike humans, do not require businesses to pay a hefty fee.
Companies can reap the benefits of a virtual travel assistant at no additional cost just by investing in modern travel management software like ITILITE. The ITILITE platform offers an in-built AI-based virtual travel consultant- ITILITE Mastermind. It helps organizations analyze the performance of their travel program, compare it with industry pioneers and save big bucks on business travel.
2. Get 360o Views of T&E Process and Costs
The virtual travel consultant offered by a new-age travel management software optimizes business travel and expense programs by giving companies a detailed view into travel analytics. it also provides data-driven step-by-step action plan on how companies can drive travel savings.
This is because the new-age travel management software leverage artificial intelligence (AI) technologies to make an organization's travel and expense (T&E) processes and costs transparent.
3. Review and Optimize T&E Programs
Decision-makers can use the virtual travel consultant to evaluate their T&E management process using a slew of metrics. They can also compare the process to the T&E programs implemented by similar companies.
The comparison and evaluation, also known as industry benchmarking, help businesses boost work travel experience and curtail ongoing travel expenses by optimizing their T&E process.
4. Achieve T&E Program Goals
Decision-makers review the performance of their T&E programs regularly to achieve preset goals. Some decision-makers review T&E program performance using the dashboards, while others rely on external consultants.
The virtual travel consultant simplifies the performance review of T&E programs by providing data-driven insights regularly. The data-driven insights help decision-makers achieve preset T&E program goals by following step-by-step instructions.
Conclusion
A corporate travel agency helps organizations increase return on travel costs. But every business has to pay a hefty fee to employ a dedicated corporate travel consultant. Hence, businesses these days are replacing human corporate travel consultants with virtual travel consultant to leverage benefits in terms of costs and availability. Hope this article gives you enough insights about what is a business travel consultant.
ITILITE's virtual travel consultant – Mastermind boosts users' travel and expense management process by leveraging Artificial Intelligence (AI) technology. Decision-makers get data-driven insights provided by this virtual travel consultant to minimize policy violations and curtail overall travel expenses.
To try Mastermind out for free, get the demo now.
Author
:
Sharad Acharya
Sharad Acharya is a content specialist at ITILITE. With over a decade of experience in content marketing, Sharad has gained expertise in writing for niches like business travel, expense, AI, and Cloud. An avid reader, Sharad likes to read fiction in his free time.