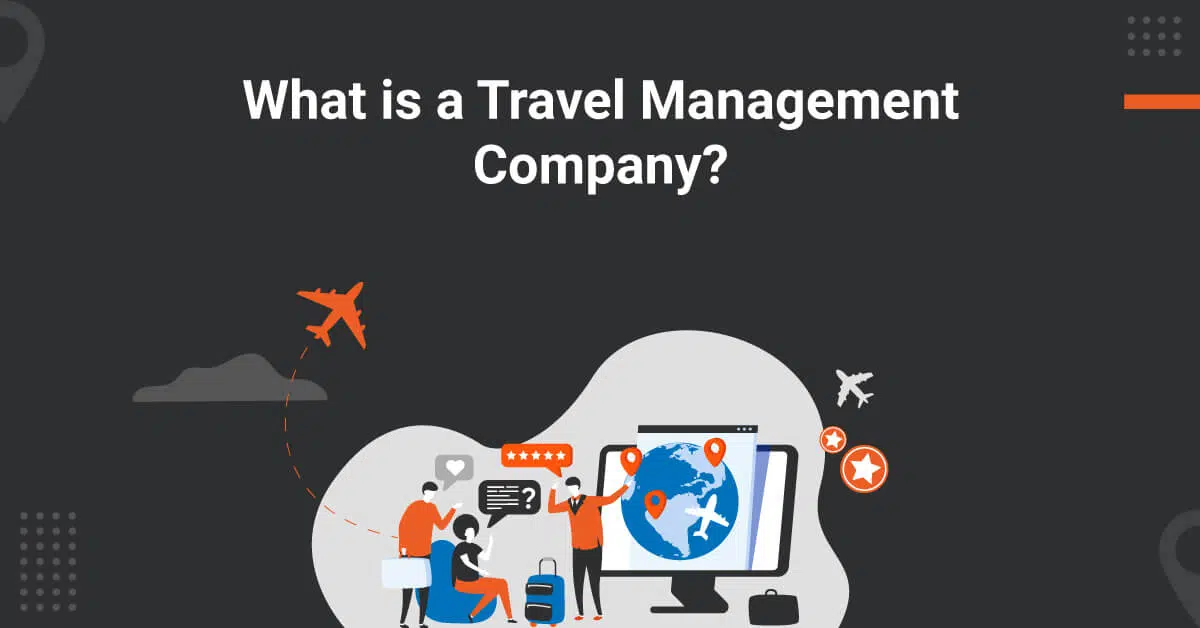 The global business travel market is on a rise. According to a study by Statista, the corporate travel industry will grow by 188 percent by 2028. Hence, companies are seeking ways to efficiently accommodate the travel volume increase.
One way to manage your organization's increasing travel needs is to hire a good Travel Management Company (TMC). A TMC is an organization dedicated to managing your company's complete business travel needs. Unlike the traditional travel agent, a TMC's services go above and beyond booking flights and hotels.
Let's understand what a TMC is in detail. We will also examine its advantage and the significant differences between a TMC and a travel agency.
What Does a Travel Management Company Do?
A business travel management company provides services ranging from consolidating online booking and expense reporting to travel risk management. It aims to help your organization simplify the business travel management process.
A TMC can help you create and implement a cost-efficient travel policy. It also provides auxiliary services like car rentals, business trip insurance, etc.
Another advantage offered exclusively by advanced travel management companies is in-depth travel data insights. Such insights help travel managers fix cost leakages and optimize travel ROI.
Suggested Read:
Difference Between a Travel Management Company and Travel Agency
A travel agency is primarily focused on assisting clients with flight and hotel bookings. Such agencies may occasionally offer special services to clients. However, the extent of their travel management services is far less than a TMC.
On the other hand, a best travel management company assists businesses with end-to-end business travel management.
A TMC' services include:
Assistance in travel policy formulation
Streamlined booking with travel policy-compliant options
Aid for duty of care travel plan
Itinerary management
Risk management
Expense insights
Consultation regarding travel process optimization
Another critical difference between a travel management agency and a TMC lies in customer support. A travel agency may not provide emergency assistance in case there is a sudden change in the itinerary. Additionally, a travel agency may not be able to provide support after official working hours.
In contrast, a TMC helps you before, during, and after the business trip. For instance, if your flight gets canceled or delayed, you can reach out to the TMC's support team.

Why Do you Need the Best Travel Management Company
To Increase Efficiency
A travel management company with a modern travel management system can help you automate your travel management process.
With such tools, your employees can book flights, hotels and other travel-related services themselves. Moreover, they get customized options. Such options ensure that they no longer have to sift through multiple third-party websites to find the best-suited flights and hotels. Additionally, your finance team can get valuable insights into your employees' spending habits. This can help them control travel costs and modify travel policy if required.
To Optimize Business Travel Management Policy
Instances of travel policy violations increase if your employees don't understand the policy guidelines or find them impractical to follow.
With the help of a business travel management company, you can create a better T&E policy. You can be sure to include traveling employees' comfort and your organization's needs. Improving your business travel policy will ensure better compliance and help you achieve your corporate travel goals.
To Reduce Business Travel Costs
Businesses struggle to keep their travel costs in check. This is because traveling employees often make out-of-policy flight and hotel bookings. Moreover, they might also spend above their per diem allowances, and file out-of-policy expenses.
Although using a travel management system is expensive, the benefits outweigh the costs. A TMC can provide you access to various flights and hotels at negotiated rates. Additionally, you can get travel management services like VAT recovery, which can help you save significant business travel costs.
To Get Travel Spend Insights
Understanding your employees' spending habits is essential for multiple reasons. It can help you figure out cost-heavy and saving-heavy departments. You can also find out which employees are top spenders and the reasons behind those expenses. This can help you discover loopholes in the travel expense management process and determine any policy changes if required.
An advanced TMC like ITILITE, can help you gain insights into your employees' spending habits. ITILITE offers world's first virtual travel consultant– Mastermind. The AI-based corporate travel consultant can help your business travel management company identify and fix cost leakages by:
Analyzing past travel data
Conducting industry benchmarking
Suggesting actionable steps you can take to fix unnecessary leakages
To get a first-hand experience of Mastermind, click on the button below.

To Benefit from Concierge Services
There are specific added requirements for any business trip like airport lounges, VISA services, etc. The travelers have to look through multiple websites and go through confirmation emails.
A TMC manages all the concierge services on your behalf. You get the best prices and services without any additional stress.
To Avail 24/7 Assistance
Business travel is full of uncertainties, and your employees might need assistance to accommodate any last-minute changes. For instance, travelers may be unable to check in and out of the hotel because of some document-related issue. In such cases, they need prompt support to ensure resolution.
A TMC provides multiple active channels around the clock for the employees to get in touch in an emergency. Additionally, an advanced TMC can also provide AI-based chatbots to solve routine problems outside office hours.
A TMC may help you improve the health of your T&E processes or systems significantly. Check out the T&E health calculator below in order to know where your organization currently stands and the scope for improvement.
What to Expect from a Good Business Travel Management Company?
An ideal TMC should deploy state-of-the-art technology. This will help you improve every aspect of your travel process such as booking, approvals, travel policy compliance, and support.
This is what we do at ITILITE. Our integrated travel and expense management software can help ease your employees' booking experience by providing customized travel policy-compliant options. Moreover, we provide 24/7 free assistance for employees in case of emergencies. We can also help you create a comprehensive travel policy and duty of care plan.
To know more about how we can help boost the efficiency of your travel process, get in touch with us.