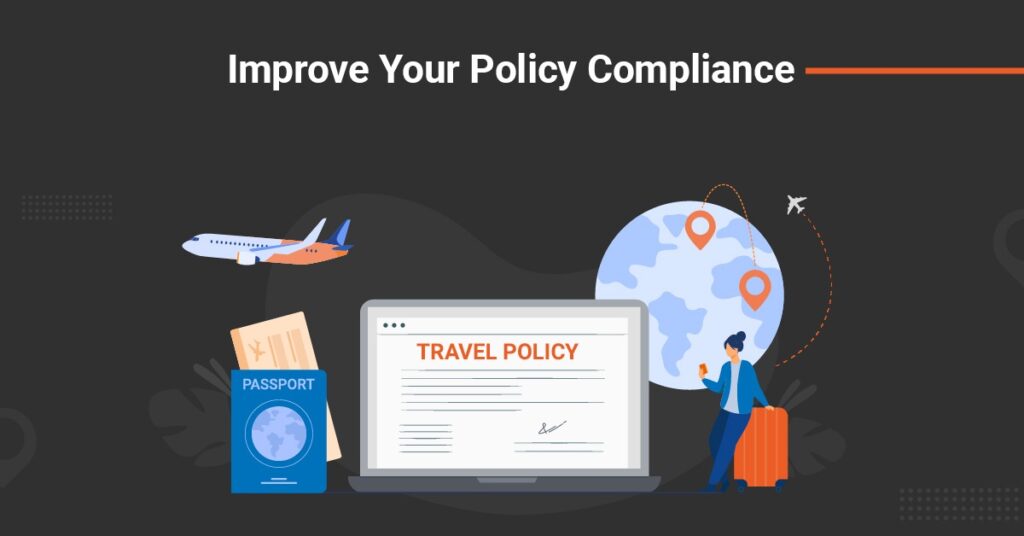 Business travel is back after Covid and is expected to make a complete recovery by 2025, according to GBTA. However, corporate travel policy compliance still remains a challenge for most companies.
Employees often book travel that exceeds the company's expense limits, making it challenging for travel managers to optimize travel budgets. The lack of travel policy compliance further impacts the company's financial bottom line by driving up the travel budget.
Does this resonate with you? Let's discuss the common problems of why your employees aren't complying with your corporate travel policies and their solutions.
Travel Policy Compliance: The Challenges and its Solutions
While perhaps most applicable to travel managers, these solutions for improving policy compliance can be adopted by anyone who deals with travel expense report software.
Employee not aware of the company's travel policy
Policies are not well understood
No self-booking option
Manual booking & approval process
Employees are not satisfied with the travel policy
Software doesn't have an intuitive interface and is NOT easy to use
Software not providing the ability to configure complex policies
Challenge #1: Employee Not Aware of the Company's Travel Policy
A significant hurdle in the path of achieving travel policy compliance is employees' ignorance about the guidelines.
In many cases, this is due to a lack of or poor communication. If your employees aren't aware of a formal corporate travel policy being in place, you cannot expect them to comply with the standards. Some employees might know that a corporate travel compliance exists but may not be aware of where it can be found when needed.
Solution: Communicate travel policies properly
First things first, improve communication with employees regarding travel policies. One great way of improving communication is to talk about it and share it with employees via channels that are easily accessible and comfortable.
You can also create awareness by conducting regular training sessions or making announcements, especially when updating the policy. Cover all the travel policy essentials in the training session. Taking quizzes or holding practice runs can also help in ensuring 100% policy awareness, leading to greater corporate travel compliance.
The next step is to make policies easily accessible to employees. You should ensure that an employee from any department, and any level of management, should be able to find the travel policy within minutes. This can be achieved by adopting travel management software with an inbuilt policy feature that lets you present the terms of the travel policy to employees at the time of booking (the policy is right there when they actually need it).
This helps improve travel policy compliance as an employee is aware of his/her expense limit and gets a notification in case of a violation. Advanced travel and expense management software such as ITILITE also offers the feature of not showing the out-of-policy hotel/airline options to employees.

Challenge #2: Policies are not well Understood
While a policy might seem clear to the writer, employees may find it hard to understand due to the usage of complex terms or industry jargon. Also, there are chances that the employees are not aware of the benefits for them if they follow the travel policy and, thus, do not take an interest in it. This lack of understanding can act as a barrier to travel policy compliance.
Solution: Create granular guidelines
Make sure your travel policy is written in a simple, easy-to-understand language. Moreover, include all the aspects of corporate travel management so that employees understand what is out of the limit. For instance, clearly mention whether or not the company will provide bleisure travel reimbursement.
Employees must be aware of the resources that are in place for them to protect them. Adoption of policy will increase, resulting in higher travel policy compliance once they understand the "why" of things.
For instance, experts suggest that travel managers should leverage duty of care to enhance travel policy compliance in their company.
Let's understand this with an example – a T&E solution has the technology that allows businesses to track the employees who are traveling. But then, this can happen only when they use the technology. In certain scenarios, employees book hotels out of the T&E Solution, which prohibits travel managers or the company from knowing about employees' whereabouts.
However, if this benefit of travelers' safety is highlighted in your travel policy prominently, employees will be encouraged to book through the company's T&E solution.
Clearly, communicating about employees' benefits of using the company's T&E solution and following the policy can help improve policy adoption and further compliance.
Challenge #3: No Self-Booking Option
Employees calling a travel agent or communicating via email with a travel manager to book a business trip can lead to travel policy compliance issues. The travel agents that might not be aware of the travel policy book outside it. This happens when employees are not given a self-booking option.
Solution: Empower employees through a self-booking tool
You have to build a culture of accountability by giving employees more freedom and responsibility to manage their corporate travel. You should integrate a T&E management solution that provides you the ability to set in-built policies and approvals flows beforehand. Moreover, your employees should be able to book their trip within the policy or save the itinerary and take approvals for extra spending.
This could also help you in reducing spending and improve corporate travel policy compliance. How? There are T&E solutions that allow you to reward employees for choosing low-cost options and provide curated options which are personalized and within policy.
In this way, while employees get encouraged to use the T&E solution, you get to save business money as well as keep your employees safe.
Challenge #4: Manual Booking & Approval Process
The manual travel process kills travel policy compliance. Business travel policies are complex and will always have exceptions; with manual processes, 100% compliance will never be there. When an employee books business travel manually, there are chances that they don't refer to the travel policy to know their expense limits, or they don't take approval as the process is time-consuming & go ahead and book travel.
Solution: Automate approval workflow
Automating your travel booking and approval process will help you reduce confusion and ensure much higher levels of corporate travel compliance. It will make sure that the bookings are within policy and exceptions are handled well with approval flows. Of course, there will be last-minute bookings, but they can be easily tracked with the T&E solution.
Challenge #5: Employees are Not Satisfied with the Travel Policy
While drafting a corporate travel policy, travel managers might forget to take employees' preferences into consideration. They may include travel options that are most cost-efficient without checking the history of preferred flights and hotels. This can make employees feel disregarded and dissatisfied with the travel policy leading to lower compliance.
Solution: Consider employee preferences to increase policy compliance
While creating a travel policy, consider your employees' past preferences. This will provide two benefits. First, your employees will feel like the company cares about their opinion. Hence, they will be willing to comply with the travel policy. Second, road warriors' experience with various flight and hotel vendors is priceless in terms of quality assurance. Hence, taking suggestions from travelers means the travel managers don't need to worry about service standards and travelers' safety.
Challenge #6: Software doesn't have an Intuitive Interface and is Not Easy to Use
It might be the case that your travel and expense software doesn't have an intuitive interface and is difficult to use. This can discourage employees from using your T&E solution. And remember, any trip that is not booked from your T&E solution has a higher chance of not being compliant.
Solution: Adopt software with an interactive user interface
Having a corporate travel booking tool is not enough. The UX and ease of use drive software adoption.
When employees like your T&E management solution and use it, you will be able to improve compliance and control spending. To determine if a software solution will be good for your organization, add a feature checklist to be considered as you finalize your integrated T&E solution.
Here is a sample travel management software checklist you can use.
Challenge #7: Software Not Providing the Ability to Configure Complex Policies
It might be that your software does not configure complex policies. For instance, an employee traveling internationally may require a higher expense budget than when traveling domestically. If your software does not give the flexibility to configure complex flows for various scenarios, it might lead to compliance issues.
Solution: Select software that offers complex policy configurations
An integrated T&E solution lets you customize your policy for:
teams/employees that travel frequently
teams that travel on short notice
expensive cities, etc.
It lets you handle all exceptions easily. For instance, if an employee wants to book an international trip, then the policy will show expense limits according to the destination. This will encourage the employee to use the T&E Solution and be travel policy compliant.
Travel Policy Compliance Made Easy
Choosing an integrated travel and expense management software is one of the most important factors in pushing travel policy compliance. ITILITE is dedicated in delivering tools tailored to your business travel management program's particular needs and can assure that you are properly equipped to drive your business travel forward.
Get the free demo of ITILITE to see how it maximizes 100% policy compliance.