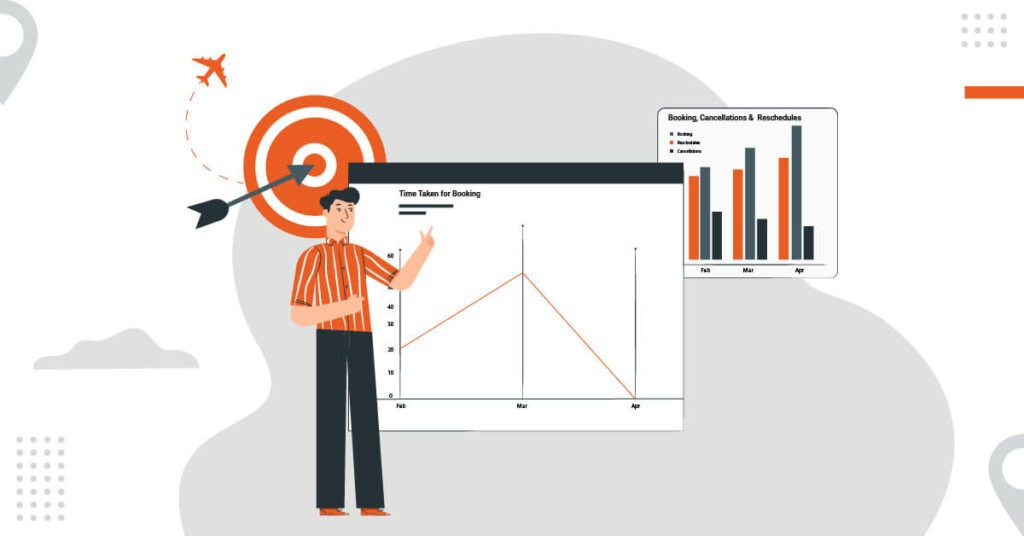 Business travel data can help organizations improve the travel process in multiple ways. Unfortunately, most businesses use the data only for a limited purpose. Based on our experience working with and consulting hundreds of companies across the world, we have created a guide to using this data in the best way.
The 5 top areas in which business travel data can help an organization improve are:
Let's dig deep into each area in detail and get to know the top insights an organization can benefit from.
1. Reducing Travel Costs
Optimizing travel costs is essential to improve your company's travel program performance. Hence, having detailed business travel data is vital for you to figure out multiple cost-saving avenues. Here are some ways in which corporate travel data can help you optimize travel costs.
Benchmark Key Metrics that Impact the Cost
Every company needs to identify the important metrics that impact its cost the most. Some of the most common metrics which companies use are –
Average cost per flight
Average room rate per night
% bookings made at least 7 days before travel
% trips booked above policy
Identifying areas for improvement requires you to drill down these metrics further. For instance, the flight cost may need to be looked at by sector and hotel rate by city.
Once you identify the areas of improvement, such as a high number of bookings made last minute, you need to decide whether you are ok with the leakage or actively want to control it with specific actions.
For instance, corrective actions like adding special approvals before last-minute bookings or offering employees an incentive if they book early can help control overall last-minute bookings. These small steps can add up to large travel cost savings.
Some modern travel management software solutions like ITILITE offer an automated way to monitor key metrics and identify and implement improvements.
ITILITE's AI-based virtual travel consultant – Mastermind, can help your company optimize travel costs by analyzing past data and conducting industry benchmarking of key metrics. It can also provide actionable insights you can implement to reduce travel costs.

Identify Travel Trends to Negotiate Deals
Companies that frequently travel prefer specific airlines or hotels. One of the most efficient ways for companies to save business travel costs is to have a special rate with such providers.
The right corporate travel data can help identify hotels, car companies, and airlines you should negotiate with to get a special deal. Also, the real-time availability of detailed data can help with the right negotiation. For example, negotiating with a specific property rather than a hotel chain can sometimes get you a better rate. You can achieve this by committing to a certain number of minimum booking nights.
However, there are specific things to be aware of while negotiating. Travel systems that make this past data available in a format that helps predict future demand are useful for negotiations. Also, some business travel partners, like ITILITE, can help negotiate these special rates with hotels on behalf of the customer as well.
Identify and Plug Leakages
Another essential factor that helps companies save travel costs is identifying and plugging leakage areas. While these areas may be specific to each travel program, some of the common ones are:
Usage of contracted rates: Data should help you identify instances where an employee could have booked a contracted rate but did not. If this is a major cause of leakage, you should invest in a system that can prompt the contracted rates to your travelers during bookings. Also, you should regularly see a report where such opportunities were missed.
Missed savings opportunities: Analytics should help you identify places where employees could have booked flights and hotels at a cheaper rate but did not. This is different from identifying just policy breaches.
For instance, if your policy allows booking up to $300, and someone books a $250 room, it isn't a policy breach. However, if a system can highlight there was an "equally good" hotel available for $200 in the same locality, that's a missed saving opportunity. Some of the smart systems in the market, like ITILITE, can provide such reports.
After determining the reasons, you can deploy corrective measures like early booking nudges or rewards for cost-efficient bookings to encourage policy compliance. You may also have to revisit the budget limits if required.
2. Improving Traveler Experience
Travelers' experience is an essential travel KPI you can use to determine the effectiveness of the company's travel program. If travelers are delighted with the travel management system, they will be more engaged and productive on their business trips.
Some of the most commonly used experience metrics are-
Online Booking Adoption
Even when companies adopt an online business travel platform, some employees may continue to book offline. This may be due to multiple reasons, like bad user experience on the online platform or the unavailability of relevant options. Keeping a close tab on what is getting booked offline or who is repeatedly booking offline can help companies fix the issues and improve online adoption.
Hotel Feedback
You should ask the travelers to rate the hotel quality (along with reasons) after their stay. Doing this regularly will give you enough data about consistently good and bad hotels. Also, your travel system should allow you to promote the good hotels in the search results in future bookings and blacklist the bad hotels. This will help you consistently improve the traveler's hotel choices.
TNPS
Another user experience metric you must evaluate is the Traveler Net Promoter Score (TNPS) for the company's travel management process. TNPS can be especially useful if you have recently invested in online travel management software.
After every trip, ask travelers to rate their experience with the travel program with comments. This will give you a fair idea of which parts of the travel process are satisfactory and which need improvement.
3. Optimizing Travel ROI
Companies are increasingly identifying business travel as an investment. They are trying to increase the Return on Investment (ROI) vs. reducing the travel cost. Companies are pushing to generate more outcomes from each business trip.
The major ways companies are using data to improve travel ROI are:
Complete Spend of a Trip Across Travel and Reimbursements
Getting good visibility on ROI needs a good handle on full trip cost. Many companies' data is spread across their travel partner, off-channel travel bookings on online platforms, and reimbursement systems.
So, it becomes tough to get a full view of a trip's cost and, thus, ROI. Increasingly, companies are moving towards an integrated T&E system that can give visibility of all travel spends and reimbursement data at a trip level in one place.
Asking Outcomes in a Trip Request Before Approval
The best companies are moving towards "Rejecting low ROI trips instead of high-cost trips." To enable this, a good travel management system should allow travelers to enter an estimate of business impact in a trip request and for approvers to see the outcome and cost (or ROI) before approving the trip.
4. Enhancing Traveler Wellness
If your road warriors are stress-free, they will be more productive and engaged. As a result, they will be able to build better client relationships and give you the desired travel ROI. Red-eye flights, weekend travel, and too many nights away from the family are some factors that add up and impact a traveler's morale and wellness.
But how can you leverage corporate travel data to optimize traveler wellness? Here are some corporate travel data points that can be highly useful in ensuring traveler wellness:
The Number of Nights Away
Spending nights away from home is difficult for business travelers. Hence, you should analyze the booking data to identify if the travelers are spending too many nights away from home and adjust the number accordingly.
Red-Eye Flights
A red-eye flight, also called an overnight flight, departs late at night (usually around 9 pm) and arrives early in the morning (5-6 am). If business travelers take too many red-eye flights, they are at an increased risk of diseases like chronic high blood pressure, excessive weight gain, and more. You should use an employee's travel booking data to keep track of the number of red-eye flights per employee per month to keep traveler fatigue at bay.
Time Zones Crossed
Each time the employees travel across time zones, they risk getting jet-lagged. So, you should use corporate travel data to track how frequently each employee travels across time zones to reduce the number of jet lags.
Average Layover Length
Frequent long layovers can waste employees' time, cause frustration, and hamper productivity. The best travel management platforms analyze the most taken flight routes to recognize all the unnecessary long layovers. Moreover, you can revise the routes or change airlines if required.
Tracking the above-mentioned metrics will help you assess the well-being of travelers and empower travel managers to formulate wellness-oriented policies.
5. Increasing Sustainability
Unlike a decade ago, sustainability is no longer just a buzzword in business travel. Instead, it is the need of the hour as business travel is a significant contributor to climate change. According to a study, air travel for business causes 2% of global greenhouse gas emissions.
Hence, it is high time companies take accountability for the negative environmental impact and incorporate sustainability into the travel process. The first step you can take toward ensuring eco-friendly travel is analyzing your carbon footprint.
To thoroughly analyze your carbon footprint, you need information about the trip duration, airline, and distance between the airports for each trip. With this information, you can calculate GHG emissions on per-employee and per-trip bases. Moreover, you can also account for the monthly overall carbon emissions caused by your company.
After gathering all the necessary insights, you can invest in carbon-offsetting projects and implement a green travel policy to reduce your company's negative environmental impact.
To make the calculation of carbon emissions easier for you, some business travel management solutions like ITILITE offer automatic carbon impact reports. Such reports provide detailed insights into your emission levels. Moreover, with ITILITE, you can also get access to global offsetting projects and invest in the ones of your choice.
Utilize Business Travel Data for Intelligent Decision-Making
Business travel data can help you make smart decisions. If your travel managers have access to precise travel data, they can derive valuable insights to scale up the efficiency of the travel management process.
However, getting such advanced insights without a good travel management system is impossible. Although these were some of the most important insights you can get from travel data, there are various other insights that you can derive as per your business requirements if you have the right travel partner by your side. ITILITE can be that travel partner for you.
An advanced travel management platform like ITILITE gives you an eagle-eye view of your company's travel data through 100+ standard and custom reports. Moreover, you can view a summary of essential metrics on dashboards custom-built for you.
On top of this, imagine a really sharp virtual travel consultant telling you what actions to take to improve your travel program based on real-time data. ITILITE Mastermind is the world's first & smartest virtual travel consultant that gives you all that and more.
Get a free demo to try out ITILITE's advanced analytics and more.