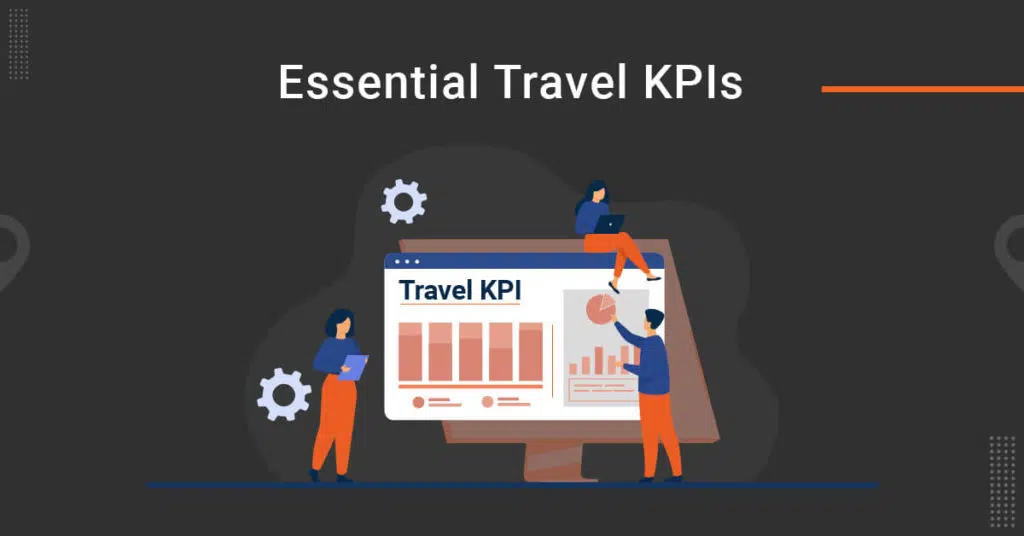 Travel managers have access to heaps of employee travel data, such as booking details, airline itineraries, and customer preferences. This travel data needs to be analyzed to identify the Key Performance Indicators (KPIs), which highlight the performance of a travel management process.
Generally, companies decide the KPIs for travel managers in alignment with the overall budget and goals of the business. Let's see 6 essential corporate travel KPIs that most companies measure to check the effectiveness of their T&E (travel and expense) management program.
6 Key KPIs for Travel Management 
Here are 6 important travel management KPIs that you should measure to check the effectiveness of your T&E policy:
The adoption of T&E solution
If you have invested in a travel and expense management platform, you need to check how many employees have fully adopted the tool for their travel bookings and expense claims.
Are they booking from the approved T&E solution or outside vendors? Are they reluctant to use new technology? This will help you know the ROI you are getting on the T&E platform.
Are you in doubt about the current status of your organization's T&E processes/systems and think you can improve adoption by your employees? Click below to check your present T&E health using our calculator and know where you stand.
Employee Satisfaction
Keep in touch with your employees. It is important to know how your employees feel before travel (bookings, approvals), during travel (employee support), and post-travel (expense reporting). If they are not satisfied and happy, then your travel program could likely be a reason for it.
You can share surveys amongst your employees regarding the accommodation, mode of transport, booking experience, etc. to track their sentiment. This is the most important yet often overlooked travel KPIs.
The Average Spending by different teams on Trips
The travel data gives you insights into the travel spending patterns of different teams or departments to one or more locations. This too will help you calculate the ROI on these trips.
You may come across a department that is spending huge on trips to one or more destinations but there is no outcome for the business. You can highlight this with the leadership and re-evaluate those investments.
Percentage of Changes in Ticket/re-bookings
Changes in travel bookings can add to the original travel expenses. Therefore, after you have the data about the percentage of changes in tickets or rebookings, you can check the reasons for it and consider how to prevent it. This will help you save the additional costs for re-bookings.
Evaluating re-bookings also gives you a chance to check on the travel waivers available to your company and to ensure that they are being implemented by travel partners.
You can also check on the percentage of last-minute and advance bookings. What percentage of bookings are happening outside the time frame given in your T&E policy? And what are the reasons for it?
Because in case of last-minute bookings, the options are less and costs higher. Therefore, you can take the initiatives to minimize last-minute bookings and save costs.
Travel Incidents
You should have your duty of care plan as a part of your travel and expense policy to ensure employee safety while traveling and should live up to it when the need arises. Risk management is a necessity these days and employees would expect you to have it in place to effectively manage risks if any.
Check the total number of incidents that have happened over a period of time and proactively take extra initiatives to ensure traveler safety during future business trips. Management would want this corporate travel KPI to be driven down.
Savings via partnerships
It is a good idea to check the savings you have made by partnering with different airlines, hotels, or car rental companies. This will help you decide which partnerships are worth taking forward and which ones could be negotiated further. 
For instance, you may find that you are saving twice as much on airlines than on car rentals. When your car rentals contract is about to expire, you can find new vendors that give you discounts or rates that are similar to ones you get from the airline partners. 
Manage your Travel Efficiently with ITILITE
It is not easy to establish and track the right travel KPIs for your business. But once you identify them, you would know if your travel program is thriving or just surviving. However, to track travel KPIs, you need to have all travel and expense data in one place so that you can leverage it for actionable insights.  
If you want to make data-driven decisions and are looking at saving more travel costs, implement a travel and expense management solution such as ITILITE. ITILITE collects valuable data and provides detailed reporting on everything we've mentioned above—in real-time. Get insights on the average travel spend department-wise, compare savings for months and years together, and much more. 
Get a free demo of ITILITE to experience all advanced features at no cost.

Get the latest in your inbox
Subscribe to the Itilite blog and never miss a post!