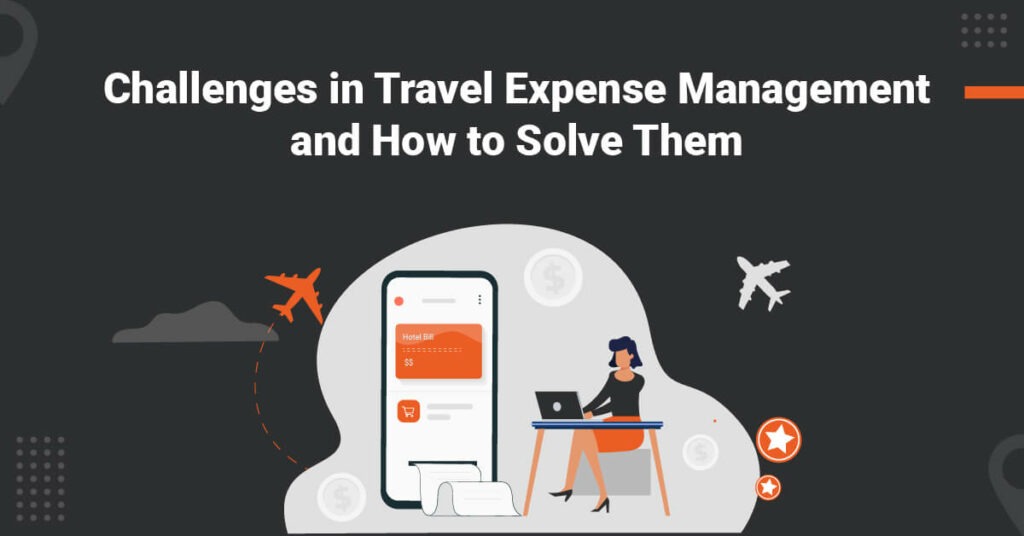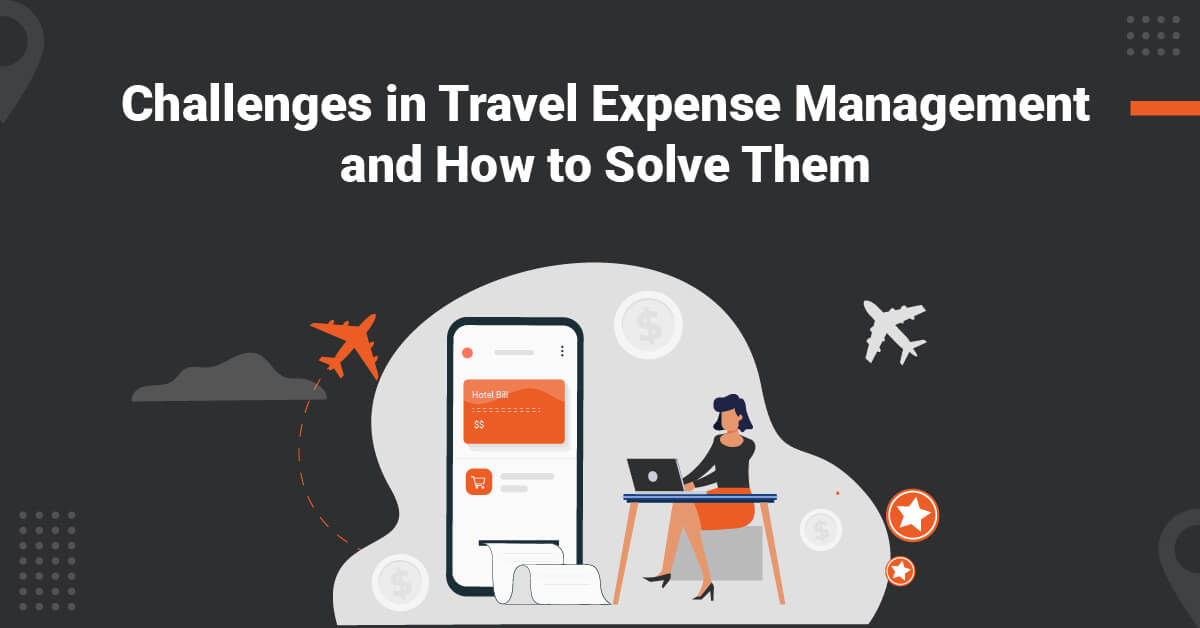 When employees travel for business, the company usually covers expenses such as transportation, accommodation, and meals. After the trip, the organization reimburses the employee for these business expenses. This process involves documenting and processing all expenses made on a business trip on behalf of the company, also known as travel expense management.
However, there are a plethora of challenges associated with travel expense management, such as tedious expense submission procedures and delays in reimbursements. Not only do these challenges have a negative impact on the company's cash flow, but they also lead to employee dissatisfaction.
Listed below are the biggest challenges of travel expense management and how to solve them.
1. Decreased Productivity
Companies that rely on manual methods of travel expense management know that this process can be quite cumbersome and time-consuming. Traditionally, T&E management involves handling a lot of paper receipts, sending multiple emails, and creating various expense spreadsheets. This method usually works for companies with only a few employees.
However, as the company grows, manual processes become inefficient and create bottlenecks. For example, manually approving a travel expense report can become laborious if the report has an error. It can require a lot of back-and-forth emails and take up the employees' time that could be used for another important task. Therefore, manual travel expense management significantly reduces the productivity of the organization.
Solution: A unified T&E management software solution can improve your travel expense management processes by automating repetitive tasks like validating expenses, approvals, and data transfer to the accounting system.
Check how much you can save using an integrated travel and expense management platform. Click here to access the calculator and learn more
This way, the finance team can focus on more important tasks that need their attention. Not only will this make your finance team more productive, but it will also save you time and money in the long run.
2. Lack of Advanced Travel Analytics
Business travel analytics are essential for monitoring employee travel spending and making important decisions such as forecasting and budgeting.
However, according to a report by IBM, 58% of midsize and large organizations still use spreadsheets to accumulate and manage their expense data. This puts them at a disadvantage because they miss out on essential travel KPIs that can help them improve their financial decisions.
Advanced analytics enables you to get a clear picture of your employees' spending patterns. This allows you to make more informed, strategic decisions regarding travel policies and budgets. Additionally, you can identify cost-saving opportunities and implement cost-cutting measures where expenses are spent unnecessarily.
Solution: You can consider opting for an automated T&E management software solution that offers access to advanced business travel analytics. The analytics dashboard of this software gives you a consolidated view of all travel-related expenses. This way, you can get a detailed account of the company's cash flow and manage your funds effectively.
Additionally, you can generate reports to get insights into the company's expenditures. You can also create specific reports for a specific time period, department, expense type, etc., so that you can identify cost-saving opportunities.
3. Difficulty in Cutting Down Travel Costs
Cutting down on travel costs comes down to understanding why employees may be spending more than necessary. For example, many times employees wait to book the ticket close to the date of their departure, due to which they have to book it at a higher price.
Moreover, even if they book in advance, sometimes employees may be unwilling to book the most affordable option for their business trip. Unmonitored employee spending during the trip, such as on meals and other incidental expenses, can also add up significantly.
Solution: You can invest in travel and expense management software that offers advanced tech features, such as a Virtual Travel Consultant (VTC). A VTC such as ITILITE Mastermind provides deep insights into areas where you can cut down costs. It does so by analyzing various historical travel and expense trends of your employees.
Additionally, the software also offers a business travel incentive feature that rewards your employees for booking low-budget travel packages.
You can also give a Per Diem allowance to your employees, so they stick to their travel budget.
4. Inefficient Receipt Management
Receipt management refers to the practice of handling, storing, and tracking receipts. However, managing paper receipts manually has various drawbacks. They are prone to be lost, damaged, or torn.
Additionally, they need to be kept by the company for tax purposes (usually for 3-7 years). Hence, they take up a lot of storage space which can eventually be costly for the company. Furthermore, each receipt has to be verified by the accountant to check if they comply with the company's travel policies.
Solution: An online receipt management system can optimize receipt storage and management. This system stores all your receipts in the cloud, so you don't have to worry about taking up physical storage space. Moreover, you can conveniently find a specific receipt when you need it.
With an online system, you can also streamline your expense approval workflow so that everything is managed in one place. And since all of your data is stored on a single platform, your finance team can verify expense claims much faster. Not to mention, the process of filing expense reports and getting reimbursed becomes more convenient and efficient.
5. Enforcing Travel Policies and Reducing Expense Fraud
According to a report, a majority of business travelers (60%) find it difficult to understand their company's travel policy. Therefore, they have trouble following it. This leads to them filing out-of-policy business travel expenses.
In most cases, such expense claims are sent back to the employees for resubmission but are reimbursed by mistake in some cases. Since the employee does not know they can be counted as expense fraud, they will repeatedly submit such expenses without knowing its repercussions.
However, unfortunately, some employees choose to commit fraud by claiming false or exaggerated expenses by submitting duplicate or altered receipts in order to collect reimbursements. A recent study of 2110 organizations worldwide reveals that companies are losing an average of $1,783,000 each, totaling over $3.6 billion in losses globally.
Solution: You can start by making your employees more aware of travel policies and the consequences of filing non-compliant expenses. Apart from this, you can opt for a travel management system that integrates with the company's travel policy and auto-detects out-of-policy expenses. It flags such expenses and prevents the employee from submitting the expense report until it's corrected. This way, you can improve travel policy compliance and reduce the chances of T&E fraud.
Get Free Travel Policy Template
6. Slow Employee Reimbursements
Traditionally, the reimbursement process can be quite time-consuming, and even a small error can further delay the process. Various factors can contribute to a slower reimbursement, such as late expense report submission, unclear approval process, or delay in validating travel expenses. 
Moreover, once the employee submits the expense report, there are chances that the approver might not see that email right away. Additionally, these reports aren't tracked on a single platform, making it hard to find a specific one when needed. Also, if there is a change required in the report, it triggers a series of back-and-forth communications that further delay the reimbursement. 
To top it off, the finance team has to verify each expense against the company policy manually, which is an incredibly tedious process. This often leads to delayed reimbursement and causes employee dissatisfaction.
Solution: Business travel expense software is the best solution to expediting your reimbursement procedures. Employees can submit their receipts quickly by scanning and uploading them, and the software will automatically verify them. Then, the approvers are notified of the pending expense report so they can approve it as soon as possible. This way, the finance team can go through the expense reports quickly and process the reimbursement faster.
The amount is then directly transferred to the bank account of the traveler. This process usually takes a few hours compared to 5-7 days with the manual method.
7. High Chances of Errors and Inaccuracies
Manual travel expense management is often burdened with human error due to its reliance on manual work. Some of the challenges are the submission of duplicate or incomplete expense reports, mistakes in data entry, damaged receipts with vague printing, and manual verification of receipts against the company's policies. 
According to GBTA, companies spend up to 18 minutes and $52 to correct one expense report. Errors and inaccuracies also waste a lot of time which can indirectly end up being costly for the company. 
Solution: Automated expense management software can help your company save money in the long run by lowering the chances of inaccuracies. For example, employees can upload receipts onto the software, which is then scanned, and data is extracted from it automatically.
In addition, expense reports can be created with just a click using this data. With less human intervention, the work is done faster with fewer errors.

8. Lack of Integrations
To have your business run seamlessly, you need to integrate your travel management process with accounting solutions, CRM software, HR software, communication tools, and other applications. This way, data can be synced automatically between departments, removing silos and minimizing data inconsistencies. 
However, when you use traditional methods for travel expense management, integrating various systems can be difficult and costly. 
A lack of integrations can also make it tough to get a comprehensive understanding of your business travel process. 
Solution: A SaaS-based travel and expense management software can integrate with various third-party applications to facilitate data synchronization. This improves the efficiency of the business travel process as data need not be fetched manually from other departments. 
For instance, travel managers do not need to fetch employee data from HRMS at the time of bookings. The data gets automatically populated in the travel management software when any employee detail is added in the HRMS. 
Integration of a T&E system is one of the many factors that determine the health of your organization's T&E processes. In ordrer to assess how healthy your organization's T&E processes are, use our calculator below.
9. Lack of Travel Partnerships
When it comes to business travel, many organizations end up paying more than they need to because they don't have partnerships with airlines, hotels, and car rental vendors. Networking and partnering can help you gain access to bulk discounts, which can save you money when arranging business trips. 
Solution: You can take advantage of deals and discounts on business travel by opting for a Travel Management Company (TMC). A competent TMC partners with most major airlines and hotel vendors worldwide to offer you a wide range of travel inventory at the best corporate rates.  
Improve your Travel Expense Management Process with an Advanced T&E Solution
Using traditional expense management solutions may seem affordable, but they end up being extremely expensive in the long run. Therefore, you should invest in travel expense management software to simplify your processes and consequently boost your productivity. 
ITILITE is a SaaS-based travel expense management platform that streamlines expense management through automation. It offers advanced analytics, expedites employee reimbursements, reduces expense fraud, and makes reporting convenient. 
Book a free demo to learn about how ITILITE can help you and your employees.