Business travel is back with a bang, with the overall market expected to touch approximately $1.4 trillion by the end of 2024. As travel managers gear up to tackle the increasing travel requests, the first question that comes to their minds is reducing trip spends.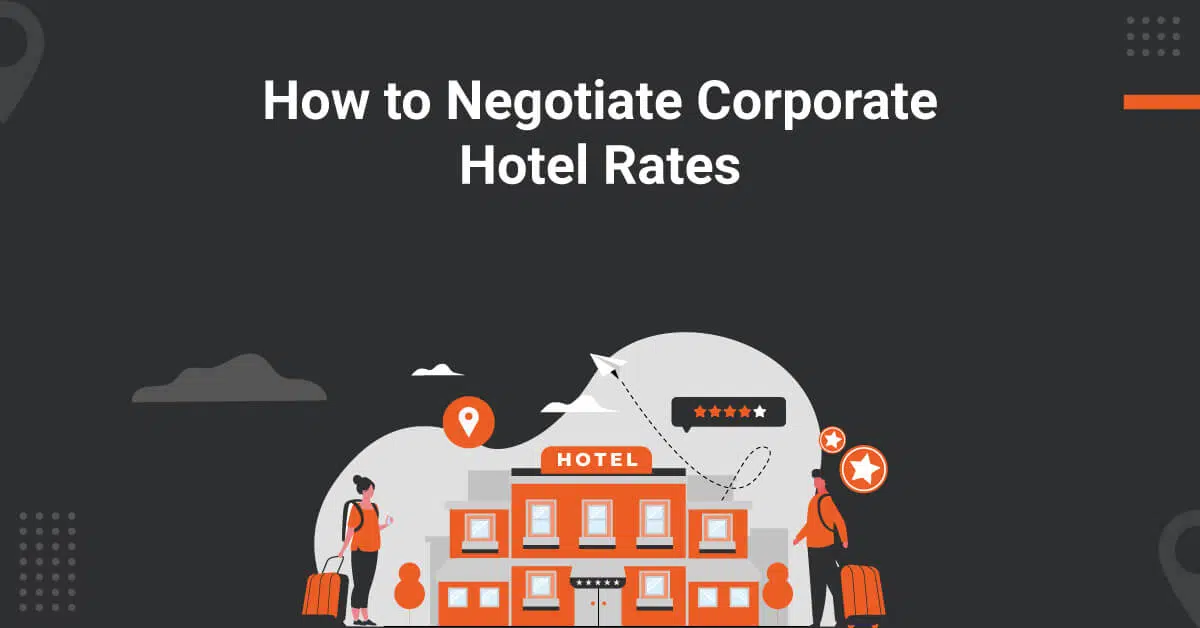 However, it is not possible to reduce the overall trip costs if you don't succeed in optimizing corporate hotel rates. As business travelers spend 30-50% of their trip costs on hotels, you need to partner with frequently booked hotels to get corporate deals.
To secure good corporate hotel discounts for your frequently used hotel, you should be armed with month-wise statistics on the dollars spent and the number of nights consumed. If you commit to a fixed number of nights per month, hotels are likely to offer you special discounts below their standard rates.
Here are 8 tips for negotiating corporate hotel rates like a champ.
1. Do a Self-evaluation
The first step toward getting a great hotel deal is to know your travel spending trends. Evaluate your recent travel data and identify the cities where most travel happened. Project how many room nights you are likely to purchase in the year ahead.
Once you have this baseline, dive deep into your recent hotel data. For the most traveled cities, identify the frequently used hotels. Now, you are armed with the right set of hotels to negotiate with.
2. Negotiate with Multiple Hotels
Once you are ready with your hotel list, it is time to identify alternates to select the right option. Most great hotels have a reasonable alternative in the same area. Business travelers are often pressed for time and miss out on such alternatives.
When you initiate a negotiation, write to your preferred hotel and the alternative. This would help you easily benchmark not just rates & discounts but amenities and other inclusions. As negotiations progress, the corporate hotel rate information from the alternative is a good bargaining tool to extract the most value.
Another way to efficiently negotiate with hotels is by onboarding a Travel Management Company (TMC). This is because advanced TMCs like ITILITE have a team of experts who can help you conduct market research, collect the required data and negotiate with the hotel vendors to get the best possible rates. If you would like the experts to do the talking for you, contact us now.
3. Check Whether the Hotel Offers CVGR Rates
Most hotels dynamically change their rates daily. You must have seen corporate hotel rates rise dramatically during the New Year's holiday. These variations are a response to changing occupancy, seasons, and several other factors.
However, for companies, many hotels also offer a Company Volume Guaranteed Rate (CVGR) – a rate that is fixed throughout the year. Much like the name, companies inevitably give hotels consistent business and hence get rewarded with fixed corporate hotel rates.
Make sure you check with the hotel if they offer a CVGR rate. Even if the hotel doesn't offer this rate plan, don't forget to check for a discount on the dynamic rate. By guaranteeing room nights to a hotel, you can maximize the discount you get.
4. Ask About the Cancellation Window
Your deal negotiation journey isn't over yet. Business travelers cancel much more frequently than others. An important clause to include in the deal is a favorable cancellation window.
The cancellation window is the time limit before check-in time, where you can cancel a booking without being charged for it. Ask the hotel about the cancellation window they offer. Most hotels are likely to offer a cancellation window of 48 hours.
However, you can negotiate the cancellation window to a 12-hour window, especially if you are guaranteeing room nights to the hotel.
5. Enquire About the Retention Charge
The next order of business is to negotiate a retention charge. A retention charge is a penalty levied by the hotel, in case of cancellation outside the cancellation window, no-shows, or early departures. Enquire with the hotel about their retention charges and associated terms and conditions. Most hotels charge one night's tariff as retention charges.
If the retention rate is higher, negotiate it down to a more favorable charge.
A good travel management platform will help you to get negotiated rates at hotels, thereby bringing down your travel spend significantly. To assess your present travel and expense management system, take a look at our T&E health calculator below.
6. Consider the Meal Plans
While negotiating the deal, don't forget about the meal plans. Most hotels offer one of the four most popular meal plans –
European Plan (EP) – A no-frills plan, the tariff does not include any complimentary meal. The guest has to pay for any meal consumed in the hotel.
Continental Plan (CP) – This plan includes breakfast in the tariff.
American Plan (AP) – This plan includes all three meals in the room tariff.
Modified American Plan (MAP) – An MAP plan includes breakfast with either lunch or dinner in the tariff charges.
The corporate hotel rates offered to you will change based on the meal plan. An American plan is likely to be costlier than a European plan. Therefore, carefully consider the plan you want and whether the rate differential is justified based on your traveler's past behavior.
7. Analyze If You Need Multi-occupancy
Hotels offer differential rates for multi-occupancy. It is important to negotiate a multi-occupancy rate carefully. Pay extra attention to hotels where multi-occupancy is likely. E.g., a hotel where your new hires stay.
Double occupancy rates are often provided at a marginally higher rate than a single occupancy rate. You can also ask the hotel whether you can accommodate another person in a single-occupancy room. If yes, what are the charges and services included?
8. Check for Add-on Services
The rate offered also varies based on the add-on services included. Hence, while negotiating the deal, please enquire which add-on services are included. A hotel may include the following add-on services –
Complimentary Laundry Services
Free Pick and Drop service
Late check-out timings
Boardroom usage
By foregoing some or all of these services, you can drive a harder bargain and create additional savings.
ITILITE can Enable You to Secure the Best Corporate Hotel Discounts at Scale.
Although you may be able to get the best corporate hotel rates, the procedure can take a toll on your travel manager. Searching relevant hotels, setting up meetings, and negotiating the right deal can be exhausting.
ITILITE partners with some of the most popular business hotels to offer competitive corporate hotel rates. What's more, we partner with travel managers to analyze their hotel policies, spend patterns, and existing hotel preferences. We work collaboratively to negotiate the best corporate deals on their behalf and help them build a world-class travel program. To get the benefit of our specialized services, talk to our solutions experts now.
ITILITE Lunch and Learn: If you would like to know more, come meet us in your city. Join us for our "Top Tier Travel Talks" Lunch Seminar.
Author
:
Sharad Acharya
Sharad Acharya is a content specialist at ITILITE. With over a decade of experience in content marketing, Sharad has gained expertise in writing for niches like business travel, expense, AI, and Cloud. An avid reader, Sharad likes to read fiction in his free time.