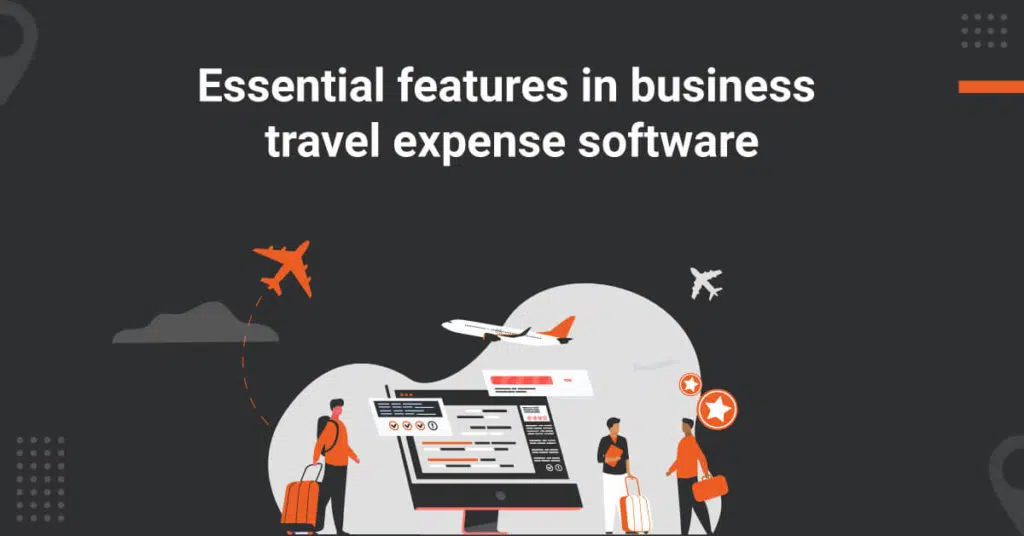 With business travel coming back on track since the pandemic, companies managing travel expenses manually are finding themselves in a heap of challenges. Hence, it is high time they embrace automation, especially in paperwork-intensive fields like travel expense management. One way businesses can automate their travel expense process is by adopting business travel expense software.
Business travel management software is designed to optimize your company's entire expense management process. It makes expense filing easier for employees, defines clear workflows, and makes reimbursements quicker. Hence, if your business deals with large volumes of travel expenses, now is the right time to start using business travel expense software.
However, with a large pool of choices, it can be challenging to pick the best.
Features of good Business Travel Expense Software
For Employees:
1. Digital Receipt Capture
A spreadsheet-based expense management system requires your employees to collect and preserve physical copies of multiple receipts as proof of expense. So, they need to handle the additional task of managing small pieces of paper aside from meeting deadlines and achieving the company's goals while on a business trip. This extra paperwork is highly inconvenient and can cause employee dissatisfaction.
Hence, business travel management software with an expense app that has a digital receipt scanning feature. With the help of digital receipt scanning, your employees can scan and capture their receipts whenever they incur an expense. The fields in the expense reports are automatically filled from the receipt, saving the employee time.
2. Multi-device usage
Your employees should be able to file their expenses whenever they want, even if they don't have access to their office laptops or mobile.
Choose a SaaS-based travel expense software that your employees can access from any device of their preference as long as they have their login credentials and a web browser.
3. Interactive UI
Entering each expense into a spreadsheet is a tedious and time-consuming task for employees. Hence, for any company, one of the primary objectives of switching from spreadsheets to automated expense management is to offer employees a convenient expense filing experience.
You should look for a business travel expense solution that offers an interactive user interface to employees. Additionally, your employees should get real-time notifications for filing out of policy or duplicate expenses to avoid accidental expense frauds and filing errors.
4. Credit Card Integration
Modern business travelers prefer quick and cashless methods of transactions. Hence, they use company-provided credit cards for all the expenses during their business trips.
Therefore, while investing in business travel expense software, ensure it supports credit card integration. Integrating corporate travel credit cards makes payments easier for employees. It also helps detect any bottlenecks or chances of fraud by reconciling card statements with expense report entries.
5. Automated Reminders
Your employees have multiple tasks to complete, deadlines to honor, and objectives to achieve throughout the month. Hence, there is a fair chance they might forget about filing their expenses on time which can delay reimbursements.
Therefore, look for a business travel expense software that sends automated, timely reminders to your employees whenever the due date of filing is near.
6. Multi-currency Functionality
When your employees travel internationally for business, they incur various expenses paid in the respective country's currency. Documenting these expenses involves manually converting each transaction into your local currency, which can be a pain point for employees while filing.
To avoid this problem, look for business travel expense software that supports multi-currency functionality. This feature allows various currencies to be compiled into a single expense report. Moreover, the software automatically converts foreign currency into local currency, helping them help save time and avoid manual-conversion errors.
7. Mobile App
If your company travel expense software does not have a mobile app, your employees will have to save all the receipts until they return to their hotel to file their expenses instead of filing them in real-time. This means they will not be able to take full advantage of mobile expense reporting.
Hence, look for a business travel management solution available on both Android and iOS platforms. This way, your employees can carry the software in their pocket and file the expenses in real time without hassle. They can also get notifications about the status of their expense report and can respond to any expense-related objections or queries.

For Company:
8. Intuitive Dashboard
With a manual expense management system, your finance team must look through a pile of receipts and juggle multiple spreadsheets for travel expense data while conducting travel expense audits. This practice often takes up much of their time and leaves a broad scope for errors.
Look for a business travel expense software solution that offers a customizable dashboard. It helps your finance teams to access employee-wise and department-wise spending, all in one place. Therefore, they don't have to spend much time sifting through heaps of receipts or shuffling multiple spreadsheets.
9. Approval Process Workflow
One of the fundamental reasons behind delayed employee expense reimbursements is the ambiguous approval process workflow. The expense claims have to go through multiple checkpoints before getting approved. In cases where the nature of an expense is unclear, there might also be a dispute regarding the approver.
Therefore, you should opt for a business travel management solution that implements a multi-level, well-structured approval process workflow. The software can define workflow according to the department, employee level, nature of the expense, etc.
10. Mileage Tracker
Mileage tracking refers to keeping track of the distance (in miles or kilometers) driven for mileage reimbursement and tax deduction purposes. In other words, every mile or kilometer traveled for work gets either deducted from employees' tax payments or reimbursed later.
Look for travel expense software that offers a mileage-tracking facility. A built-in mileage tracker is integrated with Google Maps. This allows it to automatically detect the miles traveled by your employees and calculate the compensation accordingly, eliminating the chances of errors or fraud.
11. Real-time Reporting and Analytics
Optimizing your travel process involves reducing travel costs, ensuring policy compliance, and preventing fraud. However, reaching these goals requires you to have insights into the spending habits of your employees.
Hence, opt for business travel expense software that offers real-time reporting and analytics. The system should:
Classify expenses and reports by expense type
Analyze employee spending behavior
Keep track of expense policy violations
Get department-wise spending insights
Reconcile expense reports with corporate credit card statements
Visualize key expense data
Understanding the ins and outs of your travel data can help you make strategic decisions regarding travel expenses and avoid unnecessary expenditures.
Specific functions need to work in tandem with your corporate travel expense software for automatic data sync. For example, you need to integrate your expense management software with ERP to manage cashflows better. Additionally, the software must integrate with HRMS to fetch employee details.
Hence, choose travel management software that enables easy integration with multiple third-party applications to ensure smooth data flow and avoid data silos.
You can also take travel cost optimization to the next level by investing in an advanced solution that offers a virtual travel consultant like ITILITE Mastermind. With mastermind, you can get suggestions about the steps you can take to identify and mend leakages in your travel process to save costs.
13. Granular Policies
Expense policy compliance is one of the major issues for companies. Usually, expense policies are violated because employees don't understand them completely. Additionally, most expense management software offers relatively generalized policy terms, confusing employees. There is no one-size-fits-all type of expense policy. However, the more detailed it is, the better the chances of compliance.
With a new-age business travel expense software like ITILITE, you can define your expense policies to the most granular level. You can also create customized policies for various departments, teams, employee bands, etc.
14. Fraud Detection and Audit
According to a study, 30% of total workplace fraud is expense related. Although travel expense fraud can cause significant financial losses to a company, controlling expense fraud manually is difficult. This is because discrepancies like duplicate receipts or inflated amounts are hard to detect manually.
Hence, before investing in any business travel expense tracker tool, ensure it offers fraud detection and audit feature. This feature automatically detects duplicate, out-of-policy expenses, and expenses filed in the wrong category while validating expense reports.
15. ACH Payments
Finishing off expense reimbursement for the entire company can be a repetitive and cumbersome task for your finance team. Hence, they need business travel expense software that supports ACH payments.
ACH is a financial network popularly used in the US for electronic payments. With ACH, you can transfer money to a bank account, paper cheques, cash, or wire transfer.
Hence, by adopting ACH-enabled business travel expense software like ITILITE, you can reimburse employees with the click of a button, reduce dependence on ERP/accounting software, and much more.
16. On-demand Scalability
As your company grows, the number of employees filing expenses also increases. Hence, your travel expense software should be scalable according to your organization's needs.
You should go for a cloud-based software solution that gives you the advantage of adding an unlimited number of users and at-par data storage for every additional user.
17. Data Security
Expense management involves dealing with sensitive data like payment information, invoices, and employees' PII (Personally Identifiable Information). Therefore, your company needs to handle the data with utmost care.
Invest in a business travel expense management software that implements a robust data security infrastructure with the help of clearly laid-out policies, access controls, and best-in-class technology. You can also look for certifications like ISO 27001, PCI-DSS, etc. Moreover, look for a cloud-based security solution that stores all the data in highly protected data centers.
18. Tax Compliance
Staying compliant with the taxation policy in terms of business travel expenses is highly crucial for your company.
Therefore, you should opt for business travel expense software that provides easily accessible e-copies of expense reports and receipts with expenses properly categorized as travel, mileage, etc. Moreover, the software should also be able to calculate if some expenses are not tax-deductible.
19. Easy Setup
If your business travel expense software takes time to install, your IT team can have a hard time setting it up and getting it ready to use.
Hence, find an expense management software solution that is easy to set up and seamlessly integrates with other software systems. Also, check if the vendor provides additional assistance in training employees whenever required.
20. Technical Support
Strong technical support is critical when picking out a new software solution. It becomes even more important in matters of expenditure and reimbursement because a glitch can cause a big problem.
For instance, if your employee files a receipt that doesn't get captured because of a problem with the software, it doesn't get lodged in the expense report for approval. In such cases, you need quick support to ensure proper reimbursement without an unnecessary escalation.
Therefore, you should look for a business travel expense software vendor offering 24/7 support across multiple channels like calls, emails, and chats. Additionally, the vendor should have a support team of adequately trained professionals to resolve any problems with the expense software, filing process, etc.
Choose the right Business Travel and Expense Software
These were some features to seek in a business travel expense management software. However, choosing the one that suits your business requires you to consider the gaps in your current expense process, future requirements, and budget. Hence, it is advisable to follow an inward-out approach while selecting a business travel expense software.
ITILITE's ACH-enabled business travel and expense management software automates your expense management process by integrating expense filing, approval, and reimbursement on one platform. Other than that, you also get real-time notifications for any missing expense reports report and state-of-the-art fraud detection.
Get a demo of ITILITE to try out all the features at no cost.