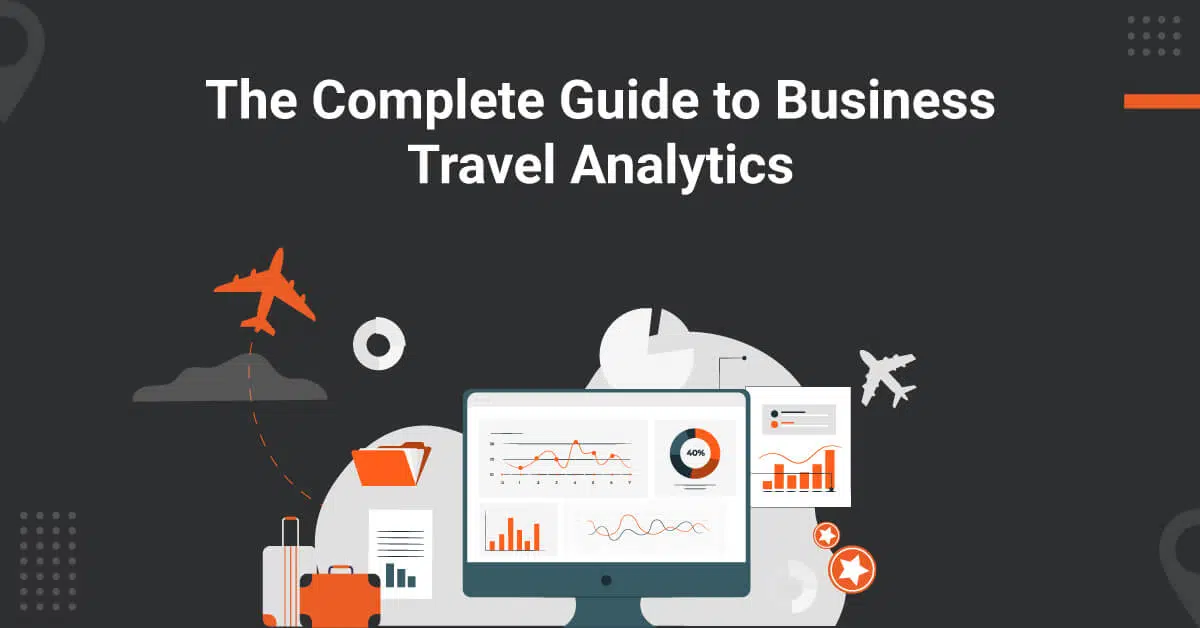 Data is a crucial component of a business. It helps companies identify opportunities, predict trends, and evaluate their policies to take corrective actions wherever necessary.
Therefore, companies have always relied on data while making crucial decisions in various fields like marketing, finance, and production. However, one field that still lacks data-driven decision-making is business travel.
Despite the rapid evolution of travel technology, a majority of companies do not invest in proper data analytics tools and practices to measure and analyze travelers' data. However, adopting business travel analytics can help them understand the strengths and weaknesses of their business travel management process.
Read this complete guide to corporate travel analytics to understand what it means, how it can benefit your organization, and how to leverage it using technology.
To know more about business travel analytics in detail, please continue reading.
What is Business Travel Analytics?
Business Travel Analytics is a combination of technology, skills, and practices to gather and analyze an organization's travel data. One of the primary goals of travel analytics is to gain insights to optimize a company's travel policy.
Corporate travel analytics includes all the analytical practices used to derive insights from travel data. It can help you increase the efficiency of your business travel program by analyzing essential travel KPIs to figure out travel spending trends, cost leakages, and improvement opportunities. The KPIs can be department-wise spending, employee satisfaction, savings via partnerships, etc.
Precisely travel analytics constitutes:
Collecting and processing business travel data
Analyzing the collected data to identify patterns and trends
Making data-driven travel decisions based on those insights.
When used optimally, companies can leverage the results derived from travel analytics to cut travel costs, increase policy compliance, and maximize corporate travel ROI.
Types of Business Travel Analytics
1. Descriptive Analytics
Descriptive analytics is the most fundamental type of corporate data analytics. It involves summarizing basic information about what has been happening or is currently happening. You can conduct descriptive analytics with the help of a spreadsheet and techniques like data aggregation, data visualization, and descriptive statistics.
In other words, descriptive analytics consists of collecting and presenting data about past and current travel trends in a simple form. For instance, you can use descriptive analytics to determine which department reported the highest business travel cost in June 2022.
However, knowledge of past and present travel trends is insufficient to manage travel better. Hence, you need advanced analytics to tell you the reasons behind the trends and suggest a course of action.
2. Diagnostic Analytics
Diagnostic analytics explains why the data collected through descriptive analytics is the way it is. It involves finding correlations between different factors affecting business travel performance.
For example, you can conduct diagnostic analytics to understand why a particular department reported increased travel spending by establishing a correlation between department-wise spending and policy violations. You can conduct diagnostic analysis using data discovery, mining, and correlations.
Diagnostic analytics is slightly more insightful than descriptive analytics because it helps establish a cause-and-effect relationship. However, the data is highly complex and often challenging to put into actionable steps. Therefore, you need a solution to help you take data-driven actions to optimize your travel program.
3. Predictive Analytics
Predictive analytics is the most advanced form of corporate data analytics. It uses deep learning and machine learning algorithms to detect patterns in travel data and make predictions. Therefore, you can use predictive analytics can get the best future course of action based on past trends.
For example, using predictive analytics, you can personalize business travel by offering customized flight and hotel booking options based on employees' past preferences and the company's travel policy.
Predictive analytics is the most insightful type of travel analytics. It can help you increase policy compliance and enhance employee satisfaction.
Some advanced travel management software solutions like ITILITE use predictive analytic techniques to help you drive travel cost savings. With ITILITE's advanced analytics, you can save up to 30% of your overall travel costs. To maximize your travel saving, book a free demo of ITILITE now.

Why do you need Business Travel Analytics?
1. Policy Compliance
Ensuring travel policy compliance is essential for maintaining your bottom line. However, employees sometimes do not make policy-compliant bookings either because they do not understand the guidelines or can't view them in real-time while booking. These policy violations lead to constant overspending.
Corporate travel analytics can help you avoid such policy violations by giving your travel manager access to booking data. The booking data allows them to track constant violators and take corrective actions.
An automated travel and expense management platform will help you enforce policy compliance. You can check this aspect and others to calculate the current health of your organization's T&E processes using the calculator below.
2. Cost Saving
Controlling business travel expenses is one of the primary goals of any business travel program. However, factors like last-minute bookings, repeated cancellations, and reschedules can drive up business travel costs. Therefore, you should take measures to ensure they don't happen frequently.
With the help of diagnostic data analytics techniques like data mining and drill-down, you can refine the travel data and identify the reasons behind cancellations and reschedules. Then you can make a qualitative assessment and make rectifications wherever necessary.
3. Practical Budgeting
Creating a data-driven travel budget has multiple advantages. It ensures policy-compliant bookings and helps improve ROI. However, forecasting travel spending accurately becomes challenging without all the travel data available on a single platform.
In such cases, your finance team has to trawl numerous spreadsheets and emails to determine the average amount employees spend on bookings. Then, they have to compare it with the market rates and create the travel budget accordingly. This takes up much of their precious time and does not guarantee complete accuracy.
Moreover, accommodating last-minute price fluctuations, commonly in the case of airfares, becomes arduous after budget preparation.
Business travel analytics can help you solve all of these problems. Your finance team can create a realistic travel budget by comparing the historical booking data with the current industry benchmark.
Moreover, they can evaluate the practicality of their travel budget by conducting a comparative analysis of the budget set versus actual spending.
4. Employee Satisfaction
While booking policy-compliant flights and hotels, sometimes employees' preferences get overlooked, making them unhappy and stressed. Hence, you must provide employees with the booking of their choice to enhance satisfaction.
You can collect past booking data and track preference patterns using predictive analytics. Once you have created a list of their preferred flights and hotels, you can book policy-compliant options. Hence, travel analytics can help you keep your employees satisfied.
5. Vendor Preference
According to a survey, employees spend 30-50% of their business trip cost on booking hotels. Hence, getting the best deals on hotel bookings can help you save a significant amount of travel costs. However, you must know which hotel to book to avail the lowest possible rates. Business travel analytics can help you with that.
You can run predictive analytics to determine the price variations of vendors throughout the year. Based on this information, you can book the lowest-priced hotel or bring more options during a particular month. Moreover, you can incorporate a stricter advanced booking rule to take advantage of the lowered prices.
6. Travelers' Safety
The new generation of business travelers are highly cautious about their safety while traveling for work. Hence, it is your responsibility to go beyond your Duty of Care to ensure travelers' safety. Travel analytics can help you with that.
You can collect real-time information from hotels and flights about their safety protocols so that travelers can make better decisions and take necessary precautions. Moreover, you can use the data to create a safety scorecard for a particular area to prevent travelers from going anywhere with a health hazard or social unrest.
7. Sustainable Travel
Sustainability in business travel is a necessity in today's day and age. According to a study, air travel constitutes 2 percent of the global greenhouse gas emissions. Hence, it is time for businesses like yours to take charge and reduce their carbon footprint. Business travel analytics can help you ensure sustainable travel.
You can adopt business travel management software to track your business trips and generate real-time reports of your current carbon footprint. Using this data, you can advise your employees about environment-friendly airlines, transportation, hotels, etc.

How can you make the most of Business Travel Analytics?
Business travel analytics can help you optimize your travel policy, increase policy compliance, and cut travel costs. However, if you want to leverage the data analytics insights optimally, you need the support of the latest tools like business travel management software.
Here is how a travel management software like ITILITE can help you make the most of business travel analytics:
1. Customized Reports to Gather Insights
A corporate travel management software platform offers standard and customizable travel data reports. The standard reports contain data like flight transactions, hotel reservations, trip approval, carbon impacts, etc.
Moreover, you can also customize the reports as per your requirement. You can schedule to get these reports on your mail daily/weekly/monthly to keep track of your travel KPIs.
2. Key Metrics to Optimize Travel Process
The best travel management software solutions in the market offer a dynamic dashboard that summarizes the critical travel metrics over a certain period (month/ year). You can use these metrics to conduct an in-depth analysis of your travel process and determine if you need to take any actions.
Following are the travel metrics provided by the dashboard, along with their uses:
Monthly Spend Summary
It summarizes the overall amount spent on travel month-wise. With this metric, you can track the fluctuations in your travel spending over the months. You can also calculate the ROI to determine if your travel investment is fetching optimal results.
Spend by Department
It summarizes the overall amount each department spent on travel in a month. This metric tells you how much each department spends on business travel in a month. You can use this data to identify saving-heavy and expenditure-heavy departments and determine the reasons behind cost leakages.
Booking, Cancellations & Reschedules
It summarizes monthly flight and hotel bookings, cancellations, and reschedules. Frequent cancellations and rescheduling can drive up travel expenditure in the form of cancellation fees, convenience charges, etc. Therefore, you need this information to keep them in check.
Budget Vs. Actuals
It establishes a correlation between the pre-determined travel budget and actual overall spending. You can use this information to evaluate the practicality of your travel budget.
Top Employee Spend
It ranks employees' monthly travel spending in descending order. You can utilize this metric to determine if the expenditure is justified.
Time Taken for Booking
It summarizes the overall time spent on booking per month. You can use this metric to determine the efficiency of your booking process. The more efficient your process, the less time your employees will take to make the booking.
Early Booking
It summarizes how many days before the business trip employees make flight bookings. You can utilize this information to determine if employees are making the bookings early enough to avail of discounts.
Airline-wise Split
It summarizes the percentage of different airlines in overall travel bookings. You can use this metric for vendor negotiations.
Average Domestic Flight Price Trend
It summarizes monthly fluctuation in airfare. You can use this information for airline budget benchmarking.
Spend Trend – By Booking Type
It summarizes the monthly amount spent on booking various amenities like flights, hotels, trains, etc. You can utilize this information to determine where employees spend the most money.
Business Travel Analytics to Drive Savings
Now that you understand the advantages of travel analytics, you must be looking for a tool to help you leverage its true power and maximize savings. You don't need to look further, as ITILITE is the answer for you.
ITILITE's travel management platform offers an in-built AI-powered virtual travel consultant- Mastermind. Mastermind is the world's first virtual travel consultant that uses machine learning and predictive analytics to deliver actionable, data-driven recommendations to enhance employee spending behavior, reduce policy violations, and control cost leakages.
Try out Mastermind for free by clicking on the link below.