Business travel took a hit during the COVID-19 pandemic but is predicted to make a full recovery by 2024 – reaching $1.48 trillion by the end of the year. Moreover, with the workforce now shifting primarily to Millenials and GenZs, business travelers are very vocal about what they expect from their trips, including better business traveler services and a smoother travel experience.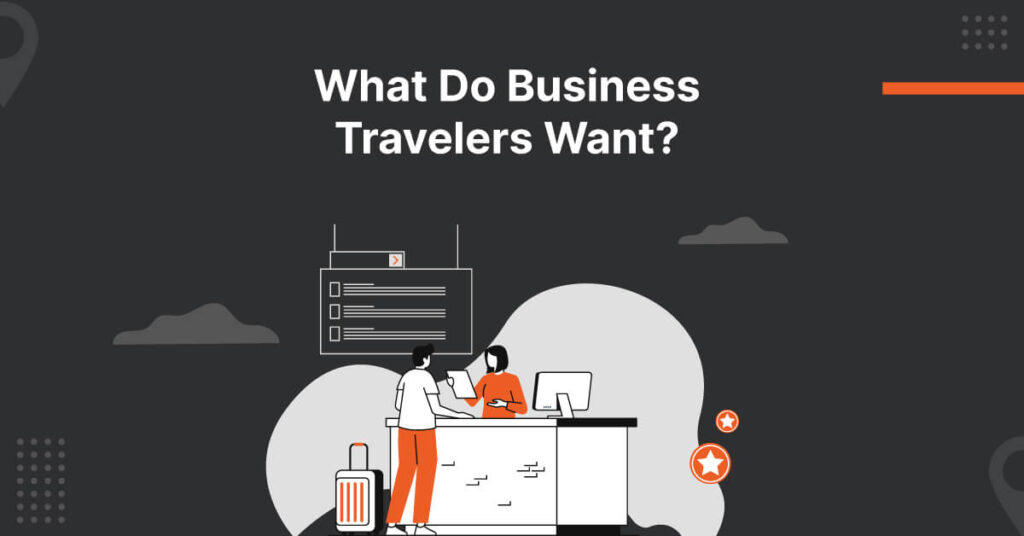 Business travelers usually have to follow a hectic work schedule. Therefore, they want the other aspects of the trip to be convenient. They may also want some personal time after work to explore their destination and enjoy the trip. Additionally, In the wake of the pandemic, travelers also expect additional safety measures to be taken for a healthy business trip.
What do business travelers want?
1. Smooth Approval Procedure
The first step to business travel is getting the trip approved. Business travelers prefer a straightforward approval process instead of requiring a lot of extra effort from their end.
Nowadays, the travel management software tools available in the market are capable of automating the approval workflow based on predefined criteria. Once an employee raises a request on the software, the approvers get real-time notification of the approval request. Consequently, the process takes very little time and effort.
2. Flexible Travel Policies
According to CNBC, approximately 47 million people quit their jobs last year, with many citing a desire for a more remote or flexible work arrangement in the wake of the Covid pandemic. This is because business culture has changed, and now many employees are taking up jobs that provide a flexible work culture, including travel policies.
Travel policies should be flexible and take into account the importance of the employee's time. A few examples of flexible travel policies include allowing employees to take a morning off after a late night arrival, offering a broad price window to book tickets instead of a rigid amount, allowing them time off for personal travel (bleisure), and so forth.
Offering such flexibility allows employees to feel more satisfied at work and helps in employee retention as well.
Get Free Travel Policy Template
3. Comfortable Stay
After a hectic day, business travelers need a comfortable stay to unwind and relax. They also require privacy and personal space, so a separate room is preferable. Ideally, the hotel should be located near the workplace and restaurants. The room should have high-quality mattresses and beds and adequate lighting in the rooms and bathrooms. In addition, the room should be sanitized to safeguard travelers' health.
When it comes to business travel, high-speed internet should be a top priority for hotels to provide, as many business travelers rely on it to work online and attend meetings virtually. Furthermore, hotels should provide quick room service and round-the-clock assistance. A quick and easy check-in/check-out process is also key, so guests don't have to spend extra time at the hotel after a long flight.  
Moreover, the hotel should provide advanced security for all its guests. Other business traveler services that would be beneficial for business travelers include concierge, chauffeur, and business facilities such as designated workspace.
4. Convenient Flights
Business travelers want to book non-stop flights or the ones that take the least amount of time to avoid exhaustion from multiple layovers. They also want their flight to arrive at a convenient time and not in the middle of the night. This is important, especially for women travelers, for whom it might be a concern of safety.
Business travelers usually prioritize comfort when they fly, which means considering things like legroom, seat size, and the overall customer service experience of the airline. Therefore, it's important to research beforehand to select the best airline that will provide a comfortable travel experience. 
5. Personalized Travel Experience
From personalized booking recommendations to the hotel of their choice, business travelers want their itinerary to be based on their preferences and convenience above all else. Airlines and hotels are starting to provide a more personalized travel experience to their customers by taking their specific needs and wants into account. 
For example, United Airlines provides its flight attendants with information about their passengers so they can customize the in-flight experience to match each individual's needs.
Moreover, the best travel management software offers AI-based hotel and flight ticket recommendations that consider an employee's previous bookings and search entries. The software can also send customized reminders about upcoming reservations to travelers so that they can stay on top of their schedules. Consequently, personalization enhances the overall business travel experience and boosts employee satisfaction.
6. Fast Reimbursement
Once the business trip is completed, employees expect reimbursement for all the expenses they made during their trip. The reimbursement process should be quick so that it doesn't affect the employee's monthly cash flow. This way, they won't have to worry about any financial inconvenience.
Companies can speed up the reimbursement process by using integrated travel and expense software. This software allows employees to scan and upload the receipt on the cloud and automatically create an expense report. The manager and finance team can approve this report with the click of a button, and the amount is deposited directly into the employee's account. This process is much faster than the traditional method, taking only a few hours instead of 5-7 days.
7. Time to Enjoy on Trip
Bleisure is a combination of the words business and leisure. It refers to the practice of incorporating leisure activities into a business trip. Many business travelers find that they can explore a new destination at a lower cost and with fewer vacation days while on a business trip.
According to a survey by GBTA, last year, 37% of Americans extended their business trip for leisure, and 82% of them stayed at the same place for both business and leisure purposes. Bleisure travel makes business trips more productive by reducing overall stress and enhancing the travel experience. It also increases the employee's willingness to take business trips.
8. Loyalty Programs
A travel loyalty program is beneficial for business travelers because it allows them to accrue points or get discounts when they choose to repurchase from the same brand. For example, Hyatt offers the Hyatt Gold Passport, through which customers can redeem points against free nights, room upgrades, and other business traveler services. 
Airline loyalty programs, such as Delta SkyMiles, offer points and miles to travelers every time they fly with that airline. In addition, loyalty programs provide other benefits to customers, such as special boarding lanes, VIP lounge access, and in-flight facilities. In some cases, there are also seat upgrades available. Since loyalty programs provide convenience, comfort, and savings for frequent travelers, business travelers often choose them.
9. Traveler Safety
According to Amadeus, 84% of business travelers are comfortable traveling only if proper safety protocols are in place. Hence, companies should provide their employees with the necessary resources to ensure their safety and security while traveling on business. 
The first step to ensure the same is implementing the right corporate travel security policy in place. Companies should also ensure that the employees are travel insured and that essential safety training has been provided before the trip. The employees must also be made to fill out a travel risk assessment checklist to evaluate the risks associated with the trip.
A company travel software solution is also helpful in ensuring the safety of business travelers. This software can help companies keep track of their employees, provide real-time notifications in case of alerts in a particular area and offer 24/7 travel support if the traveler is stuck in a problem. The company can also block unsafe hotels through the app so that employees don't accidentally book them.
Free Travel Security Policy Template
Ensure a Seamless Business Trip
An organization wants its employees to have the best travel experience. However, the manual business travel management procedure can make it difficult for travelers to have a seamless experience. You can use travel management software to streamline your workflow and make things easier for your employees. 
ITILITE is an integrated travel and expense management software that makes booking travel and managing expenses a cakewalk for employees. With an intuitive UI, travelers can easily book travel and manage their itineraries. The software also allows employees to make changes to their itineraries and track expenses quickly, so they only have to use one app for all their travel needs.
Get a free demo to try the features yourself.