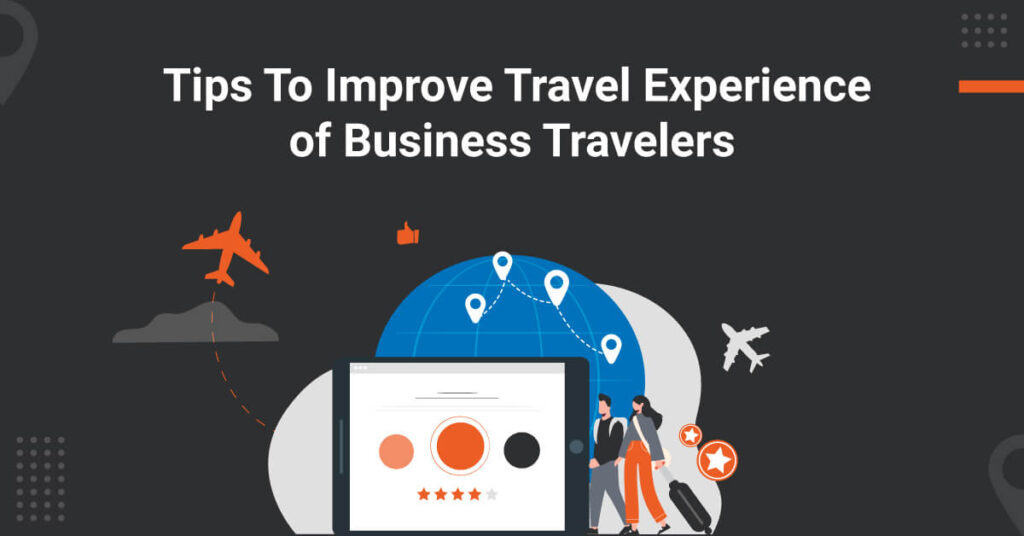 The rollout of Covid-19 vaccines has prompted many organizations to resume business travel. However, with business travel comes its own set of challenges. Factors such as flight delays and cancellations, jet lag, loss of baggage, time away from family, etc., can add to an unpleasant experience and cause stress and frustration.
According to a GBTA report, 73% of business travelers said the quality of their business travel impacts their job satisfaction. Moreover, 77% revealed that with a good corporate travel experience, they could meet their goals during business travel.
As more employees go on business trips, it is paramount for organizations to do some research and pre-planning. This will ensure employees' travel is well-organized, making their business travel experience more enjoyable.
Given the significant role business travel plays in employee satisfaction, what can organizations do to improve employees' travel experience?
Here's a round-up of various ways to make the corporate travel experience for business travelers easier: 
1. Personalize Experiences
A majority of employees still make bookings outside the company's travel policies. This is either because the policies are complex to understand or not configured in a way that suits business travelers' needs and preferences.
Providing business travelers personalized travel booking options is a great way to enhance their business travel experience. Personalization includes providing employees with a travel experience that aligns with their needs, preferences, and priorities. For example, business travelers prefer a specific type of meal arrangement on a flight or a hotel with lounge access. Providing them with options according to their preferences enhances their business travel experience.
You can offer employees personalized travel options by opting for a travel management software tool. The software provides an extensive inventory of the best accommodations and modes of transport. Business travelers can choose from these options according to their choice without going against the companies' policies.
2. Consider Feedbacks Seriously
According to a Global study by Qualtrics, the surveyed business travelers revealed that when they return from their business travel and provide feedback on hotels and airlines to their company, it generally goes unnoticed. Even though many companies are aware of the importance of corporate travel experience, they fail to acknowledge the input provided.
Feedback is one of the vital resources at your disposal when trying to enhance the in-person traveler experience. Taking feedback from employees after their business trip helps you understand what went wrong and allows you to streamline the booking process, assess travel risks, and enhance travel policies. Feedback is also essential to ensure employee satisfaction.
3. Digitalize Wherever Possible
Traveling involves so much organization as business travelers have to constantly keep track of their belongings, plane tickets, hotel reservations, and sometimes even the local currency along with their daily tasks. This process can be tiring and cumbersome and can eventually lead to employee stress and burnout.
To avoid these issues, you can empower your employees with office management software tools and business travel tools while they are off on a business trip.
Office management software tools let employees communicate and collaborate with their colleagues, manage their tasks, and get real-time insights about the tasks while traveling. On the other hand, business travel tools allow employees to store important business and travel documents. Employees can also use unified travel and expense management software that offers advanced features related to travel and booking management.
4. Prioritize Safety
According to Amadeus, 84% of business travelers confirmed they would only travel if correct and safe travel measures were in place.
Business travelers face quite a few challenges while traveling, such as being mugged in an unfamiliar place, not knowing whom to contact for emergency purposes, and unexpected safety problems such as natural disasters, political unrest, racial tensions, accidents, etc.
Especially female business travelers need to be extra cautious while traveling to new or unfamiliar destinations as they are more susceptible to crimes and theft than their male counterparts.
Hence, you must prioritize employee safety so your employees can have a good corporate travel experience. You can do this by assessing the risks and implementing a solid duty of care plan. Also, consider having a robust travel management solution with features such as live employee tracking so that travel managers can track employees' locations at any given time. You should also ensure 24/7/365 business travel support so that employees can contact you in case of emergency, etc.
Once employees know that their company is prioritizing their safety, then there are high chances that they will be less stressed and also feel more confident and empowered during their business travel.
5. Simplify Booking Process
Making travel and stay arrangements can be a hassle for your employees. They have to browse through various third-party websites and look through multiple options for flights and accommodations that suit their needs. Hence, business travelers prefer an end-to-end booking procedure to ensure the quality and efficiency of their business trips.
Look to invest in good travel and expense management software that lets your employees book flights, cabs, trains, and accommodations of their choice, which are also policy-compliant. The software offers an intuitive user interface, where employees can book everything on a single platform without browsing through various pages, thus saving time. Using such software simplifies the booking process and makes their corporate travel experience more convenient.
6. Ensure Quick Reimbursements
Employees must file and submit their expense reports after they return from business travel. Once this is done, these reports must go to the approvers and the finance department. Meanwhile, the finance department receives multiple expense reports daily, and they must go through all the expense reports before reimbursing the amount. This further delays the reimbursement process and becomes very tedious and time-consuming.
To ensure timely reimbursements, you can opt for an expense management software solution that automates your expense reimbursement process. The software uses AI technology to streamline every phase of the expense reporting process.
Manual methods of reimbursements such as paperwork, spreadsheets, etc., that used to take 5-7 days can now be done quickly within a few hours using the expense management software. This allows you to provide your employees with same-day reimbursements, which saves time and optimizes efficiency.
7. Consider Gamification
The travel booking process can be tedious and time-consuming for employees. Therefore, most don't put in much thought while booking their flights or stays, and hence sometimes they end up booking outside companies' policies.
To enhance the employee booking experience, you can introduce gamification to your business travel process. Gamification is the method of integrating game mechanics in non-game events that offer employees ways to feel empowered, engaged, and collaborate with their peers and be rewarded for their efforts. It helps in boosting employees' productivity and ensuring satisfaction.
But, how can you use gamification to enhance the business travel experience of employees? Simply by rewarding them for making cost-conscious choices. Employees get many booking options during the booking process according to the company's travel policy. When employees choose cost-effective options for flights and hotels, you can reward them by giving away a part of the savings.
8. Offer Wellness Support
Many companies are already investing in health and corporate wellness programs so that their employees stay healthy. However, employees who travel for work face challenges, such as health issues, disrupted sleep, poor diet, and lack of opportunity to exercise. Company road warriors are out of their regular routines, away from homes, health clubs, etc. Hence, they need additional support from the company.
While this could seriously affect their corporate travel experience and productivity, you can take a few measures to help them overcome these issues. Travel managers and companies should work together to identify opportunities to make healthier choices, such as selecting a more convenient flight time and providing accommodation with gym facilities.
Moreover, they should provide employees access to wellness apps that recommend what to eat and drink while on the road. Providing wellness support helps business travelers have a good corporate travel experience by ensuring a healthy lifestyle while on the road.
9. Provide Concierge Services
While traveling, business travelers also wish to have some leisure time to experience the things they like to do. However, they need to put in these additional requests apart from their regular travel requests, which may or may not get approved.
That's precisely where concierge services come into the picture. Concierge services are the additional services organizations provide to travelers, such as airport lounge facilities, car parking, business trip insurance, etc., making their travel experience less stressful.
However, it is quite challenging for your company to provide such services in multiple geographies. You can take the help of a travel management company to provide concierge services. These travel management companies partner with several hotels and service providers that offer these services. Hence, it's quite easier for them to give employees what they want.
Give the Best Travel Experience to your Employees
Enhancing the business travel experience for business travelers is a constant process. It boosts employees' confidence and morale, aids good health, and improves productivity. While you can do nothing about flight delays and cancellations, your company can step forward to eliminate travelers' stress and frustrations by following the above tips.
ITILITE travel management software enhances the employee corporate travel experience by offering them personalized booking options from an extensive inventory of flights and hotels, reducing the booking turnaround time to just 90 seconds.
Get a free demo of ITILITE to enhance your employees' business travel experience now.