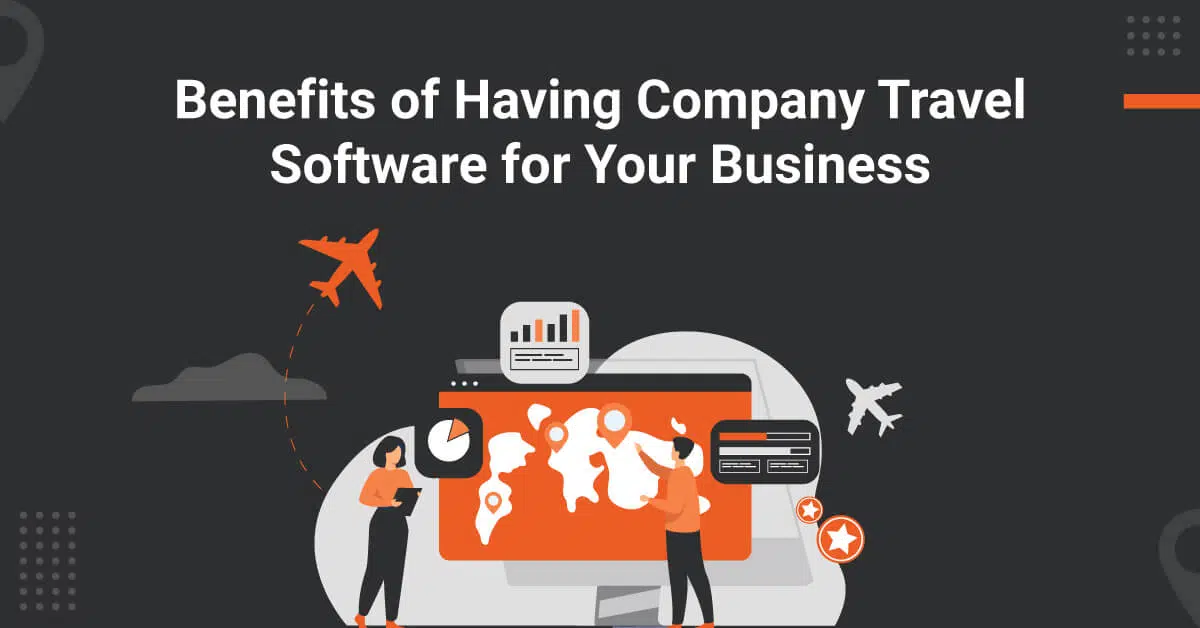 Corporate travel helps companies build and maintain good relationships with their clients. Hence, companies are constantly looking for ways to optimize their travel process. They seek greater policy compliance, fraud prevention practices, and better employee experience.
The best way to optimize business travel management is to adopt company travel software. A company travel management software is a solution designed to help your organization plan, track, and analyze the corporate travel process.
There are multiple benefits to using company travel management software. Let's look at a few.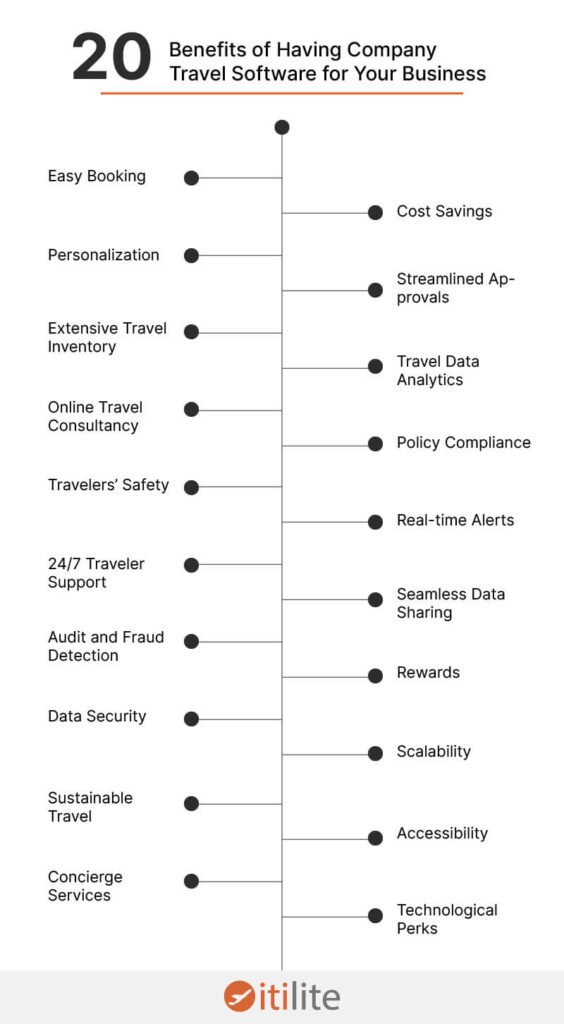 20 Benefits of Company Travel Software
1. Easy Booking
Booking flights and hotels using multiple third-party websites can be tedious for employees. They must go through thousands of options before finding the right one. Hence, you need to opt for a solution that makes business travel booking easier.

A travel software provides flight and hotel options in a combined trip package. Therefore, your employees can make all the bookings on a single screen. Also, they don't have to spend extra time on consumer travel websites. Hence, your employees can fulfill all their travel needs with just a few clicks.
2. Cost Savings
Reducing travel costs is important for every organization. However, you do not necessarily have the most cost-efficient options when you book from online travel agencies.
Alternatively, most corporate travel software solutions have an inventory of economical travel options. Therefore, you can access the best Low-Cost-Carriers flights, hotels, and rental cars and save travel costs on every booking.
3. Personalization
Your employees might find it challenging to find a policy-compliant flight and hotel booking option that aligns with their preferences. Additionally, after booking, they might forget about an upcoming trip until it's too late to make any last-minute preparations.

You can solve all these problems by personalizing business travel for your employees through corporate travel software solutions.
A modern corporate travel management platform uses behavior analysis to assess your employees' past preferences. It then recommends policy-compliant customized booking options based on those preferences.
This ensures employee comfort and helps them avoid policy violations. Moreover, company travel software also sends personalized notifications about upcoming trips. This way, your employees can prepare well in advance.
4. Streamlined Approvals
An unclear workflow can cause unnecessary delays in trip approvals. The problem escalates even further in the case of international travel because it requires various approvers. If the request gets sent to the wrong authority, it can get stuck in a to-and-fro motion, wasting everyone's time and energy.

Corporate travel software solutions solve this problem by enabling companies to define multi-level workflows. The workflows can be defined according to various departments, employee levels, trip destinations, etc. The trip requests move automatically to next-level approval once an official approves them.
5. Extensive Travel Inventory
Your employees need access to all the suitable options while booking flights and hotels. However, third-party booking websites do not have such an extensive travel inventory. Hence, they provide limited booking options.

Alternatively, some travel software providers partner with multiple vendors to give you access to a wide range of flights and hotels. So your employees can get the best-suited options at their fingertips.
6. Travel Data Analytics
Travel managers need to keep track of significant travel KPIs like department-wise average spending per trip, employee NPS, etc., to improve the travel process. For this, they need travel data which they can get using corporate travel software solutions.

Modern travel software companies compile all the travelers' data into a single dashboard. Moreover, the customizable dashboards allow traveler managers to fetch the required data points effortlessly. With all this travel data, managers can make insightful decisions to accomplish their travel goals.
7. Online Travel Consultancy
Travel data is crucial for companies to make their travel management process more efficient. In the past, travel managers used to rely on travel consultants to analyze this data and provide them with critical information.
However, the consultants usually fail to deliver deep insights. This is because their understanding of travel policy improvement and the ways to fix cost leakages is limited. Moreover, businesses have to pay an exorbitant fee and devote numerous hours to providing input.
Travel management software can help you solve this problem with a virtual travel consultant. Some modern corporate travel software solutions like ITILITE offer a pre-embedded AI-based travel consultant.
It provides practical data-driven recommendations to optimize your travel process. The AI learns from past travel data, collects overall external industry data, and tells travel managers how much they can save. It also suggests the steps they need to take to maximize savings and reach their T&E goals.

8. Policy Compliance
Travel policy violation is a serious issue faced by travel managers. One of the reasons employees violate company travel policy is because they are confused by generalized guidelines. Moreover, they cannot view the policy in real-time while booking.

With state-of-the-art company travel software, you can incorporate all the nitty-gritty of your travel policy. Additionally, you can customize the policy according to departments, employee level, and trip duration. Moreover, your employees can avoid violations by viewing the policy terms in real-time while booking.
9. Travelers' Safety
Travelers' safety has taken center stage in conversations about work-related travel, especially post Covid. The new generation of frequent business travelers seek safety first. Hence, you need to look for a technologically advanced travel management solution that can help you ensure business travelers' safety.
Some new-age travel software solutions offer a tracking feature. With this feature, you can track your employees' exact location. This way, you can keep them safe even in unfamiliar destinations.
10. Real-time Alerts
Often, trip approvals get delayed because the approver is unaware of the booking request. And afterward, if the approver approves the request in haste, they may mistakenly allow a few out-of-policy claims. Therefore, you need a real-time solution that can notify the approver when the travel request is placed.
Corporate travel software solutions like ITILITE provide real-time notifications to alert the approvers about a new trip request. Additionally, if the request is out-of-policy, it goes to a different approver. This way, you can avoid problems like approval delays and out-of-policy approvals.
11. 24/7 Travel Support
Your employees need extensive support while traveling internationally. For instance, they might need to know the best routes and public transportation or get stuck in an emergency. Therefore, they need a steady source of support 24/7.
However, if you have used a travel agency for booking, your employees might not get any help beyond booking-related issues.
Moreover, traditional travel agencies have a support and resolution team available only during office hours. Therefore, if your employees need support beyond office hours, they are left to fend for themselves.
You can solve this problem with the help of a travel management software. Most new-age corporate travel software solutions come equipped with AI-enabled customer service chatbots. These chatbots are trained to handle routine emergency questions and provide support beyond office hours.
Other than the chatbots, the solution providers have a team of experts dedicated to providing round-the-clock business travel support. Hence, your employees get the necessary help and enjoy a stress-free business trip.
12. Seamless Data Sharing
Seamless and error-free data sharing across multiple platforms like HRMS, accounting, etc., is vital for a business travel process to function correctly.
However, data sharing becomes difficult if you use a spreadsheet travel management system. Spreadsheets don't integrate with third-party software like HRMS or ERP. So, the travel data needs to be entered separately into all the systems.

However, corporate travel management software offers multiple third-party integrations. You can integrate it with all the applications that need travel data, like accounting software, HRMS, etc., and ensure seamless data flow across departments.
13. Audit and Fraud Detection
Expense reimbursement fraud accounts for 11% of total workplace fraud. It is also tough to spot. According to a study, an average expense fraud causes a $40,000 median loss per year. Hence, you need to find a solution that detects and prevents expense fraud in the early stages of expense filing.
A unified company travel and expense software comes with an in-built fraud detector. This feature automatically validates expense reports and detects duplicate expenses, wrong expense categories, out-of-policy expenses, etc. Hence, you can avoid wrongful and inflated reimbursements.
14. Rewards
Travel cost reduction is one of the primary travel management goals. To achieve that goal, travel managers need to work hand-in-hand with employees to ensure they make the most cost-effective booking decisions.
One way to do that is to provide rewards for economic booking decisions. Rewarding employees can encourage them to make correct booking decisions and enhance employee satisfaction.
Some modern corporate travel management software solutions offer incentives to employees while booking. Incentivization works as follows:
The employees get many booking options according to the company's travel policy. They are arranged in descending order from the most expensive to the least. Employees who choose a cost-effective option get a part of the savings as a reward. This business travel incentive feature helps companies save money while rewarding employees.
15. Data Security
Managing business travel requires storing and processing critical information like credit card details, employee IDs, itinerary details, etc. If this data is compromised, the company can suffer huge losses. Hence, you must protect travel data with the best possible data security solution.

You can protect critical employee data with the help of cloud-based company travel software. Cloud-based solutions safeguard the data with stalwart infrastructure. The servers are in secure warehouses that no one can access without permission.
Moreover, the data stored on those servers is encrypted, which makes it difficult for cybercriminals to access and understand. Hence, you can be sure that your data is safe.
16. Scalability
With the growth in your organization, the number of business travelers will also increase. Hence, you will need a travel management solution capable of handling increased employee data. You need a travel management system that grows with your organization.

A cloud-based corporate travel management software comes with scalability on demand. Therefore, you can add unlimited users, store all their data and manage all the increased bookings effortlessly.
17. Sustainable Travel
Business travel is responsible for 2% of global greenhouse gas emissions. Hence, it's high time companies get their carbon footprint under control. The fundamental step towards reducing carbon emissions is to analyze your emission levels.

With the help of new-age business travel management software like ITILITE, you get a carbon footprint tracker. The tracker detects emission levels on every business trip your employees take. With this data, you can make necessary eco-friendly changes in your travel process.
18. Accessibility
Employees sometimes have to make bookings on the go. They may need to travel to a new destination or change accommodation while on a business trip. Hence, they must have the flexibility to book wherever they deem fit, even if they don't have access to their office laptop.

A SaaS-based company travel software provides multi-device access so that your employees can make travel bookings, file expenses, or manage itineraries from anywhere at any time. They just need a device, a web browser, and login credentials.
19. Concierge Services
Concierge services are the supplementary services your employees might need during a business trip. Examples include airport lounge facility, vehicle parking, business trip insurance, etc. If you manage the travel process with a traditional agency, you might not get concierge services even upon request.
However, corporate travel management software providers let your employees request concierge services on the booking platform. This way, they don't have to put in any extra effort.
20. Technological Perks
Missing out on technological advancements can deprive you of travel process efficiency and cost savings. Therefore, you should invest in a tech-oriented travel software that regularly updates. Here are a few benefits you can get with technologically advanced corporate travel management software:
Ease of payment: Company travel software supports credit card integration so your employees can make hassle-free payments while booking and during the business trip.
ACH payments: With the ACH payment option, the finance department can reimburse employees instantaneously with a single click. They no longer have to manually add expenses into the ERP software, process the added claims, and update the system once the transaction is complete.

Time to Adopt Company Travel Software
These were a few benefits of having a company travel software for your business. It helps you ease the booking process, cut travel costs, increase policy compliance, and detect and prevent expense-related fraud, to name a few.
ITILITE's SaaS-based travel and expense management solution offers a lightning-quick booking system, vast flight and hotel inventory, travel analytics, 24/7 support, and more. Get a free demo and try out all the features yourself.