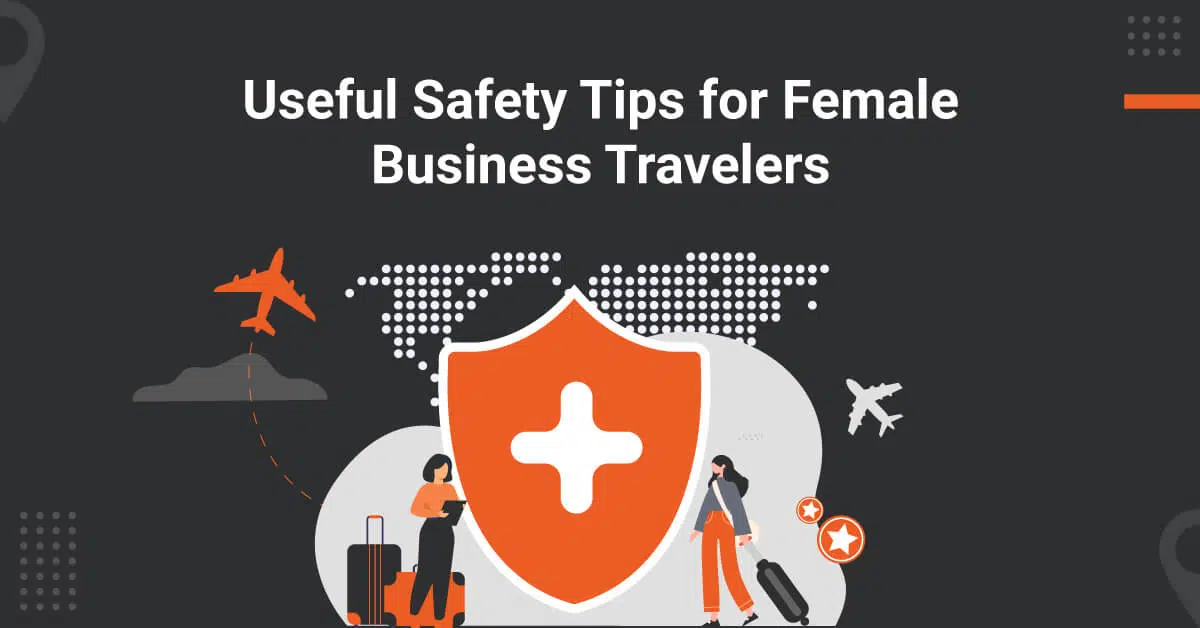 Not long ago, business travel meant only male employees traveling for work while female employees had to work from their respective offices. However, times have changed, and almost half of today's business travelers comprise females. Female business travelers are taking over different roles in the corporate world, which require them to travel frequently.
However, while traveling, women business travelers are more likely to encounter safety lapses than their male colleagues. Hence, companies, as well as the female travelers themselves, need to implement some safety measures to ensure a safe business trip. Female business travelers can considerably reduce their chances of experiencing risks during their trips by practicing some preventive measures.
Here are 12 important safety tips for female business travelers while traveling: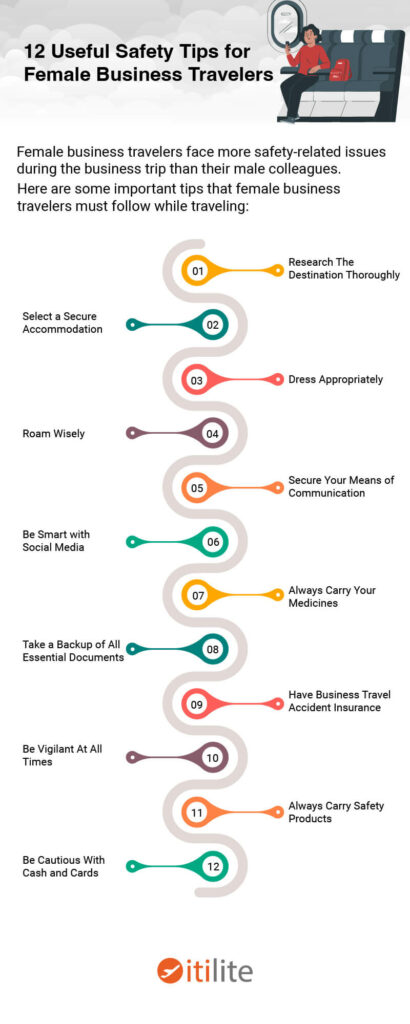 1. Research about the Destination
As a part of the planning process, it is essential to research the place you are visiting. This implies knowing every detail about the area, such as the food, culture, mode of transport, distance from your accommodation to the airport, and the local currency (for international travel). You should also know about the current political situation, weather conditions, ongoing crises, etc., to be fully prepared.
Even if you are visiting in a group, ensure you know alternative routes to your meeting destination. Try to read the local news to get updated information about the place. If you are visiting a non-native English-speaking country, try to understand and learn the language basics, so you can easily communicate with others and avoid misunderstandings.
2. Select a Secure Accommodation
Often, it is the job of your travel manager to choose the accommodation while making business travel bookings. But, you must also research the stay and discuss it with your manager if it doesn't feel safe. Pay heed to the hotel's location, security measures, and availability of 24/7 front desk service, and read reviews on sites such as TripAdvisor or Google.
A hotel with security measures like a deadbolt lock, fingerprint scanning, peephole, and surveillance cameras can help you feel safer. Additionally, while inside the hotel room, keep your door locked at all times and lock your valuables in the hotel safe. Safety experts recommend avoiding staying on ground floors or lower floors, as there are more chances of getting mugged, crime risks, unwanted solicitors, and less privacy.
If your company uses business travel management software like ITILITE to make travel arrangements, you can choose from an extensive inventory of safe hotels. Your travel managers can also keep track of your location to help you in case of emergencies.

3. Dress Appropriately
If you are entirely new to the destination, always try to keep a low-key profile. Avoid wearing flashy outfits, expensive jewelry, designer bags, or shoes. Although it is important to look great, it is advisable to maintain a toned-down version of yourself with the dress and accessories that won't make you look like a target.
If you're traveling internationally, take some time to study the culture of the place you're visiting and observe how local women dress. Try to get along with the local people by wearing their local attire. This not only helps in avoiding unwanted attention but also makes you feel welcomed by the locals.
4. Roam Wisely
Most female business travelers like to include some leisure time between their tasks, such as shopping or visiting a nearby cafe, which is quite normal. However, depending on the location, place, and time, you must be very cautious while roaming around the city.
Prefer exploring the city in daylight and checking with the hotel staff if they provide cabs to get around the city. Spend some time reviewing the sites you would like to visit.
Additionally, if you're taking a public cab or other modes of transport, remember to note the license plate number and driver's name before entering the vehicle.
5. Secure your Means of Communication
Having a secure and effective mode of communication is essential for all female business travelers, especially while visiting international destinations. Hence, always ensure you have the contact numbers of your travel manager and the support team. Apart from saving them on your phone, note them in a notebook or a piece of paper so you can easily insert them into your handbag or wallet.
Remember to inform your team members, family members, or close friends about your travel itinerary and destination and how they can reach you. Once you reach your destination, notify them immediately of the same. Giving timely updates also helps them understand what you're doing.
One of the essential business travel tips for women travelers is to use social media wisely. It is natural to share your pictures on social media during your business travels. Although updating everything, such as what you are doing, what you are eating, and where you are going, might be exciting, posting on social media makes it easier for random people to know your whereabouts.
You never know who is viewing your posts or how they might decide to use your information. Therefore, it is recommended not to let anyone know about your location. Avoid tagging the location, updating pictures of your hotel or flight tickets., etc. By doing so, it gives easy access to criminals to your personal information.
7. Always Carry your Medicines
Minor ailments that are easily treatable at home become an issue if you are in a different country. The best course of action is to be prepared. Carry pain or fever medication, cough suppressant/expectorant, anti-diarrheal medicines, motion sickness tablets, allergy and insect bite reliefs, etc.
Always ensure you have enough of the prescribed medications you generally take. A replacement for the same may not be possible in a few cities or countries. You will probably have to go to a clinic to get it which can be very hectic. Hence, it is wise to carry extra medicines and prescriptions if you need to replace them.
8. Take a Backup of Essential Documents
While traveling, it is essential to keep travel documents and information safe. Scan or take photos of all the vital documents such as passports, visas, flight tickets, ID cards, etc. Have physical and electronic copies of all these documents so that you always have a backup if one gets lost.
In addition to storing them digitally, ensure they are password or fingerprint protected to avoid getting hacked or accessed by someone. You can also e-mail these documents to yourself or save them in the drafts to be easily accessible. Never give the original documents to anyone, and keep your passport always concealed.
9. Have Business Travel Insurance
Travel is unpredictable. Hence, you may encounter natural disasters, medical issues, accidents, etc. Under such scenarios, you need additional protection from these incidents. Business travel insurance is a relatively inexpensive way to give yourself peace of mind while on a business trip.
Also, overnight waiting at the airport or a flight delay can cost you loads of money. But business travel insurance will cover your business trip delay, and you will be on the safer side. Business travel insurance acts as a lifeguard during your travel journeys.
10. Be Vigilant at All Times
Another vital safety tip for female business travelers is to stay vigilant. If you are venturing out, always try to explore the vicinity of your stay and use only the authorized mode of transport. Be aware of your surroundings and ensure you know where the nearest police station is.
Business travel comes with its own set of opportunities and challenges. Therefore, female business travelers must take precautionary measures to make themselves safe. In uncomfortable situations, try to remain calm but vigilant. Additionally, avoid revealing personal information about you and your company while interacting with the locals or hotel staff.
11. Safety Products are your Friend
Traveling as a woman is full of unwarranted challenges and safety issues. According to a study, 71% of female business travelers feel they face a greater risk while traveling than their male counterparts. Hence, it is wise to carry travel-friendly safety products that you can use to escape a threatening situation.
Here are some travel safety products you can invest in:
Safelet: it is a wearable security device that you can use to send messages to friends and family with a single click if you need help.
Sound Grenade E-alarm: it is a portable alarm system that creates a 120 dB sound and can alert anyone within 100 meters.
Pepper Spray: it is an aerosol spray containing cayenne pepper extracts that can be used as a disabling weapon because it irritates the eyes and respiratory passages.
12. Be Cautious with Cash and Cards
Carrying cash and cards while traveling can be dangerous because they are prone to theft. Moreover, cards use Radio Frequency Identification, allowing anyone to scan them from short distances and extract the owners' data. Hence, it is advisable for female business travelers to exercise the utmost caution with cash and cards. You should avoid using cash and cards while traveling and stick to other online payment methods.
However, if you must carry cash and cards, you should invest in an anti-theft aluminum or carbon fiber wallet. Such wallets can block unwanted scanning and help you protect your personal information.
Safety First for Female Business Travelers
More often than not, business travel can get very daunting. With the increase in the number of women in businesses, so are the risks associated with them during business travel. Following the safety tips mentioned above will help you travel confidently and keep you safe.
At ITILITE, the safety of female business travelers is our priority. Our business travel management software offers the feature of live employee tracking so that travel managers can pinpoint your location at any given time. We also provide 24/7/365 customer support to help business travelers to help them with any issue, minor or major.
Get a free demo of ITILITE to experience these features yourself.