As global business travel starts recovering from the Covid-19 pandemic, many companies are turning to new technological advancements, such as automated travel and expense software.
However, a survey shows that 43% of businesses still use manual processes to manage expense reports, and 46% overlook costs associated with their business. This leaves them at a disadvantage in controlling costs and improving efficiencies.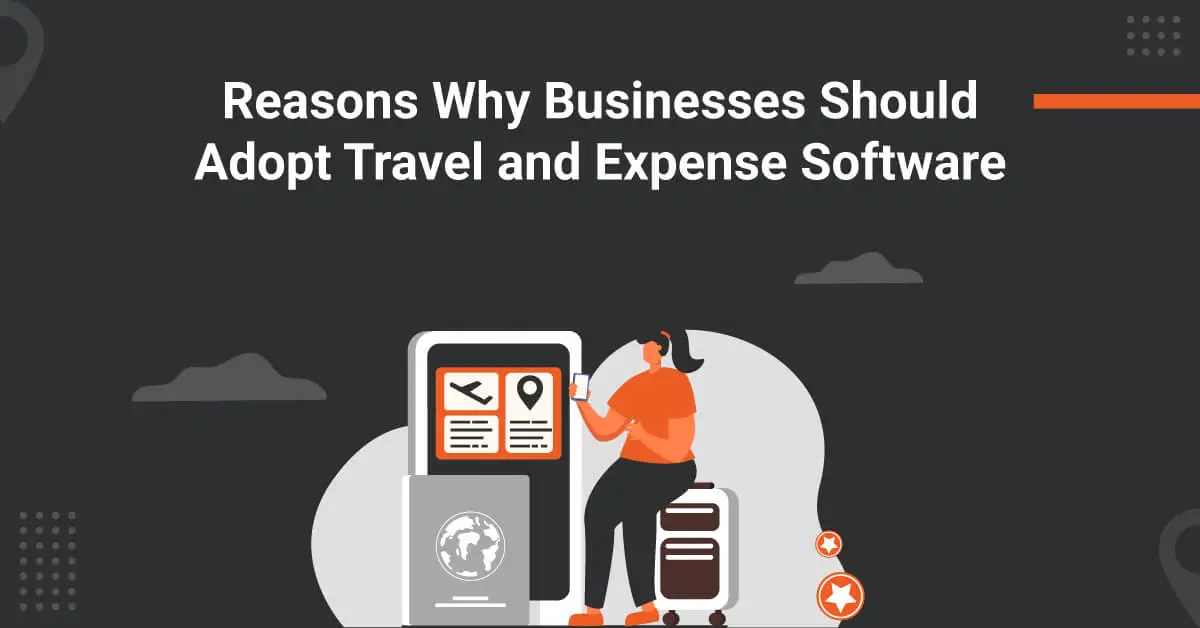 Automated travel and expense software streamlines workflows, reduces business travel expenses, enables error-free processes, and offers multiple other benefits.
What is a Travel Expense Software?
Travel expense software helps employees and managers to streamline and automate all business travel-related expenses like cash advances, hotels, flight bookings, per diems, and employee travel reimbursements and reduces business travel expenses, enables error-free processes, and offers multiple other benefits.
Here are some 14 reasons why businesses should switch to travel expense software :
1. Increases Productivity of the Finance Department
Manual expense tracking is not only inefficient, but it also puts companies at a disadvantage when controlling T&E costs. The finance team faces challenges such as manual verification of travel expense reports, inaccuracies and errors, lack of policy compliance, no visibility over expenditure data, and delay in reimbursements. These challenges substantially decrease the productivity of the finance department.
Travel and expense software simplifies the process of expense management. It automates repetitive tasks commonly done by finance teams which helps free up their bandwidth to focus on other essential financial tasks, such as budgeting and forecasting.
Moreover, since the travel and expense software integrates with the company's travel policy, it can automatically flag out-of-policy expenses. This reduces the manual work of validating each and every expense report.
2. Improves Travel Policy Compliance
According to an Amex GBT survey of nearly 750 U.S. business travelers, 40% of the travelers admitted to making bookings outside their companies' travel policy.
Employee expenditures must comply with the company's travel policy to be eligible for reimbursement. However, the employees face several challenges that lead to non-compliance. For instance, modified guidelines are not accessible to the employees in real-time, or the policies are too complex to understand.
Non-compliance with policy puts the organization at risk with the tax authorities. To prevent this, the finance team is typically responsible for manually verifying each expense against the company's travel policy to ensure compliance. However, this process can be time-consuming and inefficient.
Travel and expense software automates the process of policy compliance. It is integrated with the company's travel policy and detects the submission of non-compliant travel expenses. For example, if an employee submits an out-of-policy expense, it will automatically be flagged, and the approver will be notified.
This prevents employees from filing non-compliant expenses and makes the process more streamlined for everyone involved. Additionally, it's an excellent tool for employees because they don't have to spend time reading pages of protocols and policies as the software takes care of them.
3. Fastens Approvals
In the manual travel and expense management method, the employee must physically submit the expense report. The process of manually filing, approving, and processing payments can require a lot of back and forth and potentially cause a delay in reimbursement. Ultimately, such delays can cause frustration amongst employees.
Travel and expense software expedites the expense filing and reimbursement process. It allows employees to scan their receipts and quickly create digital expense reports. The auto-flag feature notifies employees regarding any errors in the receipt so that they can rectify them before sending the report for approval. Next, the software notifies the approvers through emails or messages of pending approvals. Since the receipts are already rectified, it gets easier for them to approve them.
Lastly, the finance team reviews and processes the reimbursement request, and the payment is directly sent to the employee's bank account through ACH. This process is much faster than the manual expense filing system and takes only a few hours instead of a few days.
4. Enhances Visibility Over Data and Expenditure
If you are still using an outdated expense management system, you would know that it is pretty challenging to see an overview of how employees spend the company's resources. Transparency over employee travel expenses is vital for catching fraud or overspending. However, spreadsheets can only provide surface-level reports that are not enough to get a detailed insight into employee spending patterns.
The lack of visibility over data can lead to challenges during auditing and other financial activities, such as forecasting company expenses. Additionally, it can become difficult to establish and enforce a travel expense policy without a reliable data set and framework.
The benefits of using travel and expense software are numerous. Perhaps most importantly, it allows managers and accountants to track travel expenses easily. A detailed dashboard that is in sync with employee expenditure ensures complete visibility of the company's cash flow. The travel expenses can also be filtered according to function, department, time period, and employee name.
In addition, the software analyzes employees' spending patterns and allows the finance team to identify cost-saving opportunities and prevent unnecessary spending. Detailed travel and expense analytics also help the company re-evaluate its travel policies, predict patterns and make other important travel-based decisions.
5. Gives Access to a Vast Inventory
Traditionally, employees go to a travel manager or travel agency to book their business travel tickets. However, it costs the company more since the travel agency does not have access to a wide inventory.
Travel and expense software allows employees to access a vast inventory of lower-cost flights and hotel packages sourced through a Global Distribution System (GDS). A GDS collects data on flights, hotels, and rental vehicles from different suppliers.
This way, employees can compare and choose the packages that best suit their needs. Additionally, the travel management company saves money by getting the best rates from suppliers in one place.
6. Keeps Data Secure
Handling paper receipts is painstaking because they can be damaged, lost, or stolen. Sometimes there can be issues with the quality of the paper, and the information can fade over time. This is problematic because you must store receipts for a minimum of three years for tax purposes.
Moreover, if the receipt falls into the wrong person's hands, valuable information from the receipt could be misused or leaked. Unfortunately, a data breach can lead to financial loss and legal consequences.
A SaaS-based travel and expense management software helps in keeping your data secure. It stores digital receipts in a cloud-based system and allows only authorized people to access them. Many companies also provide end-to-end encryption on all information, which means no unauthorized user can access your data while it is transferred.
Additionally, the software can also set up multi-factor authentication. With MFA, you can add another layer of security, like a touch ID or a one-time password. These features help you become stress-free about the security of your data.
7. Enables Personalized Bookings
The traditional travel management system lacks personalized bookings for employees. Employees can find it difficult to find flight and hotel options that comply with the company's travel policy as it does not match their preferences.
A travel and expense software tool analyzes the employee's booking history and offers personalized recommendations. The options offered are based on travel policy configurations and the traveler's preferences. This lets travelers view hotels and flight tickets that match their budget and taste without getting overwhelmed with options.
8. Prevents Travel Expense Fraud
According to a PwC report, 57% of fraud cases in an organization involve an employee, and fewer than 30% of organizations have implemented technology to detect fraud. 39% of those employees create fraudulent physical documents, and 32% alter physical copies. Physical receipts are prone to such alterations. Hence, many companies that use manual expense management face such fraud.
You can control travel expense fraud by using travel and expense software. The software has an in-built fraud detection feature that flags duplicate receipts, expenses in the wrong category, and out-of-policy expenses.

9. Supports Scalability
As the organization grows, companies need to increase the resources required to manage the travel and expense process effectively. However, a paper-based travel and expense management system is not scalable. Therefore, when the workload and paperwork increase, you can't manage the expenses efficiently beyond a certain limit. For example, you can increase the space required to store documents only up to a certain capacity.
A SaaS-based travel and expense software is a scalable solution for any growing company as it allows the addition of unlimited users and data storage. You can configure the software to adapt to the increasing workload seamlessly and efficiently. Eventually, this helps you save money and time in the long run.
10. Allows Anywhere, Anytime, Any Device Access
One of the significant challenges that employees and employers face is not having access to data instantly. Sometimes, there are plan changes, so an employee has to modify his bookings accordingly. This is challenging to do if the employees don't have instant access to the ticket booking platform. Information can only be accessed from the office and particular devices only. This creates many limitations on the workflow and wastes time.
A travel and expense software solution allows employees to access their travel data and itinerary at any time from anywhere. With the software, employees can request trip approvals, file expense reports, and alter their itineraries through their mobile phones or laptops, even while traveling.
Additionally, the approvers get approval requests on their phones, which they can approve instantly.
11. Ensures Employee Safety and Offers Travel Support
The safety of employees is always a priority for an organization. However, it becomes even more critical when employees are traveling. Employees can face several issues while traveling, such as falling ill, being lost in unfamiliar places, getting caught in an accident, or facing natural disasters.
For women travelers, it is even more challenging to feel secure in unfamiliar places. According to a survey, 88% of women confessed to feeling unsafe or threatened while traveling. Therefore, it becomes essential for an organization to equip employees with the right information and tools that can help them feel safer.
A good travel and expense software solution offers employee safety features, such as access to live locations, safe hotel tagging, and live notifications and alerts. The software provider also offers 24/7 business travel support via call, chat, or email.
Additionally, the in-built AI-based chatbots in travel and expense software offer immediate assistance if a traveler is stuck in a difficult situation. This allows the employees to feel secure while on a business trip. The traveler can also activate app notifications to stay updated on any important information.
12. Improves Employee Satisfaction
When planning a business trip, employees face many challenges. The process requires a lot of manual effort, from creating email requests for trip approval to getting reimbursed for travel expenses.
Moreover, the process of manual expense filing can be quite time-consuming and painstaking for employees who are already bogged down with work. It can be difficult for employees to collect all the receipts and create an expense report physically.
A SaaS-based travel and expense management system improves employee satisfaction in a number of ways. Firstly, the system has an intuitive interface that is easy to use and navigate. The employees can directly book tickets that fit their schedules from a wider selection of travel options that are integrated with the company's travel policy. This allows them to personalize their trip while ensuring they follow the policy.
Furthermore, employees don't have to worry about filing expenses manually. They can do so by simply uploading pictures of their receipts. Lastly, faster reimbursements due to the quick approval process also enhance employee satisfaction.
Some platforms also offer incentives for choosing the most cost-effective booking option, encouraging employees to make better decisions. This saves money for both the company and the employees.
13. Reduces Errors and Inaccuracies
When expense management relies heavily on human effort, it is difficult to prevent and fix errors. With a manual process, it can be hard to track down where the error happened and resolve it. The team responsible has to look for it from start to end of the process. This can lead to problems during taxing if the error is not fixed.
Travel and expense software significantly reduces the chances of errors through automation. For example, when an employee uploads a receipt digitally, the software extracts the data and fills the expense report manually. Therefore, it keeps track of granular details, which are often overlooked due to manual intervention.
14. Increases Sustainability
Traditional T&E management systems use plenty of paper receipts. However, using paper is not sustainable. According to a report, the United States lost an estimated 42.4 million hectares of forests between 2001 and 2020. Out of this, paper and wood items account for nearly 10% of total deforestation. Unfortunately, deforestation leads to significant challenges to the world, such as climate change, global warming, and loss of biodiversity.
Therefore, switching to travel and expense software helps not only your business but also the environment. Additionally, improving sustainability leads to the creation of a stronger brand. Customers consider a brand's sustainable reputation and are likelier to purchase from a socially responsible brand.
Enhance Your T&E Workflow with an Automated Travel and Expense Software
If you are facing bottlenecks in your travel and expense management system or cannot keep up with the increasing number of employees in your organization, it is a good idea to consider switching to travel and expense software. However, analyze your business travel process and requirements before choosing the software. Consider your budget, future travel requirements, and software capabilities before deciding.
ITILITE is a SaaS-based travel and expense software that offers extensive travel inventory, 24/7 support, personalized bookings, real-time notifications, and more. Employees can access the software from anywhere on their mobile devices to book and track travel, file expenses, and change itineraries.
Schedule a free demo of ITILITE to explore how effortless it is to use before transitioning to an automated system.