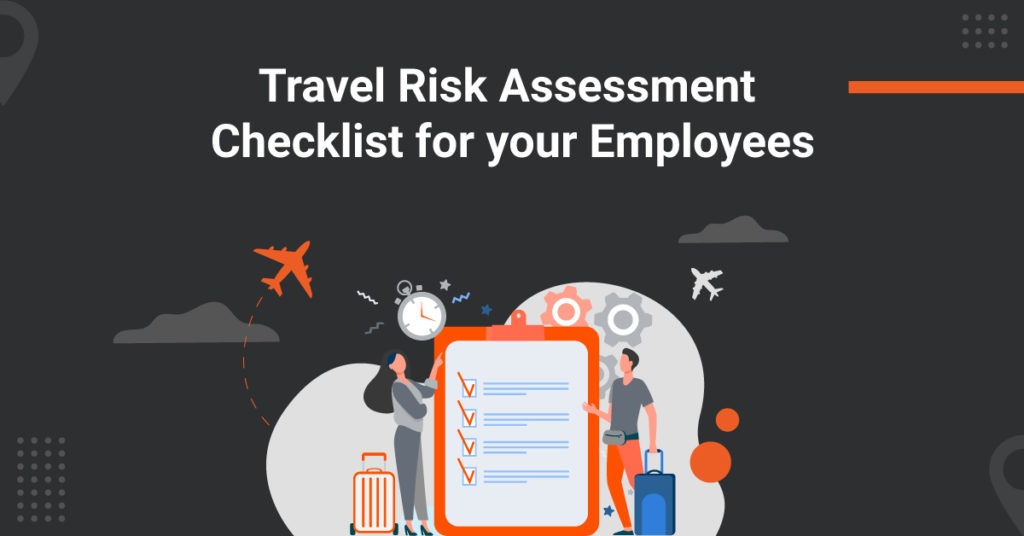 Employee safety has always been important for any organization when employees travel to offsite locations. However, during the pandemic, companies worldwide realized its criticality even more.
There are various protocols you can implement to ensure the safety of your employees. However, to analyze the type and criticality of risks that your employees can encounter, you need a travel risk assessment checklist.
What is a Travel Risk Assessment Checklist?
A travel risk assessment checklist covers all the aspects of employee safety while on a business trip. You should send out the checklist to the employee around three weeks prior to the trip. Make it a mandatory practice for the employees to fill out the checklist; otherwise, the employees might forget about it.
With the checklist, you can analyze whether the employee is prepared to go on the trip. If not, you can offer them additional training to rectify the issues.
Download Travel Risk Assessment Checklist 
Here is a free travel risk assessment checklist that you can send out to your employees.
| | | |
| --- | --- | --- |
| Questions | Yes/No | Comments (if any) |
| Destination | | |
| Have you visited the destination before? | | |
| Are you aware of the current weather conditions? | | |
| Did you check the current political situation? | | |
| Do you know the local laws? | | |
| | | |
| Employee Health | | |
| Are you currently suffering from any ailment? | | |
| Do you have any allergies? | | |
| Do you have any medical conditions? | | |
| Have you packed prescription drugs? | | |
| | | |
| Emergency | | |
| Did you have emergency training? | | |
| Do you know how to contact the embassy? | | |
| Did you enroll in STEP? | | |
| Do you know the protocols in case of a natural disaster? | | |
| | | |
| Data Security | | |
| Have you taken a backup of all your data? | | |
| Did you attend information security training? | | |
| Do you use public wifi? | | |
| Do you write down passwords? | | |
Travel Risk Assessment Checklist
Download the full travel risk assessment checklist now
Travel Risk Assessment Matrix
Now that you have downloaded the checklist, here is a useful matrix that will help you measure the criticality of risk for the employees. This matrix analyzes the events that can affect the employee's safety on the scale of probability and criticality.
The travel managers can access whether the employee should go on the trip depending on this matrix. For instance, if the probability of the event is high but its criticality is low, the trip can be possible. However, if the criticality and probability both are high, the trip should not be approved.
A good example of this would be if your employee has an allergy to strawberries. Although the criticality of the allergy can be classified as a medium risk, the likeliness of it happening is very low. However, an ongoing natural disaster (like floods) in or near the destination means it ranks high on both probability and criticality. Hence, the travel managers can avoid or postpone that trip.
Types of Risks
There are various risks associated with travel that your employees can be subject to while visiting a remote location. However, all the risks can be broadly classified into three aspects. These are mentioned below.
Employees need to go to diverse locations during the year, especially the salespeople. As every location has its own safety risks, it is mandatory to analyze the risks every time the employee goes on a trip. These risks can be local crimes, extreme weather conditions, local diseases, etc.
Moreover, even if the destination is familiar, there can be some ongoing issues that would hamper employee safety, such as political unrest, riots, or an epidemic.
An employee can have specific health issues, be it allergies, genetic disorders, physical deformities, etc. They can also have health conditions, such as asthma, or diabetes.
Hence, it is imperative to have full information about the employee to decide whether they can go on a trip. For instance, if an employee is asthmatic, it is recommended that he or she is not sent to extremely cold regions.
Data Security Risks
Data security is also a part of travel risk analysis when it comes to employees traveling abroad. When employees leave their office's secure network and travel, they are susceptible to cyber-attacks and fraud.
Hence, it is recommended to add a section for data security to the checklist. If the employees are not aware of the data security best practices while traveling, please conduct training before they do so to protect your business data and the employee's personal information.
A Travel Risk Assessment Checklist Ensures a Secure Trip
A travel risk assessment checklist helps travel managers/ HR identify the safety issues employees can face during a business trip. According to this information, they can decide whether the business trip is worth it or not.
In addition, to keep employees safe, you can adopt travel management software with employee tracking features.
Get the latest in your inbox
Subscribe to the Itilite blog and never miss a post!