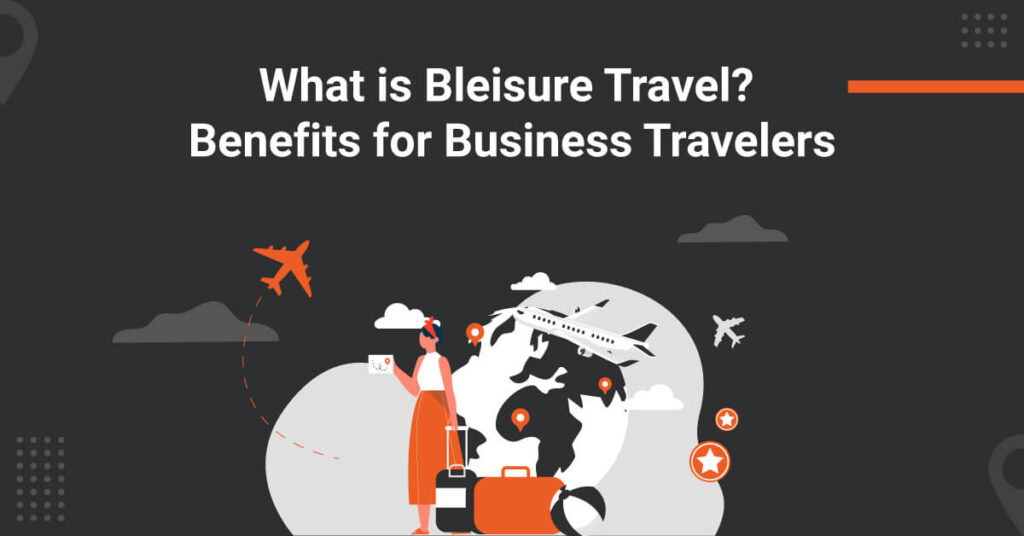 With the evolution of business travel over the past decade, new concepts and trends have been emerging every few years. However, none is more exciting than the concept of 'Bleisure' travel.  
Earlier, employees used to go on business trips which included long hours of meetings and conferences, making them feel stressed and eventually leading to burnout. But now, companies give employees the option to extend their business trip by a few days to enjoy some leisure activities.
These activities can range from sightseeing and relaxation to hiking and attending local events. This has given rise to what is known as bleisure travel. 
What does Bleisure Travel mean?
The American Hotel and Lodging Association's State of the Hotel Industry Report 2022 states that 89% of business travelers plan to add personal time to their business trips this year.
The term 'bleisure' was first coined by Future Laboratory, a business consulting group, in 2009. Bleisure travel, as the name suggests, combines 'business' and 'leisure' travel. It involves business travelers taking an additional day or two before or after the trip to relieve work-related stress. This new business travel trend has become increasingly popular among millennials and is now being accepted by other generations as well.
In the present day, the need for a flexible work environment and travel demands have created an atmosphere for the rise of bleisure travel. Hence, business trips are getting extended to incorporate more bleisure travel activities like adventure sports and local sightseeing.
Difference between Bleisure and Workation 
Bleisure
This travel trend includes combining work or business travel with entertainment, adventures, and exploring the city/country you are visiting.
Here is a good bleisure travel example:
Assume that you have gone to a sales conference in Germany. If visiting the country for the first time, you would want to explore it along with accomplishing the work commitments. If given a chance to do so by your company, you would come back relaxed and happy.
Workation
The term 'workation' combines work and vacation. Professionals who go on workation, previously referred to as 'digital nomads,' can decide to work from anywhere, including hotels, mountain or beach resorts, peaceful cafes, or anywhere else.
This type of travel generally involves only remote working, unlike bleisure travel. Travelers usually spend several weeks or months in the same location and then move to another location while keeping all their work 100% remote.
Why is Bleisure Travel Popular among Business Travelers?
The reason for this is very clear-a good work-life balance. Balancing work and personal life is extremely difficult, especially during business travels due to long hours of conferences and meetings.
Bleisure travel enables business travelers to relax and unwind, experience new cultures, and explore local-sightseeing places after a long and tiring day. As a result, a bleisure traveler spends less time stressing, experiences more happiness, and senses that business trips are more relaxing.
Moreover, bleisure travel helps business travelers save money, which they would spend on a personal vacation. It also allows employees to spend some leisure time exploring the destination and trying different local foods.

Bleisure Travel 2023 Statistics
Here are some significant bleisure travel statistics in 2023:
Benefits of Bleisure Travel
List Down the 7 benefits of bleisure travel for both employees and employers
Creates a Better Work-Life Balance
Improves Employees' Travel Experience
Promotes Good Mental Health
Relieve Workplace Monotony
Unique Experiences
Improves Retention Rates
Saves a Lot of Money
For Employees
1. Creates a Better Work-Life Balance
Business travel can be tiring and stressful when employees have to work round the clock. Constant travel and the pressure to finish business tasks can leave employees feeling exhausted.
Hence, when employees get some leisure time during their business travels, it helps relieve stress and improve their work-life balance. A good work-life balance improves the employees' physical, mental, and emotional well-being, increasing their productivity.
2. Improves Employees' Travel Experience
While travel is refreshing, traditional business travel can be pretty draining. This is because employees are away from their homes and have little access to support that keeps them healthy and emotionally stable.
Hence, bleisure travel gives employees an enriching experience with much-required leisure time during their business trip. Employees can explore the place, meet new people, indulge in local delicacies, and eat healthy food during their leisure time. This improves their overall business travel experience. Consequently, it also helps business travelers grow professionally and personally.
The pandemic deeply affected employees' social and working environments in several ways. Measures such as social distancing, quarantining, mandatory lockdowns, and isolation periods while working from home had negatively impacted the employees' mental well-being.
However, the good news is that employees are back on the roads again, thanks to the extensive vaccination drive. Going on bleisure trips makes employees happier, lowers the risk of depression, and relieves stress, thus improving their overall mental well-being.
4. Relieve Workplace Monotony
Working in the office or from home can be mundane and repetitive, which makes employees feel bored. These monotonous routines lead to low morale and motivation. Moreover, employees become lethargic, express a lack of creativity and enthusiasm, which leads to frustration and emotional stress.
Bleisure travel allows employees to go to new places and take a break from the monotonous life while simultaneously working on business tasks. This way, employees feel rejuvenated while enjoying their new space.
5. Unique Experiences
Modern-day business travelers love staying in places or properties that provide them with experiences such as local food and culture. They are also looking to have leisure time after their long hours of meetings/conferences to indulge in some experiences that are unique, authentic, and social.
Bleisure travel provides these opportunities to business travelers where they can participate in various activities such as eating local food, witnessing a local festival, going on jungle safaris, bird watching, camping by a lake, and wellness breaks with massages and spas. These experiences ensure employees are stress-free, which, in turn, helps employees improve their bleisure trip experience.
For Employers
6. Improves Retention Rates
Nowadays, employees, especially millennials, are not just looking for salaries while switching jobs. They are looking for other benefits such as work-life balance, good work culture, reimbursements, and many more.
With the new trend of bleisure travel, employers can offer better work culture to their employees.
Bleisure travel has been successful in aiding organizations to retain employees who like to utilize the various benefits offered, then just a paycheck. It also enhances job satisfaction, thus, reducing the number of employees quitting their jobs.
7. Saves a Lot of Money
Apart from the cost-saving benefits of retaining employees, companies can save a considerable chunk of money on business flights. On some days, flight tickets are costly. If employees are looking to extend their business trips for some leisure time during these days, companies can save a lot of money.
Moreover, employees tend to be more efficient and regular when they have a good work-life balance.
Bleisure Travel is the New 'Normal'
As the world becomes more and more connected, business travelers spend most of their time away from the office. Bleisure travel allows employees to explore their destination's cultures, cuisine, and more. It also enables them to come back to work refreshed and relaxed. While some organizations are still adjusting to this new trend, a majority of them have already started implementing it.
ITILITE SaaS-based travel management software enhances employee satisfaction by offering the easiest travel booking experience from anywhere at any time. The employees also get incentives for making a wise travel decision, while saving revenue for the company. Moreover, if an employee wants to convert their business trip into bleisure, they can alter their itinerary during the trip with the click of a button.
To understand how it works, try out ITILITE for free.