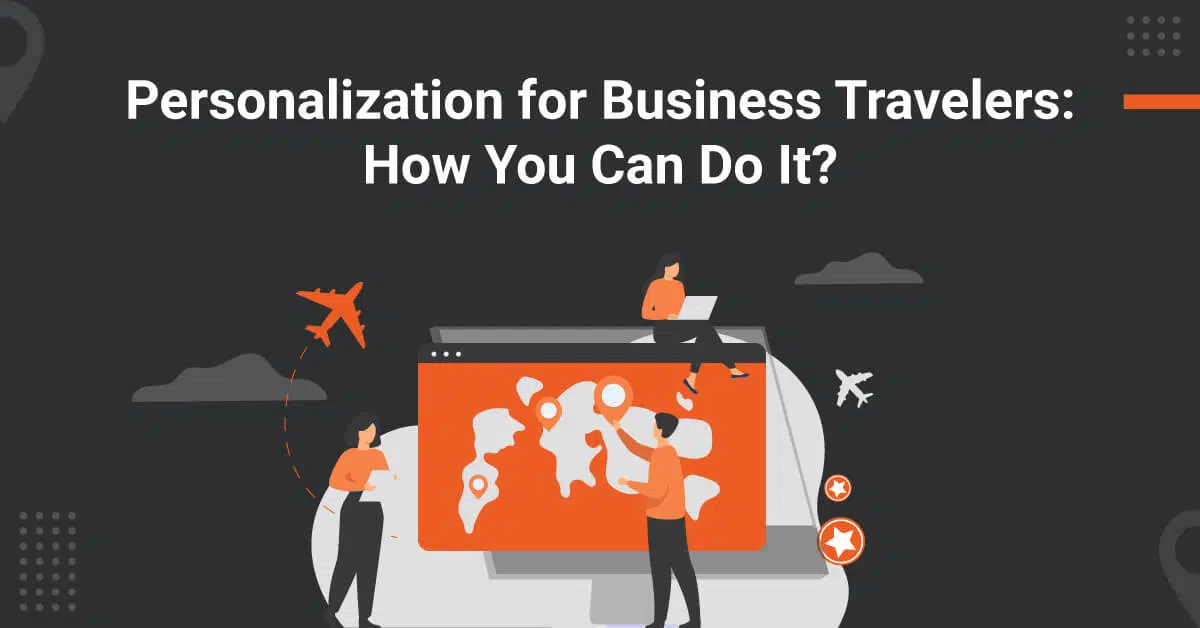 Statistically speaking, 1.3 billion business trips are taken every day in the United States alone. With such frequent travels, business travelers prefer to travel according to their interests and seek comfortable experiences.
This need has given rise to one of the latest trends in the business travel industry- personalization. The trend of business travel personalization involves offering employees personalized travel recommendations based on individual preferences. It aims to ensure that the services are aligned with each employee's specific needs.
Let's look at some future trends you can incorporate into your travel management process to offer your employees a personalized travel experience.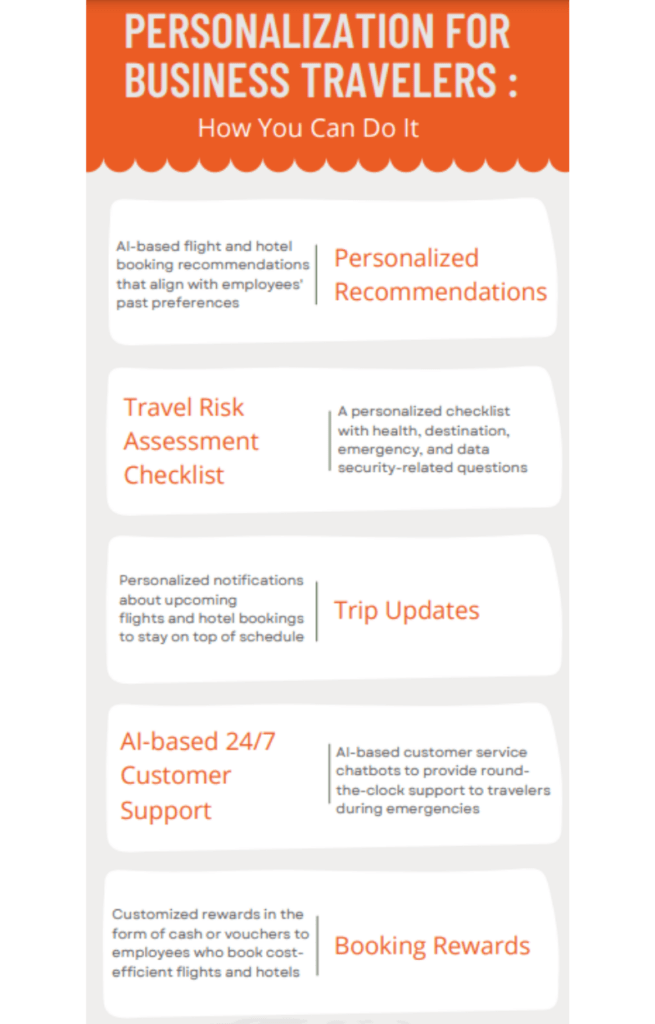 1. Personalized Travel Recommendations
Your employees might find it difficult to book flights and hotels according to your company's travel policy as it does not align with their comfort and preferences. This can lead to frequent policy violations and impact your company's financial bottom line.
One way to solve this problem is by offering them personalized booking options according to the company's travel policy. A travel management software that uses AI can recommend customized booking options to your business travelers before or during the booking process. These personalized travel recommendations are made by creating every employee's traveler profile.
The traveler profiles are based on travel policy configurations set by your travel managers and data about the business traveler's flight and hotel preferences collected from previously taken trips.
Your employees can get personalized travel recommendations that fit their budgets and taste. This will keep your employees satisfied and ensure travel policy compliance.

2. Customized Travel Risk Assessment Checklist
The new Generation-C (post-Covid) business travelers are cautious about their safety during business travel. They require the latest information and reassurance before they plan their business trip. Therefore, you can create a customized travel risk assessment checklist to give them a risk-free personalized travel experience.
A travel checklist will help you assess the type of risk your employees can encounter while traveling and the criticality of the risk. You must include specific health questions about allergies, ailments, prescription drugs, and some questions about the emergency training. You can also have destination-related questions about the weather, political situation, and local laws.
Here is a customizable travel risk assessment template for you.
3. Trip Updates
Your employees have a busy schedule with a million things on their minds. Hence, there is a fair chance they might forget about an upcoming trip until the due date is too close for them to make any last-minute preparations. 
However, your travel management software can ensure a seamless, personalized travel experience for your employees by sending custom notifications about upcoming flights, hotels, car rentals, etc. These reminders can help your employees stay at the top of their schedules and make any necessary last-minute preparations. Your travel management software can also provide updates on flight cancellations, delays, etc., and manage such contingencies to keep your employees stress-free during business travel.
4. AI-based 24/7 Customer Support
While traveling to an unknown international destination, your business travelers will need help navigating. For example, they might need to know about the public transportation most suitable to reach the meeting destination. In such cases, you can give your employees a personalized travel experience by ensuring they get round-the-clock support. 
AI-based customer service chatbots installed in every state-of-the-art travel management software can make customized location-based suggestions about public transportation, best routes, etc. Such chatbots can handle emergencies and provide solutions if your business travelers face any problems. They can help make your employees' business travel stress-free.   
5. Booking Rewards
If your employees give up the most comfortable booking option for a more cost-considerate option, they should also reap the savings benefits. 
Business travel management software like ITILITE can help you share the benefits with your employees in the form of rewards. If they choose an earlier flight or a less expensive hotel out of the available options, the amount they save on the booking gets shared between them and the organization. Your travel managers can determine the percentage of the amount to be transferred. 
The form of compensation can be cash, shopping vouchers, etc. Incentives like this can enhance the satisfaction that employees derive a from personalized travel experience. The rewards will not only keep your business travelers happy and help you save money on travel.
It's Time to Offer Business Travelers a Personalized Travel Experience
Personalization in the travel industry has come a long way. However, most business travelers are still unhappy with their company's customization mechanisms. Therefore, there is much room for improvement in the personalization of business travel.
You can provide a personalized travel experience to your employees with ITILITE. When your employees plan their business travel using ITILITE travel management software, they get personalized booking recommendations, regular trip updates, 24/7/365 customer service, and more. Moreover, whenever employees book a cost-effective travel option, they get a reward from the savings. 
To check all these features in action, get the free demo of ITILITE. 

Author
:
Yukti Verma
Yukti Verma is a content marketer with a soft spot for SaaS. She loves weaving complicated concepts into simple stories. When not at work, she reads books and geeks over technology.
Get the latest in your inbox
Subscribe to the Itilite blog and never miss a post!