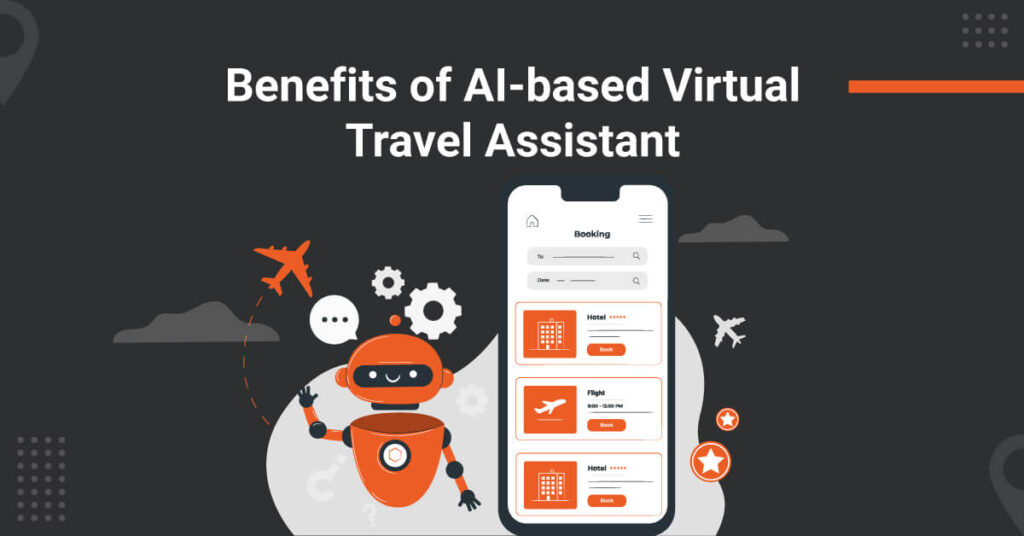 In today's world, Artificial Intelligence (AI) is quickly evolving. According to Forbes, industries such as healthcare, marketing, automotive, and entertainment are adopting new AI technologies to improve user experience. Similarly, AI has also found its way into the business travel industry, thanks to the tremendous growth of technology.
Nowadays, companies have started implementing AI in travel to improve travelers' experience. They are doing this with the help of an AI-powered virtual travel assistant. An AI travel assistant is a software application that helps business travelers with all their travel needs.
The implementation of AI in travel has resulted in a seamless travel experience through simplified flight and hotel bookings, 24/7 business travel support, and more.
Here are some benefits of an AI travel assistant.
Travel Chatbots
Facial Recognition
In-room Virtual Travel Assistants
Pricing Optimization
Data Processing and Analysis
Enhanced Duty-of-Care
Personalization
Comprehensive Translation Facility
Improved Bleisure Experience
1. Travel Chatbots
Gone are the days when business travelers had to visit a travel agent to book flights and hotels. This process was cumbersome for travelers as researching flights, booking accommodations, and planning itineraries with the agents was time-consuming.
Improvements in technology have paved the way for more efficient business travel management by introducing travel chatbots. Travel chatbots are AI-based personal online travel assistants that travelers can communicate with to seek travel support. These chatbots are available on websites, applications, or other mediums such as social media.
AI-based chatbots can act as a virtual travel guide in times of crisis. During a travel emergency, travelers can instantly connect with chatbots to resolve their queries, even during non-office hours, which may not be possible with a human travel agent. It also helps save time and money and assists business travelers in real time.
2. Facial Recognition
The business travel industry is ever-growing. According to a study, 1.3 million business trips are taken every day in the US. Hence, to manage such a huge number of business travelers seamlessly, hotels and airlines need the help of technology like facial recognition.
Facial recognition is a type of biometric AI that can identify travelers by comparing their faces with a digital image and matching skin color, texture, and features.
Therefore, with facial recognition technology integrated with an AI travel assistant, hotel and airline vendors can enhance customer experience. For instance, hotels can use facial recognition to increase security by verifying their guests' identities before granting them access to a hotel room or any other common area.
Additionally, airlines can use facial recognition to scan the face of passengers to eliminate the need for printed boarding passes and make the boarding process faster.
3. In-room Virtual Travel Assistants
With AI-based online travel assistants evolving every day, it has become useful not only in helping travelers plan their trips but also during their stay. AI-based virtual voice assistants in the room can enhance business travelers' experience, especially when they've have had long hours of journeys or are stressed after a business conference.
The in-room virtual travel assistant helps travelers by answering their questions through voice commands. They can also use voice commands to access anything without getting up from their beds. For example, if a traveler wants to get his room serviced, he can use the voice-based device to send a message to the hotel's front desk instead of calling them or going there.
The in-room voice assistant also carries out requests such as temperature control in the room, turning the TV on and off, adjusting the light, informing about the hotel's meal timings, etc.
4. Pricing Optimization
Business travelers spend around 30-50% of their trip costs on booking hotels. Therefore, getting the best deals can help save most of the travel costs. However, knowing which flight and hotel to book for affordable prices is essential. An AI-powered virtual travel assistant can help travelers with that.
The AI travel assistant uses predictive analytics to display the most affordable prices at all times. It identifies the pricing strategies and shows appropriate options at optimal prices depending on the travelers' choices, such as the preferred time to fly and the best time to book tickets. This gives business travelers an idea about competitive pricing and lets them know the best time to book their business trip.
5. Data Processing and Analysis
AI-based virtual travel assistants can help companies improve the travel process with the help of data. The online AI travel assistant can collect and analyze business travelers' historical data to deliver insights on ways to reduce booking costs, improve traveler experience and wellness, increase sustainability in business travel, and derive higher ROI from each trip.
Moreover, an advanced virtual travel consultant like ITILITE Mastermind also pin-points specific travel cost leakage areas, conducts industry benchmarking, and delivers a step-by-step action plan on how you can mend the cost leakages.

6. Enhanced Duty-of-Care
Employees can find themselves stuck in a natural disaster or any accident during business travel. Under such circumstances, AI can act as a virtual travel guide regarding risk management and help you fulfill your duty of care obligations in many ways.
With an AI-integrated virtual travel assistant, travel managers can get immediate alerts if employees are in an emergency through an SMS, voice note, or email. Therefore, they know the employees' whereabouts in real time. AI uses machine learning to provide details about the business traveler's location through itineraries, corporate card details, and many other sources.
7. Personalization
Generally, travel managers are packed with work such as managing trips, handling various contracts, coordinating with finance teams, etc. They also have to ensure that employees on business trips have a good and comfortable travel experience.
Employees unhappy with the options provided by the company may end up booking independently instead of using the preferred booking tools. This, in turn, affects the company's policy and reduces visibility in the booking process.
With an AI-based virtual travel assistant, you can analyze and gather data to understand travelers' preferences. The machine learning algorithms predict the most suitable options for travelers based on previous bookings and experience, thus, enhancing business travel personalization. The options are tailored to favor travelers' preferences and company policies. It also helps more quickly and conveniently while booking, thus saving a lot of time.
8. Comprehensive Translation Facility
Sometimes, business travelers have to visit countries that don't speak English as their first or second language. In such cases, they might find routine tasks like taking a cab or asking for directions challenging because of the language barrier.
However, with an AI travel assistant, they can simplify communication and overcome the language barrier. With the help of AI-based translation apps like Google translate, business travelers can get multiple complete sentences translated with context. Therefore, they can communicate with the local people, shopkeepers, and cabbies without any hassle.
9. Improved Bleisure Experience
A bleisure (business+leisure) trip is an extension of a business trip to include leisure activities like sightseeing and adventure sports. Such trips are the new norm in the business travel industry.
An AI travel assistant can help travelers get information about various tourist destinations on their smartphones through state-of-the-art beacon technology. A virtual beacon device is a small wireless Bluetooth device that transmits a signal that a smartphone can catch.
Therefore, whenever traveler's smartphone comes in contact with a beacon device installed at a tourist destination, they get notified about the place. This way, they can get personalized recommendations about local museums, cafes, and other destinations they can visit during their free time.
Virtual AI Travel Assistant is the Future
AI has a growing role in the business travel industry, offering many benefits in optimizing the travel process and enhancing business travelers' experience.
ITILITE's advanced business travel management software offers quick travel booking and personalized booking options from an extensive travel inventory, live location tracking, 24/7 customer support, and more. Moreover, with our AI-based virtual travel consultant- Mastermind, you can drive logical travel decisions and save travel costs through actionable data-driven insights.
Book a free demo with our product expert today to learn more about these features.