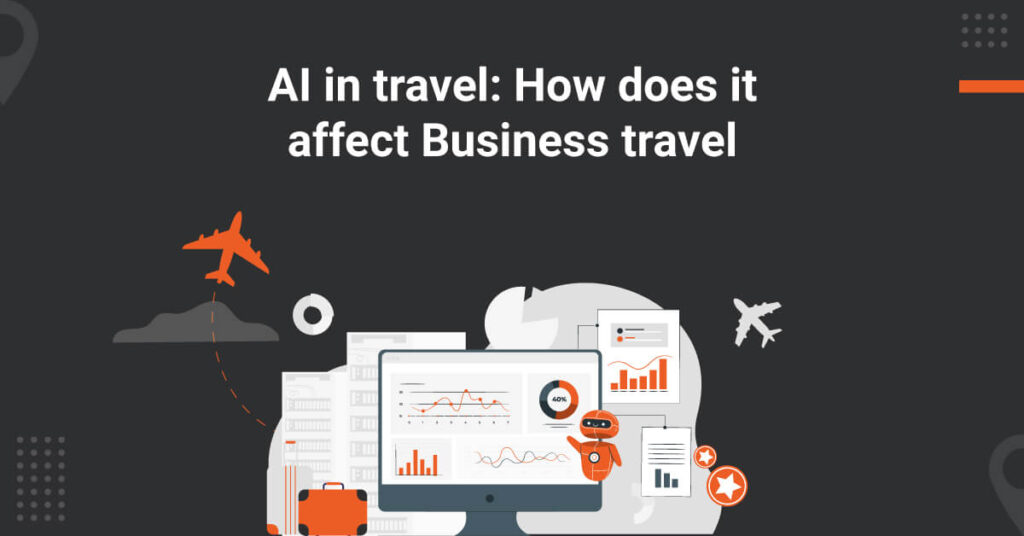 Artificial Intelligence is revolutionizing the corporate world. From data management to customer service, AI has significantly improved every aspect of a business. Hence, it is no surprise that in 2022, 44% of organizations are working to embed AI in their current applications and processes. However, one field where the impact of AI has been highly evident is business travel.
AI in travel has enhanced employee travel experience and simplified corporate travel management. For business travelers, AI's advanced algorithms have streamlined travel bookings, enhanced hotel stay experiences, made navigating international destinations easier, and much more. Meanwhile, the companies have been able to save travel costs, increase policy compliance, and take additional measures regarding travelers' safety.
Let's understand how AI in travel impacts both travelers and companies.
For the Travelers
Personalizes Bookings
Personalized flight and hotel bookings ensure a comfortable and stress-free business travel experience for your employees. It involves providing each employee with the flights and accommodation of their choice. However, providing personalized recommendations is a complex process.
For starters, you must collect data on your employees' past preferences. After that, you must refine the data to pick out helpful information. And lastly, you have to conduct advanced data analytics to identify booking patterns like similar seating preferences, room sizes, etc. This is where your employees can benefit from AI in travel.
AI personalizes booking options through a series of operations. First, it collects, stores, and cleanses copious amounts of employee data using various data collections and pre-processing techniques like data mining. Then, with the help of predictive analytics and machine learning algorithms, it processes the employee data to detect preference patterns and suggest booking options accordingly.
Enhances Hotel Stay Experience
Hotel stays are a crucial part of a traveler's experience. Therefore, they must be pleasant for business travelers because their trips are usually stressful. However, little things like a sluggish front desk, inconvenient room location, etc., can ruin the stay experience and leave business travelers stressed. It might also hamper their productivity during the business trip.
AI can help avoid these problems by optimizing everything from room preference to automated concierge services according to the travelers' requirements. For instance, with the help of AI-driven Natural Language Processing Technology and IoT devices, guests can control their room using voice commands. They can access lights, fans, or ACs, and open or close the curtains without leaving their bed.
They can also use a text-based concierge to order room service instead of calling the front desk. Hence, with AI in travel, business travelers can get their desired stay experience.
Simplifies Travel Contingency Management
Travel contingencies are unforeseen events that can occur during a trip and require immediate action or response. They include last-minute flight cancellations, sudden social unrest, or location changes.
Handling contingencies without proper business travel support can be a headache for business travelers. They may feel stranded and frustrated without an appropriate action plan or a helping hand. In such cases, AI can be a 24/7/365 available helping hand for them.
Over the years, AI-based services have evolved to handle a variety of travel contingencies and customer queries. For starters, a virtual travel agent is well-quipped to send passengers real-time flight updates. Hence, in case the flight gets canceled, the passengers are aware before it's too late.
Additionally, AI-enabled chatbots can respond promptly to routine traveler questions and handle non-critical emergencies like misrouting, vehicle breakdowns, etc. Hence, contingency management can be simplified using AI in travel.
Overcomes Language Barriers
Although English is one of the most commonly spoken languages, many countries in the Asian and African regions do not speak it as their first or second language. Therefore, business travelers may not always be able to use it for communication when visiting such places. Lack of verbal communication can complicate simple tasks such as taking a cab and cause unnecessary stress. Therefore, language barriers can be a massive hurdle for professionals traveling abroad.
However, with the help of AI-based translation apps like Google Translate, travelers can overcome the language barrier. Such apps use Neural Machine Translation to translate complete sentences after considering the context. Therefore, travelers can understand and communicate locally without hassle. Moreover, some translation apps also work offline so that business travelers can use them even without an internet connection.
Enhances Bleisure Travel Experience
Bleisure travel is the new norm in the corporate travel industry. According to Smallbizgenuis, it comprises almost 10% of the total business trips. Bleisure (business+leisure) is the practice of extending business trips to incorporate leisure activities. Therefore, business travelers need location-based recommendations of local restaurants, cafes, libraries, and other tourist destinations to visit during their free time. Moreover, they also need help navigating their way to those destinations.
AI in travel can send location-based recommendations to the travelers' smartphones with the help of beacon devices. When virtual beacon devices installed in local tourist destinations interact with the Bluetooth Low Energy emitted by travelers' smartphones, they get notified about the place. Moreover, beacons can also help them with indoor navigation. So, they can find the nearest restrooms or subway station from the place they are visiting. Hence, AI can help make bleisure travel seamless.

For the Company
Improves Policy Compliance
Travel policy compliance is essential for achieving travel goals. However, employees don't always make policy-compliant flight and hotel bookings, which leads to overspending. Such violations primarily occur because the terms are not straightforward, and employees don't understand them. Moreover, the guidelines are difficult to remember and can't be viewed in real-time while booking. AI can help you solve these problems for your business travelers.
AI-enabled business travel management software allows multi-level policy configuration. Therefore, you can create granular policies according to the department, employee level, trip duration, and destination and configure them into the software. The software then recommends only policy-compliant booking options so that employees can avoid out-of-policy bookings. Moreover, they can view the guidelines in real-time while booking to be extra cautious and avoid violations.
Automates Policy Adjustments
Travel policy contains strict guidelines that travelers should not violate. However, certain situations call for their readjustment. For instance, if employees have to travel internationally last minute, they might not be able to find flights and hotels within the policy limits.
In such cases, the bookings will get flagged for violation or fraud, and the employees will not be able to proceed without manual intervention. AI in travel can help you avoid such situations.
With the help of pricing data and predictive analytics, any AI-enabled software can determine if the travel policy limits are suitable according to the current price levels. If not, it can automatically readjust the price limits. The automatic readjustment will help avoid false violation alerts, saving the employee's and finance team's time.
Helps Ensure Travelers' Safety
While traveling internationally, your employees might find themselves stuck in a critical emergency like a natural disaster, social unrest, or an accident. In such cases, your travel manager needs to know immediately if the employees are in trouble to take necessary measures to ensure their safety.
AI can help ensure travelers' safety in the following ways:
Travel managers can get prompt alerts about any emergencies around the globe via text and emails.
AI combined with Travel and Expense Management Software allows travel managers and employees to view pre-trip risk factors and take necessary precautions.
Travel managers can track employees' live locations to help them in emergencies.
Increases Cost Savings
Saving travel costs is necessary to maintain the company's bottom line results. However, you must find and mend cost-leakage-prone areas to save travel costs. To do that, your finance and travel teams need to collaborate and collect travel data from various silos like travel agencies, vendors, and booking platforms. After that, they must conduct an in-depth analysis to figure out cost leakages. The problem with this method is that it is slow and inconvenient. The teams have to work extra hard to collect the data. Moreover, by the time they present the finding, the travel figures are already outdated.
AI can make this process easier and more efficient by collecting data from various sources in real-time and conducting advanced analytics. Moreover, an AI-based virtual travel consultant uses machine learning and predictive analytics to analyze your employees' spending behavior. Through this analysis, it can deliver data-driven, actionable insights on how to reduce policy violations and increase travel cost savings.
AI in Travel Bears Lucrative Results
AI in travel can transform business travel management in multiple ways. It can help companies improve travel policy compliance, enhance travelers' safety measures, and control travel costs through data-driven insights. As for employees, AI can simplify the booking process, improve their hotel-stay experience, help them prepare better for contingencies, and navigate new places easily.
Therefore, you must incorporate AI in your business travel management process. One way you can experience the benefits of AI in travel is with the help of a tech-forward integrated travel and expense management software like ITILITE.

ITILITE offers lightning-fast travel booking, personalized booking options from an extensive inventory of flights and hotels, granular policy configuration, and live-traveler location tracking. Moreover, ITILITE's AI-based virtual travel consultant Mastermind provides data-driven actionable insights to help you save travel costs.
To get a first-hand experience of all these features, get a free demo of ITILITE.