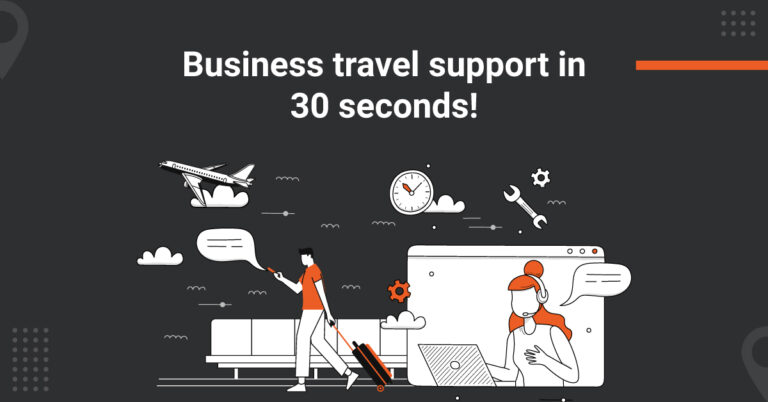 The Global Growth Lead at your company is traveling to a new country. Your travel partner confirmed before the journey that this international trip does not require a VISA. He/she reaches the airport and is denied boarding at the gate and is asked to show their VISA. As a travel manager or coordinator of company travel, what do you do to provide the travel support?
Traveler anxiety is definitely real. The CEOs of this world are no different. But especially during such anxious moments of a business trip, every traveler should have someone to talk to in case adversity strikes out of the blue.
More often than not, during moments such as the one described above, travelers are either unable to reach the support number provided by the travel partner or if they do reach someone, they get stuck in an endless cycle of call redirects or call holds till the traveler is forced to cancel and re-book the itinerary.
In cases when business travel support is required post business hours, companies are forced to pay an exorbitant fee to travel partners for even issues that are completely outside the traveling company's purview. Every cancellation done also adds up to the overall fee paid to the travel partner.
It's absolutely barbaric of travel partners to provide a convenient booking experience, but leave the traveler stranded when in need of help during a trip. This fact is even more surprising as quality traveler support when in need is an essential ingredient in the overall trip experience for any traveler.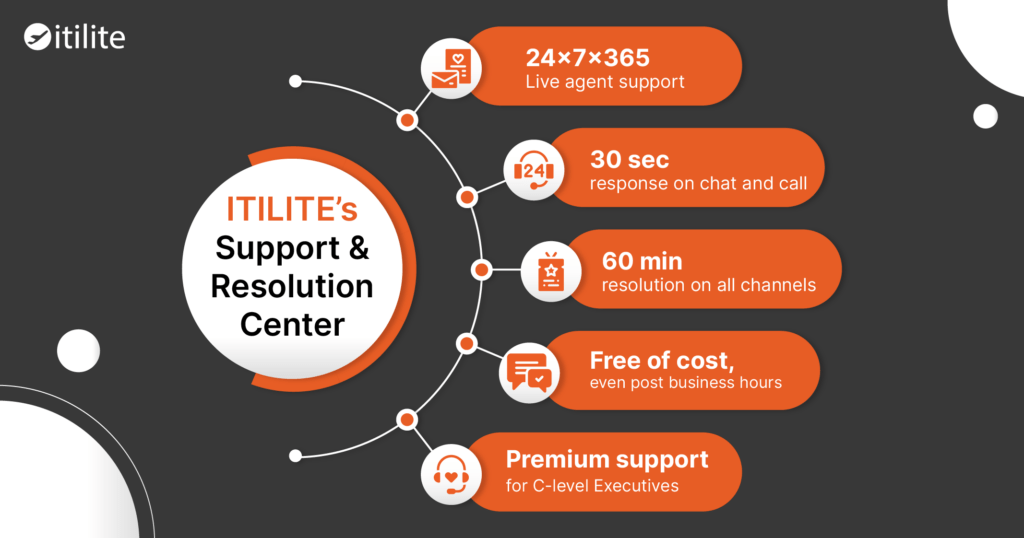 ITILITE's Support & Resolution Center helps remove this anxiety and the associated travel costs. Below are some of the ways through which ITILITE helps –
1. Travel Support is Available 24x7x365 on All Channels
Call us, email us or hit us up on chat any time of day or at night and there will be someone available to assist you. Our team responds within 30 seconds on call and chat, guaranteed. They will help you resolve all issues in less than 60 minutes. Travelers and travel admins don't need to contact airlines or hotels themselves. ITILITE's agents handle all travel vendor communications.
2. C-Level Executives Get VIP Treatment
When ITILITE onboards a company, we make sure to get a list of C-level Executives and frequent travelers by tagging them on the platform. ITILITE's team monitors their bookings and proactively ensures that all issues that may happen in the journey are avoided with a proactive 6-level check before the journey. All frequent traveler queries are also auto-routed to only the most experienced support professionals so as to ensure a pleasant journey.
3. The Travel Support is Absolutely free
Don't you love it when you get free service? Traveler support should definitely be a service that is free of cost as many issues surrounding travel can be out of a traveler's control. For this very reason, ITILITE provides free of cost traveler support, even post business hours!
4. Rest Easy with your Travelers' Safety in our Hands
Once onboarded, ITILITE's dedicated account manager helps you build a Duty of Care plan. You can blacklist hotels with lower ratings and that provide bad experiences. You will also get a map view of all your travelers on the ITILITE platform that details out respective destinations, time of travel, airline details, hotel details and so much more!
5. Automate the Travel Expense Filing Headache Too 
Filing expenses is always a headache for most travelers with receipts piling up in their pockets and procrastination eventually kicks in to submit these receipts, leading to delayed expense reporting. With ITILITE, all travel related expenses automatically flow into ITILITE Expense and draft expenses get created. Then, with a single click of the submit button they are filed on time.
With ITILITE's robust and benefits driven platform, you can provide the best booking experience to your travelers. ITILITE's team of experienced professionals at the Support & Resolution Center will have your travelers' backs 24x7x365 and ensure that there is no drop in experience during the trip as well.
Get ITILITE today by clicking on the button below and experience never-before-seen world-class travel support in 30 seconds!

Get the latest in your inbox
Subscribe to the Itilite blog and never miss a post!