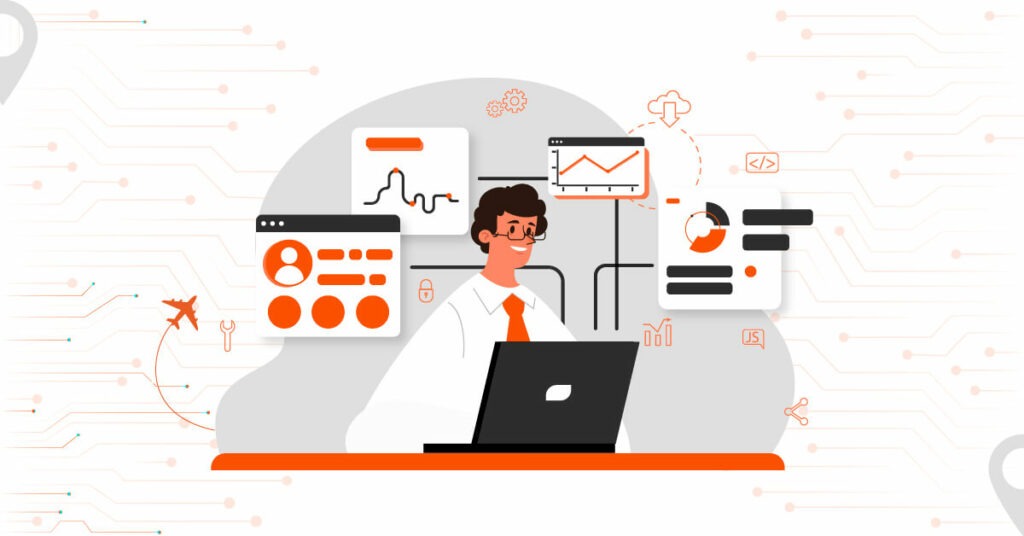 In today's fast-paced business environment, small businesses must stay competitive to survive. However, as your small business grows, the problems that may arise can be difficult to manage. One such area that most small business owners find challenging is travel management.
Fortunately, technology has revolutionized the travel industry, and small businesses can now leverage innovative solutions to streamline their travel management process.
To put it simply, tasks that used to take hours or days to complete can now be completed in a few minutes with the help of technology.
Let's explore the role of technology in streamlining travel management for small businesses.
Unlike large businesses, small businesses have a very limited workforce. Here, usually, the office manager has to manage all the travel arrangements for employees. They need to browse through various third-party websites to book flights and hotels, manage and track expenses, etc. This process can take up a lot of precious time, which otherwise they can spend working on important tasks.
However, with a corporate online booking tool, office managers no longer have to struggle with the booking process. Using these tools, employees themselves can book their travel as it combines all flight and hotel options in a single platform.
Instead of having to manually search for flights, hotels, and other travel arrangements, your employees can leverage online booking tools to quickly and easily make reservations.
2. Artificial Intelligence
The new-age business travelers demand personalization while traveling for business. According to GBTA, business travelers are even willing to share personal information to get a personalized travel experience in return.
However, small businesses have to hire an external travel agent to meet the employees' needs and preferences which may or may not always be possible. Moreover, small business owners also find it challenging to get real-time updates and provide support outside office hours.
Small business owners can overcome these issues with the help of Artificial Intelligence (AI). Here is how AI can streamline travel management for small businesses:
1. Personalized Travel Recommendations
AI can help provide your business travelers with personalized recommendations. By analyzing your employees' search history and preferences, AI-powered technology tools provide travel recommendations that align with your employees' preferences and budgets.
Such kind of personalization allows you to enhance the travel experience for your employees, thus saving time and enhancing employee satisfaction.
2. Chatbots
AI chatbots are computer/software programs that are designed to converse with users using Natural Language Processing (NLP) and machine learning. The conversations usually take place via text or speech.
These chatbots offer multiple benefits for small businesses in the business travel management process as they provide business travel support even outside office hours. They are especially useful for answering questions and solving problems such as flight delays, hotel reservations, etc.
3. Forecasting
One of the main advantages of AI is that it can predict any travel-related events. AI-powered travel management tools can identify patterns that allow precise forecasting of any popular destinations, additional services, or any potential disruptions that can impact employees' travel.
With the help of AI, small business owners can also find deals and discounts due to cost predictions. This way, you can optimize your travel inventory, save costs and also provide your employees with a seamless travel experience.
3. Virtual Travel Consultant
Every company including small businesses faces the challenges of cutting down costs to maintain their financial bottom line. Sometimes, your employees may go overboard with their spending, such as booking flight tickets at the last minute or booking a hotel outside your travel policy. And if you are a small business, then such activities can severely impact your company's bottom line.
Technological solutions such as a Virtual Travel Consultant (VTC) help in streamlining travel management for small businesses. A VTC such as ITILITE Mastermind provides you with deep insights into travel costs and tells you where you could have saved more by comparing against the industry standards.
You also get a 360-degree view of your travel and expenses which will help you optimize your travel management process. This lets you understand areas of cost leakages and ways to eliminate them.
4. Cloud Technology
Simply put, cloud technology is a method of storing and accessing data through the Internet, rather than using your computer hard drives. Over recent years, cloud technology has gained a lot of popularity. Even in the field of business travel, it has grabbed many eyeballs due to its varying benefits.
However, most small businesses don't use cloud-based software, either due to a lack of technical expertise, existing IT infrastructure, or simply because they are unaware. Without implementing cloud technology, travel management for small businesses may be challenging.
Some of the benefits of using cloud-based software include:
Centralized access to data: Cloud-based software allows everyone to access the data at the same time. This reduces the risk of any data being altered or data duplication. Employees, travel managers, admins, etc. can all access business travel-related information such as itineraries or booking details from a single platform. Furthermore, you can also retrieve the data quickly without having to browse or navigate through various systems.
Enhanced data security: In business travel, data security is paramount. Small businesses that struggle to keep their business travel data secure can leverage cloud-based SaaS business travel solutions. These solutions help in safeguarding all the private data of your employees with secure infrastructure and data encryption.
Minimal maintenance: With cloud software, small business owners don't have to worry about its maintenance. Here, the software provider is responsible for the infrastructure, resolving any issues, and updating the software. All the technical aspects of the software will be taken care of by themselves.
Third-party integration: You can integrate a cloud-based travel management solution with any third-party software to provide additional functionality, access information, and streamline your travel management process. For example, you can integrate the travel management platform with CRM, ERP, and accounting software.
5. OCR Technology
When your employees go on a business trip, they incur many expenses. They have to manually collect all the expense receipts and keep them safely for reimbursement. However, during this process, there are chances that these receipts can get lost. Moreover, a few employees can also make fraudulent attempts, such as duplicating the bills or manipulating the expenses.
In such scenarios, it is difficult for small business owners to manually verify all the receipts submitted. Moreover, this process is extremely time-consuming and hectic which can result in data entry errors.
With the help of OCR technology, small businesses can easily eliminate these issues. Optical Character Recognition (OCR) technology is a technology that enables the conversion of printed or handwritten text into digital text that can be read by software. When employees scan their receipts with software, it automatically captures all the essential information using this technology. This way, there is no chance of fraud, miscalculations, or data entry errors.
TMCs Can Help Streamlining Travel Management For Small Businesses
It is no doubt that technology has revolutionized the world of travel, including business travel. Therefore, small businesses must leverage advanced technologies such as artificial intelligence, online booking tools, and cloud technology. With the help of such technological tools, small businesses can now manage and streamline their travel management process. This will not only help you save time and money but will also improve the overall travel experience for your employees.
A better way you can leverage technology to make the most out of your travel management process is by opting for a cloud-based travel management platform such as ITILITE. ITILITE offers cutting-edge travel technology with features such as a virtual travel consultant, AI chatbots, advanced analytics, and personalized travel recommendations.
If you want to know more about the benefits ITILITE offers, schedule a free demo now.