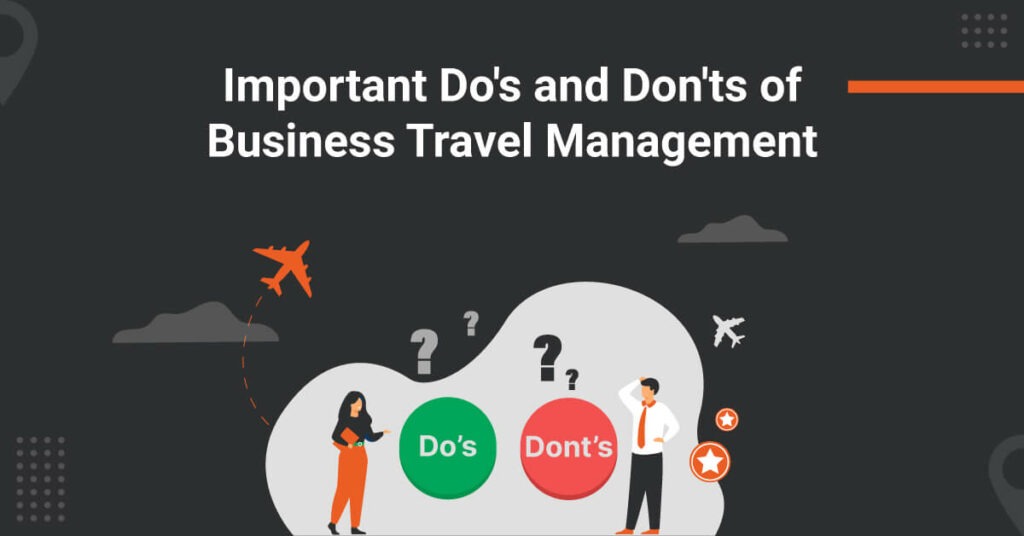 Business travel is an integral part of companies, be it startups or enterprises. Whether in-person sales, client meetings, or business conferences, most organizations depend on business travel to accomplish their goals and succeed. Hence, every company looks for ways to enhance its business travel management process.
Organizations and travel managers must consider several factors while managing business travel. These may include planning itineraries according to travelers' preferences, booking flights and hotels, balancing schedules, budget considerations, travel policies, employee safety, and many more.
However, if you don't plan and manage all these efficiently, it can lead to budget overspending, travel mishaps, booking delays, expense frauds, and more. 
Here are some do's and don'ts to consider during business travel management.
Do's to consider during Business Travel Management
Below are some factors you should consider for a smooth business travel management process.
1. Employ a Travel Management Company
A travel management company (TMC) is an organization that manages your company's business travel needs. Hiring a TMC will help you plan, schedule, and organize business trips. Their highly experienced staff assists you with hotel and flight bookings, helps create a comprehensive travel policy, ensures policy compliance, offers concierge services, prepares detailed itineraries, and many more.
Unlike a traditional travel agent, TMCs go above and beyond to help you with business travel management. They also help in managing reports of your business trip and provide support and security to business travelers round the clock.
2. Invest in Good Travel Management Software
Travel management software is a must-have tool for business travel management. With travel management software, you can plan itineraries, book flight tickets, set travel policies, and ensure traveler safety.
Travel management software also helps automate bookings, approvals requests, expense filing, etc. The software has various benefits, including quick and simplified booking, personalized travel options based on previous trip details, extensive travel inventory, streamlined approvals, real-time alerts about flight cancellations, and many more.
It also ensures business travelers' safety with advanced technological features such as live employee tracking, data security, and 24/7 customer support.
3. Be Prepared with a Plan B
Business trips may not always go smoothly. Sometimes, employees can get stuck due to bad weather conditions, natural disasters, pandemics, or accidents. To handle such unavoidable situations, every company must have an emergency plan.
A good emergency plan involves backup plans for the actual emergency plan in case that doesn't work out. Companies must ensure every employee has at least 2-3 emergency contacts, one primary and the other two backups. Business travelers must have essential contact information about the emergency contacts, such as name, phone number, alternate phone number, and email address.
Also, before employees go on a business trip, companies must define what an emergency is and what isn't. They must formulate a robust duty of care plan to ensure the safety and well-being of the employees. Having a sound 24/7 support system is an excellent way to connect with travelers during times of emergency.
4. Prepare for Health Emergencies
During business trips, employees can injure themselves or fall ill. Hence, it is essential to include a list of nearby hospitals, clinics, and doctors while planning business travel management. This list will give an idea to business travelers where they must head. 
Employees must also carry medicines for fever, cough, food allergies, motion sickness, insect bites, etc. It is always better to be prepared beforehand than regret later. For physical injuries, carrying a first aid kit is very important. Basic things in a first aid kit must include:
Bandages of different sizes
An antibiotic ointment such as Neosporin
Anti-itch cream
Scissor
Gauze bandage
Tweezers
Thermometer
Anti-allergic lotions/ointments
Cold pack
Antiseptic wipes
Syringe
5. Assess the Risks Involved
When employees travel for business, the organization has to ensure they are safe and sound wherever they go. Analyzing and reducing risks before undertaking business trips is a great way to begin, and many organizations have already realized this importance. 
This is why you must include risk assessment in business travel management. Risk assessment generally includes documents prepared by the company that is handed over to the employees, which briefs them about the potential dangers and how to avoid/escape them. 
For example, an employee may get a  warning about a possible natural disaster such as an earthquake or a tsunami while they are in a different country. Under such scenarios, they must know the steps to stay safe or escape the situation if required. 
Companies must provide safety measures for employees that provide information on how and where they can ask for help. Also, a travel risk assessment checklist is beneficial for analyzing the type and criticality of risks. It covers everything regarding employees on a business trip. With the checklist, you can understand if employees are prepared to go on a business trip or not.
Get Free Traveler Risk Assessment Checklist
Don'ts to Keep in Mind during Business Travel Management
The below points will help you remember the mistakes to avoid during business travel management.
1. Never Assume Business Travelers are Aware of the Company's Travel Policies
Most companies that have a travel policy assume employees already know them. But, business travelers may not be aware of such policies or may not be following them while booking flights and hotels. Companies, therefore, must communicate their travel policies properly to their employees. 
Employees must understand what a travel policy is and why it exists. This will help them avoid overspending and streamline business travel expenses.
Also, conducting refresher sessions often for employees about these policies will help them remember and abide by them. You can also conduct tests to understand how many employees are aware of your travel policies and how many aren't. 
2. Don't miss out on Preparing a Detailed Itinerary
An itinerary is a schedule of all business trip events on a single platform. A business travel itinerary is crucial for making a business trip go smoothly. It must include which flights the employees must board and at what time, details of accommodation, mode of transportation from the airport to the hotel, leisure activities employees can indulge in, and many more. 
Not remembering to create an itinerary before employees go on a business trip can make the trip very chaotic and they may feel stressed without knowing what to do and where to go. 
An organized business travel itinerary can prepare employees fully for a business trip. They will have all the details, such as flight timings, tickets, boarding passes, and destination and accommodation details. 
Get Free Travel Itinerary Template
3. Don't use too many Emails
If the business travel management process is not organized in your company, there will be the exchange of multiple emails back and forth between business travelers and managers for every change request and approval. In doing so, you may miss important information, leading to confusion and frustration. 
Travel management software allows you to make itinerary changes easily, book flights and hotels, and manage payments and approvals on a single platform without sending multiple emails. 
If any urgent situation arises where you must send emails, you can keep them concise and clear.
4. Don't make policies very Stringent
When your company policies are very stringent, business travelers find it hard to abide by them. Also, since they may not get their preferred choice of flight or hotel, it makes them book outside company policies. 
Travelers want to travel with comfort and ease without worrying too much. The finance department also must know which employee is going where and for what purpose. Therefore, travel policies should be designed to suit travelers' needs and preferences. 
Optimize your Business Travel Management Process
Business travel management is essential to planning a business trip. Travelers are looking for new and better ways to book, manage and carry out their business trips. Without effective business travel management, business trips can become chaotic and stressful for travelers. Therefore, every company must consider having robust business trip management to carry out business trips successfully. 
ITILITE's business travel management software is a SaaS-based software that offers extensive travel inventory, quick-booking options, advanced travel analytics,  and 24/7/365 days of customer support to help you plan your business trip seamlessly. 
Get a free demo to get a first-hand experience of all the features.