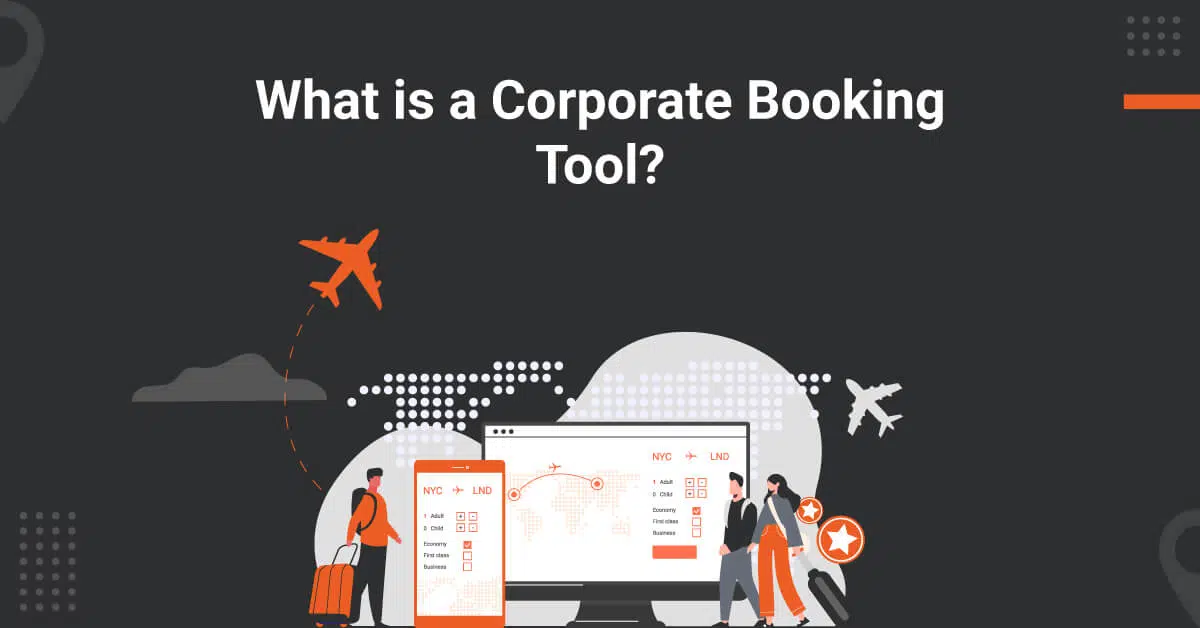 Over the years, technology has given us numerous advanced tools that help us get things done with ease. Even in business travel, technology has made automation possible, allowing travelers to plan trips within minutes using a corporate travel booking tool. 
Earlier, travelers used to book tickets from travel agencies without using a business travel booking tool, which led to challenges such as high trip costs, lack of options, and inconsistent support. 
However, with changing times, the expectations of corporate travelers grew to accommodate personalization, a seamless travel experience, and real-time information.
Hence, the travel industry witnessed a rise in the usage of technologically advanced employee travel booking tools that facilitate faster and seamless self-booking.
Here is an infographic about corporate travel booking tool.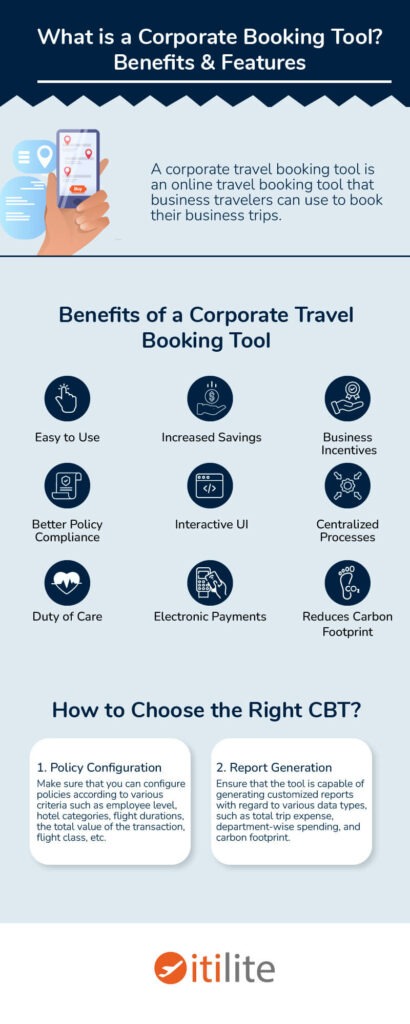 To learn more, read on.
A corporate travel booking tool is an online tool that business travelers can use to book their business trips. Such employee travel booking tools simplify the travel booking process and ensure travel policy compliance. Other than that, some corporate travel tools may also help companies provide the duty of care for travelers. 
The travel manager first configures the CBT based on the company's policies and compliance.
After this, the employees can book using the online travel booking tool and choose from various options available for their corporate travel and accommodation.
Once the employees complete the booking, they will receive a confirmation from the CBT.
When the employee travels, the manager and administrator can get real-time updates about their travel.
The invention of corporate travel tool has broken the barriers to business travel booking. The process is now much simpler, easier, and more convenient for all travelers. Now employees can book their tickets and make hotel reservations of their choice from many available options. 
Here are a few benefits of using a corporate travel tool.
1. Easy to Use
A cloud-based corporate travel tool lets travelers book tickets from their mobile or the web, anywhere, anytime. Moreover, it allows them to track critical trip-related information, such as the approval status, flight updates, etc. on the go. 
The real-time display of the list of hotels or flights, allows the employees to compare easily and select the best choice for them. A corporate business travel booking tool helps travelers make booking travel arrangements more manageable and less stressful.
2. Increased Savings
Most corporate travel tool providers have tie-ups with airlines and hotels, allowing them to offer negotiated rates to the employees. Therefore, bookings made through a corporate booking tool incur a lower cost than travel agencies. 
3. Business Incentives
Some corporate booking tools like ITILITE have the feature of business travel incentives. In this feature, the software displays 3  booking options according to the company's travel policy which include the most expensive ones to the least. 
When employees choose the cost-effective option, they get a part of the saving as an incentive. This helps companies save money while rewarding employees.
4. Better Policy Compliance
With a corporate travel tool, you can simplify the process of pre-trip approval and compliance. As the CBT is already configured by the travel manager, it displays real-time policy visibility with all the travel options. 
If any employee attempts to book an out-of-policy trip, the CBT immediately notifies the employee and the employer.
5. Interactive UI
One of the significant benefits of a CBT is it provides employees with a convenient booking experience. The user interface is simple, easy to operate, and interactive.
Also, the CBT offers real-time visibility of travel policy on the booking window so employees can book without fuss.
6. Centralized Processes
Some corporate travel tools can provide a one-stop solution for a company's end-to-end business travel management needs. This includes planning, booking, and support on one central platform.
On such tools, companies can access multiple services such as flight and hotel booking, itinerary creation, expense management, weather updates, etc., are all accessible on a single platform. Such a centralized process makes business trips easier for business travelers. 
7. Duty of Care
When the employees are away on a business trip, the employer has to take care of the employees. Covid-19 showed us how quickly things around us can change and how important it is to follow travel safety regulations.
As the corporate booking tool is a centralized system, the manager and the administrator have access to the employee's details.
Additionally, constant risk alerts and traveler tracking helps managers quickly locate the employee, communicate with them, and offer assistance in times of difficulty. 
8. Electronic Payments
Business travel involves multiple transactions. For example, business travelers book flights, rental cars, and hotels online.
Using cash for such transactions is neither affordable nor practical. However, a CBT lets employees book online with a debit or corporate credit card. 
Around 2% of business travel contributes to global greenhouse gas emissions. Although we cannot avoid business travel entirely, organizations need to start demonstrating a serious commitment to reducing their carbon footprint on the environment.
Analyzing your company's carbon footprint is one of the significant steps you can follow to become a carbon-neutral company. Some CBTs have a feature to track the carbon print after every business trip. The feature enables you to identify the hotspots and decrease the impact on the climate.
Choosing the right corporate booking tool can be confusing with multiple options available in the market. But before investing, it's essential to understand your company's current business travel booking and management process. This is essential to align correctly with the tool you select.
1. Policy Configuration
Choosing a booking tool that allows you to set an advanced travel policy configuration is vital. Companies will likely expose themselves to unnecessary spending without the right policy in place and compliance.
A competent corporate booking tool allows policy definitions per various criteria such as employee level, hotel categories, flight durations, the total value of the transaction, departure and destination cities, flight class, etc.
2. Report Generation
Another critical factor to consider while investing in a CBT is if it can generate customized reports to employees, such as total expenses incurred, department-wise spending, tracking carbon footprint, etc.
An in-depth report will help business travelers understand their travel reservations, the amount spent, and policy compliance. The travelers can easily download all the details of the services used, prices, the names of the user and the approver, etc.
Investing in a good corporate travel tool is not just an option to consider but a necessity. When a company includes a corporate travel booking tool in its travel program, employees get a great booking experience. This, in turn, increases policy compliance and reduces unnecessary travel spending for the companies.
ITILITE business travel management software offers a seamless booking experience where employees can easily book within 90 seconds. The SaaS-based travel and expense management software provides customized booking options from its extensive travel inventory.