If you are taking a business trip to the US, packing can be tricky, especially if it is an international trip. You will have multiple things to account for. Hence, it is important to make a packing checklist to ensure you don't leave any essentials behind.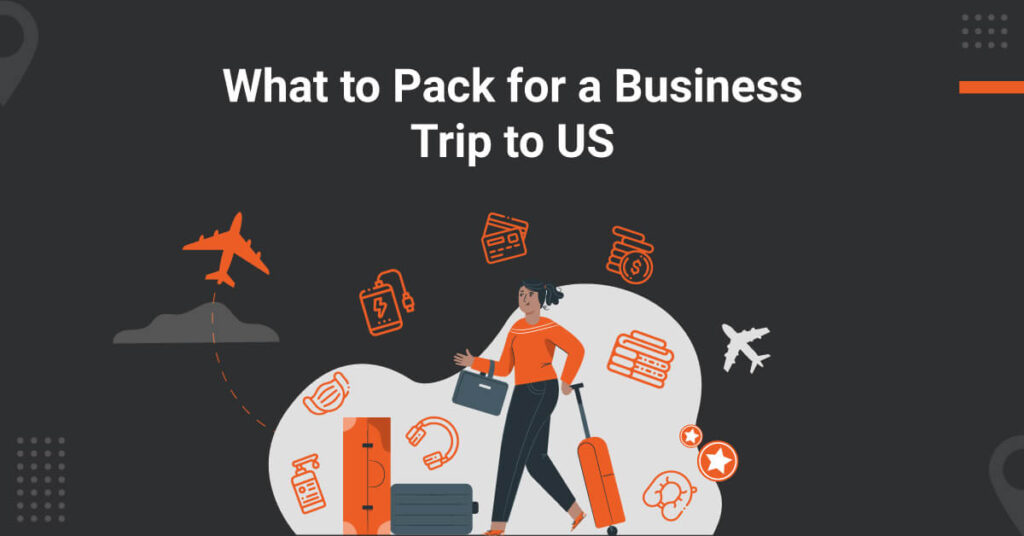 The last thing you want is to be stuck in a foreign country, struggling because you forgot something important back home.
Here are a few essentials you must add to your packing checklist when planning a business trip to the US.
Read on to know more.
1. Documents
If you're looking to take a business trip to US, you must have proper documentation. Depending on your citizenship, several documents may be required for international travel.
Additionally, you have to ensure that these documents are valid for the required period. For example, if you are using a passport, ensure it is valid for at least six months after your planned arrival date. Below is a list of documents you'll require when traveling to the US.
Passport
National ID card
Boarding pass
Vaccination related documents
Flight tickets
Insurance documents
Business ID
Travel itinerary
Hotel reservations
It is always a good idea to have the physical copies of the documents organized in an easily accessible manner. A separate folder would be helpful in such cases. Also, ensure you have soft copies of each document on your phone. You can store the soft copies
2. US Currency
Credit Cards
Credit cards are one of the most preferred methods of international transaction. Apart from being convenient, they can also be used to save money. Travel credit cards offer multiple benefits and perks to travelers, such as complimentary access to airport lounges, hotel discounts, and purchase protection.
One of the most popular benefits of using a credit card is earning rewards points. These points can often be redeemed for cash back or other gifts. Some credit cards also allow you to earn airline miles on purchases, which can be beneficial if you travel often.
Credit cards can be an efficient tool for business travelers who want to take advantage of the interest-free period. This period generally lasts 45-60 days, during which you don't have to pay any additional interest on your outstanding balance. This can be a great way to put off paying your bills until after you return home.
Debit Cards
If you're taking a business trip to US, one convenient way to withdraw money is using a debit card at an ATM. Often, it's more expensive to use a credit card when withdrawing cash from an ATM due to cash advance charges.
Before taking your debit card out of the country with you, check with your bank first to ensure you can use it internationally. Also, tell your bank about your travel plans in advance. Otherwise, they might flag any activity from a different country as suspicious and block your card access.
Forex Cards
Credit and debit cards are both prone to currency rate fluctuations. Hence, you might have to pay more to make a purchase. If you want to avoid this, you can opt for a forex card.
Forex cards are a type of prepaid card that can be useful for those who frequently travel abroad. This card is linked to an international bank account in the currency of your choice. Hence, the value of your purchase will not be affected by currency fluctuations.
With a forex card, you can load money in foreign currency, which you can use to make purchases or withdraw cash from ATMs. They generally come in two types – single currency cards and multi-currency cards.
Forex Cards are a great way to make purchases abroad without worrying about transaction fees or currency fluctuations.
Cash
Although business travelers prefer international travel cards as the mode of payment, it is wise to carry some cash for a business trip to the US. You never know when you might need it. For instance, you'll have to pay for a cab or other essential expenses right after you get off the plane. Moreover, as tipping is a custom in America, having small denominations of cash like 1$ comes in handy.
Cash is also beneficial if you are visiting an area where you are unsure of the businesses or restaurants and don't want to pay by card. This way, you can protect your identity and keep your credit card safe.
3. Electronics
Laptop
If you are a business professional who travels frequently, it is important to manage your work remotely, check emails, and stay connected with your colleagues from anywhere. A laptop is an essential gadget that lets you do all.
Moreover, a laptop is a great way to keep yourself entertained while traveling, whether you use it to watch movies, play games, or listen to music. However, when taking your laptop on a plane, you need to take precautions to protect it from damage during security screenings. That's why it's important to put it in a travel bag that has enough padding.
Power Bank
Power banks, also known as portable chargers, are essential for anyone using electronic gadgets such as cell phones, tablets, and laptops. They allow you to charge your devices from anywhere, which comes in handy on long flights or when you're stuck somewhere without an outlet. Power banks come in different capacities. So, you need to find one that suits your requirements.
The last thing you want is your phone or laptop to discharge on your trip. Therefore, investing in a power bank is a great idea, especially if you're someone who travels a lot.
Universal Travel Adapter
In some countries, the power outlets are different than others. However, the devices we use are only compatible with outlets similar to the ones in our own country. That's why a universal travel adapter is essential when you are looking to plug in devices like your phone or tablet into an outlet from a different country. It simply acts as a connector to fit the gadget into the outlet. All you need to do is plug the adapter into the outlet, and then you can connect your devices.
You'll need to consider a few things before purchasing a universal travel adapter for your next business trip to US. Firstly, you'll need to think about what type and number of devices you'll need to plug in. Secondly, you'll have to check if your devices are compatible with the electricity ranges of the US. There, the standard 110-volt outlets are compatible with devices ranging from 100 to 120 volts. Also, keep in mind that these adapters don't convert voltage or current.
Portable Hotspot
A portable hotspot is a must-have mobile tool if you need to access the internet on the go. You can connect more than one device to a portable hotspot simultaneously. It can provide you with a stronger internet connection than your hotel WiFi, which can sometimes be unstable.
Another great perk of using a portable hotspot is that it is much more secure than hotel WiFis. Hotel WiFi networks are often prone to data security threats like identity theft, which can put your personal information at risk.
This can also lead to your credit card details being leaked. You are responsible for your own safety when you're traveling abroad, so take extra steps to be cautious.
Headphones
Headphones can be a great way to improve your focus while working or enjoy your favorite music without disturbing those around you. They can also be helpful for blocking out background noise and helping you sleep on a flight. When choosing headphones, it's important to consider what you'll be using them for most, as there are many different types available with different features.
There are a variety of headphones out there, but one type that is becoming increasingly popular is Bluetooth headphones. Bluetooth headphones not only allow you to make hands-free calls, but you can also manage the music without taking the phone out of your pocket. This way, you can stay focused on what you are doing without rummaging through your pockets.
4. Clothing
Packing clothes for a business trip can be challenging because you want to ensure you have everything you need without overpacking and paying extra baggage fees. To avoid this issue, make a list of the essential items you'll need for your trip, and then make sure you pack only those items. This way, you can be sure you have everything you need without ending up with too much stuff.
Also, the kind of clothes you pack depends on the time of the year. You will need more overcoats for winters and some breezy formals for summers.
Formal clothing is more likely to become wrinkled during travel. Therefore, it is recommended that you either choose clothes that are less likely to wrinkle or fold them instead of rolling them.
Packing cubes can also be helpful when packing clothes for an international trip. These are small organizing bags that you can keep inside the suitcase, which help to keep your clothes and other accessories in place. This way, you can find what you are looking for quickly and easily.
5. Toiletries, first aid kit, and supplements
Toiletries
Toiletries are products used for personal hygiene and grooming, such as toothpaste, shampoo, and soap. Although you would get everything in the US, your preferred brand might be unavailable.
When packing for a business trip to US, only take the essential toiletries with you, as there is a limit on how much you can carry. If you need anything else, you can buy it at your destination.
Some of the toiletries that you should consider packing are :
Soap
Shampoo/Conditioner
Toothbrush and toothpaste
Comb
Sunscreen
Face wipes
Facial cleanser
Makeup kit
Deodorant
Moisturizer
Nail clipper
Cotton buds
Contact lenses
Insect repellent
Sanitizer
Face mask
If you are a female business traveler, it would also be wise to carry products like makeup kits and feminine hygiene products.
When traveling to the US, always adhere to the TSA's PreCheck rules when it comes to packing liquids in your carry-on. For example, each container can only hold up to 100ml of liquid, and all liquids must be packed together in a single quart-sized (approximately 7" x 8") plastic bag.
First Aid Kit
Accessing healthcare can be tricky when you're traveling to a new country. To be prepared, it is a good idea to pack a first-aid kit with supplies for minor illnesses and injuries.
As a traveler, you are likely to be exposed to new germs and bacteria. This exposure increases the chances of getting infections such as stomach aches, allergies, nausea, and fever. By having a medical kit handy, you can treat these minor illnesses yourself instead of seeking medical care in a new place. Your kit should also contain supplies for treating cuts and bruises.
Your first aid kit should contain the following items :
Band-aids
Gauze
Adhesive tape
Safety pins
Antibiotic ointment
Hydrogen peroxide
Antibacterial wipes
Antihistamine
Antacid
Motion sickness medicine
Ibuprofen or aspirin
Thermometer
Cough and cold medicine
Other specific medicines that you need (prescription required)
Note that you should pack sharp items like scissors and blades in the checked-in baggage only.
Supplements
It's always up to you whether or not you want to take supplements while you travel. However, it is recommended because of the advantages they offer. For example, some supplements can help you ensure you're getting all the nutrients you need, even when you're on the go, while others can help give you a much-needed energy boost.
A few supplements that travelers frequently use are listed below :
Probiotics – Enhances the immune system, prevents allergies, and keeps the digestive system healthy.
Magnesium – Helps improve sleep quality which can be disrupted by jet lag, and reduces stress.
Vitamin C – Enhances the ability to fight infections
Vitamin B-12 – Keeps your body energized
6. Other items
Business Cards
You will have plenty of opportunities to network with new people while on a business trip to the US. Handing out business cards is a great way to make connections and leave a lasting impression.
Sharing business cards often helps you connect with people even after the event since it's more personal than just exchanging information. Plus, the contact information on your business card makes it easy for people to get in touch with you later on.
Notepad and Pen
Although some people prefer to take notes on tablets or laptops, notepads are still a popular way to take quick notes. Technology is often unreliable, so carrying a notepad to take notes during a business meeting or jot down ideas that pop in your head is always a good idea.
Moreover, notepads don't rely on batteries, so you don't have to worry about them running out of power. You can also use notepads for journaling and disconnecting from work-related stress while on a business trip.
Neck Pillow, Eye Mask, and Ear Plugs
Long flights can be stressful, especially if you're trying to sleep while sitting up. Nonetheless, several products can make your trip more comfortable. These include neck pillows, eye masks, and ear plugs.
A neck pillow provides proper support to your neck and shoulders; it can be a savior when it comes to the strain of flying. Eye masks and ear plugs are great for blocking light and noise, making it easier to fall asleep. Properly using these three products makes you feel refreshed and well rested at your destination.
Ensure a Seamless Business Trip to US
Alongside packing, booking flights quickly and easily is another vital factor to consider when planning your business travel to US. With ITILITE's travel management software, you can book flights, hotels, and cabs- all in under a minute. Its AI-based algorithm offers personalized options for you from an extensive travel inventory.
Get a free demo of ITILITE to experience lightning-quick bookings yourself.