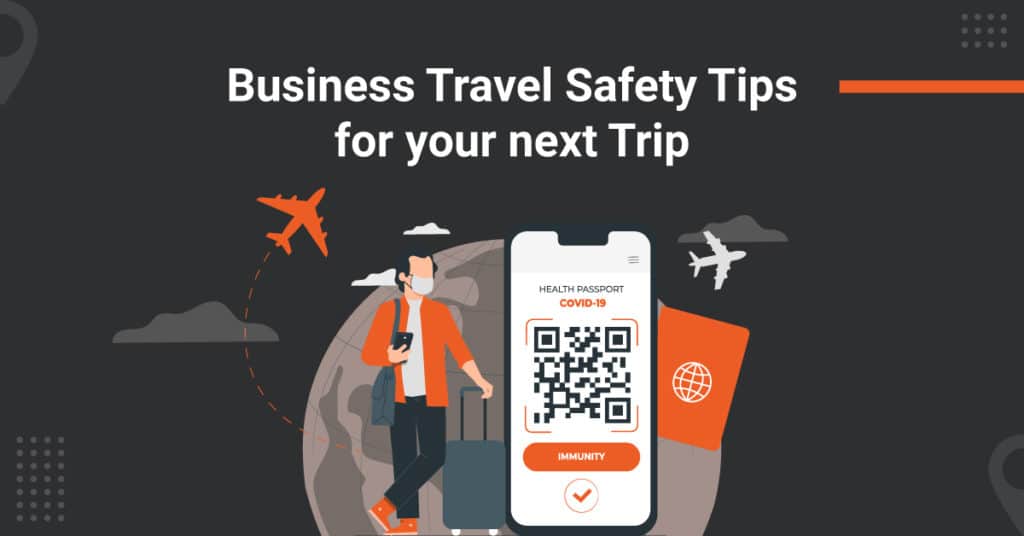 Business travel is not what it used to be a couple of years ago. According to Amadeus, 84% of business travelers want to travel under the right safety protocols. Hence, after the COVID-19 pandemic, the top priority for companies has been employee travel safety.
Although the companies are doing everything to ensure traveler safety, you must also take some measures to ensure your own safety.
Here are some business travel safety tips you can follow before and during your trip. You will also find a business travel safety checklist for you to download.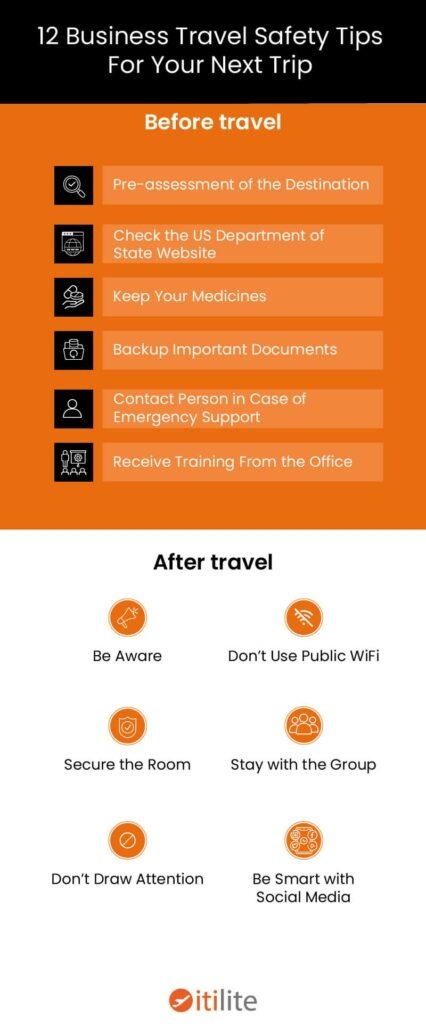 Before Travel
Ensuring travel safety does not only start during the trip. There are some preparations you must do before leaving. Here are some of the important pre-trip business travel safety tips.
1. Pre-assessment of the Destination
The first step to ensure corporate travel safety is to research the place you are visiting. Here is a list of things you should read up on before visiting a foreign destination.
The local political situation
Nearest healthcare facilities
Emergency numbers (police, ambulance, etc.)
COVID-19 situation (current active patients, mandatory protocols, etc.)
The best area to book a hotel in
Local news (ongoing crisis, protests, etc.)
COVID-Safe Hotels
You can take this corporate travel safety assessment a step further by working with your travel manager to conduct a pre-trip risk evaluation. This evaluation will help you prepare a list of the travel risks you can combat and those requiring extra training.
Here are the most common corporate travel safety risks and the questions you should ask to evaluate your preparedness:
Destination-related corporate travel security risks:
Are you aware of the latest socio-political situation of the destination?
Have you saved the details(phone no., email address) of the emergency point of contact present on-site?
Have you undergone any security training to learn about emergency evacuation plans?
Health and Fitness-related corporate travel safety risks:
Do you have any pre-existing medical ailments?
Are you completely vaccinated?
Do you have the necessary health documents?
Data-related business travel security risks:
Have you backed up essential data?
Have you taken information security training?
Have you deployed all the necessary technological tools, like a VPN, to safeguard data?
Here is a customizable traveler risk assessment checklist to help you conduct this assessment in detail.
2. Check the US Department of State Website
The US Department of State offers essential information on their website that you should check before leaving for a trip. You should check –
The latest info on other countries with an advisory on whether it is safe to visit.
Emergency contact of the US Embassy in the destination country.
Traveler's checklist.
Smart Traveler Enrollment Program (STEP) that lets the US Embassy get in touch in an emergency.
3. Keep your Medicines
As a business traveler, you need to travel to unfamiliar destinations frequently. Hence, an essential corporate travel safety tips is to keep all your prescription drugs as you may not get the same medicines where you visit.
Apart from prescription drugs, you can also keep some common medicines that suit you – laxatives, antacids, antibiotics, etc.
4. Backup Important Documents
Before leaving, you should make a copy of all essential documents, such as ID proof, passport, office files, etc. To be more secure, you can scan these documents and store them on secure cloud storage apps, such as Dropbox or Google Drive.
Before going on a business trip, enquire about the contact person with whom you should stay in contact. The person can be your travel manager or a travel agent from the official business travel management company.
It is imperative for your business travel security that you are in touch with a person from your location to report any issues with the hotel's COVID-19 regulations, hygiene issues, or meals. Your contact can then talk to the hotel regarding the same or move you to another hotel altogether.
6. Receive Training From the Office
Although you might be a frequent traveler who takes multiple trips in a year, it is important to take risk management training before every trip. Ask your travel manager to educate you on-
The latest travel regulations
Procedures to follow in an emergency
Restricted places
Communication channels
The best way to ensure travel safety is to stay aware of the risks and follow the essential business travel safety tips and guidelines.
During Travel
Here are some business travel safety tips that will keep you safe during your business trip.
7. Be Aware
Business travelers can often be a target for local con artists. Although you have all the right to explore the destination, it is necessary that you stay aware at all times.
Hence, one of the fundamental safety tips for business travelers is that you should try to avoid leaving the hotel at night. Even if you do, prevent the locations with fewer people. You must also enquire about the best routes to travel – the least prone to accidents.
8. Don't Use Public WiFi
The public WiFi networks are unsafe as they are open networks – accessible to all. Hence, you should avoid using public WiFi networks at airports, local cafes, and the hotel you are staying in.
Instead, use mobile network data for any critical work. However, if there is no choice other than public WiFi, you should use a VPN to secure the network.
9. Secure the Room
You might be staying in a reputed hotel that ensures premium services and safety. However, you must take safety precautions at your end also.
Keep a small lock with you to put on the hotel room door when you go out. You can also carry a portable safe with you to store all your valuable items and documents.
10. Stay with the Group
More often than not, professionals go on business trips with a group. If you are also traveling in a group, please try to take a buddy with you when visiting the local places. Even if you want to roam alone, other team members should know about your whereabouts.
11. Don't Draw Attention
Try to keep a low-key profile when visiting unfamiliar destinations. You should blend in with the local people by donning the local attire. Also, avoid wearing expensive items, such as jewelry, watches, etc. as it draws unwanted attention.
Updating everything on social media – where you are going, what you are eating, and who you are meeting – is the new norm nowadays. However, this can be unsafe while you are going on a business trip. Avoid tagging your location on social media, posting pics of your tickets, etc.
Follow these Business Travel Safety Tips to be Stress-free
When you are confident about travel safety, a big chunk of stress is automatically lifted off your shoulders. You can then resume your official work conveniently and explore the local places without worries.
As business officials travel frequently, it is essential to have a business travel safety checklist that keeps you organized before each trip. Here's a business travel safety policy checklist with all the essential elements you need to check off.