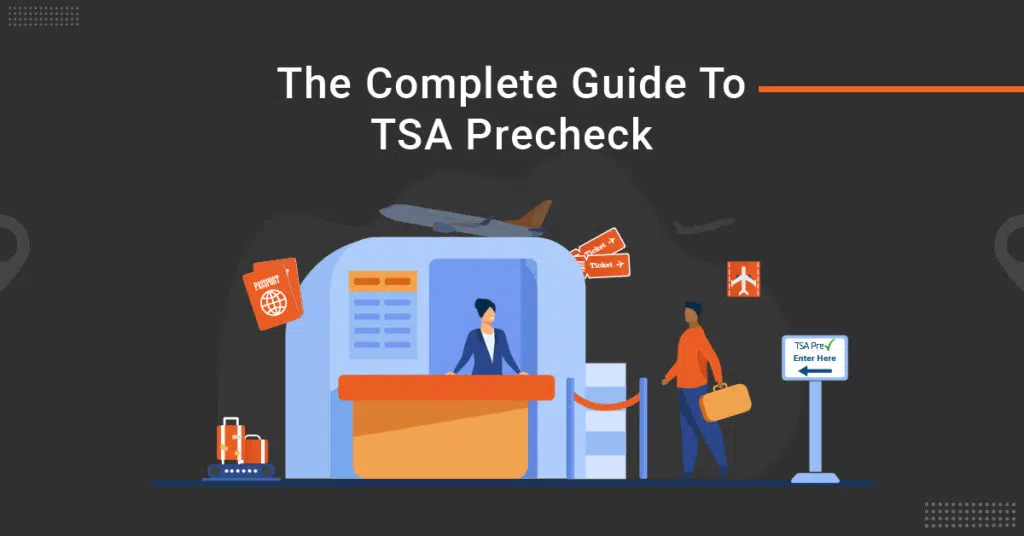 As most of the countries are opening up international travel, many people are looking to take business trips. Applying for TSA PreCheck would help you streamline your process of airport security checks. In this blog, we share everything you need to know about TSA PreCheck – from how to get it, its benefits, to the tips on using the membership for the first time.
What Is TSA PreCheck?
It is a travel program that expedites the process of security checks at the airport by identifying "low risk" travelers. It is managed by TSA and gives travelers the convenience to stand in separate security lines at participating airports in the US. It is available when someone is traveling from the US to a different country and for domestic flights within the US.
If you have a TSA PreCheck membership, you will not have to remove your belt and socks at the security check and just walk through the security scanner and go to your gate. Its membership costs $85 and is for five years.
Key Benefits of TSA PreCheck
Expedited security screening through dedicated lanes – You have the option of waiting in separate security lines, which most often are shorter, and get through security within minutes, without any hassle.
Keep your shoes, jacket, and belt on – You will not need to remove your shoes, belt, light jackets, 3-1-1 liquids, and laptop if you have a "TSA PRE" on your boarding pass. This saves a lot of time and reduces a little bit of stress of passing through the security checks.
Walk through a metal detector instead of a body scanner

How to Sign up for TSA PreCheck Program
Eligibility criteria:
You must be a US citizen, national or permanent resident
There is no age restriction for applicants; children under 12 can use their parents' or guardians' memberships and need not apply separately
You should not have filled in any false or incorrect information on the TSA application form
You should not be subjected to any ongoing investigations
You should not have any criminal convictions nor any pending criminal charges
You should not have violated immigration and customs laws
Steps:
1. Fill out the application form – First, you need to complete and submit the application form that can be found on the TSA website. It will not take you more than 5 minutes to fill this form. You will need to have the following information/documents while completing the form:
Your contact information; email or phone
Citizenship information
Permanent and residential address
Physical description
Mailing address
Official photo ID
Note: Make sure your name is the same as it appears on the government ID.
2. Schedule an appointment for a background check and fingerprinting – After you complete your application, the next step is to set an appointment for a background check with fingerprinting. You can choose the date, time, and center for enrollment. Enrollment must be completed 120 days from the day you submit your application. At this appointment, you will pay your membership fee i.e. $85 which is non-refundable.
3. Wait for an update: You will receive an email regarding your application in 2-3 weeks after your in-person interview, though some applications may also take up to 60 days. If approved, you will receive a known traveler number (KTN) that you can use whenever you book a flight. You need to include your KTN in order to avail all the benefits of the program.
Tips for using TSA PreCheck 
Here are some tips for using TSA PreCheck the right way:
Always use your KTN number while booking the flight so that "TSA Pre" shows up on your boarding pass. Even if you have forgotten to include your KTN while booking, make sure you know your number, so that airport officials are able to help you.
Check-in online 24 hours before your flight to confirm your PreCheck status
Arrive at the airport at least 2 hours before the flight to make sure you have a PreCheck status.
There are some loyalty programs and credit cards that cover the cost of the application. You will have to contact your credit card company to know about it in detail.
A few FAQs Regarding TSA PreCheck 
Here are some common FAQs regarding TSA PreCheck:
1. Do all family members need to have a separate TSA PreCheck membership?
As per the TSA regulations, an adult's TSA PreCheck membership will apply to minors, i.e. children 12 or younger, that are booked on the same reservation. But the same membership cannot be used by spouses or other family members. However, in practice, it has been seen that many airlines pass on the TSA membership benefit to all family members.
2. Can I update my personal information within the TSA PreCheck program?
Yes, you can update your personal information if you are a member of the TSA PreCheck Program. You may call at (855) 347-8371 on weekdays to make changes to your name, address, or other information contained in your records. You will be required to provide some information regarding the documentation needed to process the change.
3. Is the TSA PreCheck application fee refundable?
No, the application fee of $85 is non-refundable, even if your application gets rejected. This fee covers the cost of background checks.
4. What's the difference between TSA PreCheck and Global Entry?
TSA PreCheck offers expedited security screening for its members with a charge of $85 for five years. On the other hand, the Global Entry program offers an expedited passport control service that reduces the time going through immigration and customs. It costs $100 and does include a TSA PreCheck membership.
5. Which are the US airports and airlines participating in the TSA PreCheck program?
TSA PreCheck is available at more than 200 airports and 73 airlines. You can check the availability of TSA PreCheck here. However, it should be noted here that not all the airports (usually new or smaller ones) offer a separate line for TSA PreCheck. In this case, you may have to go through the regular line but will be able to keep your shoes and belt on after showing your membership.
Secure Your Business Travel with ITILITE
A TSA PreCheck is important to make the security process at airports faster and convenient. But safety is the number one priority for all. At ITILITE, we can help you in making your business trips safe at all times.
Our cloud-based integrated T&E solution offers a global inventory of flights and safe hotels, inbuilt policy features, real-time tracking, and 24/7 customer support, and more. To know more, book a free personalized demo today.

Get the latest in your inbox
Subscribe to the Itilite blog and never miss a post!