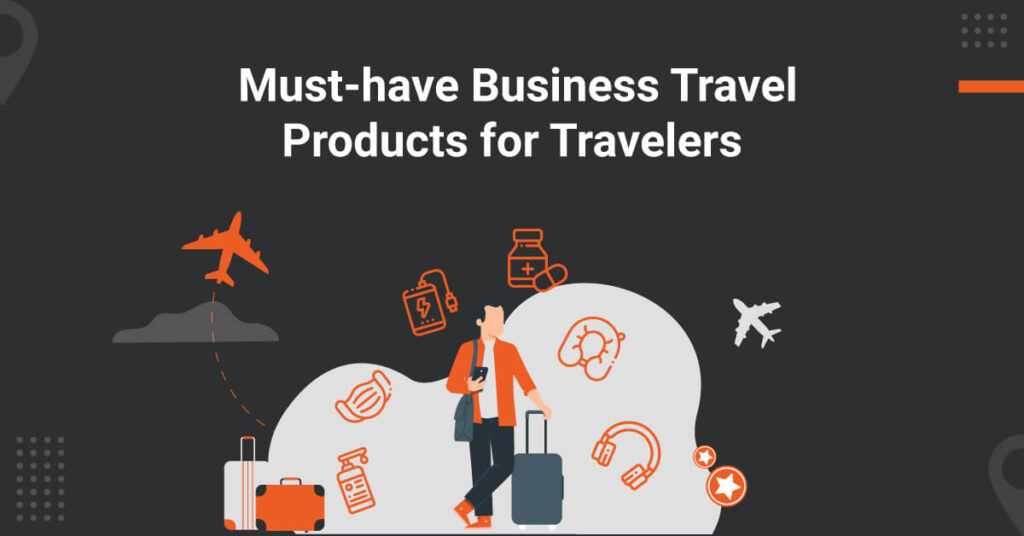 Business travel can be tough, no matter how exciting it sounds. You often have multiple tasks to complete in a short amount of time, be it booking, planning, or packing. Hence, it's easy to get overwhelmed if you don't stay organized.
Think about it. Have you ever been in a situation where you wished you had planned ahead? Maybe you've missed a flight because you forgot your passport at home, or your flight got delayed, and your phone died because you didn't have a charger. Or maybe you were trying to relax, but the noise around you was just too loud.
You make your trip more organized and stress-free with the help of some business travel products available in the market. Each business travel product solves one or more issues with your business trip.
Listed below are 12 business travel products every business traveler should have to make their trip more seamless.
1. Face Mask and Sanitizer
Although we have stepped into the post-pandemic phase, COVID-19 is still not over entirely. Hence, it is always a good idea to wear a mask in public places such as airports and stations, even if it isn't mandatory. You never know who you might be sharing a space with, and they may come from an area where the Covid virus is still spreading. Moreover, since many air travel companies still require you to wear a mask, it is essential to always carry one with you.
While traveling, it is also essential for you to sanitize your hands regularly as you may come into contact with surfaces and objects that other people have touched. Hence, a face mask and a sanitizer are two indispensable business travel products you must carry on a business trip.
2. Travel Apps
Travel apps are the only digital products on this list but are worthy of making it to the top business travel products. These diverse business travel tools help you in different aspects of your business travel. For instance, Google Maps is a useful app for finding your way around, sharing locations, and bookmarking places in advance. It can also come in handy when looking for restaurants, cafes, gyms, or pharmacies near your current location. Another essential app is Uber. It allows you to book cabs and rent cars with ease.
When it comes to business travel management, many digital business travel products come in handy. ITILITE is one such travel management software. You can track your travel itinerary, book tickets, and file expense on the go with this SaaS-based software solution.
3. Portable Charger
Cell phone batteries are notorious for dying when you're in dire need of them. This can be a problem when you're waiting in an airport with a long delay, as finding outlets to charge your phone is hard.
A portable power bank can solve this problem by letting you charge up to two devices simultaneously. These power banks are an essential business travel product as they are compact, easy to carry around, and fit in any purse or pocket. It can also keep your important communications running when you are on the road or at a place where you can't find a charging port.
4. Neck Pillow
Airplane travel can often be a tiresome experience, especially in economy class, where there is not much room to sit. Sitting in a plane for hours can leave anyone with a stiff neck. So, while you want to be well rested and ready to go once you arrive at your destination, you can't help but feel frustrated when you can't sleep properly due to your sore neck. That's why you need a neck pillow.
Neck pillows are an excellent investment for both long and short journeys. They are helpful when you need to focus on your work while traveling, whether you're typing on a laptop or reading. The right travel pillow will support your neck and head in a neutral position, helping with proper posture and preventing post-flight fatigue. The best part is that it is lightweight and can fit into any suitcase.
5. Packing Cubes
As a business traveler, have you ever found yourself taking a set of clothes out of your bag only to discover that they're wrinkled? It can be tough to find the time to iron your clothes while you're on the go. You also want to find the right clothes quickly and easily, without rummaging through your bag.
That's where packing cubes are a total time saver. Packing cubes are essentially small bags that you can use to store different items inside your suitcase. Some packing cubes are waterproof to protect your belongings in case of any spills or accidents. Others are specifically designed to keep your clothes wrinkle-free, making cubes the perfect business travel products for business travelers who might not have time to iron their clothes after unpacking.
Some packing cubes also come with in-built elastic bands that hold your gadgets and other accessories in place. Packing cubes are an excellent purchase for anyone who wants to keep everything organized while traveling.
6. Noise Canceling Headphones
If you've ever struggled to sleep in an airplane or concentrate on work while traveling on busy public transport, you would know how frustrating it can be. Luckily, tools such as noise-canceling headphones can make it easier for you to relax or do your work peacefully.
Noise-canceling headphones help in reducing surrounding noise and are an indispensable business travel product. Reduction in ambient noise can be beneficial in multiple instances. For starters, you are likely to think more clearly and do high-quality tasks with less background noise. Also, it can be easier to relax or sleep when you don't have to listen to other people's conversations.
Sometimes, the whirring of engines or other ambient noise can be too much when you're trying to rest. This is where noise-canceling headphones come in handy, whether you're on an airplane or a train. Apart from good quality sleep, these headphones also provide a better experience of in-flight entertainment, such as listening to music or watching movies.
7. Portable WiFi Hotspot
Nowadays, most hotels are equipped with WiFi services. However, these services are not always secure or reliable. Public WiFi usually lacks security controls and privacy, making it prone to cybercrime. If you connect to one of these networks, attackers could infect your device with malware or spy on your internet activity. This could potentially put your credit card information, emails, and other sensitive data stored on your devices at risk.
Therefore, portable hotspot devices are useful business travel products when you want to access the internet anywhere and avoid any potential cyber threats. These hotspots are also convenient because you can connect more than one device to them and get an uninterrupted internet connection. Additionally, this can save your phone's battery life for emergencies, as you won't be using the mobile hotspot feature on your phone as much.
8. Medications and Supplements
Business travel can usually keep you from getting adequate rest. Time zone changes, unfamiliar surroundings, or hectic schedules could be some of the reasons.
However, certain supplements help curb fatigue while you are traveling. For instance, Vitamins such as B complex can aid in replenishing your body's energy and reducing stress. Another supplement known as melatonin can be used to prevent jet lag. Apart from these, you should also carry basic medications for problems such as body ache, allergies, and motion sickness. Stomach ailments are also common during travel, for which antacids come in handy.
Hence, you must ensure that these necessary supplements are a part of your business packing checklist, among other business travel products.
9. Anti-theft Travel Wallet
Your credit cards, debit cards, and passports all use RFID (Radio frequency identification), which allows them to be scanned from a short distance. Unfortunately, this also makes it easier for criminals to skim your payment information and other personal data.
To protect yourself from skimming and other contactless attacks, don't forget to include an anti-theft wallet when packing. You should look for an anti-theft wallet made of aluminum or carbon fiber, as these materials block scanning from any distance and prevent crimes such as theft and impersonation.
10. Under-seat Luggage
Imagine going on an urgent business trip to meet a very important client. The week-long trip was planned last minute. So, you don't have much time left for the meeting and want to get through the airport as quickly as possible. Moreover, you must carry confidential documents and your laptop, which need constant supervision for better security. In such cases, you should ditch packing in a big suitcase and opt for under-seat luggage instead.
Under-seat luggage is a 16-18 inch hand luggage that you can take to the cabin area and place under your seat easily. It is one of the essential business travel products as it can help you ensure speed and convenience during your business trip.
Carrying under-seat luggage can help you save time by avoiding the check-in baggage queue. Moreover, you don't have to wait in the baggage claim area upon reaching your destination. Additionally, you can always keep an eye on your valuable belongings and be assured that no security personnel shifts your bag's contents in your absence.
11. Portable Laptop Desk
Business travel requires you to be highly mobile. You have to take flights, stay in hotels and spend hours traveling to meeting destinations. Amidst all that, using your laptop for work can pose many challenges. For starters, ensuring your laptop remains stable in a moving vehicle is difficult. Moreover, you have to crane your neck to look at the screen, which can cause back and neck pain, headaches, and muscle and joint problems.
Hence, you should definitely include a portable laptop desk in the list of your business travel products. A portable laptop desk can help you maintain good posture by raising your laptop's screen to your eye level. Additionally, it can provide a stable surface for your laptop so that you can work easily in a moving vehicle.
12. Flash Drive
While traveling for work, you need to carry copious amounts of data on your laptop in terms of presentations, reports, and personal documents. However, taking a huge amount of data across the globe can be highly challenging. For instance, your data can get compromised due to a cyber attack, or your laptop can get lost or stolen. Hence, you need a solution for securing data during business trips.
You can use a USB flash drive for secure data storage on the go. It can help you store up to 2 TBs of data with ease. Moreover, it comes with unique authentication methods, so no one can access the data without the designated unique PIN or biometric verification.
Additionally, you can also download a portable version of a web browser like Chrome or Firefox. Having access to your own browser can help you add an extra layer of security from spyware if you access your data on an unfamiliar device.
Therefore, USB flash drives are essential business travel products for travel data storage and security.
Ensure An Organized Trip with Business Travel Products
Whether you are meeting with clients, traveling for a seminar, or attending a conference, it's essential to be prepared for any situation. These business travel products can help you navigate through your trip seamlessly. From accessing the internet from anywhere to having a comfortable travel experience, this list has you covered.
ITILITE travel management software is one such digital business travel product you can take advantage of while planning your next business trip. It is a SaaS-based platform that helps you organize your travel schedule and itinerary, manage your reservations, and file expenses with ease, from anywhere at any time.
Get the free demo of ITILITE to try the features yourself.