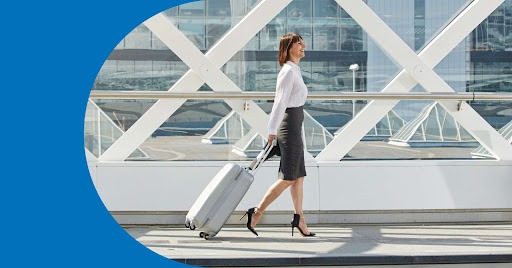 Let's face it, travel can be a bit overwhelming at times if you are a frequent business traveler. However, with a little bit of planning, you can make sure that you have a smooth trip without any disruptions. This blog gives you an overview of some of the best tips to help you stay organized and productive on the road.
Moreover, for your ease, we have divided the tips into 6 main categories, i.e., planning, booking, packing, convenience, health, and safety.
Planning
1. Make a Travel Checklist
A checklist for frequent business travel is a time-saving and convenient solution. This way, you won't have to spend time thinking about what to pack each time you prepare for a trip. Moreover, it can also help reduce last-minute packing stress before heading to the airport.
2. Use Travel and Expense Management Software
A T&E software solution keeps you notified of upcoming trips and any changes to your flights or hotel reservations. This can be especially helpful if you are constantly on the go and need to stay up-to-date with your travel plans.
Further, the software allows you to keep track of all your expenses in one place. You can upload receipts, categorize expenses, and consistently stay on top of your budget. Ultimately, it helps you in handling all areas of business travel management.
3. Buy a Sturdy Carry-on Luggage
Employees who travel frequently avoid checking in their bags so that they do not have to worry about waiting in queues. However, when traveling with just a carry-on, it's important to choose a bag that is durable and easy to move around. Therefore, you can consider investing in a high-quality bag carry-on bag that fits the airline's size requirements.
4. Check if your Documents Haven't Expired
Discovering that one of your important travel documents, such as a passport, visa, or insurance, has expired upon arrival at the airport can cause a major disruption to your business trip.
This kind of situation can be incredibly frustrating and can also lead to lost business opportunities and productivity. To avoid this scenario, you should check the validity of your documents well in advance of the departure date.
Booking
5. Book in Advance
Based on data from Google Flights, the lowest prices for domestic flights are typically available between 21 to 60 days before the scheduled departure date. On average, prices hit their lowest point 44 days before the flight. Therefore, booking your tickets well ahead of time may help you secure lower fares.
6. Consider Flights with Layovers if you are on a Budget
According to Google Flights, flights with a direct route usually costs 20% more than flights with layovers. Therefore, booking non-direct flights can be a good way to save money if you are on a budget.
7. Choose your Accommodation Carefully
When selecting hotels for a business trip, it is important to consider a few key factors to ensure a comfortable and productive stay. It is recommended to opt for a place that offers high-speed Wi-Fi. Additionally, location is crucial, and it's best to choose a place that is close to your business meetings, saving you time and reducing stress.
Alternative accommodation options like Airbnb may also be worth exploring. They can provide an authentic experience of the city, allowing you to immerse yourself in the local culture.
8. Read the Fine Print
It's always wise to carefully read through the terms and conditions, particularly the fine print when booking flights and hotels. By reviewing the fine print, you can ensure that you are aware of check-in deadlines, compensation policies for cancellations and delays, and procedures for requesting refunds.
Packing
9. Use Packing Cubes
Packing cubes are pouches that you can use to organize items in your travel bag. They keep your things neatly arranged within your luggage, enabling you to quickly locate what you need. Moreover, packing cubes also help keep your clothes tidy and wrinkle-free.
10. Consider Airport Security Screening While Packing
Airport screening can be a stressful experience for all travelers alike. To expedite the process, ensure to pack your things in a way that you can access them quickly for screening purposes.
Ideally, having a bag with multiple compartments for documents, laptops, and metal objects is preferred. Further, pack your toiletries and other liquids according to the TSA guidelines in a clear quart-sized pouch.
11. Keep Back-up Cash in Carry-on Bag
Another important frequent business travel tip is to keep backup cash in your carry-on bag. It's crucial to stay prepared for unexpected situations, such as losing your wallet or finding yourself in a place where you cannot access the ATM. This can help you avoid being stranded without funds or having to rely on payment methods such as virtual cards, which may not be accepted everywhere.
12. Pack Items that Help you Rest
As a business traveler, you would want to feel refreshed when you reach your destination. Therefore, you must pack items to make your journey comfortable. Keep an eye mask, ear plugs, and neck pillow to relax better on flights.
13. Pack these Electronic Essentials
For frequent business travel, pack these electronic items with you to ensure productivity.
Portable hotspot
Multi-port charger
Power bank
Travel adapter
Noise-canceling headphones
Convenience
14. Check-in Online
Check-in online to avoid waiting in long queues at the airport. It also gives you the opportunity to select the seat of your preference.
15. Get TSA Precheck
TSA Precheck is a program that can assist you with faster security screening at the airport. With Precheck, you do not have to worry about waiting in long lines, removing your shoes or belts, or taking out your laptop from the bag. Ultimately, it makes the journey more seamless for business travelers who are on tight schedules.
16. Join Loyalty Programs
Loyalty programs are extremely beneficial for people taking up frequent business travel. When you enroll in a loyalty program, you get benefits such as rewards, discounts, points, and vouchers every time you book a ticket. Further, members can also be eligible for upgrades and priority treatment during check-in and boarding.

17. Get Airport Lounge Membership
Airport lounges can be helpful in offering a relaxing environment for business travelers. They provide amenities such as WiFI, charging stations, and complimentary food and drink. If you travel frequently for business, it may be worthwhile to consider a lounge membership program like Priority Pass to make your trips more comfortable.
Health
18. Carry Vitamins, Melatonin, and Other Supplements
Employees who take up frequent business travel are prone to feeling exhausted and may have issues sleeping. Therefore, you can consider carrying vitamins such as B-complex, which can help you feel energized, and melatonin, which can assist you in sleeping. Further, Vitamin C keeps your immune system strong and prevents illnesses.
Note that it is best to consult a healthcare professional before you start taking any supplements.
19. Get Travel Insurance
Business travelers may come across unexpected situations such as flight cancellations, emergency medical support, theft, baggage loss, and other disruptions. Travel insurance provides financial coverage associated with these events so that you can travel with peace of mind.
20. Keep your NEAT High
As a business traveler, you may not be able to follow your gym routine while you are on the road. Non-Exercise Activity Thermogenesis (abbr. NEAT) refers to energy spent in doing activities such as walking, doing stretches, standing for a prolonged period, moving your body, etc. NEAT boosts your metabolism and can contribute to better overall health. So next time you can consider parking farther to walk more to your destination.
21. Avoid These Foods
To prevent getting sick while traveling for business, avoid the following types of food.
Raw or undercooked meat
Unpasteurized dairy products
Buffets
Seafood
Street food
Tap water
Safety
22. Share your Itinerary with Family or Friends
In case of an emergency, having someone who knows your itinerary and travel plans can help you receive the necessary assistance in a timely manner.
23. Use AirTag
AirTag is a small Bluetooth device that can be attached to personal belongings such as bags, wallets, and keys. By doing so, you can locate your lost or stolen items with ease.
24. Commute only by Reputable Transportation
When you are in an unfamiliar location, it's best to choose reputed and reliable ground transportation to prioritize your safety. Further, have Google Maps open at all times to get clear directions to your destination and avoid ending up in unsafe areas.
25. Use RFID Blocking Wallet
An RFID (Radio Frequency Identification) blocking wallet helps you in securing your credit cards and other identity documents from being stolen by criminals who use RFID scanning to capture your details wirelessly.
26. Avoid using Public WiFi
Public WiFi can jeopardize your security as it can be hacked easily by cyber criminals. This can lead to loss of money, identity theft, and other unfortunate incidents. If you need to use Wi-Fi, use a virtual private network (VPN) as well to encrypt your data and protect your privacy.
Implement these Tips to have a Smooth Business Trip
By incorporating these tips into your routine, you can significantly decrease the likelihood of encountering setbacks, increase your productivity, and ensure a successful business trip.
A practical solution for streamlining your business trip is using a T&E software solution. ITILITE is one of the leading T&E management solutions that can assist you in managing all your trips on a single dashboard. With ITILITE, you can modify your itinerary from anywhere, file your expense reports, and get access to 24/7 travel support.
However, you do not have to pay without experiencing these benefits yourself. Book a free demo to learn how you can leverage our solution.