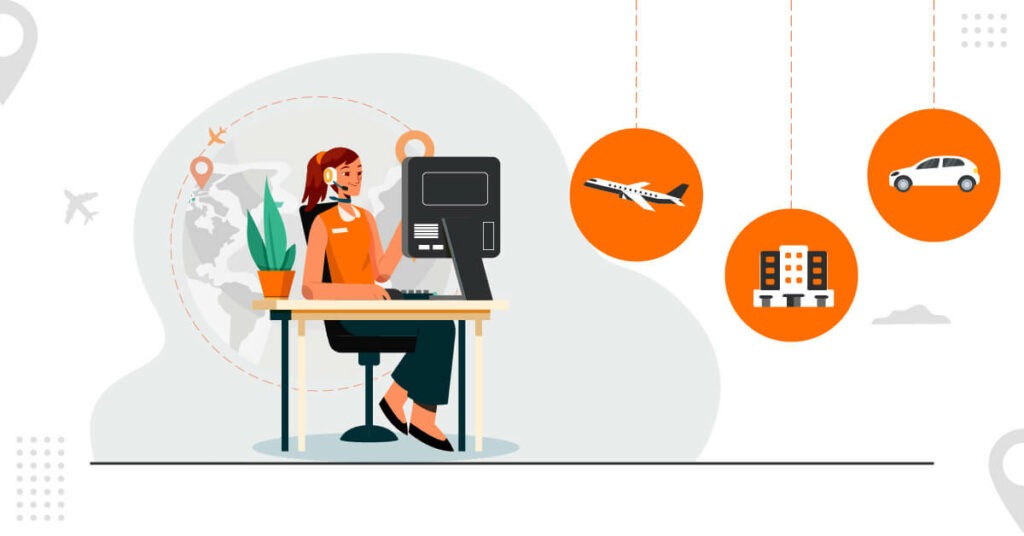 Corporate travel is a comprehensive process of an organization. It includes multiple things such as risk management, policy compliance and management, booking and organizing business trips, keeping track of the company's travel budget, and many more. Therefore, managing the travel process in your organization is very hard.
This is why your travel managers and employees need a helping hand. You must look to invest in a travel partner that will help you ease your corporate travel management process. While investing in a travel partner, here are the corporate travel management services you must definitely ask for:
Booking Hotels and Flights
Booking hotels and flights for your employees is one of the primary aspects of corporate travel management. Your travel managers are responsible for finding and booking safe hotels/flights for business travelers. They must also ensure that the bookings made are policy compliant for every employee.
Therefore, the Travel Management Company (TMC) you invest in should provide an extensive inventory of flights and hotels sourced directly from the Global Distribution System (GDS). The GDS collects, aggregates, and analyzes data from different vendors and provides better options.
Moreover, the TMCs should also offer a self-booking tool that consolidates flight and hotel bookings on a single platform. This allows your travel managers and employees to book affordable, policy-complaint hotels and flights by themselves, making the process less tedious.
Negotiating With Vendors For The Best Deals
One of the major aspects of cost optimization is getting the best deals and discounts from hotel and flight vendors. However, negotiating with a hotel or flight vendor is challenging.
So, make sure you invest in a TMC which can do that for you. TMCs should partner with various flight and hotel vendors to give you a wide inventory of flights and hotels at affordable prices. This helps you reduce trip costs and, at the same time, provide a better travel experience for employees.
Creating a Travel Policy
Your company's travel policy is the backbone of your business travel management process. It includes critical information on how much an employee can spend, levels of approval, the per-diem expense allowance, and many more. Hence, your corporate travel policy must be economical and ensure it doesn't neglect employees' safety and comfort. Also, everyone should be able to understand the policy to be policy compliant.
Therefore, you must look for a travel partner or a TMC that will help you build a robust travel policy. They should be able to formulate a travel policy that optimizes travel costs, ensures employee safety, and meets your business travel goals and objectives. Creating a good travel policy is an essential corporate travel management service you should consider in your travel partner.
Assisting Business Travelers
When employees go on business trips, especially internationally, they require help with various things, such as finding the nearest way to their accommodation or being stuck in a dangerous situation.
They can also be stuck in unavoidable situations such as natural disasters, global pandemics, delayed flights, unsafe accommodations, and many more. Hence, it becomes very important that they get much-needed assistance during such situations.
The TMC you invest in should provide 24/7/365 business travel support. They should allot a dedicated travel support team for your employees during such emergency situations or if they need assistance with any last-minute change of plans.
Additionally, you may also look for corporate travel management services, such as AI-based travel chatbots that provide business travel support to employees outside office hours. These chatbots are structured to handle queries related to business travel, such as transportation, routes, places of visit, or any other emergencies. This way, your employees can get help at lightning speed without having to fear or feeling stuck in any emergency situation.
Planning and Managing Itineraries
Business travel is not just about employees packing their bags and traveling. It requires a lot of preparation. Amidst their hectic work schedules, preparing for business travel can be challenging for your travel managers and employees.
Therefore, it becomes imperative that the TMC you partner with help you overcome these issues. The TMCs should provide corporate travel management services such as itinerary management, business trip updates, alerts on any overspending, and many more. They should also provide extra support to simplify employees' corporate travel experience.
Additionally, an important feature that you must look for in such TMCs is business travel management software. The software helps you with different aspects of corporate travel management, such as providing trip notifications and making changes to the itinerary. It also helps employees prepare consolidated itineraries and scan and upload receipts for quick expense report approval.
Travel Data Analytics and Reports
Business travel analytics are essential to monitoring employees' expenses and spending habits and making important decisions like budgeting and forecasting. Travel and expense data includes insights about your employees' spending habits, budget savings, out-of-policy bookings, etc. Therefore, it is crucial that you track essential travel KPIs so that you can improve your financial decisions.
Modern TMCs make use of advanced automated T & E management software which provides advanced business travel analytics. The dashboard of this software gives you a combined view of travel-related expenses. This helps you view, analyze and manage your expenditures efficiently. Hence, you should definitely look to invest in such TMCs that provide you with such corporate travel management services.
The software also helps you generate reports to gain insights into your company's expenditures. You can create reports for different things, such as department-wise, expense type, specific time, and many more, which will help you recognize cost leakages, thus saving costs.
Virtual Travel Consultant
One of the major challenges travel managers face is cutting down travel costs which are necessary to maintain your company's bottom line. There may be times when employees may go overboard with their spending, such as booking tickets for their business trip close to their date of departure. During such times, flight fares are higher, so they end up paying more.
Moreover, even if they book in advance, employees may not book the most affordable option as they don't align with their preferences. Additional expenses such as meals add up to the expenses significantly.
An important corporate travel management service you must look for in a TMC is a virtual travel consultant. The TMC should provide you with a virtual travel consultant such as ITILITE Mastermind, which provides in-depth insight into travel costs and lets you know where you could have saved. It does so by comparing the industry standards and analyzing your employees' travel history.
Moreover, you also get a 360-degree view of your travel and expense processes to optimize your corporate travel management process and achieve your business travel goals. With the help of a virtual travel consultant, you don't need to pay any extra fees for any last-minute bookings or cancellations.
Managing Unused Tickets
One of the critical challenges your travel managers face is managing unused tickets. Unused tickets are an important part of business travel, and if they are not utilized effectively can result in huge losses for your company. Additionally, if an employee who no longer works in your company has an unused ticket under his name, it is difficult to transfer the credit to another person.
Therefore, the travel company you invest in should help you manage unused flight tickets effectively. A TMC, like ITILITE, helps you manage and optimize unused tickets, further reducing costs.
Optimize Your Business Travel With Corporate Travel Management Services
Corporate travel, although sounds very fancy, it isn't. Therefore, organizing and managing one becomes very challenging and time-consuming for most travel managers and employees. You can overcome this issue by investing in a travel company that provides corporate travel management services.
If you are looking for a platform that will provide these services, look no further than ITILITE. ITILITE is a SaaS-based travel and expense management platform that provides you with an extensive travel itinerary, virtual travel consultant, 24/7/365 business travel support, and more.
Book a consultation with our experts to know the various other advanced features we offer.
Try ITILITE for free now.