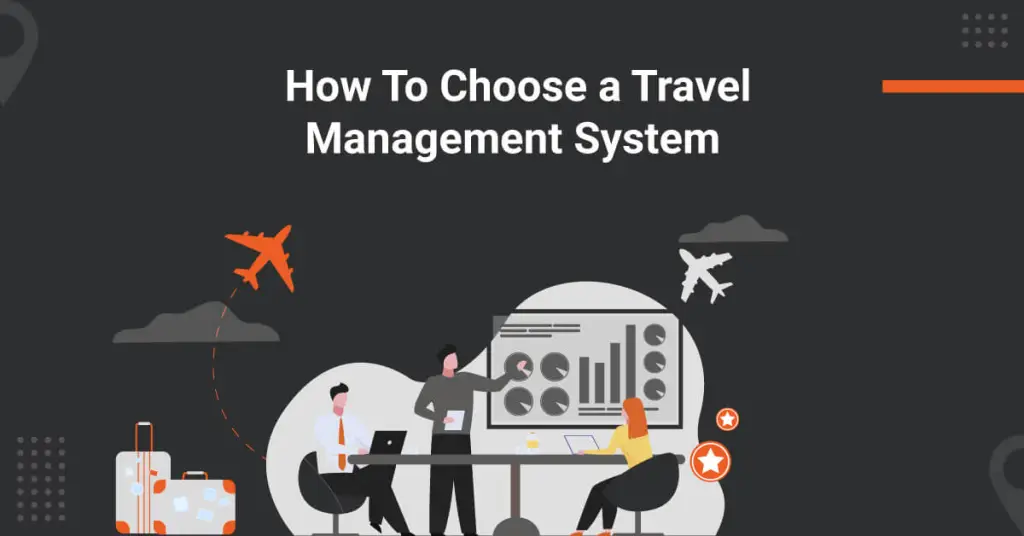 As a company grows, the need for work-related travel also rises. To accommodate the increase, travel managers seek ways to optimize the efficiency of the travel management process. One way to do that is by investing in travel management tool.
A TMS is a software solution that can help travel managers easily track bookings, facilitate cancellations, manage expenses, improve policy compliance, and make travel adjustments.
Choosing the right travel management system is essential for managing corporate travel expenses and ensuring compliance with company policies.
Here are some of the parameters you need to keep in mind while choosing the right corporate travel management system.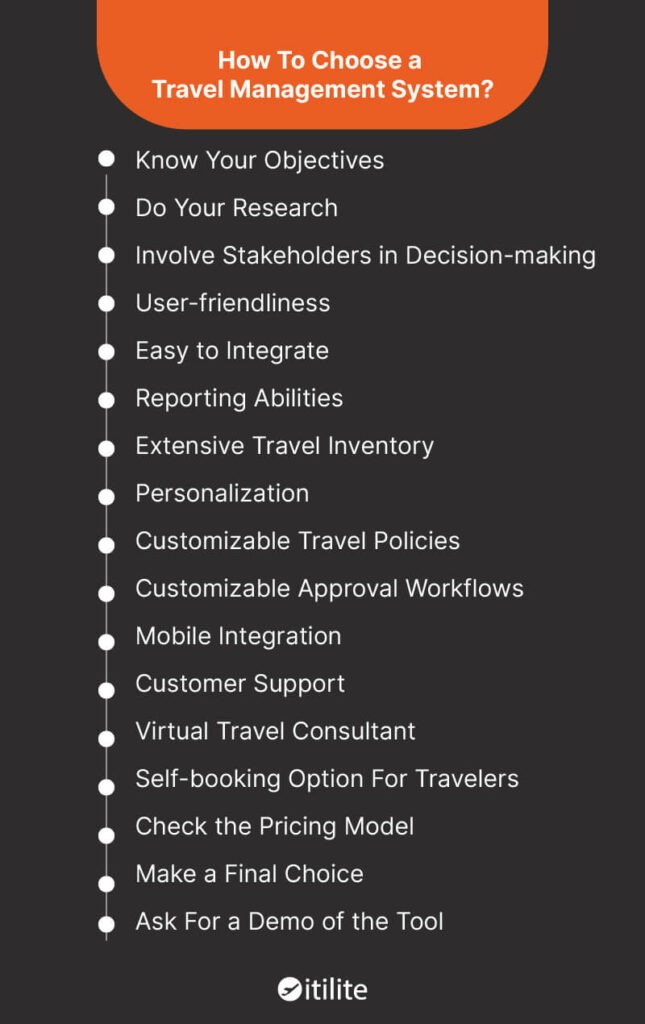 1. Know your Objectives
The first step in choosing the right employee travel management system for your business is knowing your travel needs and which aspects of it you want to manage. You should understand your business goals first and then decide whether you need a simple booking system or a robust system to track business travel expenses and generate reports.
You can also check with your employees if there are any drawbacks in the current travel management process, such as delays in trip approvals or expense reimbursement. This will help you look for potential solutions the TMS can provide.
Below are a few questions you must consider before investing in a TMS:
Are there any business travel issues that you are currently facing?
Will the TMS solve these problems?
Will it improve the efficiency of your travel process?
Will the TMS help in reducing costs?
2. Do your Research
Once you have identified your objectives, it is time to do your research. With multiple software tools available in the market, you may be confused about how to choose the right corporate travel management software. You can do your research by following the below methods:
Online Websites: The websites of most software tools are available online. You can browse these websites and compare each for their features and benefits. You can also read reviews on third-party websites about the software. This way, you'll know which travel management software is better.
Competitors: Another quick way to research is to look at what other companies in your industry are using to manage their travel and expense processes. You will be able to get a lot of information about the software that is suited to manage your corporate travel process.
Guides: If you can get your hands on a user manual or a guide for a particular software, go through them thoroughly. You'll get many tips and information that will help you narrow your search.
When any software stands out, make a record of it. Note down the features it has and what looks interesting to you. This way, you'll easily be able to keep track of the system that you like.
3. Involve Stakeholders in Decision-making
A travel management system is an essential purchase that touches many aspects of business travel management. Hence, while investing in a new TMS, it is crucial to involve all the stakeholders in the decision-making process. The stakeholders include regular users or employees, travel managers, IT managers, CFOs, admin managers, CHRO, compliance managers, etc.
Their inputs, knowledge, and perspectives will help you understand which software can better manage your company's travel. For instance, employees who book their trips regularly will help you know what functionality was missing earlier. They can also tell you what changes they expect from the new system regarding user experience.
Once you have analyzed your current process and done your research, you can prepare a list of some must-have features in the corporate travel management system.
4. User-friendliness
The corporate travel management system you choose should be user-friendly so that all the employees can operate the software easily. The faster the users can accomplish their tasks, the more user-friendly the software is. For user-friendliness, you must look for:
Intuitive UI/UX: The software should have an intuitive UI/UX where employees can easily book flights, hotels, etc., as per the company's policies without having to navigate through various tabs.
Friendly Admin Dashboard: The corporate travel management system must have a friendly dashboard where travel managers can find all the travel information in one place. It will help you save time and keep track of all travel bookings.
Easy to communicate: It is difficult for business travelers to convey their issues while traveling. Hence, you must look for software where employees can connect with the support team throughout the day, via multiple channels like call, chat and email.
5. Easy to Integrate
The travel management system should easily be able to integrate with your company's current systems, such as ERP, HRMS, Accounting software, etc. The integration helps sync data and facilitate smooth workflow across different departments.
For example, if you want to reimburse employees' travel expenses quickly, the software must be able to integrate with your company's accounting tool. Moreover, the software must integrate with HRMS if you want to fetch employee details.
The software should also offer custom integrations, such as an open API (Application Programming Interface), so you can integrate it with other systems.
6. Reporting Abilities
Another critical aspect of choosing a TMS is that it should have real-time reporting and analytics to track employees' travel patterns and spending behavior. With advanced travel data analytics, you must be able to do the following:
Keep track of expense policy violations
Give department/employee-wise spending insights
Classify expenses and reports
Understand employee spending behavior
Provide corporate card statement
Understanding these travel data can help you make critical decisions concerning business travel. Moreover, if you are on a journey to make business travel more sustainable, you should adopt software that tracks the company's carbon footprint.
7. Extensive Travel Inventory
You must choose a company travel software that offers an extensive travel inventory of flights and hotels directly sourced from the Global Distribution System. This allows business travelers to choose from a wide range of cost-efficient options according to their choice without going against the company's policies.
Moreover, the best travel management software providers partner with the top flight and hotel companies in the market to offer corporate rates.
8. Personalization
Business travelers usually prefer flying on a specific flight or staying in a particular hotel. This may be because of various factors such as convenient flight timings, excellent customer service, meal preferences, and hospitable staff. Therefore, you must consider a travel management solution that enhances personalization for your employees.
A Best travel management system with AI can recommend customized booking options to employees. This way, business travelers can compare and choose the packages that best suit their needs.
9. Customizable Travel Policies
One of the significant features of a travel management tool is the ability to modify and customize travel policies easily. Opt for a travel management solution where you must be able to customize policies according to various categories such as employees level, departments, destinations (domestic or international), cabin class, reviews, etc.
Such in-depth and customized travel policies will let your employees understand how much they are allowed to spend. They don't have to go through the travel policies repeatedly to understand and interpret them. Also, they can view these policies in real time and avoid any policy violations.
10. Customizable Approval Workflows
Sometimes, trip approval can be delayed due to unclear approval workflows. This usually happens due to multiple back-and-forth exchanges of emails between employees, managers, travel managers, trip approvers, etc.
Therefore, you should invest in a best travel management software with customizable approval workflows. You can also customize the workflow according to different levels of employees, trip types, and departments. This way, managers and approvers are immediately alerted if any employee makes out of policy expense or booking.
11. Mobile Integration
Another feature to look out for is mobile integration. The software application should be easily accessible on mobile devices-both Android and iOS platforms. Users must easily be able to book flights, hotels, trains, buses, or rental cars on the travel booking platform. With this, they can make travel bookings on the go.
Moreover, when employees file their expenses manually, they cannot do it in real-time, leading to the receipts being misplaced or lost. Hence, you should choose a unified travel management solution with mobile expense reporting. It allows travelers to click pictures of their expense receipts and upload them on the software. This way, employees can file their expenses in real-time without any hassle.
12. Customer Support
Employees on their business trips will require 24/7/365 business travel support. They may need help with hotel services, transportation facilities, visas, or travel issuance. Moreover, they may encounter unavoidable circumstances such as flight delays, political unrest, and bad weather conditions, which can add to unpleasant business travel experiences.
Therefore, look for the best travel management system provider that can provide support via multiple channels like e-mails, chats, and calls and lets you track travelers in real-time. Business travelers can contact the support team immediately through the software in any emergency.
13. Virtual Travel Consultant
One of the essential KPIs of a business travel program is cost saving which is necessary to maintain the company's bottom line. Therefore, whenever you invest in a software solution, ensure it comes with a virtual travel consultant.
A virtual travel consultant uses machine learning and predictive analytics to analyze your employees spending behavior, policy violations, and last-minute bookings, among others. You can make important travel decisions and save costs through actionable data-driven insights.

14. Self-booking Option for Travelers
The evolution of travel technology has now simplified the travel booking process. Now, business travelers get self-booking options for flights and hotels per their preferences.
Hence, while choosing the best travel management system, check for the option where business travelers can book flights and hotels by themselves. A corporate booking tool allows them to book their trips within policy limits or take approvals for extra spending.
15. Check the Pricing Model
The cost you pay to manage travel directly impacts your company's financial bottom line. Therefore, it is important to select a TMS with a pricing structure that will help you maximize savings.
There are multiple pricing structures prevalent in the current market. For instance, some travel management solution providers offer a subscription model that requires a monthly/annual payment. The primary setback of his model is that you have to pay for the system even if you are not using it.
However, some modern TMS providers like ITILITE charge a single, clean fee per trip. This model is called a pay-as-you-go model or per-trip fee model. It is the most cost-efficient pricing model because you only pay when your employees travel. Moreover, there are no hidden charges driving up the business trip cost, and you get greater budget predictability.
To estimate how much you can save on corporate travel expenses using ITILITE's travel management system, try using our savings calculator. Click here to access the calculator
16. Make a Final Choice
Lastly, it's time to make your final choice. Out of all the options you have looked at, shortlist the top 4-5 software solutions that fit your business needs.
You should collect information about the software, find out if it can be upgraded regularly, identify its pros and cons, and try to negotiate the final price before purchasing the software. Ensure that there are no gaps in the understanding, demonstration, and implementation phase and can yield good benefits and results.
Once you have shortlisted a list of software tools, it is time to ask their vendor for a software demo. Demos are a great way to learn about the software and get answers to your business needs. By getting first-hand experience with the software, you can easily decide whether to go ahead in purchasing the software or not.
During the demonstration process, you must:
Involve the stakeholders
Check out all the features
See if the software is worth your budget
Check for its ease of use
Get the Right Travel Management System
A good travel management tool can reduce travel costs, improve policy compliance, and enhance the traveler experience. Hence, you must invest in the best travel management system that can significantly improve how you manage and organize business travel in your company.
ITILITE travel management software helps you streamline your travel and expense management process. This SaaS-based software offers a seamless booking experience where travelers can book within 90 seconds. Moreover,
Get a free demo of ITILITE to try the features yourself.