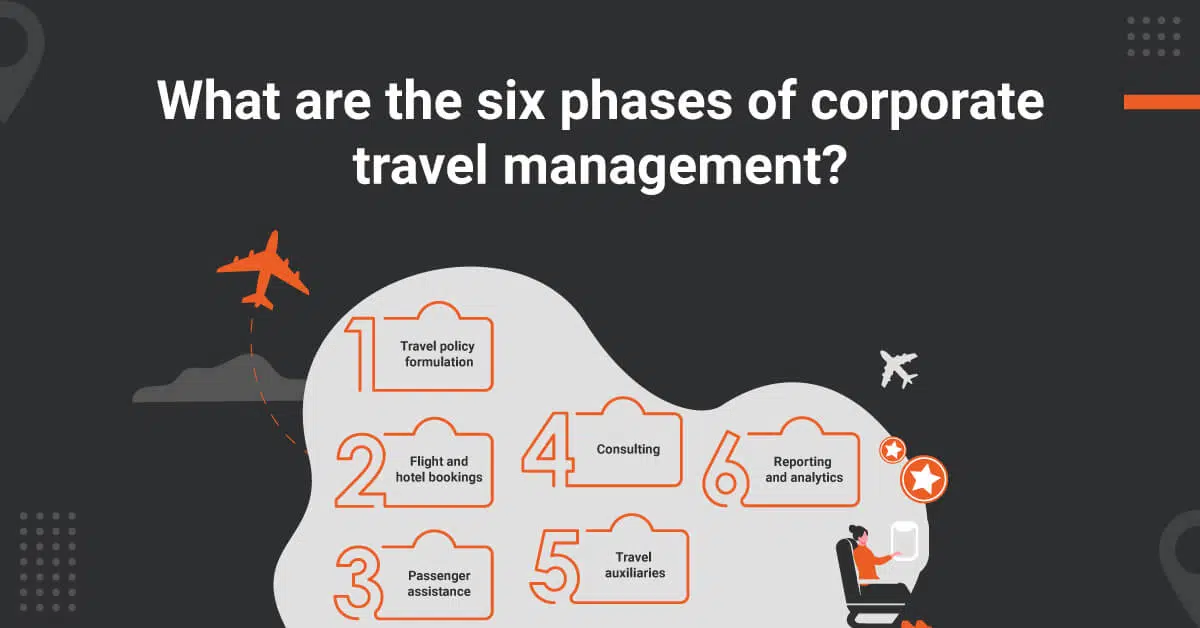 Initially, the corporate travel management process was confined to flight booking and accommodation. But now, with the advent of personalization in corporate travel, employees want more comfort and support during their business trips. Hence, corporate business travel management has enhanced from a two-step to a six-phase approach. 
The growth of the business travel industry post-pandemic has been steady, but the future projections are promising. 54% of US companies expect business travel to resume and are beginning to seek better ways to manage corporate travel for their employees.
The modern-day corporate travel management system ranges from travel policy formulation and booking flight/accommodation to reporting expense insights on your employees' business trips after it is over. 
Let us Look at the Six Phases of Corporate Travel Management System:
1. Travel Policy Formulation
Your corporate travel policy is the pillar upon which your entire business travel management system stands. It determines how different levels of employees will travel, where they will stay, their per-diem expense allowance, etc. Therefore, your travel policy should be cost-efficient in a way that doesn't compromise the comfort and safety of your employees. It should also be easily understandable by the employees to avoid violations. 
A travel management company can help you create a travel policy that optimizes travel costs, fulfills business travel objectives, and ensures employee safety and comfort. 
2. Flight and Hotel Bookings
Booking flights and hotels for employees is the primary function of travel management.
The travel managers need to find safe and comfortable flights/hotels for the employees in diverse destinations. Additionally, all the bookings need to be policy compliant for each employee. Companies usually opt for the services of a travel management company (that uses a Global Distribution System) to book their flights or surf through multiple Online Travel Agency (OTAs) websites. 
However, the new-age travel management companies also offer a self-booking tool that consolidates flight and hotel bookings to one platform and makes the booking process less tedious. Employees can book affordable, policy-compliant flights and hotels themselves just by logging in to the software.
3. Passenger Assistance
Employees on an international business trip might require assistance in various aspects like finding the shortest route to their meeting destination, using public transport and travel regulations, or finding themselves stuck in an emergency. Therefore, providing 24/7 business travel support is one of the most critical aspects of corporate business travel management for a company. 
To provide your employees with 24/7 assistance, you can hire a travel management company. With a good travel management company, your employees will get a dedicated customer support personnel in case they need to make any sudden changes or need some urgent advice.
Additionally, new-age travel management companies also have AI-based customer service chatbots to provide support outside of the core business hours. These bots are equipped to deal with questions about routes, destinations, transportation, etc., and routine emergencies so that your employees don't feel abandoned during their business trips.
4. Consulting
Offering consulting services involves a variety of helpful information that travelers might require during their business trips. The information includes customs of the destination country, international travel etiquette, employee safety assessment, etc. Consulting services have gained more popularity with the evolution and expansion of the business travel management system. 
A prime example of consulting service is a duty of care plan. Duty of care is a legal and moral obligation of an organization to ensure the safety of employees within the company or during a business trip. Comprehensive duty of care plan can help you mitigate risks and ensure employees' safety.
Another example of consulting service is a travel risk assessment checklist. It is prepared to evaluate all the aspects of employee safety with the help of definitive questions about the destination, employee health, emergency training, and data security.
Consulting services can help you enhance employee satisfaction during business trips.
5. Travel Auxiliaries
In the hustle and bustle of workdays and endless meetings, business travel preparations are bound to be a pain point for your employees. For instance, an upcoming business trip that requires preparations might slip off their minds. Additionally, they may find it challenging to create a detailed itinerary.
Travel auxiliaries include services like itinerary management, upcoming trip updates, overspending alerts, etc. These services are designed to provide additional support to simplify your employees' business travel experience.
A Business travel management software can help you manage multiple other aspects of business travel management. For instance, it can provide trip notifications to remind employees about upcoming trips to enable last-minute preparations. 
Additionally, it can help your employees create consolidated itineraries based on bookings with itinerary management. Your employees also get digital receipt management to capture receipts and parse them into expense reports for quick approval.
6. Reporting and Analytics
Travel expense data contains insights about your employees' spending habits, major cost centers, savings, travel policy compliance, etc. You need to regularly report and analyze this data to keep track of your travel expenses and make well-informed travel policy changes (if required).
Travel management software's technology supports two types of intuitive and insightful travel expense reporting on your employees' travel expenditure and behavior. The first one is real-time reporting using dashboards to provide instant expenditure status. The second one is monthly/quarterly/yearly reporting to depict the progress of the corporate travel policy over time. 
Manage All Phases of Corporate Travel Management with Ease 
Corporate travel management is a complicated process. However, with the help of a supportive travel management company like ITILITE, you can manage all the phases easily. Whether you are looking for assistance in creating a cost-efficient and employee-centric travel policy or a comprehensive duty of care plan, we have your back. 
Moreover, our unified travel and expense management software will provide your employees with customized booking options, digital receipt management, 24/7 customer support, etc.
To know more about our services, click the button below.