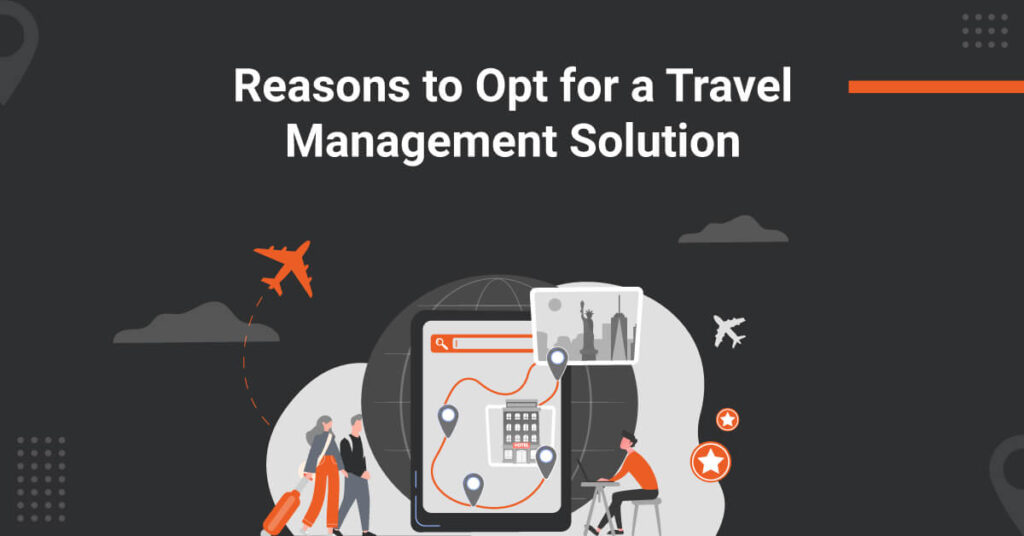 A corporate travel management solution is an application that helps you book, track, analyze, and manage your company's travel process. It can help simplify travel management and save time and money.
Investing in the best travel management platform can help you reap many benefits. Here are some of them.
To learn more, read on.
Reasons to opt for a Travel Management Solution
1. Simplified Travel Bookings
If you book trips from any online travel agency website, you have to scroll for hours looking for the right choice. Moreover, you may not find flights and hotels on the same website. So, you have to wander from one website to another to meet all of your travel needs.
One of the fundamental advantages of having a best travel management solution for your company is travel booking process simplification. A corporate travel booking tool consolidates airlines and hotels in a single-trip option. Therefore, business travelers no longer have to wander from one travel website to another to find the perfect choice. They can get all their requirements fulfilled on a single platform.
2. Business Travel Personalization
A crucial challenge every employee faces during booking is finding policy-compliant options that match their preferences. Moreover, once they have booked, they may need to make some last-minute arrangements that could slip their mind until it's too late. Therefore, they need a way to customize various steps in the travel process according to their needs. Travel personalization can help solve all of these problems.
One of the ways you can incorporate personalization into your travel management process is through business travel management software. Most modern travel management tools use advanced techniques like predictive analytics to asses your employees' preferences according to their booking patterns. They then recommend customized, policy-compliant options according to those preference patterns.
3. Substantial Travel Inventory
Your employees can choose the best flights and hotels only if they can access all suitable options. However, when they book from third-party websites or consumer travel apps, they get limited options as those websites don't have a substantial travel inventory.
Alternatively, most contemporary corporate travel management solutions source their travel inventory from a Global Distribution System. Therefore, they have data from multiple suppliers all their users can access easily. Moreover, you don't have to contact numerous flight and hotel vendors separately, saving time and effort.
4. Travel Costs Saving
Saving travel costs is one of the most important goals of a corporate travel program. In order to reduce your company's business travel expenses, you must encourage your employees to book economical flights and hotels.
However, if you manage business travel with the help of a traditional travel agency, they can't always get the most cost-efficient flight and hotel booking options. Therefore, you can't save a significant amount on travel costs.
Investing in corporate travel management solution can help you save big bucks on travel bookings. The best solution providers like ITILITE have partnerships with major flight and hotel vendors. Therefore, they can offer you the best-negotiated deals, helping you cut down a remarkable portion of your travel costs.
To estimate the potential savings you can ensure with the help of a corporate travel booking platform, try using our savings calculator. Click here to access the calculator.
5. Advanced Analytics
Optimally managing business travel requires travel managers to track and study significant KPIs like per-trip expenditure, and department-wise spending. Such travel KPIs help them measure the effectiveness of their business travel program and take corrective actions wherever required. To calculate these KPIs, travel managers must collect and analyze travel data. They can do this using a travel management solution.
Travel management software collates all the travel data from past business trips onto one dashboard. So, travel managers can view all the data without going through multiple documents. Moreover, the customizable dashboard lets them fetch any particular data points they need. Therefore, travel managers can make data-driven decisions and accomplish travel goals.
6. Streamlined Approval Workflow
Business travel requires a series of approvals from managers and executives. However, most companies do not have a clearly defined workflow of who approves which trips. Hence, employees are left wondering who to approach with their travel requests. Additionally, the confusion increases when they travel internationally because such trips are cost-heavy and require multi-level approvals.
Investing in best travel management platform means you no longer have to worry about unclear approval workflows. A corporate travel management software allows you to define multi-lateral workflows according to trip type, duration, employee level, and departments. Moreover, it automates the movement of trip requests among approvers. Therefore, the employees don't need to worry about delays or the request ending up with the wrong authority.
7. Round-the-clock Support
Business travelers face many situations that require substantial support during their business trips. For example, they might need help with the most convenient routes to the workplace or the nearest healthcare center while traveling internationally. Hence, you must ensure that they have 24/7 business travel support. You can do that with the help of corporate travel management tool.
A tech-forward travel solution like has built-in customer service chatbots. These AI-based chatbots can provide location-based recommendations and handle minor emergencies. Moreover, the employees can access these chatbots beyond office hours, so they get the support they need whenever required.
Other than chatbots, some solution providers like ITILITE also go the extra mile to provide 24/7/365 human-centric support across calls, chats, and emails. With prompt and comprehensive manual support, travelers can kick out their anxiety and have a stress-free and productive work trip.
Here is an overview of ITILITE's avant-garde support.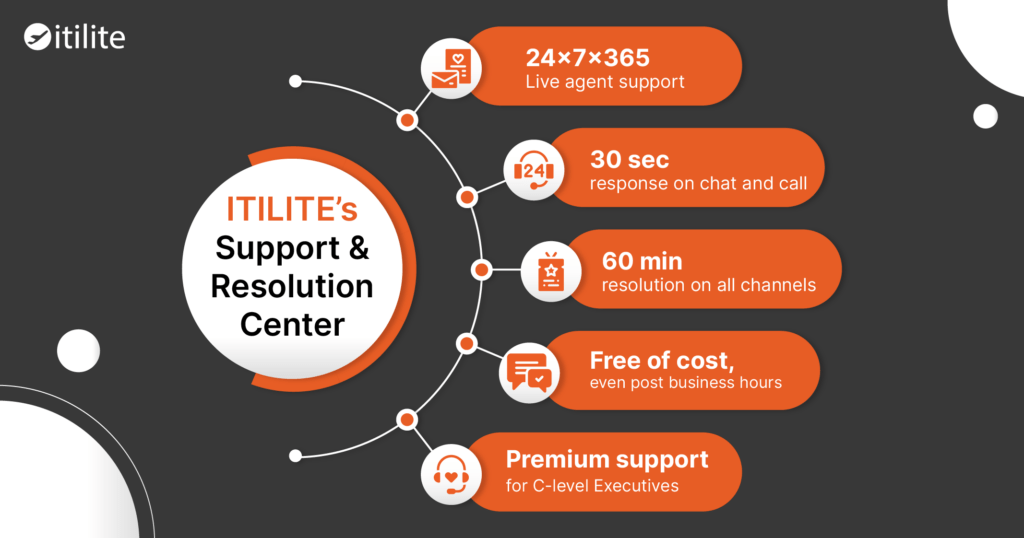 To learn more about how ITILITE's support has eased the lives of business travelers and travel managers, and how it can be beneficial for you, talk to our travel management solution experts now.
8. On-Demand Scalability
As your company grows, the number of business travelers will also increase. More business travelers will also increase the number of travel requests and expense reimbursement. In this case, if you manage your travel process on a spreadsheet, you will have difficulty accommodating all the additional data and managing all the incoming travel requests. 
However, investing in a cloud-based travel management software can help you efficiently manage the increasing traveler data. Cloud-based travel management solutions are scalable on demand. Therefore, you can easily incorporate unlimited users' data and handle all the additional bookings and expense claims.
9. Easy Access
Sometimes, a business trip might not go as planned, and travelers might need to make last-minute changes to the itinerary. For example, they may need to travel to a new destination or change their accommodation. In such cases, they require a travel management platfor that allows them to make hassle-free bookings whenever they want, even if they don't have access to their office laptop. 
A SaaS-based travel management solution can help your employees efficiently deal with last-minute itinerary changes. Such software solutions provide multi-device access that enables your employees to book and file expenses from anywhere, using any device. They just need a web browser, a stable internet connection, and login credentials.  
10. Virtual Travel Consultancy
Getting deeper travel data insights can help travel managers identify cost leakages, optimize travel policies, and improve travelers' experience. However, deriving good insights to accomplish all these goals requires expert intervention. Up until now, companies have been availing of the services of manual travel consultants. But human-provided consult comes with a set of problems, like:
Low-quality insights because of lack of expertise
Enormous fees
Higher time
Excessive back-and-forth between in-house teams and consultants
However, if you opt for a tech-forward travel management solution like ITILITE, you can get a virtual travel consultant to meet all your analytics needs. The AI-based virtual travel consultant can help you optimize your travel management process by analyzing historical data, benchmarking according to industry standards, and recommending travel process optimization avenues. Such recommendations can help you save travel costs and increase policy compliance. 
11. Gamification 
Maximizing travel cost savings is essential to maintaining the company's bottom-line results. For this, travel managers must ensure that employees choose the most economical travel booking options. An effective concept of encouraging employees to make cost-efficient bookings is through rewards and incentives.
The best travel management software solutions offer an in-built incentivization platform. The platform helps you reward the employees who maximize travel cost savings by giving them a part of the amount saved on flight and hotel bookings. Therefore, employees feel enthusiastic about choosing the most cost-efficient options.    
12. Travel Expense Fraud Detection
Travel expense fraud is among the toughest to spot despite comprising 11% of the overall occupational fraud. Such scams cause your company an estimated $40,000 loss in a year. Therefore, you need a solution to detect and prevent travel expense fraud early.
You can invest in integrated expense and travel management software with a built-in fraud detection system. The software automatically verifies all the expense claims and flags duplicates, non-compliant expenses, and wrong expense categories, helping you conduct faster travel expense audits and prevent expense fraud.
13. Travel Policy Compliance
Travel policy violation is a crucial hurdle travel managers have to encounter while achieving the organization's travel goals. The primary reason behind such violations is that the travel policy guidelines are highly generalized, and employees find it challenging to understand and implement them. Hence, you need the best travel management solution that helps you configure detailed policy guidelines. 
You should be able to use the software to customize the guidelines according to employee level, department, trip type, and duration. Such configurations will help employees understand the terms better and increase corporate travel policy compliance. 
14. Error-free Data Sharing
Contrary to the popular notion, travel data is not just for travel managers. The finance department needs travel data to predict next term's travel costs and create a budget. Other than that, the human resource department needs travel data to reimburse employees on time. Therefore, your travel data management solution must facilitate smooth data-sharing across multiple applications like HRMS and ERP.     
A state-of-the-art company travel software can facilitate smooth data sharing by integrating with other management systems. Therefore, you no longer need to agonize about updating travel data separately into various applications and the errors that might occur due to manual intervention. 
15. Travelers' Safety
As business travel has resumed after the Covid-19 pandemic, business travelers' safety has taken center stage in the travel process. The new generation of business travelers wants to take all the necessary precautions before going on a work trip and expects the company to be hypervigilant about their safety during the trip. 
Some contemporary travel management software solutions offer safety features like live traveler tracking and blacklisting hotels. Therefore, you can ensure your employees are always staying in a safe place. Moreover, if they get stuck in an emergency while traveling, you can immediately intervene and get them out of there. 
16. Data Privacy and Security
While managing the corporate travel process, you must collect, store, and process sensitive information like card numbers, employee IDs, and itinerary details. Any leakages in this data can threaten the overall security of the employees and the company. Therefore, you need to protect the data with a highly secure solution. 
A travel management software solution can help you safeguard critical information with cloud security. A cloud-based security solution has complex encryptions, and the web servers are placed in a limited-access data center. Therefore, you can ensure that your employee data is protected from cyber criminals or other threats.
17. Sustainable Travel
Employee travel is responsible for 2% of global greenhouse emissions. Such high levels of GHG emissions are not only harmful to the environment but also tarnish the companies' image. Hence, incorporating sustainability in business travel is crucial. 
The first step you can take to curb unnecessary travel-related GHG emissions is to track your carbon footprint. An advanced travel management software solution can help you track your carbon footprint and make eco-friendly decisions. Moreover, some travel management solutions also help you invest in appropriate carbon offsetting projects to neutralize the negative environmental impact.   
How to Find the Right Corporate Travel Management Solution
Now that you know the multiple advantages of investing in a travel management solution, it's time to find the software that is the right fit for your organization. The ideal solution should offer you all the abovementioned benefits with the help of state-of-the-art technology.
ITILITE's corporate travel management tool can do that. With ITILITE, your employees can book flights and hotels in 90 seconds. Moreover, they get customized options from a substantial travel inventory and round-the-clock support during an emergency. ITILITE also offers enhanced policy compliance, advanced travel analytics, and more. 
Try out ITILITE for free to get a free demo now.