With the evolution of business travel, employees now demand personalization, a seamless booking experience, and real-time information. Moreover, business traveler managers want insights into travel data to reach the company's travel goals. Hence, we are witnessing a shift from manually managed corporate travel management to travel technology.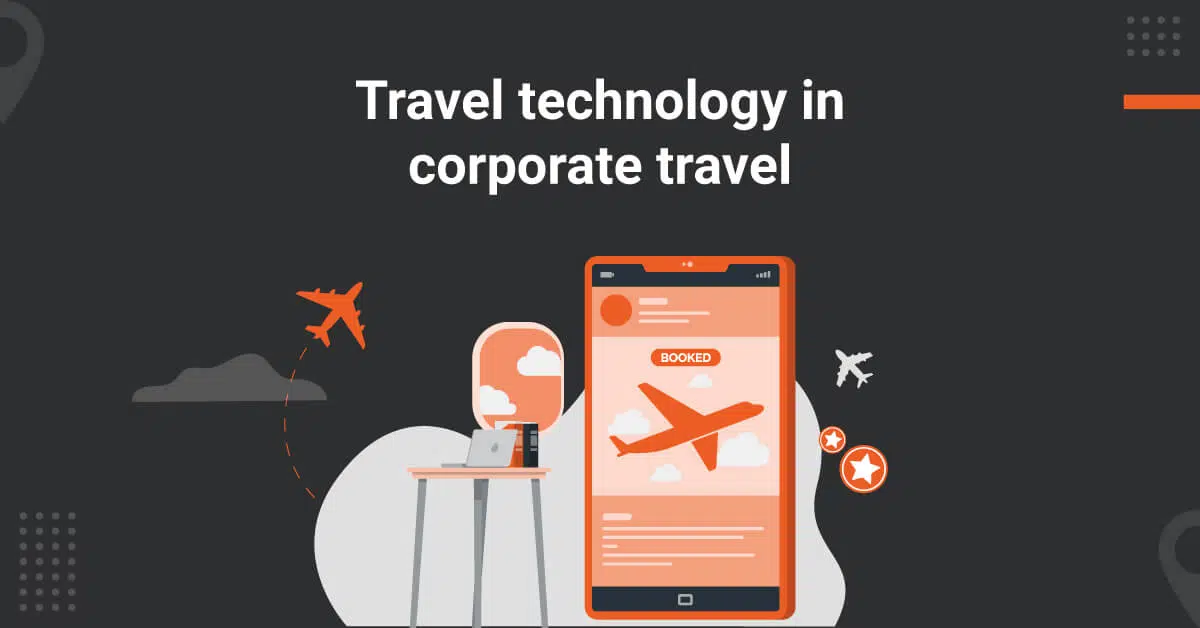 Travel technology has evolved, and multiple high-tech tools are available to meet all the requirements of business travelers and travel managers.
For instance, a new-age travel management software offers digital receipt scanning powered by OCR technology so that your employees can file expenses remotely. They also provide a consolidated dashboard with travel data insights to make travel policy formulation more efficient.
All these features have made it easier for your company's business travelers to travel for work and for your travel managers to manage it seamlessly.
Here are other ways technology is used in business travel to make it a seamless experience:
7 ways travel technology can be used in corporate travel
1. Artificial intelligence
Planning a business trip begins with Googling flights and hotels and going through a giant heap of booking options to select the best one. However, this process is time-consuming and often expensive because it is difficult for your employees to find an equilibrium between comfort and travel policy compliance.
Additionally, in the dynamic and fast-paced world of corporate travel, employees need 24/7 customer support for emergencies and last-minute changes in the itinerary.
This is where travel technology comes into play. Artificial intelligence is one of the latest trends in travel technology and is instrumental in ensuring personalization in business travel.
Nowadays, the best travel management software uses predictive analysis to hand-pick personalized booking options based on your employees' past preferences and your organization's travel policy.
Try Travel Management Software Now
Other than that, they offer customer service chatbots. A chatbot is an AI-based programmatic application designed to resemble human conversation and solve routine problems. Hence, artificial intelligence has helped improve the booking experience and customer support.
2. Electronic Payments
Business travel involves multiple simultaneous transactions. For instance, business travelers often book flights and hotels online. Additionally, during an international trip, they may require car rentals, parking facilities, etc.
Paying for such transactions with cash or cheque is neither feasible nor practical. Carrying money in a physical form is a hassle and may be unsafe at various international destinations. Other than that, currency exchange is a tedious and relatively slow process.
However, the integration of fintech and travel technology has made various new modes of payment available for a better customer experience. Travel providers allow business travelers to pay online with their credit and debit cards.
Some travel management software also offers an in-app wallet facility where you put some amount in your e-wallet and pay seamlessly every time you book.
3. Virtual and Augmented Reality
One of the major problems with booking hotels online is that travelers have to rely on pictures and a bunch of reviews from strangers to decide whether the hotel is good.
Hence, there is a vast scope of deceptive and misleading information. Alternatively, sometimes what the hotel is trying to communicate to the customer may get lost in translation, leading to a gap in customer expectation and reality.
Therefore, hotels nowadays use Augmented Reality and Virtual Reality to bridge this unwanted gap between expectations and reality.
According to a Statista report, the AR market is estimated to grow to 198 billion in 2025. Virtual Reality (VR) is an entirely immersive experience that replaces a real environment with a simulated one. Augmented Reality enhances the surroundings by adding digital elements to a live view.
Hence, AR and VR are taking over business travel. These technologies enhance the customer experience regarding their preference on a business trip.
Most hotels have started digitally filming their rooms, lobbies, etc., and integrating the information about prices and accommodation. This way, the customers can get a virtual tour of the hotel before deciding to stay there. Additionally, airlines have also started to show passengers cabins in advance.
4. Data and Analytics
Corporate travel management has always been plagued by missed saving opportunities, departmental overspending, out-of-policy bookings, etc. According to a study, only 50% of business travelers follow their organization's travel and expense policy.
You can solve all the problems mentioned above if you have some insights into travel spending. Fortunately, travel technology can come to your aid here as well. Modern travel management software provides advanced travel data analytics on a consolidated and highly customizable dashboard.
With the analytics dashboard, you can gain insights into individual and department-wise travel spending habits. You can also get real-time alerts about out-of-policy bookings, expense reports due for filing, etc.
With all this information, you can determine expenditure and saving avenues in your organization and adjust the travel policy accordingly to meet your travel goals.
5. Traveler Safety
International travel comes with a plethora of potential risks and emergencies. We recently witnessed one such health emergency in the form of Covid-19.
Governments imposed lockdowns, international flights were cut-off, and many travelers had to extend their stay in unfamiliar countries. Therefore, your company is responsible for going above the statutory duty of care to ensure travelers' safety.
Technology can help you keep travelers out of harm's way. You can opt for travel management software that helps you track the exact location of your employees to ensure that they are safe in unfamiliar situations.
Additionally, you can collect real-time data from airlines and hotels about their safety policy and make better decisions. The real-time data can also be used to provide a safety score-card for a particular neighborhood to inform travelers and travel managers about any safety hazards. This way, you can harness travel technology to ensure travelers' safety.
6. Expense Automation
Despite the multiple obvious advantages of expense management automation, companies still prefer the inefficient manual expense management process.
Manual expense management reduces the efficiency of your company's expense management process in various ways. It relies heavily on slow-moving paperwork; it is expensive, doesn't offer expense fraud detection or prevention methods, and much more.
Travel technology can help you quickly transition from manual expense management to automation. With the help of travel management software's digital receipt scanning and OCR technology, your employees can file expenses from anywhere.
Moreover, with a fully digitized approval workflow, managers can quickly approve the expenses, and the reimbursement process can flow seamlessly.
Hence, it is time to say goodbye to the old ways of manual expense management and embrace expense automation.
7. Virtual Travel Consultant
Road warriors traveling for work typically lack the experience to make a detailed travel plan. Additionally, they must mitigate common business challenges like flight delays and overbooking, disappointing hotel rooms, etc. Consequently, companies must hire a corporate travel consultant to help employees plan and conduct their business trips smoothly.
However, hiring a human travel consultant has its share of disadvantages. Firstly, they don't provide customized booking options to travelers. Secondly, they have to pay a hefty fee for last-minute booking or cancellation. Lastly, a human travel consultant can't provide insights to measure the effectiveness of travel and expense policy.
Virtual travel consultant has emerged as one of the most promising travel technology trends. A virtual travel consultant is an AI-based feature in any modern-day travel management software solution.
With the help of a virtual travel consultant, travelers can get customized travel booking options based on their past preferences. They don't need to pay hefty fees on last-minute bookings or cancellations. Moreover, companies get a 360-degree view of their T&E processes and costs so that they can optimize their T&E program to achieve their travel goals.
Is your company fully utilizing travel technology?
The latest travel technologies can help reduce travel costs while keeping your employees happy. You can also reap numerous other benefits like smoother approval workflows, mobile expense management, advanced analytics, customized dashboards, etc., which helps you manage business travel more efficiently. Hence, you need to digitize your corporate travel management process.
One way you can fully reap the benefits of travel technology is by investing in travel management software like ITILITE.
ITILITE's SaaS-based integrated travel and expense management software offers customized booking options from its extensive travel inventory. Moreover, employees can complete the entire booking process within 90 seconds. You also get 24/7 customer support, a virtual corporate travel consultant, an integrated analytics dashboard consolidating all your travel spending in one place, and more.
To get a hands-on experience of all the tech-forward features of ITILITE, click on the button below.