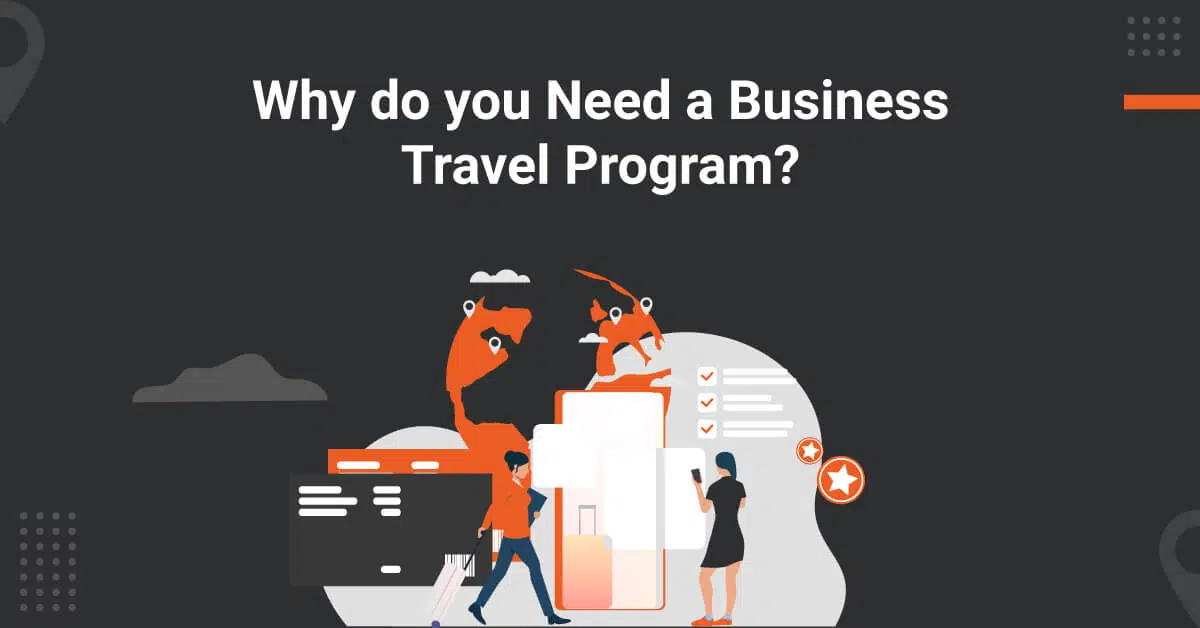 As your organization grows, your employees take more business trips to meet with clients, visit suppliers, and attend conferences. To accommodate the increasing number of travel requests, you need to define a framework that optimizes your business travel process by reducing travel costs and increasing policy compliance. You can do that with business travel programs.
A business travel program is a system of policies and procedures that a company implements to manage business travel efficiently. The primary objective of a travel program is to optimize the company's travel costs while enhancing employees' travel experience. It includes booking flights and hotels, approving trips, creating itineraries, managing corporate travel expenses, and ensuring traveler safety.
You can manage your organization's business travel program with the help of an external travel agency or by purchasing travel management software.
So, whether you own a startup or a well-established company, here are 6 reasons you need a business travel program:
1. To Simplify Bookings
Making travel and stay arrangements can be a hassle for your employees. They must go through multiple third-party websites and look through a long list of flight and hotel options to find the right one. Hence, you should have a solution to simplify the booking process.
In your business travel program, you can provide an overview of all the steps you will take to ensure easier booking. You can employ an external travel agency to make the booking on your employees' behalf. Or, you can empower employees to make self-bookings by investing in travel management software that provides handpicked options from a vast inventory of flights and hotels.
2. To Save Money
Saving travel costs is essential for every organization. One way to increase savings is by booking the most cost-efficient options. Another way is to partner with airlines and hotels to avail of corporate discounts.

However, when your employees make the bookings, they might not have the time to seek the most cost-efficient options. Moreover, without a list, it can be challenging for them to see the list of partnered vendors.
Hence, you need to create a business travel program that makes it easier for employees to find economical booking options. You can create an extensive inventory of service providers that offer the best deals and corporate discounts.

Alternatively, you can hire a Travel Management Company to create and manage your travel program. A TMC has a team of experts who can help you set the budget and negotiate with hotel and flight vendors to get the best deals. Moreover, some TMCs also offer travel management software with a vast inventory of Low-Cost Carriers( LCCs) that can help you save good bucks.
3. To Increase Policy Compliance
Ensuring travel policy compliance is vital for your company's bottom-line results. However, employees do not always comply with your travel policy. The non-compliance happens primarily because the guidelines are so ambiguous that they get confused. Another reason is that they cannot view the policy in real-time while booking.
Therefore, you need a travel program that documents a detailed yet clear travel policy. Your policy should contain budget limits, travel guidelines, and reimbursement plans according to departments, employee levels, destinations, etc.
After creating a detailed policy, you can use travel management software to ensure its compliance. Travel management software allows you to configure travel policy and provides customized booking options based on the settings. Moreover, your employees can view if the flights and hotels fall within the policy right at the time of booking.
4. To Enhance Travelers' Safety
Since the advent of Covid-19, travelers' safety has taken a center seat in every discussion about corporate travel. According to a study, 84% of travelers want to travel under the proper safety protocols. Hence, you must take all possible steps to ensure your road warrior employees are safe while traveling to unfamiliar destinations.
Start by curating a comprehensive duty of care plan as a part of your business travel program. Your plan should include destination-risk assessment, employee health check-ups, emergency contacts, etc.

5. To Create a Clear Approval Workflow 
A straightforward travel and expense approval workflow is vital to avoid needless trip delays. However, most organizations have multiple and often ambiguous touch-points.
For example, an international trip might require the approval of the employee's reporting manager, finance manager, and "Top Management."  In this case, "Top Management" could mean the CEO, CFO, or VP. Therefore, if an employee submits an international trip request, it can end up at the wrong executive's desk and get stuck in a to-and-fro motion.
Hence, you must create a business travel program to define approval workflows clearly. Firstly, you must describe the set of permissions required for different employee levels, destinations, and durations of the business trip. You must also clearly state the approvers for domestic and international trips.
You can also designate backup approvers as a proxy in case of the primary approver's absence. Lastly, you should keep minimum approval touchpoints for faster request processing.
6. To Boost Employee Satisfaction
When travel agents book flights and hotels for your employees, they may compromise on the employees' preference to secure a policy-compliant option. Having their preference not taken into consideration can lead to dissatisfaction among employees. 
Therefore, you need to create a booking process in your corporate travel program that provides them the option of self-booking. Having the freedom of booking tickets according to their preferences enhances employee satisfaction.
Invest in a travel management software that allows travel policy configuration and uses predictive analysis to provide customized booking options. This way, your employees can book desired flights and hotels without the fear of violating the travel policy.  
Optimize your Business Travel Programs 
These are a few reasons you need a business travel program in your organization. There are multiple ways to administer and execute a corporate travel program. You can outsource the flight and hotel bookings to an external travel agency and let your employees handle other activities like itinerary creation, expense management, etc.
Alternatively, you can take the load off your employees' shoulders by investing in a business travel management solution like ITILITE. 
ITILITE's integrated travel and expense management software offers quick and easy bookings, extensive flight and hotel inventory, advanced travel analytics, travelers' location tracking to ensure safety, end-to-end expense management, and much more.
Get a free demo of ITILITE to experience all these features.