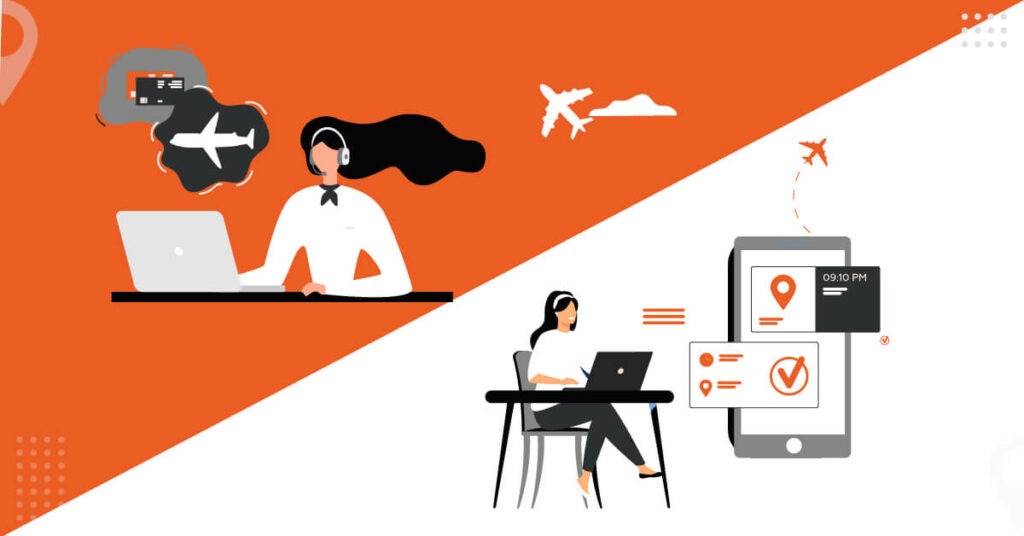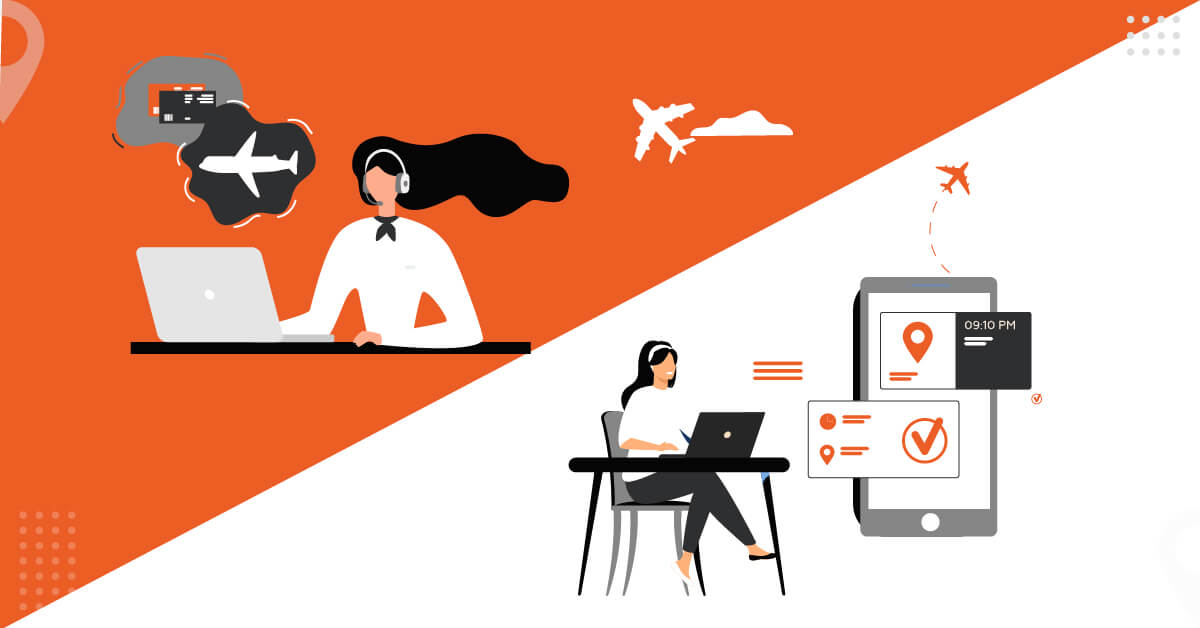 A travel agency for business focuses on assisting companies in fulfilling their business travel needs. It often uses advanced tools like travel management software to streamline travel management. These agencies usually help organizations beyond just providing recommendations and booking tickets.
Traditional travel agencies, on the other hand, usually help individuals and groups with travel-related arrangements. They usually operate out of a brick-and-mortar location where travel agents can have in-person discussions with clients to understand their needs.
Below are the major differences between a travel agency for business and a traditional one.
1. Target Market
A travel agency for business provides services to companies that often send their employees on work-related trips. To work with these companies, travel agencies contact key decision-makers in travel management. These include travel managers, HR managers, or executives.
Certain business travel agencies may target businesses based on their size or revenue. For instance, some agencies only work with small or medium-sized enterprises. At the same time, others focus on larger companies that generate a specific amount of revenue each year.
On the other hand, traditional travel agencies provide services to individuals and groups. They help people plan their vacations or solo trips. Especially those who may not have the time or knowledge to plan on their own.
Traditional travel agencies can also target specific age groups, such as retirees or millennials. Further, they may cater to people who want particular types of travel experiences, such as, backpacking, luxury travel, hiking, group travel, etc.
2. Requirement of Target Market
When businesses send their employees on business trips, they want to ensure a smooth travel experience. However, one of the primary concerns of businesses is to save costs and time associated with travel management. This is where a travel agency for business comes in.
The agency negotiates better rates with vendors and handles travel management tasks more efficiently. Consequently, it frees up employees' time and helps the company save money.
In contrast, individuals or leisure travelers have a wide range of requirements. Some travelers want unique experiences, while others prefer well-known tourist attractions. Leisure travelers turn to travel agencies for all-inclusive packages focusing on relaxation and enjoyable experiences. They also seek add-on amenities for their flights and hotels.
Cost saving is a significant need for both businesses and leisure travelers. However, leisure travelers are more sensitive to the cost of a trip as they do not expect any financial return on it. In fact, according to Google's Traveler Study, 63% of leisure travelers are price-sensitive and make extra efforts to find the best deals for their stay.
3. Expertise
A travel agency for business specializes in managing complex requirements of business travel. It is well-equipped to handle last-minute changes to itineraries, multi-destination travel plans, and corporate group travel, among other arrangements.
Moreover, business travel agencies have comprehensive knowledge. They closely monitor every aspect of business travel and inform you if you need to make changes to your travel program.
Business travel agencies do not just assist you with booking tickets but also business travel insurance, visa, forex cards, rental cars, and so on. Further, the agencies ensure the bookings comply with the company's travel policy.
Traditional travel agencies, on the other hand, have a different set of expertise. They provide valuable insights on packages, the best time to travel to a particular destination, and activities that match a customer's interests and preferences. However, they do not have expertise in tracking travel KPIs or detecting cost leakages.
4. Technological Advancement
A travel agency for business is responsible for ensuring a smooth travel experience. In addition, they have to advise companies on optimizing travel programs. This requires an in-depth analysis of different aspects of business travel.
To do this, they use modern technology such as T&E software, artificial intelligence, geo-tracking, and data analytics. This helps them provide valuable insights to their clients and improves the overall travel experience.
Traditional travel agencies may lack the advanced technology of business travel agencies. However, they still use basic technology such as central reservation systems and CRM software. These tools help them manage their operations effectively.
5. Travel Support
A corporate travel agency for small business understands the unique needs of corporate clients. They have expert teams that can assist travelers during difficult situations. For example, visa issues, flight delays, hotel complaints, and medical emergencies. 
Moreover, they provide round-the-clock support to their clients. This ensures that travelers receive help at any time of the day, even if they are traveling to another country.
In contrast, traditional travel agencies provide assistance that is limited to bookings and other travel guidelines. They do not have dedicated teams to help in emergencies or provide safety assistance. Further, these agencies may not offer 24/7 travel support due to insufficient resources and expertise.

6. Discounted Rates
Travel agencies for businesses are able to get better deals with vendors. This is because they have a high volume of bookings owing to a larger client base. They leverage this volume to negotiate favorable rates with hotels, airlines, and car rental companies. This helps their clients save costs on business travel.
Alternatively, traditional travel agencies may not have the same negotiating power as corporate travel agencies. This is because they do not have the same volume of business to offer suppliers. They may still be able to provide discounts to their clients, but these discounts may not be as substantial as those offered by corporate travel agencies.
7. Booking Process
Business travel procedures typically require adherence to travel policies. Therefore, business travel agencies follow a more streamlined booking process. They use advanced tools such as travel management software to manage bookings and approvals.
The software can be integrated with travel policies to ensure that bookings comply with them. Further, business travel agencies provide their clients access to this software. This way, travelers can also use it to book tickets themselves.
Traditional travel agents usually create unique itineraries for each traveler. First, they have an in-depth one-on-one discussion with the client to understand their needs. Then they create different packages for the traveler to choose from. Finally, the traveler decides on one of the packages, and the agent makes bookings on behalf of the traveler.
8. Travel Risk Management
A travel agency for business gives priority to the safety of business travelers. Whereas traditional travel agencies usually stay limited to making travel arrangements for their customers.
Business travel agencies evaluate all the risks before their clients go on a trip. They consider factors such as weather, health-related risks, crime rate, and political instability. Moreover, they have a sought-out duty of care plan to ensure the well-being of travelers.
Further, business travel agencies can live-track travelers to assist them in an emergency. The software solution provides real-time alerts to ensure safety. Business travel agencies also offer 24/7/365 business travel support in case a traveler faces safety issues.
In comparison, traditional travel agencies may have limited resources to invest in travel risk management technology. This can include travel tracking software or emergency response facilities. Without these resources, arranging evacuations or providing medical care can be difficult. Ultimately, they may be unable to provide the same level of risk support as a corporate travel agency for small business.
9. Specialized Services
There are a few specialized services that only business travel agencies provide. Some of them are:
Mobile Booking Application
One of the services that many business travel agencies offer is a mobile booking application. This application allows company employees to book travel arrangements such as flights, hotels, and car rentals using their smartphones or tablets. It is a helpful tool for business travelers when they are on the go.
Advanced Travel Analytics
To optimize your travel program, you need to track travel data. These include average spending per trip, number of last-minute bookings, number of out-of-policy bookings, and so on. Travel data analytics compiles and presents this data in a structured way.
Further, you can identify patterns of employee spending. This helps you make informed decisions and improve the travel experience.
Detailed Reporting
Business travel management software can create customized reports. These reports provide overall data on travel expenses, number of trips, carbon footprint, etc. You can automate these reports to receive them weekly or monthly.
Unused Ticket Management
A business travel agency has expertise in managing unused flight tickets. They use an automated ticket-tracking system to monitor ticket expiration data and manage credits. The agency also provides insights into unused ticket trends. This helps businesses develop strategies to reduce unused tickets in the future.
Concierge Services
Business travel agencies also assist in additional travel-related services and recommendations. These are: assistance with visa and forex cards, car rentals, and VIP services like hotel upgrades and airport meet and greet.
Virtual Travel Consultant
By analyzing past T&E data spanning several months, a virtual travel consultant can identify opportunities for a company to save money. This may involve comparing the company's spending practices with industry benchmarks to identify areas of improvement. Further, a VTC provides actionable insights that you can implement to save costs and optimize your travel program.
Travel Agency for Business vs. Traditional Travel Agency
Both travel agencies serve different purposes, and you can choose one based on your requirements. Opting for a travel agency for business is the best choice for companies that frequently send employees on business trips.
ITILITE is a business travel agency that streamlines your booking process, gets deeper insights into traveler spending, and the best deals on business travel packages. Plus, we have a dedicated team to assist your traveler 24/7/365 so that they stay safe while traveling.
To know more about the benefits, book a demo now.