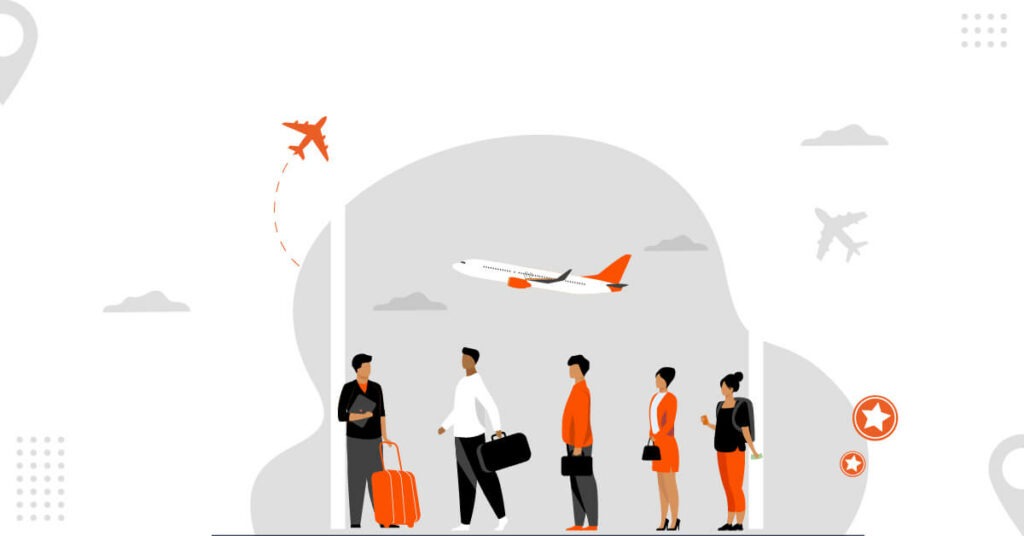 Managing group travel comes with its own set of challenges and requires attention to detail. For groups, corporate travel managers have to plan trips accommodating diverse business traveler needs and preferences.
Additionally, there are issues with ensuring smooth communication, managing expenses, and so much more.
Listed below are major challenges associated with group travel management and how to address them.
1. Ensuring Cheap Flight Fares for Group Bookings
Travel managers can often overlook this, but booking multiple tickets for a flight in a single session can cost more. How? This happens because airlines have different charges for different seats, even for the same class. For example, if there are 120 seats in economy class, 40 seats can be booked for the cheapest fare, the next 40 for a higher price, and so on.
However, when someone is booking a ticket, the airline must offer them all seats for a single price. So, if you are booking tickets for 8 people and the lowest-priced seats have 36 seats booked, then all 8 people will get the seats in the next highest level of ticket prices.
To avoid this, you can check the individual cost per ticket and then the price for the whole group. If the prices are the same, it means that the price level has seats available for all group members. However, if they are higher, only a few seats are available for that price level.
In such cases, you must book your tickets in different transactions. Book 1-3 tickets in a single transaction and repeat it until you get the lowest-priced tickets. Once the price moves to the next level of seats, you can book the remaining tickets in one go.
2. Booking Trips According to Traveler Preferences
With evolving travel trends, employees expect more personalization in their group travel. According to Sabre, 69-75% of people want personalized travel experiences in one form or another.
Personalization is especially important in group travel. By taking everyone's preferences, needs, and requirements into consideration, travel managers can create a tailored itinerary. This increases participation and enhances the overall experience of the group.
For this purpose, travelers can use an advanced cloud-based travel management platform that allows employees to choose their own tickets and personalize their travel from a wide range of inventory. The platform is integrated with travel policies so that when employees book tickets, they get real-time visibility of packages that comply with the policy.
3. Visibility on the Status of Bookings and Following Up to Get Them Completed
Usually, in group travel management, travel managers face difficulty in tracking which employees have booked their tickets and whether they comply with the travel policy. Additionally, they have to reach out to employees on separate channels to follow up with them to book their tickets.
However, with the help of group travel management platform like ITILITE, travel managers can view which bookings have been completed and which participants are yet to book their tickets.
Moreover, travel managers can use the ITILITE software application as the sole medium of communication regarding follow-ups on bookings. This significantly reduces the effort they would have to put in compared to if they used multiple channels to track bookings or send reminders to employees.
The software is also integrated with the travel policy of the company. So, employees get to see packages in the inventory that comply with the policy. If they book any tickets outside policy, the ITILITE system will notify the manager, and the booking will be sent to the manager for review.
4. Handling Bookings for a Remote/Hybrid Workforce Spread Across Geographies
In 2023, almost one-third of employees will work with exclusively remote companies. Moreover, according to Forbes, experts predict that 36 million Americans will be working remotely in 2025.
Handling bookings for employees in different locations comes with its own set of challenges. A few of them include difficulty in coordination, miscommunication due to different time zones, and having to resolve multiple issues and queries of the employees. Therefore, it becomes even more crucial for travel managers to streamline group travel management for remote employees.
To solve these problems and optimize their efforts, travel managers can opt for a business travel management software solution that offers a group travel management feature.
This feature allows travel managers to create an event on the application and enter the necessary information, such as date of arrival, location, etc., in the event description. The manager can also enter a detailed trip itinerary for the employees' convenience. After that, the manager can add participants to that group by sending them invites.
The group travel management feature also allows travel managers to solve any issues the employees might have through in-app communication. Moreover, managers can view all bookings, and any trip that does not comply with the arrival time requirement can be identified and rescheduled. This ensures that people coming from different geographical locations reach the destination around the same time.
5. Seamless Communication with Travelers Regarding Important Updates
Ensuring seamless communication in group travel management is especially important so that all travelers are on the same page. For example, if there is even a slight change in plans, the manager has to communicate it to all group members.
Generally, the manager uses email or messages to send out such updates. But the downside to it is that employees can often skip seeing emails, especially when they are on a hectic schedule.
To avoid this, managers can use a travel management software application and post the update on the group event itinerary. So that while viewing the trip itinerary, travelers get to know about these changes. This ensures that no traveler misses out on important information and faces the hassle of not being where they were supposed to be.
6. Ensuring the Safety of All Travelers
According to a survey, most Americans don't feel safe while traveling. Additionally, 88% of female travelers say that they were somewhat threatened or felt unsafe while traveling. This means that group travel managers have to be extra vigilant when it comes to safeguarding their employees. With more people to take care of, there is a greater potential for safety risks and challenges.
Therefore, the travel manager must take the following steps to mitigate any risks that a traveler might face during group travel:
Establish a travel safety policy and ensure that travelers comply with it
Perform a pre-trip risk assessment to avoid sending passengers to high-risk locations
Informing travelers regarding safety tips
Providing safety training to take appropriate actions in case of an emergency
Providing travelers with emergency contact numbers
Offer advice on maintaining health and wellness on the trip
Live tracking travelers with the help of business travel management software
Arranging corporate travel insurance for all travelers
Making travelers aware of the use of public WiFi, cybercrime, and identity thefts

7. Ensuring Traveler Satisfaction
Business travelers are often on a hectic schedule. They have to travel, attend hours of meetings, interact with new people, and accomplish multiple tasks while they are on a business trip. Consequently, they expect to get proper space to relax and unwind at the end of an exhausting day.
Booking one room for multiple people might result in conflict. For example, travelers may have different sleep schedules or have issues with the other person listening to loud music while trying to relax. Such problems can decrease traveler satisfaction and reduce their productivity while on a business trip.
Therefore, try booking separate rooms when booking tickets for a group. Additionally, ensure that the hotel has high-quality rooms and offers all amenities that business travelers require.
You can also take feedback from travelers at the end of each trip to optimize your group travel management process for future trips.
8. Reconciling Group Travel Costs Against Budgets
To optimize group travel spending in the future, the travel manager must get an overview of trip expenses at the end of the trip. Typically, the manager has to keep track of expenses from different channels, such as expense reports, booking sites, etc. Even then, there's a chance that he misses out on calculating a few expenses.
However, with the help of the group travel management software, managers get a complete overview of all expenses made during the trip. It offers insightful reports at the end of the trip that helps managers track KPIs to measure the ROI of the trip.
These reports are also beneficial for accounting purposes to reconcile group travel expenses against budgets. Further, it helps identify areas of cost reduction and unnecessary expenditure so that it can be avoided in future trips.
Optimize Group Travel Management with these Tips
These are the major challenges that you can face while handling group travel and ways that you can address them. Needless to say, getting your hands on an advanced travel management software solution can make group travel management significantly easier for you.
ITILITE is a SaaS-based travel management software solution that can help you manage group travel. It also offers a team event management feature with the help of which you can track group travel for all your employees. Moreover, it offers customized reports that you can use to gain insight into business trips.
Get a free demo to experience the features yourself.