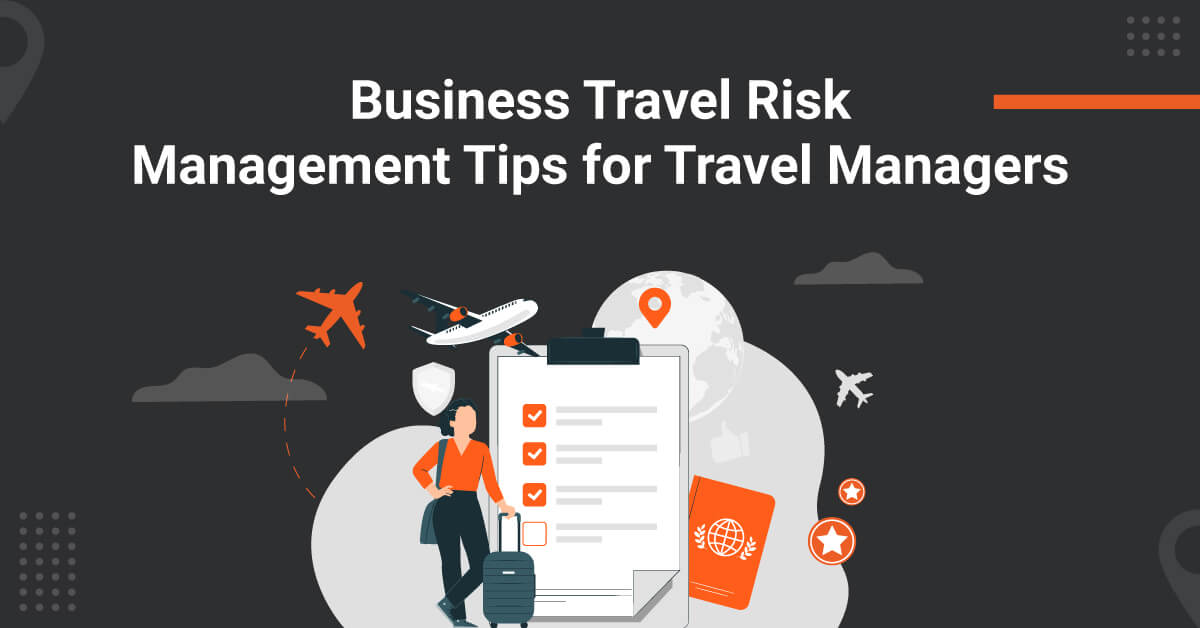 After the Covid-19 pandemic, business travel management has changed drastically, and travelers' safety has taken center stage. According to a study, 84% of business travelers only feel comfortable traveling with the proper measures. Hence, companies have realized the importance of efficient business travel risk management.
Business travel risk management is the practice of anticipating the risks business travelers might face on a business trip and taking necessary measures to keep them safe.
The travel risks can include bad weather, natural calamities, social unrest, and public health emergencies like Covid-19.
As travel managers, you are responsible for taking the necessary steps to ensure traveler safety during business travel. Hence, you must create a business travel risk management program that fulfills the following objectives:
Decreasing the likelihood of travel risk materializing
Having a comprehensive plan of action in case the travel risk arises
Here are 11 things you can do to improve business travel risk management.
Before Travel
1. Develop an Allowable Travel Framework
The first step toward efficient business travel risk management is avoiding unnecessary business travel. Therefore, you must create a comprehensive travel framework that defines which business trips are essential and the employees who should go for those trips. You can identify which trips are necessary by looking at the various tasks and picking out those your employees can accomplish only on-site or in person.
For instance, if your company has set up a new branch in another country, your engineers must be on-site to monitor machine and equipment installation. Therefore, you can categorize such trips as essential business travel. On the contrary, an international press conference to announce a new product launch can also happen online. Hence, such meetings are non-essential business travel.
Once you have identified the essential business trips, you can incorporate them into your business travel program for better clarity.
2. Have a Flexible Travel Policy
During these uncertain times, having a flexible travel policy is crucial for the well-being of your employees. Therefore, you must update your travel policy to incorporate strong business travel risk management guidelines. Your travel policy should accommodate your employees' expectations and the flexibility to travel nuances, along with maintaining your company's bottom line.
For instance, your employees traveling to an international destination might be required to cancel or reschedule their trip at the last minute due to a surge in Covid cases. Alternatively, employees already in another country might need to book a last-minute flight at a higher price to escape an emergency.
In such cases, your travel policy should be flexible enough to accommodate the change in schedule and travel budget limit to ensure your employees' safety.
Get Free Travel Policy Template
3. Determine the Safety of the Destination
Determining the safety of the destination your employees will visit is one of the fundamental steps toward better business travel risk management. Therefore, you must research the destination thoroughly before sending your employees on a business trip. 
Some factors to consider for your research are :
Public health situation
Political climate 
Social circumstances (on-going protest and crisis)
Safest areas to book accommodation 
Public transportation availability 
You can also view the US Department of State website for the following information:
International travel advisory
The contact number of the US Embassy in the destination country
Smart Traveler Enrollment Program (STEP)– a free service that allows the US embassy to contact US citizens traveling abroad in case of emergencies. 
4. Create an Inventory of Preferred Flights and Hotels 
Transportation and accommodation are vital considerations in business travel risk management. Therefore, you must ensure that the booked flights and hotels are safe for the employees. To do that, you must create a list of preferred flights and hotels that comply with the WHO's global safety standards. 
The flights should undergo regular cleaning of high-touch areas in between trips. Moreover, they should have AI-powered temperature screening and crowd detection systems. Also, the hotels should comply with covid protocols like contactless service and provide round-the-clock medical facilities.  
5. Conduct Pre-travel Health Assessment 
Before sending employees on a business trip, it is essential to determine whether they are fit to travel or not. Therefore, you must conduct a complete pre-travel health assessment of each employee as a mandatory part of the business travel risk management plan. 
The checkup can help protect business travelers from carrying any diseases to the destination country. During the checkup, a physician will assess travelers' health, provide immunizations if required, and suggest preventive measures according to the destination country.
In light of the Covid-19 pandemic, every traveler should undergo a physical examination. However, it should be mandatory for the following categories of business travelers because of their high vulnerability: 
Pregnant Women
Travelers with pre-existing allergies and lifestyle diseases
Individuals traveling to countries with specific health risks
Travelers who experience travel-related symptoms like jet lag, motion sickness, and travelers diarrhea
Individuals who have recently recovered from Covid 
6. Collect up-to-date Employee Information
Staying up-to-date with all the employee information is vital for business travel risk management because it can help you reach out to them in an emergency. Therefore, you must collect all the essential details before sending employees on a business trip. 
The particulars can include their personal and office contact number, email ID, their home address, emergency contact's name and details, and vehicle number if they are using a private vehicle. Moreover, you can collect the itinerary information like the hotel name and address and the particulars of clients they will meet. 
7. Prepare a Traveler Safety Checklist
When it comes to business travel risk management, you must go above and beyond your duty of care to ensure employees' safety. One way to do that is by creating a travel safety checklist for your employees before going on a business trip. The safety checklist can include the measures employees must take before, during, and after their business trip to remain safe. 
For instance, the checklist can contain a list of essential documents that employees must carry and the safety equipment they are required to wear during their flight. Moreover, the list can also have reminders about checking the hotel's health and hygiene measures and completing pre-arrival registration.
The travel safety checklist can help your employees pack sufficiently and not miss out on anything important. Here is a customizable travel safety checklist you can use in your organization.
Get Free Traveler Safety Checklist
During Travel 
8. Track your Employees' Location
If your employees face an emergency while traveling to a far-off destination, you must take corrective actions in time to help them get out of that situation. For that, you must undertake active traveler tracking. Traveler tracking is the process of monitoring the movement of business travelers during their business trips. It lets companies know where their employees are going and offer a quick response if they get stuck in an emergency. 
You can track your travelers' location with the help of a modern travel management solution with the traveler tracking feature. This way, you can remain peaceful by knowing the whereabouts of your employees, and your employees can be assured that they will get help whenever required.
9. Provide Omni-channel Support 
Your employees might find themselves in a crisis while traveling to unfamiliar destinations. For instance, if they are traveling to a new country, they may face difficulty navigating routes. Alternatively, they may find themselves stranded in the middle of a random road due to a car breakdown. In such situations, you must ensure the availability of round-the-clock business traveler support. 
Your employees can get all the help whenever required if you opt for the services of a travel management company that delivers 24/7 support through calls, chats, and emails. This way, they won't feel stranded in the face of an emergency.
After Travel 
10. Collect Travelers' Feedback
Collecting travelers' feedback after their business trip is the best way to improve business travel risk management in your organization. 
You can ask them about their flight experience- aircraft cleanliness, and implementation of proper safety guidelines. Moreover, you can also ask them if the accommodation was secure and if the cabs were prompt. 
With the help of this feedback, you can make a list of additional safety measures you can take for all future business trips. You can also create an inventory of safe flights and hotels and blacklist those not up to the mark.
11. Organize Post-trip Health Checkups
Once your employees return from their business trip, you must conduct a thorough health checkup to ensure they haven't carried any diseases from the country they visited. Such health assessments can let you know if the employees need additional measures like quarantine or post-impact medications.
Upgrade your Business Travel Risk Management Process 
As business travel resumes gradually post Covid, your employees might be anxious about getting back on the road. They may have several concerns about their health and safety. Therefore, as travel managers, you must take all the necessary steps to regain employees' confidence in business travel. You can start by incorporating the steps mentioned above into your travel management process to improve business travel risk management within your organization and ensure travelers' safety.
The easiest way to implement these steps in your business travel risk management process is through ITILITE travel management software. ITILITE offers live traveler tracking that lets you keep tabs on your employees' location while they travel to unfamiliar destinations. We also provide real-time trip updates and 24/7 customer support through chat, call, and email. Therefore, your employees feel empowered and cared for during business travel.   
You can get a free demo to experience all the features of ITILITE by clicking on the button below.