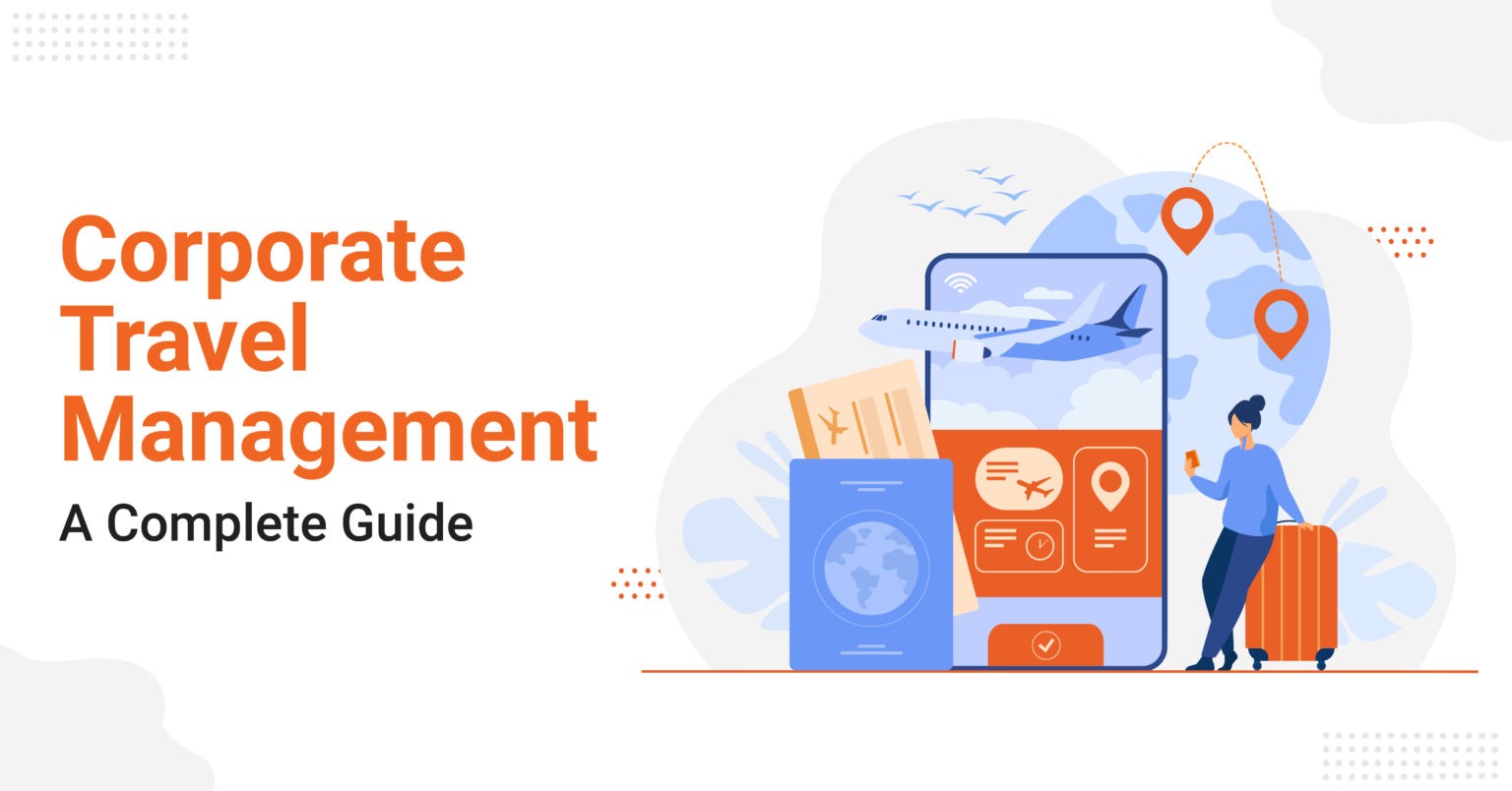 A lot has changed in the world of corporate travel management in the last few years. It's no more just about planning itineraries, booking a trip, and filing expense reimbursements. Today, organizations are focusing more than ever on employee safety, cost savings, better visibility, and experience while setting up their travel program.
If you or your team are planning to design a corporate travel process in your company, it is important to know what are the different ways to manage business travel and what is the best solution for you. This guide helps you understand precisely that. Read on to know more.
What is Corporate Travel Management?
Corporate travel management (CTM) is how companies manage business trips for their employees. It includes booking the flight and hotels, managing approvals from the higher-ups, and reimbursing all expenses while ensuring policy compliance.
How do Companies Manage Business travel?
There are many ways companies manage their corporate business travel. Some manage it in-house in partnership with a travel agent or with travel management company, some let their employees manage it themselves, and some onboard a cloud-based integrated travel management platform.
#1 Managing corporate travel in-house partnership with a travel agent or with TMC
Here, companies have a dedicated travel manager or travel desk working through a travel agency or a travel management company. In absence of a dedicated travel desk, the HR or Admin teams manage the business travel.
Usually, the travel vendors such companies tie-up with, have extensive experience in managing travel and accommodation for business travelers. In most cases, their services include travel booking and support for cancellation & rescheduling. Sometimes, they might even offer negotiated rates for flights and hotel stays. However, due to inadequate software support, employee safety and policy compliance are seldom met.
#2 Self-booking by employees using consumer booking sites
Companies that don't have a dedicated travel management team or external collaborations opt for the open booking setup. Here, employees use third-party channels – consumer websites or tour operators to make bookings for travel and accommodation themselves and are reimbursed after the trip.
Managing corporate travel like this is time-consuming and cumbersome in the long run. There is very little room to ensure budgeted options, policy compliance, and traveler safety, among other issues.
#3 Onboarding a cloud-based integrated travel management platform
The other way companies manage their corporate travel is by collaborating with cloud-based integrated travel management platforms. They provide both software and human support for easy corporate Business travel management. By automating travel and expense management, they simplify the T&E process for organizations and employees.
Integrated business travel platforms ensure end-to-end travel management, beneficial for both the traveler and the business with cost savings, efficiency, policy compliance at their core. They help enterprises with customized bookings, on-trip support, and reimbursements effectively.
Having an integrated travel & expense management solution onboard helps businesses set up faster, better, safer, and highly cost-efficient business travel processes.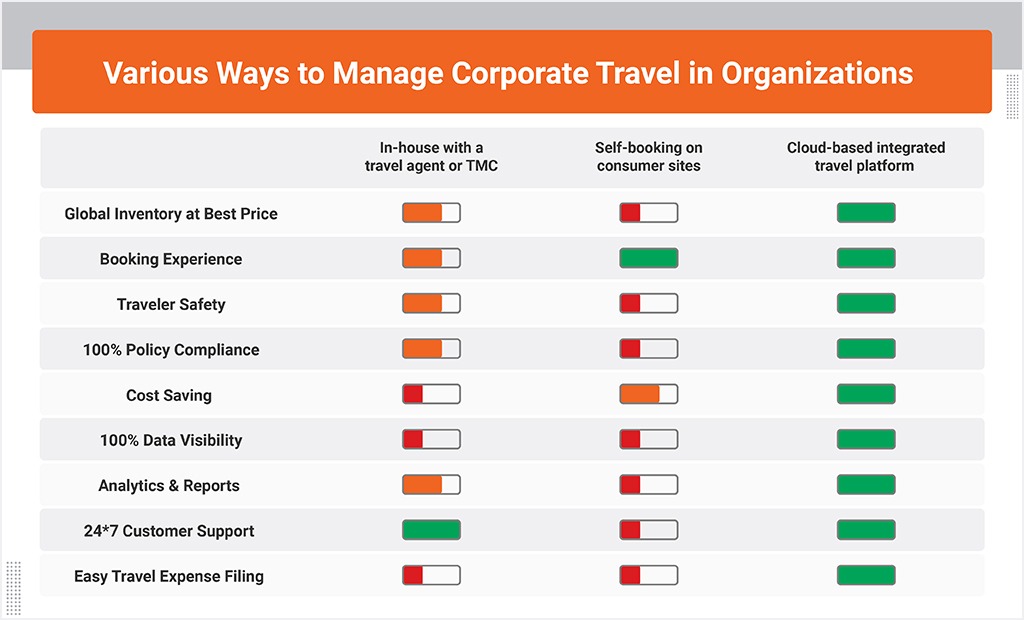 The Best Way to Manage Business Travel in Your Company
Now that you know the pros and cons of all ways to manage business travel, it's time to choose the best one for your organization. And that is to onboard a cloud-based integrated travel management platform with excellent customer support. Here is why,
Cost- Saving – An integrated corporate travel management company has a huge inventory of flights, trains, cabs, hotels and gives you the best option at the lowest price. It also provides curated searches on predefined parameters, ensuring policy compliance. Some of these platforms, like ITILITE, also incentivize employees to book cost-effective options and help organizations save big on their travel expenses.
Employee Convenience – Most company travel management software have easy search options and intuitive UX design, making travel booking simple for employees. But the integrated travel and expense solution makes the whole T&E experience wonderful for employees and organizations.
Traveler Safety – Aided with technology and 24X7 human-powered support, a good travel management company is equipped to provide risk management and on-trip support for business travelers and ensure safety in times of crisis.
Amidst the pandemic, leading business travel management company have gone a step further and launched products and features to keep employees safe on the go. We, at ITILITE, launched ITILITE Shield to provide our clients the safest way to travel in the new normal.
Policy Compliance – Integrated T&E platforms have built-in approval flows and policy checks ensuring 100% compliance. Furthermore, equipped with cutting-edge fraud detection, these systems improve the finance team's productivity and save money for the company.
100% Data Visibility – With all your travel and expense data in one place, such platforms provide richer data insights to finance & business leaders helping them make informed decisions.
An integrated corporate travel management platform is the key to a successful business travel management strategy!
An integrated travel and expense solution that combines tech and service is best suited to lower travel spend, save time, ensure traveler safety and increase policy compliance.
Eager to get the best travel management platform onboard? Look no further; schedule a free demo with our product specialist today to simplify your corporate travel in a way employees love.