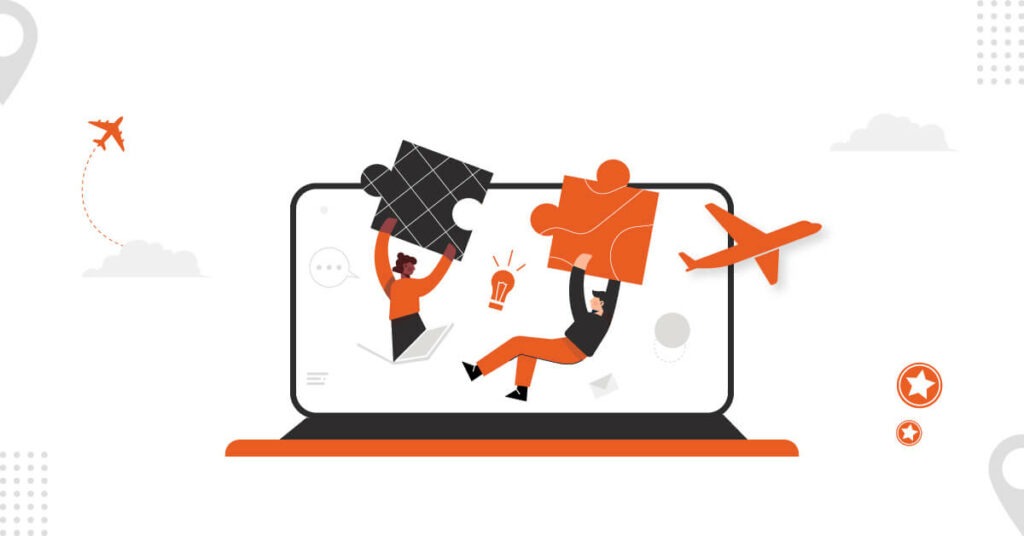 Business travel has always been a crucial part of the corporate world for many decades now. As globalization continues to grow rapidly, there is an increased need for companies to send their employees on business trips to carry out various business activities and explore new business opportunities.
However, with business travel comes a series of travel pain points that can hamper the employees' business travel experience and impact your company's bottom line. These pain points can include providing travel support at odd hours, managing expenses, and making changes to the itinerary, among others.
Fortunately, there are travel management companies (TMC) that solve these problems and ensure seamless business travel for your employees.
Mentioned below are some of the ways in which a TMC can solve the major business travel pain points:
1. Booking Complexities
One of the major business travel pain points that companies face is the complexities in the booking process. For travel managers, it can be a daunting task to book various flights, hotels, rental cabs, etc., especially with multiple destinations and itineraries.
Additionally, they must spend hours together browsing through various external websites, comparing prices, searching for the best deals, and making their travel arrangements. Moreover, last-minute changes or cancellations can further complicate the booking process.
By investing in a TMC, travel managers don't have to worry about travel bookings as everything is taken care of by them. The TMCs book flights, hotels, rental cabs, or any other travel services at the best prices. This is because TMCs have long-standing partnerships with the major flight and hotel vendors in the market.
Moreover, if your employees prefer a specific airline company or hotel chain, your TMC can negotiate with them for the best deals and discounts.
2. Travel Policy Compliance
Having employees comply with their company's travel policy is a business travel pain point that most companies face. This mainly happens because the policy is not communicated properly to the employees, the guidelines are complicated to understand, or employees are simply unaware.
Another major reason can be that employees are unable to view the policy in real-time while filing and submitting travel expenses.
By taking the assistance of a TMC, you can overcome this business travel pain point. The best TMCs use travel management software where you can configure multi-level granular policies depending on the destination, employee level, and department wise, among many others. This reduces the ambiguity in travel bookings.
Moreover, with the help of this software, employees can get real-time visibility into the policy. This avoids any sort of policy violation. If any out-of-policy expenses are made, then employees and the approver will be instantly notified.
3. Travel Itinerary Changes
Another significant business travel pain point is making changes to the itinerary. Sometimes due to various situations such as bad weather, client needs, postponing of events, or employees' personal reasons, travel managers must make changes to the travel itinerary.
This can be a time-consuming task, especially when dealing with multiple vendors and travel providers. Moreover, travel itinerary changes can disrupt the employee's travel schedule.
With the help of a TMC, you can change or modify travel itineraries as and when required. This can be either canceling or rescheduling the flights, upgrading hotels, requesting for special amenities, incorporating pick-up and drop services from hotels, and many more.
As TMCs make all the changes in the itinerary, travel managers can save a lot of time. All you need to do is just inform them about the change in the itinerary, and they will implement those changes.
4. Business Travel Support
As per a report, 63% of employees traveling for work changed their travel arrangements because of safety issues. During business travel, employees encounter various safety risks, such as natural disasters, political unrest, and pickpocketing. Needless to say, female employees are at higher safety risk than their male counterparts.
During such situations, travel managers must provide travel support. However, sometimes, it becomes tough for them to provide them support because of the difference in time zones, outside work hours, or during weekends.
A TMC can help you overcome this business travel pain point by providing round-the-clock travel assistance to business travelers.. The new-age TMCs have a dedicated team of highly experienced professionals to assist your business travelers during any dangerous situations of their trip.
Alternatively, employees can also get in touch with them via emails, chats, and even calls during any emergency.
5. Cost Optimization
Optimizing business travel costs is a critical challenge that many travel managers face. This is usually because employees make out of policy bookings as they don't get access to enough travel options.
Cost leakage can also occur due to unused flight tickets and having lesser visibility into employee and department wise-spending. With so much to do already, travel managers find it difficult to identify areas of cost leakages.
Moreover, some of the best TMCs also make use of a virtual travel consultant. A virtual travel consultant such as ITILITE Mastermind compares your travel and expense data against industry standards and tells you where you could have saved more.

6. Expense Management
Let's face it; business travel is expensive! With so many business travelers going on business trips frequently, it becomes difficult for you or the finance department to manage expenses.
You need to keep track of all the expenses related to flights, accommodation, meals, ground transportation, etc. And if you are using the traditional method of managing these expenses, you must manually enter all the data into a spreadsheet to create expense reports. This is a very time-consuming and tedious process.
Another major drawback with such a traditional method is that employees must collect physical receipts of all the expenses and then submit them to the finance department. Such procedures are error-prone and can result in wrong calculations and results.
You can overcome this business travel pain point with the help of a TMC. Modern or tech-savvy TMCs leverage expense management software which automates your expense management process. This makes it easier for travel managers and the finance department to track and manage your employees' expenses.
The software makes use of OCR technology, where employees just need to click a picture of their receipt, and the details are automatically populated. Hence, there is no room for any data entry errors.

7. Cost Reduction
With the increase in business travel nowadays, it becomes essential for companies to cut down on business travel costs. However, most of the time, travel managers do not necessarily have cost-efficient options while booking flights or hotels from traditional or online travel agencies. Additionally, travel managers also struggle to get good deals and discounts as they should browse through various websites and compare prices.
Most TMCs assist you in reducing business travel costs as they have tie-ups with various flight and hotel vendors. The TMC negotiates corporates hotel rates with them to get the best-discounted prices and better deals. They also reduce costs by providing incentives to employees who choose the most cost-effective booking option.
8. Data Protection
Data is very important for an organization as it helps them with decision-making, problem-solving, or even improving the business travel management process. However, for many companies, protecting employee and company data still remains one of the business travel pain points.
Daily, travel managers must handle critical information of various employees. They must gather and save employees' data, such as telephone numbers, credit card details, e-mail addresses, home and bank addresses, identity card details, etc. Such information must be handled very carefully, and if leaked, employees' and the company's security will be at risk.
By taking the help of a TMC, you do not have to worry about data security. This is because TMC uses travel and expense management software that comes with state-of-the-art security features. The information stored in this software is highly encrypted. Hence, without permission, nobody can retrieve any information, thus reducing the chances of any cyber-attacks.
Overcome Business Travel Pain Points with the Help of a TMC 
Traveling for business is one of the important aspects of the corporate world. However, it can be filled with various business travel pain points. A TMC such as ITILITE can overcome these challenges for you.
ITILITE is a travel management company that simplifies your travel management process. Our SaaS-based travel and expense management software helps you optimize your travel costs, provides 24/7/365 business travel support, configures granular policies, gives access to our virtual travel consultant, etc. We also deploy a robust security infrastructure with certifications in Level 1 PCI DSS, ISO 27001:2013, and more.
Get a free demo of ITILITE to know more about our advanced features.