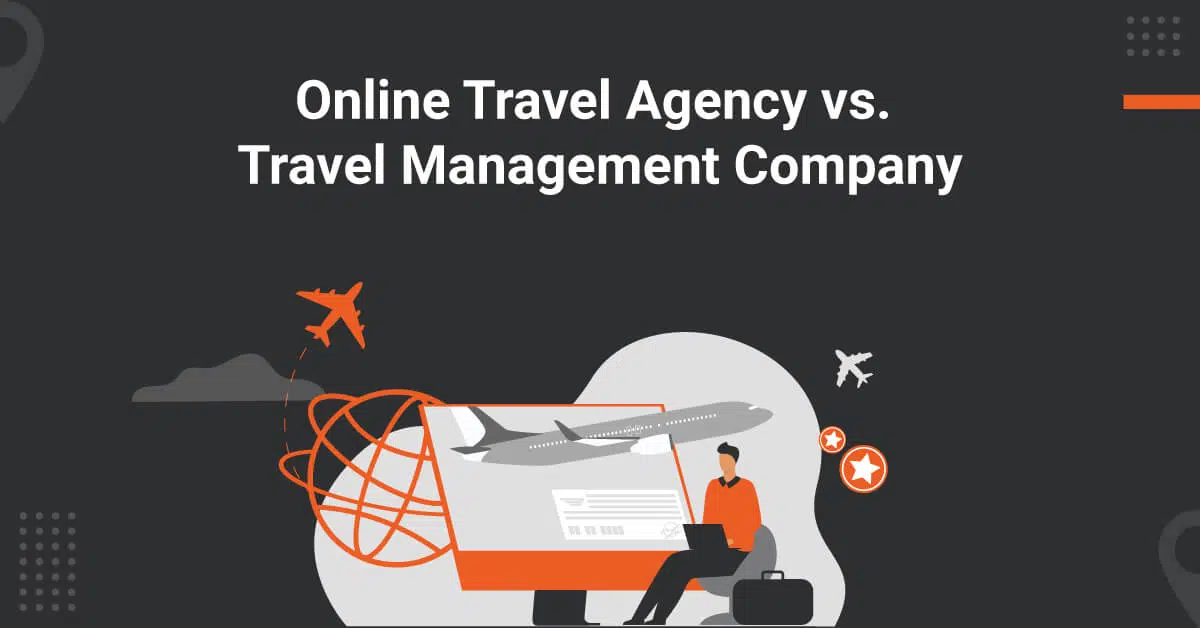 With business travel gradually resuming post-pandemic, companies are looking to optimize their travel management process. Hence, they are turning toward third-party travel solutions like an Online Travel Agency (OTA) and a Travel Management Company (TMC).
Both OTAs and TMCs have been game-changer in the corporate travel industry when it comes to simplifying the booking process. Both provide a consolidated inventory of flights, hotels, car rentals, etc. However, there are a few differences regarding the scope of offering and benefits.
Let's see the difference between an online travel agency and a travel management company to help you choose the one that suits your company.
What is an Online Travel Agency?
An online travel agency is a virtual marketplace that sells services like flight and hotel bookings, car rentals, cruises, etc., on other companies' behalf. In other words, an OTA is a website where travelers can go to get good deals on travel-related bookings.
An OTA eases the booking process for personal and business travel; however, it is gaining more popularity in the business world. The primary reason is that business travelers are on-the-go and find OTA's online booking engine highly convenient. An online travel agency offers instant payment and booking confirmation to facilitate a hassle-free business travel experience.
What is a Travel Management Company?
It is an organization that manages your company's end-to-end travel needs. Unlike an online travel agency, the scope of a travel management company's services goes above and beyond booking flights, hotels, car rentals, etc.
A TMC is responsible for streamlining your corporate travel process. It helps you create a practical and comprehensive travel policy, ensures policy compliance, and offers concierge services to manage miscellaneous tasks.
Moreover, with a travel management firm, you get assistance in formulating the statutory duty of care plan, itinerary management, and risk management.
A TMC also assists you during and after the business trip. A tech-forward travel management company's travel management software has an AI-based customer service chatbots that can make location-based suggestions about shortest routes, public transportations, etc., and handle routine emergencies. Hence, travelers remain stress-free during their business trips.
Needless to say, a travel management company offers a broader range of services than an online travel agency.

Online Travel Agency vs. Travel Management Company
Expert Consultation
An online travel agency is only concerned with booking transportation and accommodation.
Hence, unlike a travel management firm, they do not have a team of experienced travel consultants to help with other business travel requirements like travel policy formulation, a duty of care plan, risk management, etc.
Booking: Consolidated vs. Customized
An online travel agency provides a consolidated inventory of flights and hotels. However, thousands of options are available, and your employees must go through each to find the most suitable. The entire process takes up a lot of their precious time that they could spend focusing on more crucial tasks.
Additionally, not every OTA uses the Global Distribution System. Hence, vendors have to pay hefty amounts to get listed, which is not affordable for everyone. Therefore, you may miss out on some good flight and hotel options.
In contrast, a modern travel management firm uses the GDS to tap into a pool of flights and hotels and provide your employees with personalized booking options based on their past preferences and your company's travel policy. Therefore, they don't have to sift through various options to find the right one.
Concierge Services
Concierge services are the additional requirements that may arise during a business trip like airport lounge facility, car parking, etc. When you book with the help of an online travel agency, you can get concierge services under exceptional circumstances. However, it is neither the norm nor an expectation from an OTA to provide concierge services.
However, good travel management companies always take care of all the concierge services your employees may require, from advance hotel reservations and itinerary management to rented vehicles.
Customer Support
The customer support provided by an online travel agency is limited to timely and comfortable flight bookings. However, during an emergency or a change in the business travel itinerary, your employees are stuck on their own without assistance.
In contrast, a travel management company provides round-the-clock customer support. Therefore, if your employees get stranded at a completely unknown international destination, they know who to call.
Travel Data Insights
An online travel agency doesn't keep track of your employees' travel preferences and spending habits during a business trip. Hence, if you use an OTA for corporate travel management, the best travel data insights you can expect is the data available on flight tickets and hotel vouchers.
However, with a travel management company, you can get specialized insights into your employees' travel and spending habits. Not just that, you can also get department-wise travel expenses and discover cost-heavy and saving-heavy departments.
Travel Management Company or Online Travel Agency
An online travel agency can make your booking process more manageable by eliminating laborious manual processes. You can also easily compare fares and schedules of multiple airlines at once, search for booking options for a future date, and create multi-airline itineraries during your trip.
Additionally, using an online travel agency doesn't require commitment. You can use one OTA for a trip and switch to another if you find better services.
However, when you opt for a travel management provider, you get an expert partner to manage your entire business travel process efficiently. It can help you create a practical and cost-conscious travel policy while considering your employees' comfort.
Additionally, a TMC can help you streamline the booking process, making it easier for your employees to book their business trips. You can also benefit from concierge services like business trip insurance, car rentals, etc.
Hence, you should opt for an OTA if your business travel needs are limited to only flight and hotel bookings. However, if you need a comprehensive solution to manage your business travel process efficiently and provide 24/7 support, you should invest in a TMC.
If your corporate travel needs extend beyond booking travel and accommodation, a travel management company is the clear winner in terms of price, offering, and benefits.
Online Travel Agency or TMC: Choose Wisely
In current times, when business travel has resumed its entire course post-pandemic, you need more than an efficient booking tool to manage it. You need a holistic travel management solution to help you detect and fix the loopholes in your travel management process.
You can find such a solution by choosing a travel management company like ITILITE. At ITILITE, we take care of all your travel needs. Our travel management software handpicks customized booking options for your employees from our extensive inventory of flights and hotels. In addition to that, our 24/7 customer support will never leave your employees during emergencies.
To know more about how we can make your corporate travel management process more efficient, get in touch with us.