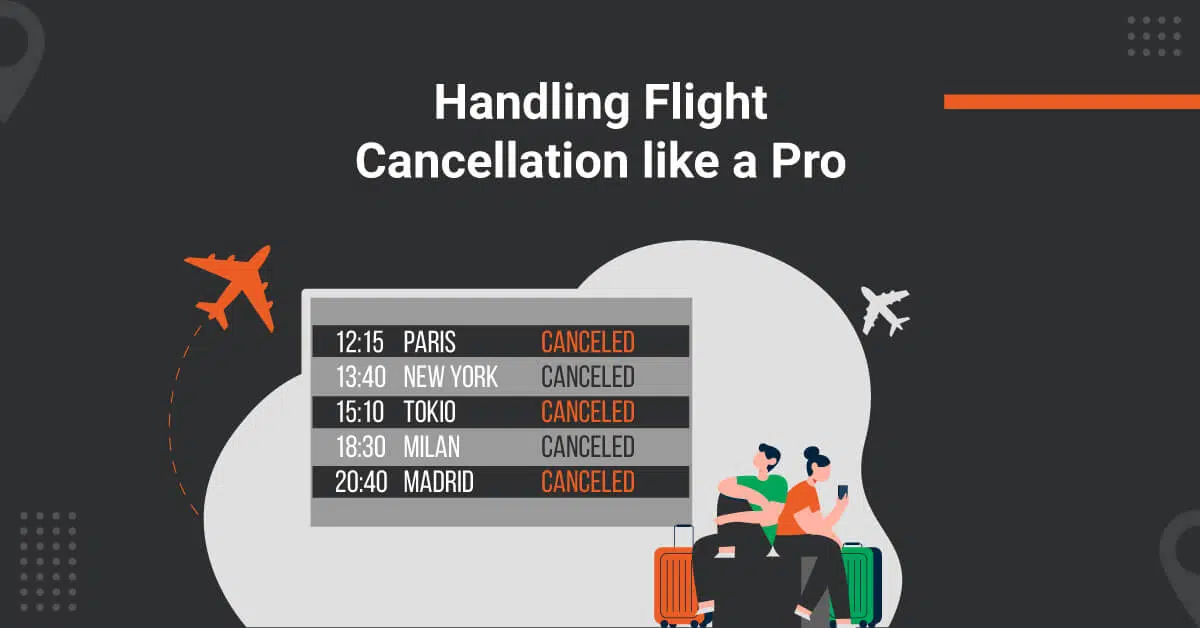 When professionals travel for business purposes, there are high stakes involved, be it a client meeting, business conference, brand promotion, or sales meeting. So, it can be catastrophic for the employees as well as the company if they are not able to reach the event in time for some reason. And that reason turns out to be flight cancellations more often than not.
Flight cancellation can cause a headache for business travelers. When your flight is canceled abruptly, it can send in you into a state of anxiety as the fear of you missing out on the event creeps in. Especially during the COVID era, where the rate of flight cancellations has increased significantly, you need to be even more prepared.
Here are some corporate travel tips for handling flight cancellation when it happens and long before that.
10 Corporate Travel Tips to Handle Flight Cancellation
1. Stay alert
The first step to handling flight cancellation is knowing that the flight has been canceled. Flight cancellation can catch you at a bad time. If you get to know that your flight has been canceled hours after it does – it's too late by then.
Whenever you book a flight, always subscribe to the flight notifications offered by the platform. If you have opted for the services for ticket booking, be in constant touch with the travel assistant for the current flight status.
Moreover, you can also check the flight status by logging in on the booking platform, be it the airline company website or a third-party app.
2. Check the cancellation policy
Every airline has its unique cancellation policy. Knowing the cancellation policy helps you make better booking decisions.
Check the terms and conditions related to flight cancellations on the airline company's website. If the cancellation policy is too stringent, avoid booking the tickets. You should check the conditions of getting the refund, the terms of moving you to an alternative flight, and whether they offer any compensation rewards points.
3. Know the passenger rights
No matter which airlines you choose for business travel, there are some rights bestowed on you by the U.S. government that you should be aware of.
The Fly Rights offered by the government include various sections related to fares, baggage, and health, along with delays and cancellations. Go to the website and read your rights carefully, so you can practice them in the case of a flight cancellation.
4. Get travel insurance
As flight tickets are expensive, travel insurance is essential to prevent you from heavy losses.
Various insurance companies offer business travel insurance with flight cancellation cover. However, you should go through the terms and conditions of cancellation carefully before choosing. It can cover cancellations due to weather, employee strike, or natural disaster, among other factors. Also, check out what percentage of the ticket cost you will be refunded for the flight cancellation.
Some credit card companies also provide travel insurance. If you book tickets using a corporate credit card, check whether they offer travel insurance.
5. Take early flights
The flight routes and schedules are co-related to each other. If one flight gets delayed, it affects all other flights for the day.
Hence, it is recommended that you book the earliest flight possible. According to a survey, the best time to fly is between 6 and 7 a.m. Even if the flight gets delayed or canceled, you still have the time to reschedule or book another flight and reach the destination.
6. Avoid check-in luggage
It can be a nuisance if your flight gets canceled after you have checked in the luggage. The airlines may move you to a later flight, forcing them to take some time to move your luggage from one carrier to another.
If you can, please avoid carrying the check-in luggage with you. Carrying only the cabin bags will help you be more mobile in the case of a canceled flight.
7. Avoid Layovers
When corporate business travel is concerned, the more the stoppages, the fewer the problems. If you book a flight with multiple stops, it has more chances to get canceled than a non-stop flight.
Prefer booking non-stop flights for business travel. If you are unable to find a non-stop flight, you need to check the current situation of the layover location.
8. Ask for refund
Sometimes, when your flight is delayed or canceled, the airlines does not have feasible options for you to reach in time. In that case, there is no other option for you than to ask for a refund.
According to the U.S. Department of Transportation, you can ask for a refund in the case of a flight cancellation, regardless of whether you have booked a refundable ticket. If your flight is canceled and the airlines is unable to reebok to your suitable flight, you can ask them for a refund.
9. Opt for a travel management company
Booking flight tickets is one thing; handling issues associated with business travel is another. Whenever your flight is canceled, you are caught in a panic situation and can't think clearly. In such as scenario, you need someone to tell you what to do next.
A wise decision to handle a flight cancellation is to opt for a travel management company (TMC). The best TMCs offer 24/7 customer support for all your issues, including cancellations. Some TMCs also assign a corporate travel consultant who can guide you when your flight is canceled. A competent travel management company also refunds you in case of flight cancellation.
10. Plan for cancellation
Although flight cancellation is quite common, we don't usually give much thought to it until it happens. And when it happens abruptly, you don't have much time to act.
Always try to plan for flight cancellation, so you are always prepared when it happens. Keep yourselves updated with other airline companies' options. You should also enquire about the procedure of securing a spot on another flight. Moreover, since you might be held up at the airport for a long time, carry the things that make you comfortable, such as a pillow.
Handling Flight Cancellation is Essential
Flight cancellation is a phenomenon that can hamper your business plans. Moreover, it can also leave you stranded at the airport for hours, causing anxiety and frustration. You can follow these corporate travel tips to handle flight cancellations like a pro, ensuring you reach the destination in time.
ITILITE's travel management software with TMC capabilities offers real-time flight notifications and 24/7 dedicated support with no cancellation charges. Any time your flight gets canceled, we take care of it, so you don't miss important meetings.
To know more about our services, please click on the button below.