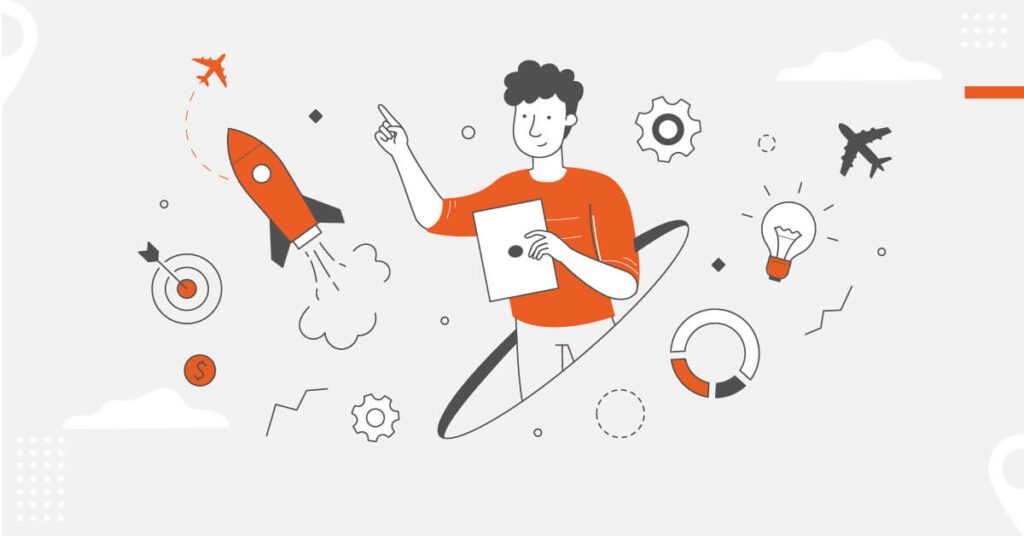 We all know that traveling can be tricky and downright stressful at times, but what if you were told there are ways to make your journey a whole lot easier?
These 10 business travel hacks will help you navigate your business trip like a pro.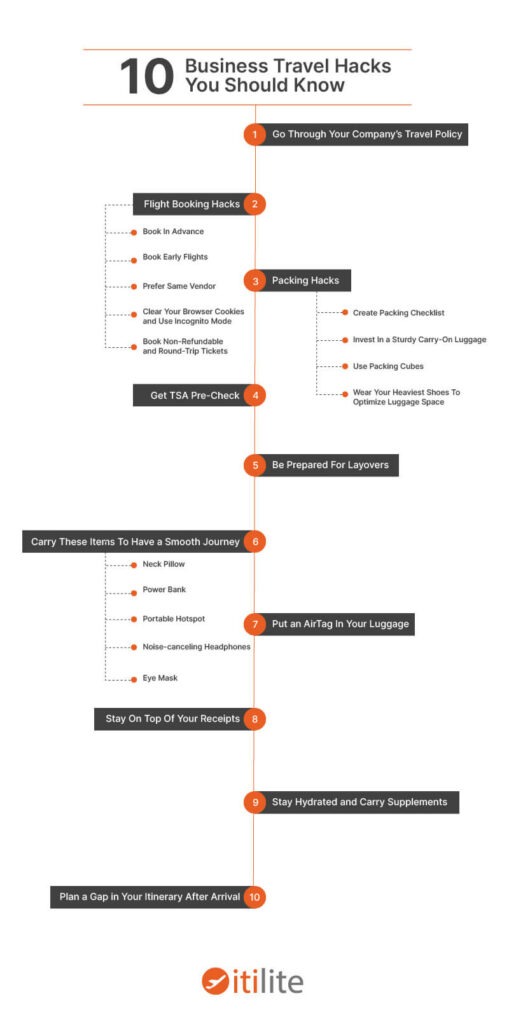 To know more, continue reading.
1. Go Through your Company's Travel Policy
It is helpful to familiarize yourself with your company's travel policy so that you know which travel expenses will be reimbursed. The policy also includes other essential details, such as how to book your flight, what class of ticket you're eligible for, and if you can get a travel advance.
Furthermore, a corporate travel policy also narrows down your options so that you can choose your travel package quickly and still personalize your trip according to your preferences.
2. Booking your Flights 
There are some essential business travel hacks when it comes to business travel booking. Let's see what they are.
Book in Advance 
Business travelers should book their flights at least a month in advance. This not only helps in getting a significantly discounted price but also the seat of your choice.
Book Early Flights
Booking an early morning flight has many benefits. According to a report, early morning flights are less likely to be delayed than afternoon and evening flights. Therefore, it is best to book flights that depart before 8 am. From that time, the delay duration starts building up until it reaches its peak at 6 pm. This is because flight delays are connected; if one flight is delayed, it affects the departure time of all following flights.
Early morning also has less traffic at the airport. This means you can pass through security checks faster without having to wait in queues and have a smoother travel experience overall.
Another major benefit is that early morning flights are comparatively cheaper than the ones during the day. This is because fewer people are willing to take the hassle of getting up and flying early morning.
Prefer Same Vendor
One of the business travel hacks is to book with the same airline vendor if you travel frequently. This enables you to take advantage of their loyalty program.
Clear your Browser Cookies and Use Incognito Mode
If you are booking business trip tickets yourself, you might want to use this hack. Flight prices usually fluctuate when searching for flight tickets on your browser. If you search for a particular destination multiple times, you might notice the flight prices increasing. To avoid this, delete your browser cookies and use incognito mode to get the lowest prices on your flight tickets.
Book Non-Refundable and Round-Trip Tickets
If you are certain of your departure and return date, you can book non-refundable and round-trip tickets, as these are much cheaper than refundable and one-way tickets.
3. Packing Tips
Create Packing Checklist
Business trips are often short, so it's vital to pack meticulously. You'll want to ensure you bring all the essentials, but not so much that the heavy luggage weighs you down. To help with this, create a business travel packing checklist of everything you'll need for future business trips. This way, you can simply refer to your list and know exactly what to pack even for future trips.
A packing checklist will prevent any last-minute stresses before heading to the airport.
Invest in a Sturdy Carry-On Luggage
If you have an upcoming business trip lasting 3 to 6 days, you won't need large luggage. Instead, a piece of carry-on luggage is a much better and more convenient option. Be sure to choose a suitcase with the standard size of 9x14x22 inches as most airlines allow this carry-on size. 
The bag should preferably have a front section to store your laptop and other documents securely. Also, make sure the wheels and handles are strong and easily movable so you won't have any trouble carrying your bag during your journey.
Carrying your luggage onto the plane saves you time because you do not have to wait to collect any checked-in luggage, which usually takes about 20-30 minutes. 
Use Packing Cubes
Packing cubes are zippable cubes that are really helpful in terms of space-saving. By compressing your clothes, you can fit more in your luggage and keep them wrinkle-free. Furthermore, it makes it easy to locate a particular item without rummaging through everything else in your bag. 
Wear your Heaviest Shoes to Optimize Luggage Space
This old trick is one of the best ways to save space in your luggage while traveling by air. Not only shoes but wearing clothes that take up the most space will save you considerable room in your suitcase.
4. Get TSA Pre-Check
TSA PreCheck is a great time-saver for business travelers. It allows low-risk passengers to go through a separate, faster security line at the airport. According to TSA, 96% of passengers waited for less than 5 minutes at the TSA Precheck lanes. 
During this process, you don't have to remove your belt, shoes, or light coat. You may also be able to keep your laptop in its case and the 3-1-1 toiletry bag in your carry-on bag. This allows for a more seamless and convenient business travel experience.
5. Be Prepared for Layovers
If you have a connecting flight, you must be prepared for layovers. Layovers can be draining, even if they're just for a few hours. Hence, to make your time at the airport more bearable, you should get access to the airport lounge. 
There, you can take advantage of complimentary food and WiFi, charging stations, and a quieter environment. These factors will help you feel more comfortable while you wait for your next flight.
In case your layover is for more than 5-6 hours, it is best if you book an airport hotel. This way, you'll be recharged and ready for your business trip when you wake up.
6. Carry these Items to Have a Smooth Journey
No one likes facing obstacles during their travels. So, it's important to be prepared for when those hiccups inevitably happen, be it a layover, flight cancellation, or inconvenient seating arrangements. 
With a few key items in your carry-on, you can make even the most uncomfortable situations bearable. 
A neck pillow is a must for supporting your head and neck on long flights. 
A Power bank is helpful in situations when you can't find a charging portal.
A Portable hotspot is ideal when you need to get online but don't have cell service in the airport. 
Noise-canceling headphones help you focus on your work or sleep in a noisy airplane cabin.
An eye mask can help you sleep even during day time.
7. Put an AirTag in your Luggage
Losing your belongings at the airport is a major headache. But, you can prevent it by simply attaching an AirTag to your luggage before you travel. AirTags are Bluetooth-based devices that help you track your belongings. Simply connect your phone to the AirTag, and you'll always know where your luggage, keys, or wallet are. This means you can be stress-free knowing that your belongings are accounted for. 
8. Stay on Top of your Receipts
Tracking your purchases while you are on your business trip is essential. This is especially important if you are using your own money to cover expenses because you will need to show proof of purchases in order to be reimbursed. 
Keep your receipts organized and in one place, and take pictures of them as a backup in case you lose the physical copies. That way, even if you can't find the original receipt, you will still have evidence of the purchase.
You can also use a travel management platform such as ITILITE that can help you store your receipts on the cloud so that you do not have to worry about collecting and storing paper receipts with you.
9. Stay Hydrated and Carry Supplements
Business travelers often forget to drink water and eat their meals on time while on their trip. This can make them feel de-energized, and they may lose focus on work. Staying hydrated is vital because it keeps your energy levels at an optimal level. 
Additionally, if you feel that the nutrients in your trip meals aren't enough, you can take multivitamin supplements to decrease fatigue. Multivitamin supplements can also reduce stress and anxiety. You can also take magnesium supplements with you if you have difficulty in sleeping during your business trips.
10. Plan a Gap in your Itinerary After Arrival
It's important not to have a meeting scheduled immediately after your flight arrives. As you can't predict delays or traffic, it's best to give yourself a few hours of buffer time. This way, even if you arrive early, you will have time to rest and freshen up before your meeting.
Stay Prepared for your Trip with these Business Travel Hacks
Being prepared for your business trip is the best way to avoid any unforeseen circumstances. These business travel hacks will help you ensure that you have a seamless business trip and that you do not face any last-minute stress.
If you want to stay organized on your trip, consider using ITILITE. It is an advanced business travel management platform that helps you plan and modify your itinerary, manage your receipts online, and notify you of any upcoming trip.
Get a free demo to try the benefits yourself.