Planning a business trip can be taxing. From creating an itinerary to ensuring safe travel, it can be tough to make sure that the trip remains smooth sailing.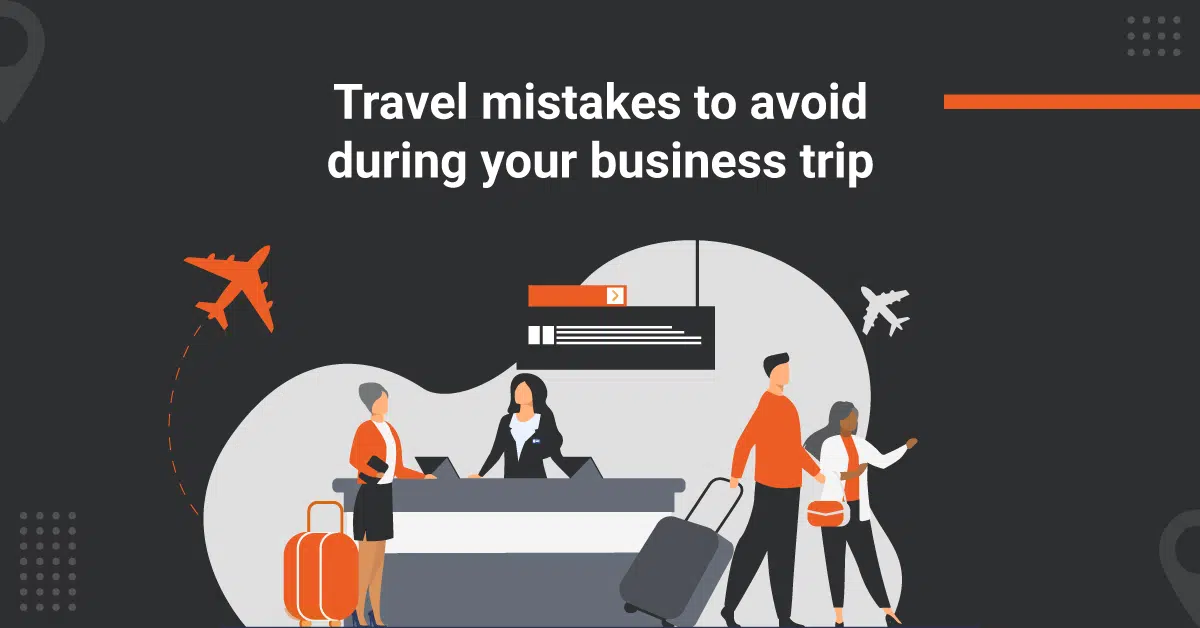 Even though 1.3 million business trips are taken in the USA every day, travelers tend to make mistakes. And the first step to avoiding travel mistakes is identifying them.
So, here are ten common travel mistakes to avoid during your business trip:
1. Not Preparing a Detailed Itinerary
Failing to research, plan, and create a detailed itinerary in advance is a crucial mistake you can make before your business travel. Its absence can cause a domino effect of problems, ranging from sleep deprivation to overlapping meetings.
So, the first step towards a successful business trip is to prepare a functional itinerary that includes designated time slots for workouts, meals, sleep, and commute. You also need to allot 5-minute refreshment breaks to wear off your work fatigue after each meeting.
The more detailed your itinerary, the fewer worries you will have when you arrive at your destination, and you will be able to focus on the business tasks better.
2. Procrastinating Packing
Waiting until the last minute to pack for your business trip isn't a good idea because you might neglect some essentials in a hurry.
Instead, take some time to examine the weather report if you need any special preparations like rain gear or warmer clothes. After that, go through the itinerary to ensure you have everything you need for various occasions like meetings and after-work parties. And finally, prepare a business travel packing checklist to ensure you don't forget anything important.
Apart from clothes and accessories, approximately 16% of business travelers forget their passports while traveling, resulting in inconvenience and significant time delays. So, remember to double-check your luggage for documents before departure.
3. Not Leaving a Well-crafted Out-of-Office Message
Forgetting to inform your colleagues before going on a business trip can cause unnecessary work emergencies and delays during your absence.
So, leave a clear Out-of-Office message whether your business travel is a two-day or two-week-long venture.
Your message should include:
Dates of unavailability
Alternative contact details
Reason for absence
4. Violating the Company's Travel Policy
Spending more on booking flights and hotels than allowed by your company's policy could lead to unintended consequences.
If the expense claim amount is significantly higher than the travel policy limit, the company can refuse reimbursement.
Such travel mistakes happen when you don't re-check your company's policy. You can avoid them by using travel management software that exclusively offers personalized policy-based booking options.
5. Traveling without Business Travel Insurance 
Shying away from spending a few extra bucks to buy business travel insurance for your trip can make you lose more money.
The insurance plan will provide financial protection in any medical emergencies up to a specific limit. Insurance companies have a list of network hospitals with state-of-art facilities where you can avail of treatments.
Your travel insurance plan will also compensate if you lose your personal belongings or documents and cover flight interruptions, delays, and cancellations.
Many companies offer travel credit cards that include a basic insurance plan. So, make sure you book your business trip using such travel credit card or put up a request on your business travel management software.
6. Waiting in Traditional Security Lines
Waiting in line for security screening at the airport can last long. It is an unnecessary time expense for a frequent business traveler.
Investing in TSA pre-check can help you enjoy a faster screening process. According to the US government's official website, 94% of TSA precheck passengers waited less than 5 mins for security screening in March 2022.
TSA pre-check is available in more than 2000 airports and 81 airlines. It is a popular choice among 31% of millennial travelers.
7. Not Getting Hold of the Local Currency
When traveling internationally, not having cash in the local currency for daily expenses like cab or public transportation, snacks, stationery items, etc., can cause problems if there are no other payment options available locally.
You can get your currency exchanged from local banks or bank ATMs. They offer better rates than the currency exchange kiosk at the airport or local exchange stores.
Many banks also offer to refund foreign ATM fees, which can help you save money.
8. Mismanaging Minor Expenses
The small expenditures during your business trip, like exchange fees, credit card processing charges, parking tickets, hidden foreign charges, etc., can transform into a high cost.
Moreover, it isn't easy to monitor every piece of receipt to file for reimbursement upon returning from the trip.
If these charges surpass your allowance as per the company policy, you might not get compensated. Therefore, you need to keep track of these seemingly trivial expenses.
You can do this with the help of expense management software that offers effortless scanning, expense mapping, and real-time visibility of the reimbursement process.
9. Neglecting Leisure Time
Turning a blind eye to the need for relaxation while working can cause frustration and fatigue.
Your ideal business trip should be a combination of work and entertainment if you want to avoid getting burnt out quickly. Nowadays, the common term for such a trip is called Bleisure.
Bleisure accommodates both business (work) and leisure (enjoyment), where an employee can find time to explore the destination as well as fulfill the business duties. According to smallbizgenius, almost 10% of business trips are categorized as bleisure trips.
Having fun after working hard will enhance your productivity, and you will be ready to face the next day with zeal.
10. Disregarding International Business Etiquette
Not being mindful of the business communication etiquette of different countries can make you look disrespectful towards their culture.
To foster long-lasting relationships with your international client, you need to be well-versed with the business etiquette followed in their country.
Fundamental aspects to think of before visiting your clients include:
Attire
Greeting
Communication
For a detailed guide, check out:
A Handy Guide For International Business Etiquettes
Avoiding Business Travel mistakes can ensure a Stress-free Trip
The common travel mistakes mentioned above can lead to a disappointing and unsuccessful business trip. The good news is that an efficient travel and expense management software like ITILITE can help you keep most of them at bay.
Using ITILITE, you can view your company's travel policy anytime, get personalized booking options and upload receipts for reimbursement of expenses in real-time.
Get a free demo now to experience the features yourself.